Oracle Data Integrator 12c: Integration and Administration Ed 3
Oracle Data Integrator is a comprehensive data integration platform that covers all data integration requirements from high-volume, high-performance batch loads, to event-driven integration processes and SOA-enabled data services. Oracle Data Integrator's Extract, Load, Transform (E-LT) architecture leverages disparate RDBMS engines to process and transform the data – the approach that optimizes performance, scalability and lowers overall solution costs.
STUDENTS WILL LEARN TO
Use Oracle Data Integrator to perform transformation of data among various platforms.
Design ODI mappings, procedures, and packages to perform ELT data transformations.
Administer ODI resources and set up security with ODI.
Perform data integration and transformation among various platforms.
Use the ODI graphical interface to define procedures, packages, and ELT jobs.
Set up and maintain a secure, multi-user ODI environment.
Implement changed data capture with ODI.
Use ODI Web services and perform integration of ODI with SOA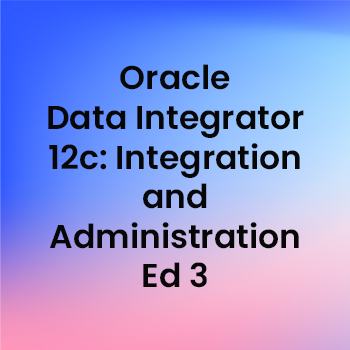 COURSE TOPICS
Module 1 : Introduction to Integration and Administration
Introduction to Integration and Administration, Part 1
Introduction to Integration and Administration, Part 2
Practice 1-1: Logging In and Help Overview
Skill Check: Introduction to Integration and Administration
Module 2 : Administering ODI Repositories
Administering ODI Repositories
Practice 2-1: Creating and Connecting to ODI Master and Work Repositories
Skill Check: Administering ODI Repositories
Module 3 : ODI Topology Concepts
ODI Topology Concepts, Part 1
ODI Topology Concepts, Part 2
Practice 3-1: Configuring a Standalone Agent by Using the Common Administration Model
Skill Check: ODI Topology Concepts
Module 4 : Physical and Logical Architecture
Physical and Logical Architecture
Practice 4-1: Working with Topology
Skill Check: Physical and Logical Architecture
Module 5 : Setting Up a New ODI Project
Setting Up a New ODI Project
Practice 5-1: Setting Up a New ODI Project
Skill Check: Setting Up a New ODI Project
Module 6 : Oracle Data Integrator Model Concepts
Oracle Data Integrator Model Concepts, Part 1
What Is Reverse-Engineering?
Practice 6-1: Creating Models by Reverse-Engineering
Skill Check: Oracle Data Integrator Model concepts
Module 7 : Organizing ODI Models and Creating ODI Datastores
Organizing ODI Models and Creating ODI Datastores, Part 1
Organizing ODI Models and Creating ODI Datastores, Part 2
Practice 7-1: Checking Data Quality in the Model
Skill Check: Organizing ODI Models and Creating ODI Datastores
Module 8 : ODI Mapping Concepts
ODI Mapping Concepts, Part 1
ODI Mapping Concepts, Part 2
Practice 8-1: Creating ODI Mapping: Simple Transformations, Part 1
Practice 8-1: Creating ODI Mapping: Simple Transformations, Part 2
Practice 8-1: Creating ODI Mapping: Simple Transformations, Part 3
Skill Check: ODI Mapping Concepts
Module 9 : Designing Mappings
Designing Mappings, Part1
Designing Mappings, Part 2
Practice 9-1: Creating ODI Mapping: Complex Transformations
Practice 9-2: Creating ODI Mapping: Implementing Lookup
Skill Check: Designing Mappings
Module 10 : Mappings: Monitoring and Troubleshooting
Mappings: Monitoring and Troubleshooting
Practice 10-1: Creating ODI Mapping: Exporting a Flat File to a Relational Table, Part 1
Practice 10-1: Creating ODI Mapping: Exporting a Flat File to a Relational Table, Part 2
Skill Check: Mappings: Monitoring and Troubleshooting
Module 11 : Designing Mappings: Advanced Topics 1
Designing Mappings: Advanced Topics 1
Practice 11-1: Using Native Sequences with ODI Mapping
Practice 11-2: Using Temporary Indexes
Practice 11-3: Using Sets with ODI Mapping
Skill Check: Designing Mappings: Advanced Topics 1
Module 12 : Designing Mappings: Advanced Topics 2
Designing Mappings: Advanced Topics 2, Part 1
Designing Mappings: Advanced Topics 2, Part 2
Practice 12-1: Creating and Using Reusable Mappings, Part 1
Practice 12-1: Creating and Using Reusable Mappings, Part 2
Practice 12-2: Developing a New Knowledge Module
Skill Check: Designing Mappings: Advanced Topics 2
Module 13 : Using ODI Procedures
Using ODI Procedures
Practice 13-1: Creating an ODI Procedure
Skill Check: Using ODI Procedure
Module 14 : Using ODI Packages
Using ODI Packages
Practice 14-1: Creating an ODI Package
Practice 14-2: Using ODI Packages with Variables and User Functions
Skill Check: Using ODl Packages
Module 15 :Clusters: Step-by-Step Debugger
Step-by-Step Debugger
Practice 15-1: Debugging Mappings
Skill Check: Step-by-Step Debugger
Module 16 : Managing ODI Scenarios
Managing ODI Scenarios
Practice 16-1: Creating and Scheduling Scenarios
Skill Check: Managing ODI Scenarios
Module 17 : Using Load Plans
Using Load Plans
Practice 17-1: Using Load Plans
Skill Check: Using Load Plans
Module 18 : Enforcing Data Quality with ODI
Enforcing Data Quality with ODI
Practice 18-1: Enforcing Data Quality with ODI Mappings
Skill Check: Enforcing Data Quality with ODI
Module 19 : Working with Changed Data Capture (CDC)
Working with Changed Data Capture (CDC)
Practice 19-1: Implementing Changed Data Capture
Skill Check: Working with Changed Data Capture(CDC)
Module 20 : Advanced ODI Administration
Advanced ODI Administration, Part 1
Advanced ODI Administration, Part 2
Practice 20-1: Setting Up ODI Security
Practice 20-2: Setting Up ODI Security Integration with Enterprise Manager and Using ODI Console
Skill Check: Advanced ODI Administration
Module 21 : Integrating ODI with Subversion
Integrating ODI with Subversion
Practice 21-1: Subversion ODI Setup
Skill Check: Integrating ODI with Subversion
Module 22 : Integrating Big Data with ODI
Integrating Big Data with ODl
Skill Check: Integrating Big Data with ODI
| Start Date | End Date | Price | Code |
| --- | --- | --- | --- |
| 12/11/2023 | 12/15/2023 | 20,000 | AZ-204T00 |
| 1/8/2024 | 1/12/2024 | 20,000 | AZ-204T00 |
| 2/5/2024 | 2/9/2024 | 20,000 | AZ-204T00 |
| 3/11/2024 | 3/15/2024 | 20,000 | AZ-204T00 |
| 4/22/2024 | 4/26/2024 | 20,000 | AZ-204T00 |
| 5/13/2024 | 5/17/2024 | 20,000 | AZ-204T00 |
| 6/10/2024 | 6/14/2024 | 20,000 | AZ-204T00 |
| 6/6/2023 | 6/9/2023 | 16,000 | AZ-220T00 |
| 7/24/2023 | 7/27/2023 | 16,000 | AZ-220T00 |
| 8/15/2023 | 8/18/2023 | 16,000 | AZ-220T00 |
| 9/5/2023 | 9/8/2023 | 16,000 | AZ-220T00 |
| 10/9/2023 | 10/12/2023 | 16,000 | AZ-220T00 |
| 11/7/2023 | 11/10/2023 | 16,000 | AZ-220T00 |
| 12/12/2023 | 12/15/2023 | 16,000 | AZ-220T00 |
| 12/12/2023 | 12/15/2023 | 16,000 | AZ-400T00 |
| 1/9/2024 | 1/12/2024 | 16,000 | AZ-400T00 |
| 2/6/2024 | 2/9/2024 | 16,000 | AZ-400T00 |
| 3/5/2024 | 3/8/2024 | 16,000 | AZ-400T00 |
| 4/9/2024 | 4/12/2024 | 16,000 | AZ-400T00 |
| 5/7/2024 | 5/10/2024 | 16,000 | AZ-400T00 |
| 6/4/2024 | 6/7/2024 | 16,000 | AZ-400T00 |
| 12/11/2023 | 12/15/2023 | 20,000 | AZ-040T00 |
| 1/8/2024 | 1/12/2024 | 20,000 | AZ-040T00 |
| 2/5/2024 | 2/9/2024 | 20,000 | AZ-040T00 |
| 3/25/2024 | 3/29/2024 | 20,000 | AZ-040T00 |
| 4/22/2024 | 4/26/2024 | 20,000 | AZ-040T00 |
| 5/13/2024 | 5/17/2024 | 20,000 | AZ-040T00 |
| 6/10/2024 | 6/14/2024 | 20,000 | AZ-040T00 |
| 12/11/2023 | 12/14/2023 | 16,000 | AZ-104T00 |
| 1/9/2024 | 1/12/2024 | 16,000 | AZ-104T00 |
| 2/6/2024 | 2/9/2024 | 16,000 | AZ-104T00 |
| 3/5/2024 | 3/8/2024 | 16,000 | AZ-104T00 |
| 4/9/2024 | 4/12/2024 | 16,000 | AZ-104T00 |
| 5/7/2024 | 5/10/2024 | 16,000 | AZ-104T00 |
| 6/4/2024 | 6/7/2024 | 16,000 | AZ-104T00 |
| 12/18/2023 | 12/21/2023 | 16,000 | AZ-140T00 |
| 1/23/2024 | 1/26/2024 | 16,000 | AZ-140T00 |
| 2/20/2024 | 2/23/2024 | 16,000 | AZ-140T00 |
| 3/19/2024 | 3/22/2024 | 16,000 | AZ-140T00 |
| 4/23/2024 | 4/26/2024 | 16,000 | AZ-140T00 |
| 5/27/2024 | 5/30/2024 | 16,000 | AZ-140T00 |
| 6/25/2024 | 6/28/2024 | 16,000 | AZ-140T00 |
| 6/6/2023 | 6/9/2023 | 16,000 | AZ-305T00 |
| 7/17/2023 | 7/20/2023 | 16,000 | AZ-305T00 |
| 8/15/2023 | 8/18/2023 | 16,000 | AZ-305T00 |
| 9/11/2023 | 9/14/2023 | 16,000 | AZ-305T00 |
| 10/9/2023 | 10/12/2023 | 16,000 | AZ-305T00 |
| 11/13/2023 | 11/16/2023 | 16,000 | AZ-305T00 |
| 12/11/2023 | 12/14/2023 | 16,000 | AZ-305T00 |
| 6/6/2023 | 6/9/2023 | 16,000 | AZ-600T00 |
| 7/24/2023 | 7/27/2023 | 16,000 | AZ-600T00 |
| 8/15/2023 | 8/18/2023 | 16,000 | AZ-600T00 |
| 9/5/2023 | 9/8/2023 | 16,000 | AZ-600T00 |
| 10/9/2023 | 10/12/2023 | 16,000 | AZ-600T00 |
| 11/7/2023 | 11/10/2023 | 16,000 | AZ-600T00 |
| 12/12/2023 | 12/15/2023 | 16,000 | AZ-600T00 |
| 6/7/2023 | 6/9/2023 | 12,000 | AZ-700T00 |
| 7/12/2023 | 7/14/2023 | 12,000 | AZ-700T00 |
| 8/2/2023 | 8/4/2023 | 12,000 | AZ-700T00 |
| 9/6/2023 | 9/8/2023 | 12,000 | AZ-700T00 |
| 10/4/2023 | 10/6/2023 | 12,000 | AZ-700T00 |
| 11/1/2023 | 11/3/2023 | 12,000 | AZ-700T00 |
| 12/6/2023 | 12/8/2023 | 12,000 | AZ-700T00 |
| 6/7/2023 | 6/9/2023 | 12,000 | AZ-720T00 |
| 7/12/2023 | 7/14/2023 | 12,000 | AZ-720T00 |
| 8/2/2023 | 8/4/2023 | 12,000 | AZ-720T00 |
| 9/6/2023 | 9/8/2023 | 12,000 | AZ-720T00 |
| 10/4/2023 | 10/6/2023 | 12,000 | AZ-720T00 |
| 11/1/2023 | 11/3/2023 | 12,000 | AZ-720T00 |
| 12/6/2023 | 12/8/2023 | 12,000 | AZ-720T00 |
| 6/6/2023 | 6/9/2023 | 16,000 | AZ-800T00 |
| 7/17/2023 | 7/20/2023 | 16,000 | AZ-800T00 |
| 8/15/2023 | 8/18/2023 | 16,000 | AZ-800T00 |
| 9/11/2023 | 9/14/2023 | 16,000 | AZ-800T00 |
| 10/9/2023 | 10/12/2023 | 16,000 | AZ-800T00 |
| 11/13/2023 | 11/16/2023 | 16,000 | AZ-800T00 |
| 12/11/2023 | 12/14/2023 | 16,000 | AZ-800T00 |
| 6/12/2023 | 6/15/2023 | 16,000 | AZ-801T00 |
| 7/24/2023 | 7/27/2023 | 16,000 | AZ-801T00 |
| 8/21/2023 | 8/24/2023 | 16,000 | AZ-801T00 |
| 9/18/2023 | 9/21/2023 | 16,000 | AZ-801T00 |
| 10/24/2023 | 10/27/2023 | 16,000 | AZ-801T00 |
| 11/20/2023 | 11/23/2023 | 16,000 | AZ-801T00 |
| 12/18/2023 | 12/21/2023 | 16,000 | AZ-801T00 |
| 6/9/2023 | 6/9/2023 | 4,000 | AZ-900T00 |
| 7/7/2023 | 7/7/2023 | 4,000 | AZ-900T00 |
| 8/21/2023 | 8/21/2023 | 4,000 | AZ-900T00 |
| 9/8/2023 | 9/8/2023 | 4,000 | AZ-900T00 |
| 10/12/2023 | 10/12/2023 | 4,000 | AZ-900T00 |
| 11/10/2023 | 11/10/2023 | 4,000 | AZ-900T00 |
| 12/8/2023 | 12/8/2023 | 4,000 | AZ-900T00 |
| 6/6/2023 | 6/9/2023 | 16,000 | AI-102T00 |
| 7/17/2023 | 7/20/2023 | 16,000 | AI-102T00 |
| 8/15/2023 | 8/18/2023 | 16,000 | AI-102T00 |
| 9/11/2023 | 9/14/2023 | 16,000 | AI-102T00 |
| 10/9/2023 | 10/12/2023 | 16,000 | AI-102T00 |
| 11/13/2023 | 11/16/2023 | 16,000 | AI-102T00 |
| 12/11/2023 | 12/14/2023 | 16,000 | AI-102T00 |
| 6/9/2023 | 6/9/2023 | 4,000 | AI-900T00 |
| 7/7/2023 | 7/7/2023 | 4,000 | AI-900T00 |
| 8/11/2023 | 8/11/2023 | 4,000 | AI-900T00 |
| 9/8/2023 | 9/8/2023 | 4,000 | AI-900T00 |
| 10/12/2023 | 10/12/2023 | 4,000 | AI-900T00 |
| 11/10/2023 | 11/10/2023 | 4,000 | AI-900T00 |
| 12/8/2023 | 12/8/2023 | 4,000 | AI-900T00 |
| 6/8/2023 | 6/9/2023 | 8,000 | DP-080T00 |
| 8/10/2023 | 8/11/2023 | 8,000 | DP-080T00 |
| 10/9/2023 | 10/10/2023 | 8,000 | DP-080T00 |
| 12/7/2023 | 12/8/2023 | 8,000 | DP-080T00 |
| 6/7/2023 | 6/9/2023 | 12,000 | DP-100T01 |
| 7/3/2023 | 7/5/2023 | 12,000 | DP-100T01 |
| 8/2/2023 | 8/4/2023 | 12,000 | DP-100T01 |
| 9/6/2023 | 9/8/2023 | 12,000 | DP-100T01 |
| 10/2/2023 | 10/4/2023 | 12,000 | DP-100T01 |
| 11/1/2023 | 11/3/2023 | 12,000 | DP-100T01 |
| 12/6/2023 | 12/8/2023 | 12,000 | DP-100T01 |
| 6/12/2023 | 6/15/2023 | 16,000 | DP-300T00 |
| 7/24/2023 | 7/27/2023 | 16,000 | DP-300T00 |
| 8/21/2023 | 8/24/2023 | 16,000 | DP-300T00 |
| 9/18/2023 | 9/21/2023 | 16,000 | DP-300T00 |
| 10/24/2023 | 10/27/2023 | 16,000 | DP-300T00 |
| 11/20/2023 | 11/23/2023 | 16,000 | DP-300T00 |
| 12/18/2023 | 12/21/2023 | 16,000 | DP-300T00 |
| 6/19/2023 | 6/22/2023 | 16,000 | DP-420T00 |
| 7/17/2023 | 7/20/2023 | 16,000 | DP-420T00 |
| 8/21/2023 | 8/24/2023 | 16,000 | DP-420T00 |
| 9/18/2023 | 9/21/2023 | 16,000 | DP-420T00 |
| 10/16/2023 | 10/19/2023 | 16,000 | DP-420T00 |
| 11/13/2023 | 11/16/2023 | 16,000 | DP-420T00 |
| 12/18/2023 | 12/21/2023 | 16,000 | DP-420T00 |
| 6/26/2023 | 6/29/2023 | 16,000 | DP-500T00 |
| 7/17/2023 | 7/20/2023 | 16,000 | DP-500T00 |
| 8/28/2023 | 8/31/2023 | 16,000 | DP-500T00 |
| 9/25/2023 | 9/29/2023 | 16,000 | DP-500T00 |
| 10/30/2023 | 11/2/2023 | 16,000 | DP-500T00 |
| 11/27/2023 | 11/30/2023 | 16,000 | DP-500T00 |
| 12/25/2023 | 12/28/2023 | 16,000 | DP-500T00 |
| 6/12/2023 | 6/16/2023 | 20,000 | MD-100T00 |
| 7/24/2023 | 7/27/2023 | 20,000 | MD-100T00 |
| 8/7/2023 | 8/11/2023 | 20,000 | MD-100T00 |
| 9/11/2023 | 9/15/2023 | 20,000 | MD-100T00 |
| 10/2/2023 | 10/6/2023 | 20,000 | MD-100T00 |
| 11/13/2023 | 11/17/2023 | 20,000 | MD-100T00 |
| 12/18/2023 | 12/22/2023 | 20,000 | MD-100T00 |
| 6/19/2023 | 6/23/2023 | 20,000 | MD-101T00 |
| 7/10/2023 | 7/14/2023 | 20,000 | MD-101T00 |
| 8/21/2023 | 8/25/2023 | 20,000 | MD-101T00 |
| 9/18/2023 | 9/22/2023 | 20,000 | MD-101T00 |
| 10/16/2023 | 10/20/2023 | 20,000 | MD-101T00 |
| 11/20/2023 | 11/24/2023 | 20,000 | MD-101T00 |
| 12/18/2023 | 12/22/2023 | 20,000 | MD-101T00 |
| 6/26/2023 | 6/30/2023 | 20,000 | MD-102T00 |
| 7/17/2023 | 7/21/2023 | 20,000 | MD-102T00 |
| 8/28/2023 | 9/1/2023 | 20,000 | MD-102T00 |
| 9/25/2023 | 9/29/2023 | 20,000 | MD-102T00 |
| 10/30/2023 | 11/3/2023 | 20,000 | MD-102T00 |
| 11/27/2023 | 12/1/2023 | 20,000 | MD-102T00 |
| 12/25/2023 | 12/29/2023 | 20,000 | MD-102T00 |
| 6/12/2023 | 6/16/2023 | 20,000 | MS-100T00 |
| 7/3/2023 | 7/7/2023 | 20,000 | MS-100T00 |
| 8/7/2023 | 8/11/2023 | 20,000 | MS-100T00 |
| 9/4/2023 | 9/8/2023 | 20,000 | MS-100T00 |
| 10/2/2023 | 10/6/2023 | 20,000 | MS-100T00 |
| 11/6/2023 | 11/10/2023 | 20,000 | MS-100T00 |
| 12/18/2023 | 12/22/2023 | 20,000 | MS-100T00 |
| 6/19/2023 | 6/23/2023 | 20,000 | MS-101T00 |
| 7/10/2023 | 7/14/2023 | 20,000 | MS-101T00 |
| 8/21/2023 | 8/25/2023 | 20,000 | MS-101T00 |
| 9/18/2023 | 9/22/2023 | 20,000 | MS-101T00 |
| 10/16/2023 | 10/20/2023 | 20,000 | MS-101T00 |
| 11/20/2023 | 11/24/2023 | 20,000 | MS-101T00 |
| 12/18/2023 | 12/22/2023 | 20,000 | MS-101T00 |
| 6/26/2023 | 6/30/2023 | 20,000 | MS-102T00 |
| 7/17/2023 | 7/21/2023 | 20,000 | MS-102T00 |
| 8/28/2023 | 9/1/2023 | 20,000 | MS-102T00 |
| 9/25/2023 | 9/29/2023 | 20,000 | MS-102T00 |
| 10/30/2023 | 11/3/2023 | 20,000 | MS-102T00 |
| 11/27/2023 | 12/1/2023 | 20,000 | MS-102T00 |
| 12/25/2023 | 12/29/2023 | 20,000 | MS-102T00 |
| 6/12/2023 | 6/16/2023 | 20,000 | MS-203T00 |
| 7/10/2023 | 7/14/2023 | 20,000 | MS-203T00 |
| 8/21/2023 | 8/25/2023 | 20,000 | MS-203T00 |
| 9/11/2023 | 9/15/2023 | 20,000 | MS-203T00 |
| 10/16/2023 | 10/20/2023 | 20,000 | MS-203T00 |
| 11/13/2023 | 11/17/2023 | 20,000 | MS-203T00 |
| 12/11/2023 | 12/15/2023 | 20,000 | MS-203T00 |
| 6/21/2023 | 6/23/2023 | 20,000 | MS-220T00 |
| 7/19/2023 | 7/21/2023 | 20,000 | MS-220T00 |
| 8/23/2023 | 8/25/2023 | 20,000 | MS-220T00 |
| 9/20/2023 | 9/22/2023 | 20,000 | MS-220T00 |
| 10/25/2023 | 10/27/2023 | 20,000 | MS-220T00 |
| 11/22/2023 | 11/24/2023 | 20,000 | MS-220T00 |
| 12/20/2023 | 12/22/2023 | 20,000 | MS-220T00 |
| 6/13/2023 | 6/16/2023 | 16,000 | MS-600T00 |
| 7/11/2023 | 7/14/2023 | 16,000 | MS-600T00 |
| 8/8/2023 | 8/11/2023 | 16,000 | MS-600T00 |
| 9/5/2023 | 9/8/2023 | 16,000 | MS-600T00 |
| 10/17/2023 | 10/20/2023 | 16,000 | MS-600T00 |
| 11/7/2023 | 11/10/2023 | 16,000 | MS-600T00 |
| 12/12/2023 | 12/15/2023 | 16,000 | MS-600T00 |
| 6/6/2023 | 6/9/2023 | 16,000 | MS-700T00 |
| 7/17/2023 | 7/20/2023 | 16,000 | MS-700T00 |
| 8/15/2023 | 8/18/2023 | 16,000 | MS-700T00 |
| 9/11/2023 | 9/14/2023 | 16,000 | MS-700T00 |
| 10/9/2023 | 10/12/2023 | 16,000 | MS-700T00 |
| 11/13/2023 | 11/16/2023 | 16,000 | MS-700T00 |
| 12/11/2023 | 12/14/2023 | 16,000 | MS-700T00 |
| 6/14/2023 | 6/16/2023 | 12,000 | MS-720T00 |
| 7/19/2023 | 7/21/2023 | 12,000 | MS-720T00 |
| 8/2/2023 | 8/4/2023 | 12,000 | MS-720T00 |
| 9/6/2023 | 9/8/2023 | 12,000 | MS-720T00 |
| 10/10/2023 | 10/12/2023 | 12,000 | MS-720T00 |
| 11/1/2023 | 11/3/2023 | 12,000 | MS-720T00 |
| 12/6/2023 | 12/8/2023 | 12,000 | MS-720T00 |
| 7/17/2023 | 7/20/2023 | 16,000 | MS-721T00 |
| 8/15/2023 | 8/18/2023 | 16,000 | MS-721T00 |
| 9/11/2023 | 9/14/2023 | 16,000 | MS-721T00 |
| 10/9/2023 | 10/12/2023 | 16,000 | MS-721T00 |
| 11/13/2023 | 11/16/2023 | 16,000 | MS-721T00 |
| 12/11/2023 | 12/14/2023 | 16,000 | MS-721T00 |
| 6/26/2023 | 6/28/2023 | 12,000 | MS-740T00 |
| 7/24/2023 | 7/26/2023 | 12,000 | MS-740T00 |
| 8/28/2023 | 8/30/2023 | 12,000 | MS-740T00 |
| 9/25/2023 | 9/27/2023 | 12,000 | MS-740T00 |
| 10/30/2023 | 11/1/2023 | 12,000 | MS-740T00 |
| 11/27/2023 | 11/29/2023 | 12,000 | MS-740T00 |
| 12/25/2023 | 12/27/2023 | 12,000 | MS-740T00 |
| 6/8/2023 | 6/8/2023 | 4,000 | MS-080T00 |
| 7/7/2023 | 7/7/2023 | 4,000 | MS-080T00 |
| 8/11/2023 | 8/11/2023 | 4,000 | MS-080T00 |
| 9/1/2023 | 9/1/2023 | 4,000 | MS-080T00 |
| 10/26/2023 | 10/26/2023 | 4,000 | MS-080T00 |
| 11/3/2023 | 11/3/2023 | 4,000 | MS-080T00 |
| 12/4/2023 | 12/4/2023 | 4,000 | MS-080T00 |
| 6/9/2023 | 6/9/2023 | 4,000 | MS-900T01 |
| 7/27/2023 | 7/27/2023 | 4,000 | MS-900T01 |
| 8/7/2023 | 8/7/2023 | 4,000 | MS-900T01 |
| 9/8/2023 | 9/8/2023 | 4,000 | MS-900T01 |
| 10/27/2023 | 10/27/2023 | 4,000 | MS-900T01 |
| 11/10/2023 | 11/10/2023 | 4,000 | MS-900T01 |
| 12/8/2023 | 12/8/2023 | 4,000 | MS-900T01 |
| 6/12/2023 | 6/16/2023 | 20,000 | 55354A |
| 7/17/2023 | 7/21/2023 | 20,000 | 55354A |
| 8/21/2023 | 8/25/2023 | 20,000 | 55354A |
| 9/11/2023 | 9/15/2023 | 20,000 | 55354A |
| 10/16/2023 | 10/20/2023 | 20,000 | 55354A |
| 11/13/2023 | 11/17/2023 | 20,000 | 55354A |
| 12/11/2023 | 12/15/2023 | 20,000 | 55354A |
| 6/6/2023 | 6/9/2023 | 16,000 | AZ-500T00 |
| 7/17/2023 | 7/20/2023 | 16,000 | AZ-500T00 |
| 8/15/2023 | 8/18/2023 | 16,000 | AZ-500T00 |
| 9/11/2023 | 9/14/2023 | 16,000 | AZ-500T00 |
| 10/9/2023 | 10/12/2023 | 16,000 | AZ-500T00 |
| 11/13/2023 | 11/16/2023 | 16,000 | AZ-500T00 |
| 12/11/2023 | 12/14/2023 | 16,000 | AZ-500T00 |
| 6/12/2023 | 6/15/2023 | 16,000 | MS-500T00 |
| 7/24/2023 | 7/27/2023 | 16,000 | MS-500T00 |
| 8/21/2023 | 8/24/2023 | 16,000 | MS-500T00 |
| 9/18/2023 | 9/21/2023 | 16,000 | MS-500T00 |
| 10/24/2023 | 10/27/2023 | 16,000 | MS-500T00 |
| 11/20/2023 | 11/23/2023 | 16,000 | MS-500T00 |
| 12/18/2023 | 12/21/2023 | 16,000 | MS-500T00 |
| 6/6/2023 | 6/9/2023 | 16,000 | SC-100T00 |
| 7/17/2023 | 7/20/2023 | 16,000 | SC-100T00 |
| 8/15/2023 | 8/18/2023 | 16,000 | SC-100T00 |
| 9/11/2023 | 9/14/2023 | 16,000 | SC-100T00 |
| 10/9/2023 | 10/12/2023 | 16,000 | SC-100T00 |
| 11/13/2023 | 11/16/2023 | 16,000 | SC-100T00 |
| 12/11/2023 | 12/14/2023 | 16,000 | SC-100T00 |
| 6/6/2023 | 6/9/2023 | 16,000 | SC-200T00 |
| 7/17/2023 | 7/20/2023 | 16,000 | SC-200T00 |
| 8/15/2023 | 8/18/2023 | 16,000 | SC-200T00 |
| 9/11/2023 | 9/14/2023 | 16,000 | SC-200T00 |
| 10/9/2023 | 10/12/2023 | 16,000 | SC-200T00 |
| 11/13/2023 | 11/16/2023 | 16,000 | SC-200T00 |
| 12/11/2023 | 12/14/2023 | 16,000 | SC-200T00 |
| 6/12/2023 | 6/15/2023 | 16,000 | SC-300T00 |
| 7/24/2023 | 7/27/2023 | 16,000 | SC-300T00 |
| 8/21/2023 | 8/24/2023 | 16,000 | SC-300T00 |
| 9/18/2023 | 9/21/2023 | 16,000 | SC-300T00 |
| 10/24/2023 | 10/27/2023 | 16,000 | SC-300T00 |
| 11/20/2023 | 11/23/2023 | 16,000 | SC-300T00 |
| 12/18/2023 | 12/21/2023 | 16,000 | SC-300T00 |
| 6/13/2023 | 6/16/2023 | 16,000 | SC-400T00 |
| 7/18/2023 | 7/21/2023 | 16,000 | SC-400T00 |
| 8/28/2023 | 8/31/2023 | 16,000 | SC-400T00 |
| 9/26/2023 | 9/29/2023 | 16,000 | SC-400T00 |
| 10/24/2023 | 10/27/2023 | 16,000 | SC-400T00 |
| 11/28/2023 | 12/1/2023 | 16,000 | SC-400T00 |
| 12/11/2023 | 12/14/2023 | 16,000 | SC-400T00 |
| 6/9/2023 | 6/9/2023 | 4,000 | SC-900T00 |
| 7/27/2023 | 7/27/2023 | 4,000 | SC-900T00 |
| 8/7/2023 | 8/7/2023 | 4,000 | SC-900T00 |
| 9/8/2023 | 9/8/2023 | 4,000 | SC-900T00 |
| 10/6/2023 | 10/6/2023 | 4,000 | SC-900T00 |
| 11/10/2023 | 11/10/2023 | 4,000 | SC-900T00 |
| 12/4/2023 | 12/4/2023 | 4,000 | SC-900T00 |
| 6/26/2023 | 6/29/2023 | 16,000 | PL-100T00 |
| 7/3/2023 | 7/6/2023 | 16,000 | PL-100T00 |
| 8/15/2023 | 8/18/2023 | 16,000 | PL-100T00 |
| 9/11/2023 | 9/14/2023 | 16,000 | PL-100T00 |
| 10/9/2023 | 10/12/2023 | 16,000 | PL-100T00 |
| 11/13/2023 | 11/16/2023 | 16,000 | PL-100T00 |
| 12/11/2023 | 12/14/2023 | 16,000 | PL-100T00 |
| 6/12/2023 | 6/15/2023 | 16,000 | PL-200T00 |
| 8/21/2023 | 8/24/2023 | 16,000 | PL-200T00 |
| 10/24/2023 | 10/27/2023 | 16,000 | PL-200T00 |
| 12/18/2023 | 12/21/2023 | 16,000 | PL-200T00 |
| 7/19/2023 | 7/21/2023 | 12,000 | PL-300T00 |
| 9/25/2023 | 9/27/2023 | 12,000 | PL-300T00 |
| 11/1/2023 | 11/3/2023 | 12,000 | PL-300T00 |
| 6/12/2023 | 6/16/2023 | 20,000 | PL-400T00 |
| 8/21/2023 | 8/25/2023 | 20,000 | PL-400T00 |
| 10/16/2023 | 10/20/2023 | 20,000 | PL-400T00 |
| 12/11/2023 | 12/15/2023 | 20,000 | PL-400T00 |
| 6/12/2023 | 6/15/2023 | 16,000 | PL-500T00 |
| 8/21/2023 | 8/24/2023 | 16,000 | PL-500T00 |
| 10/16/2023 | 10/19/2023 | 16,000 | PL-500T00 |
| 12/11/2023 | 12/14/2023 | 16,000 | PL-500T00 |
| 7/19/2023 | 7/21/2023 | 12,000 | PL-600T00 |
| 9/6/2023 | 9/8/2023 | 12,000 | PL-600T00 |
| 11/1/2023 | 11/3/2023 | 12,000 | PL-600T00 |
| 6/9/2023 | 6/9/2023 | 4,000 | PL-900T00 |
| 7/7/2023 | 7/7/2023 | 4,000 | PL-900T00 |
| 8/11/2023 | 8/11/2023 | 4,000 | PL-900T00 |
| 9/8/2023 | 9/8/2023 | 4,000 | PL-900T00 |
| 10/12/2023 | 10/12/2023 | 4,000 | PL-900T00 |
| 11/10/2023 | 11/10/2023 | 4,000 | PL-900T00 |
| 12/8/2023 | 12/8/2023 | 4,000 | PL-900T00 |
| 6/26/2023 | 6/30/2023 | 12,500 | PWA-201 |
| 7/24/2023 | 7/28/2023 | 12,500 | PWA-201 |
| 8/28/2023 | 9/1/2023 | 12,500 | PWA-201 |
| 9/25/2023 | 9/29/2023 | 12,500 | PWA-201 |
| 10/30/2023 | 11/3/2023 | 12,500 | PWA-201 |
| 11/27/2023 | 12/1/2023 | 12,500 | PWA-201 |
| 12/18/2023 | 12/22/2023 | 12,500 | PWA-201 |
| 10/16/2023 | 10/17/2023 | 5,000 | M365-End-User |
| 11/6/2023 | 11/7/2023 | 5,000 | M365-End-User |
| 12/11/2023 | 12/12/2023 | 5,000 | M365-End-User |
| 6/2/2023 | 6/2/2023 | 2,500 | O365-Admin-ENH |
| 7/7/2023 | 7/7/2023 | 2,500 | O365-Admin-ENH |
| 8/4/2023 | 8/4/2023 | 2,500 | O365-Admin-ENH |
| 9/8/2023 | 9/8/2023 | 2,500 | O365-Admin-ENH |
| 10/6/2023 | 10/6/2023 | 2,500 | O365-Admin-ENH |
| 11/3/2023 | 11/3/2023 | 2,500 | O365-Admin-ENH |
| 12/4/2023 | 12/4/2023 | 2,500 | O365-Admin-ENH |
| 6/16/2023 | 6/16/2023 | 4,000 | 55154B |
| 7/14/2023 | 7/14/2023 | 4,000 | 55154B |
| 8/18/2023 | 8/18/2023 | 4,000 | 55154B |
| 9/15/2023 | 9/15/2023 | 4,000 | 55154B |
| 10/20/2023 | 10/20/2023 | 4,000 | 55154B |
| 11/17/2023 | 11/17/2023 | 4,000 | 55154B |
| 12/15/2023 | 12/15/2023 | 4,000 | 55154B |
| 6/9/2023 | 6/9/2023 | 2,500 | OF-19-NF |
| 7/7/2023 | 7/7/2023 | 2,500 | OF-19-NF |
| 8/11/2023 | 8/11/2023 | 2,500 | OF-19-NF |
| 9/8/2023 | 9/8/2023 | 2,500 | OF-19-NF |
| 10/6/2023 | 10/6/2023 | 2,500 | OF-19-NF |
| 11/3/2023 | 11/3/2023 | 2,500 | OF-19-NF |
| 12/8/2023 | 12/8/2023 | 2,500 | OF-19-NF |
| 6/19/2023 | 6/20/2023 | 5,000 | WD-19-01 |
| 7/17/2023 | 7/18/2023 | 5,000 | WD-19-01 |
| 8/15/2023 | 8/16/2023 | 5,000 | WD-19-01 |
| 9/18/2023 | 9/19/2023 | 5,000 | WD-19-01 |
| 10/24/2023 | 10/25/2023 | 5,000 | WD-19-01 |
| 11/20/2023 | 11/21/2023 | 5,000 | WD-19-01 |
| 12/18/2023 | 12/19/2023 | 5,000 | WD-19-01 |
| 6/21/2023 | 6/22/2023 | 5,000 | WD-19-02 |
| 7/19/2023 | 7/20/2023 | 5,000 | WD-19-02 |
| 8/17/2023 | 8/18/2023 | 5,000 | WD-19-02 |
| 9/20/2023 | 9/21/2023 | 5,000 | WD-19-02 |
| 10/26/2023 | 10/27/2023 | 5,000 | WD-19-02 |
| 11/23/2023 | 11/24/2023 | 5,000 | WD-19-02 |
| 12/20/2023 | 12/21/2023 | 5,000 | WD-19-02 |
| 6/19/2023 | 6/20/2023 | 5,000 | EX-19-01 |
| 7/17/2023 | 7/18/2023 | 5,000 | EX-19-01 |
| 8/15/2023 | 8/16/2023 | 5,000 | EX-19-01 |
| 9/18/2023 | 9/19/2023 | 5,000 | EX-19-01 |
| 10/24/2023 | 10/25/2023 | 5,000 | EX-19-01 |
| 11/20/2023 | 11/21/2023 | 5,000 | EX-19-01 |
| 12/18/2023 | 12/19/2023 | 5,000 | EX-19-01 |
| 6/21/2023 | 6/22/2023 | 5,000 | EX-19-02 |
| 7/19/2023 | 7/20/2023 | 5,000 | EX-19-02 |
| 8/17/2023 | 8/18/2023 | 5,000 | EX-19-02 |
| 9/20/2023 | 9/21/2023 | 5,000 | EX-19-02 |
| 10/26/2023 | 10/27/2023 | 5,000 | EX-19-02 |
| 11/23/2023 | 11/24/2023 | 5,000 | EX-19-02 |
| 12/20/2023 | 12/21/2023 | 5,000 | EX-19-02 |
| 6/23/2023 | 6/23/2023 | 2,500 | EX-19-03 |
| 7/21/2023 | 7/21/2023 | 2,500 | EX-19-03 |
| 8/21/2023 | 8/21/2023 | 2,500 | EX-19-03 |
| 9/22/2023 | 9/22/2023 | 2,500 | EX-19-03 |
| 10/30/2023 | 10/30/2023 | 2,500 | EX-19-03 |
| 11/24/2023 | 11/24/2023 | 2,500 | EX-19-03 |
| 12/22/2023 | 12/22/2023 | 2,500 | EX-19-03 |
| 6/12/2023 | 6/13/2023 | 5,000 | PP-19-01 |
| 7/10/2023 | 7/11/2023 | 5,000 | PP-19-01 |
| 8/7/2023 | 8/8/2023 | 5,000 | PP-19-01 |
| 9/11/2023 | 9/12/2023 | 5,000 | PP-19-01 |
| 10/9/2023 | 10/10/2023 | 5,000 | PP-19-01 |
| 11/6/2023 | 11/7/2023 | 5,000 | PP-19-01 |
| 12/11/2023 | 12/12/2023 | 5,000 | PP-19-01 |
| 6/14/2023 | 6/15/2023 | 5,000 | PP-19-02 |
| 7/12/2023 | 7/13/2023 | 5,000 | PP-19-02 |
| 8/9/2023 | 8/10/2023 | 5,000 | PP-19-02 |
| 9/13/2023 | 9/14/2023 | 5,000 | PP-19-02 |
| 10/11/2023 | 10/12/2023 | 5,000 | PP-19-02 |
| 11/8/2023 | 11/9/2023 | 5,000 | PP-19-02 |
| 12/13/2023 | 12/14/2023 | 5,000 | PP-19-02 |
| 6/7/2023 | 6/9/2023 | 7,500 | PJ-19-US |
| 8/2/2023 | 8/4/2023 | 7,500 | PJ-19-US |
| 10/2/2023 | 10/4/2023 | 7,500 | PJ-19-US |
| 12/6/2023 | 12/8/2023 | 7,500 | PJ-19-US |
| 6/23/2023 | 6/23/2023 | 2,500 | OL-19-01 |
| 9/22/2023 | 9/22/2023 | 2,500 | OL-19-01 |
| 12/22/2023 | 12/22/2023 | 2,500 | OL-19-01 |
| 7/17/2023 | 7/21/2023 | 20,000 | ASP-MVC5 |
| 10/30/2023 | 11/3/2023 | 20,000 | ASP-MVC5 |
| 8/21/2023 | 8/22/2023 | 8,000 | 55267-A |
| 11/20/2023 | 11/21/2023 | 8,000 | 55267-A |
| 7/17/2023 | 7/20/2023 | 16,000 | 55284-A |
| 10/9/2023 | 10/12/2023 | 16,000 | 55284-A |
| 8/21/2023 | 8/22/2023 | 8,000 | 55285-A |
| 11/20/2023 | 11/21/2023 | 8,000 | 55285-A |
| 6/26/2023 | 6/30/2023 | 20,000 | 55039-B |
| 9/25/2023 | 9/29/2023 | 20,000 | 55039-B |
| 12/18/2023 | 12/22/2023 | 20,000 | 55039-B |
| 6/7/2023 | 6/9/2023 | 12,000 | 55199-A |
| 8/2/2023 | 8/4/2023 | 12,000 | 55199-A |
| 10/2/2023 | 10/4/2023 | 12,000 | 55199-A |
| 12/6/2023 | 12/8/2023 | 12,000 | 55199-A |
| 7/10/2023 | 7/11/2023 | 8,000 | 55200-A |
| 9/4/2023 | 9/5/2023 | 8,000 | 55200-A |
| 11/6/2023 | 11/7/2023 | 8,000 | 55200-A |
| 7/17/2023 | 7/20/2023 | 16,000 | 55215-B |
| 10/9/2023 | 10/12/2023 | 16,000 | 55215-B |
| 8/21/2023 | 8/24/2023 | 16,000 | 55217-A |
| 11/20/2023 | 11/23/2023 | 16,000 | 55217-A |
| 7/17/2023 | 7/21/2023 | 20,000 | 55234-A |
| 9/25/2023 | 9/29/2023 | 20,000 | 55234-A |
| 11/27/2023 | 12/1/2023 | 20,000 | 55234-A |
| 6/14/2023 | 6/16/2023 | 12,000 | 55238-B |
| 7/19/2023 | 7/21/2023 | 12,000 | 55238-B |
| 8/2/2023 | 8/4/2023 | 12,000 | 55238-B |
| 9/6/2023 | 9/8/2023 | 12,000 | 55238-B |
| 10/10/2023 | 10/12/2023 | 12,000 | 55238-B |
| 11/1/2023 | 11/3/2023 | 12,000 | 55238-B |
| 12/6/2023 | 12/8/2023 | 12,000 | 55238-B |
| 7/10/2023 | 7/11/2023 | 8,000 | 55251-A |
| 9/4/2023 | 9/5/2023 | 8,000 | 55251-A |
| 11/6/2023 | 11/7/2023 | 8,000 | 55251-A |
| 6/12/2023 | 6/16/2023 | 12,000 | 10972 |
| 7/10/2023 | 7/14/2023 | 12,000 | 10972 |
| 8/10/2023 | 8/14/2023 | 12,000 | 10972 |
| 9/7/2023 | 9/11/2023 | 12,000 | 10972 |
| 10/2/2023 | 10/6/2023 | 12,000 | 10972 |
| 10/30/2023 | 11/3/2023 | 12,000 | 10972 |
| 12/11/2023 | 12/15/2023 | 12,000 | 10972 |
| 6/19/2023 | 6/22/2023 | 16,000 | 10987 |
| 7/17/2023 | 7/20/2023 | 16,000 | 10987 |
| 8/7/2023 | 8/10/2023 | 16,000 | 10987 |
| 9/18/2023 | 9/21/2023 | 16,000 | 10987 |
| 10/16/2023 | 10/19/2023 | 16,000 | 10987 |
| 11/13/2023 | 11/16/2023 | 16,000 | 10987 |
| 12/18/2023 | 12/21/2023 | 16,000 | 10987 |
| 6/27/2023 | 6/29/2023 | 12,000 | 10997 |
| 7/18/2023 | 7/20/2023 | 12,000 | 10997 |
| 8/29/2023 | 8/31/2023 | 12,000 | 10997 |
| 9/27/2023 | 9/29/2023 | 12,000 | 10997 |
| 10/31/2023 | 11/2/2023 | 12,000 | 10997 |
| 11/28/2023 | 11/30/2023 | 12,000 | 10997 |
| 12/26/2023 | 12/28/2023 | 12,000 | 10997 |
| 6/26/2023 | 6/30/2023 | 20,000 | 20761 |
| 7/17/2023 | 7/21/2023 | 20,000 | 20761 |
| 8/28/2023 | 9/1/2023 | 20,000 | 20761 |
| 9/25/2023 | 9/29/2023 | 20,000 | 20761 |
| 10/30/2023 | 11/3/2023 | 20,000 | 20761 |
| 11/27/2023 | 12/1/2023 | 20,000 | 20761 |
| 12/18/2023 | 12/22/2023 | 20,000 | 20761 |
| 6/12/2023 | 6/16/2023 | 20,000 | 20764 |
| 7/17/2023 | 7/21/2023 | 20,000 | 20764 |
| 8/21/2023 | 8/25/2023 | 20,000 | 20764 |
| 9/11/2023 | 9/15/2023 | 20,000 | 20764 |
| 10/16/2023 | 10/20/2023 | 20,000 | 20764 |
| 11/13/2023 | 11/17/2023 | 20,000 | 20764 |
| 12/11/2023 | 12/15/2023 | 20,000 | 20764 |
| 6/14/2023 | 6/15/2023 | 8,000 | 20778 |
| 7/19/2023 | 7/20/2023 | 8,000 | 20778 |
| 8/2/2023 | 8/3/2023 | 8,000 | 20778 |
| 9/6/2023 | 9/7/2023 | 8,000 | 20778 |
| 10/10/2023 | 10/11/2023 | 8,000 | 20778 |
| 11/1/2023 | 11/2/2023 | 8,000 | 20778 |
| 12/6/2023 | 12/7/2023 | 8,000 | 20778 |
| 6/7/2023 | 6/9/2023 | 12,000 | 20779 |
| 7/3/2023 | 7/5/2023 | 12,000 | 20779 |
| 8/2/2023 | 8/4/2023 | 12,000 | 20779 |
| 9/6/2023 | 9/8/2023 | 12,000 | 20779 |
| 10/2/2023 | 10/4/2023 | 12,000 | 20779 |
| 11/1/2023 | 11/3/2023 | 12,000 | 20779 |
| 12/6/2023 | 12/8/2023 | 12,000 | 20779 |
| 6/12/2023 | 6/16/2023 | 20,000 | WS-011T00 |
| 7/10/2023 | 7/14/2023 | 20,000 | WS-011T00 |
| 8/7/2023 | 8/11/2023 | 20,000 | WS-011T00 |
| 9/4/2023 | 9/8/2023 | 20,000 | WS-011T00 |
| 10/16/2023 | 10/20/2023 | 20,000 | WS-011T00 |
| 11/6/2023 | 11/10/2023 | 20,000 | WS-011T00 |
| 12/11/2023 | 12/15/2023 | 20,000 | WS-011T00 |
| 6/12/2023 | 6/16/2023 | 60,000 | VSICM8 |
| 7/3/2023 | 7/7/2023 | 60,000 | VSICM8 |
| 8/7/2023 | 8/11/2023 | 60,000 | VSICM8 |
| 9/4/2023 | 9/8/2023 | 60,000 | VSICM8 |
| 10/2/2023 | 10/6/2023 | 60,000 | VSICM8 |
| 11/6/2023 | 11/10/2023 | 60,000 | VSICM8 |
| 12/18/2023 | 12/22/2023 | 60,000 | VSICM8 |
| 6/8/2023 | 6/12/2023 | 37,000 | VSWN8 |
| 10/9/2023 | 10/11/2023 | 37,000 | VSWN8 |
| 7/17/2023 | 7/21/2023 | 90,000 | VSFT7 |
| 9/18/2023 | 9/22/2023 | 90,000 | VSFT7 |
| 9/18/2023 | 9/22/2023 | 66,000 | VSOS8 |
| 11/27/2023 | 12/1/2023 | 66,000 | VSOS8 |
| 6/26/2023 | 6/30/2023 | 66,000 | VSTS7 |
| 10/30/2023 | 11/3/2023 | 66,000 | VSTS7 |
| 12/25/2023 | 12/29/2023 | 66,000 | VSTS7 |
| 6/7/2023 | 6/9/2023 | 40,000 | VSD7 |
| 7/24/2023 | 7/26/2023 | 40,000 | VSD7 |
| 10/25/2023 | 10/27/2023 | 40,000 | VSD7 |
| 6/8/2023 | 6/9/2023 | 25,000 | SRMICM82 |
| 9/11/2023 | 9/13/2023 | 40,000 | VSKDM7 |
| 10/30/2023 | 11/1/2023 | 40,000 | VSKDM7 |
| 12/6/2023 | 12/8/2023 | 40,000 | VSKDM7 |
| 6/6/2023 | 6/9/2023 | 49,000 | TKGIEICM110 |
| 6/12/2023 | 6/16/2023 | 60,000 | NSXTICM32 |
| 7/3/2023 | 7/7/2023 | 60,000 | NSXTICM32 |
| 10/30/2023 | 11/3/2023 | 66,000 | NSXTD32 |
| 9/25/2023 | 9/29/2023 | 60,000 | VROICM86 |
| 10/2/2023 | 10/6/2023 | 66,000 | NSXTTO32 |
| 10/16/2023 | 10/20/2023 | 60,000 | HDM8 |
| 11/6/2023 | 11/10/2023 | 60,000 | HDM8 |
| 12/7/2023 | 12/8/2023 | 25,000 | HIA8 |
| 8/25/2023 | 8/25/2023 | 10,800 | AWS-CPE |
| 9/18/2023 | 9/18/2023 | 10,800 | AWS-CPE |
| 10/16/2023 | 10/16/2023 | 10,800 | AWS-CPE |
| 11/8/2023 | 11/8/2023 | 10,800 | AWS-CPE |
| 12/7/2023 | 12/7/2023 | 10,800 | AWS-CPE |
| 8/18/2023 | 8/18/2023 | 10,800 | AWS-TE |
| 9/19/2023 | 9/19/2023 | 10,800 | AWS-TE |
| 10/17/2023 | 10/17/2023 | 10,800 | AWS-TE |
| 11/7/2023 | 11/7/2023 | 10,800 | AWS-TE |
| 12/8/2023 | 12/8/2023 | 10,800 | AWS-TE |
| 8/25/2023 | 8/25/2023 | 5,900 | AWS-EBL |
| 10/16/2023 | 10/16/2023 | 5,900 | AWS-EBL |
| 12/7/2023 | 12/7/2023 | 5,900 | AWS-EBL |
| 9/18/2023 | 9/18/2023 | 5,900 | AWS-EFS |
| 11/6/2023 | 11/6/2023 | 5,900 | AWS-EFS |
| 8/22/2023 | 8/24/2023 | 32,400 | AWS-ARC |
| 9/20/2023 | 9/22/2023 | 32,400 | AWS-ARC |
| 10/18/2023 | 10/20/2023 | 32,400 | AWS-ARC |
| 11/15/2023 | 11/17/2023 | 32,400 | AWS-ARC |
| 12/13/2023 | 12/15/2023 | 32,400 | AWS-ARC |
| | | 10,800 | AWS-WBP |
| | | 32,400 | AWS-ADA |
| | | 10,800 | AWS-AWB |
| | | 54,000 | AWS-ARA |
| 8/29/2023 | 8/31/2023 | 32,400 | AWS-COA |
| 9/25/2023 | 9/27/2023 | 32,400 | AWS-COA |
| 10/25/2023 | 10/27/2023 | 32,400 | AWS-COA |
| 12/18/2023 | 12/20/2023 | 32,400 | AWS-COA |
| | | 21,600 | AWS-FIN |
| | | 32,400 | AWS-CFM |
| | | 32,400 | AWS-DWA |
| | | 10,800 | AWS-BLK |
| | | 10,800 | AWS-BDA |
| | | 10,800 | AWS-BBD |
| | | 10,800 | AWS-BSD |
| | | 21,600 | AWS-AVA |
| | | 32,400 | AWS-PDD |
| 9/13/2023 | 9/15/2023 | 32,400 | AWS-DEV |
| | | 32,400 | AWS-ADE |
| | | 32,400 | AWS-DOP |
| | | 10,800 | AWS-DEL |
| | | 32,400 | AWS-MLE |
| | | 10,800 | AWS-PDS |
| | | 43,200 | AWS-MLP |
| | | 32,400 | AWS-SSD |
| | | 21,600 | AWS-VSE |
| 8/25/2023 | 8/25/2023 | 10,800 | AWS-MES |
| 10/16/2023 | 10/16/2023 | 10,800 | AWS-MES |
| 12/7/2023 | 12/7/2023 | 10,800 | AWS-MES |
| | | 32,400 | AWS-MGA |
| 9/18/2023 | 9/18/2023 | 10,800 | AWS-SES |
| 11/6/2023 | 11/6/2023 | 10,800 | AWS-SES |
| | | 32,400 | AWS-SEN |
| | | 10,800 | AWS-SGS |
| | | 10,800 | AWS-SBP |
| 7/24/2023 | 7/26/2023 | 42,300 | D1101651GC10 |
| 10/9/2023 | 10/11/2023 | 42,300 | D1101651GC10 |
| 6/26/2023 | 6/30/2023 | 56,500 | D107509GC10 |
| 7/3/2023 | 7/7/2023 | 56,500 | D107509GC10 |
| 8/7/2023 | 8/11/2023 | 56,500 | D107509GC10 |
| 9/4/2023 | 9/8/2023 | 56,500 | D107509GC10 |
| 10/2/2023 | 10/6/2023 | 56,500 | D107509GC10 |
| 11/6/2023 | 11/10/2023 | 56,500 | D107509GC10 |
| 12/11/2023 | 12/15/2023 | 56,500 | D107509GC10 |
| 6/19/2023 | 6/23/2023 | 56,500 | D107511GC10 |
| 7/10/2023 | 7/14/2023 | 56,500 | D107511GC10 |
| 8/21/2023 | 8/25/2023 | 56,500 | D107511GC10 |
| 9/11/2023 | 9/15/2023 | 56,500 | D107511GC10 |
| 10/16/2023 | 10/20/2023 | 56,500 | D107511GC10 |
| 11/13/2023 | 11/17/2023 | 56,500 | D107511GC10 |
| 12/18/2023 | 12/22/2023 | 56,500 | D107511GC10 |
| 6/26/2023 | 6/30/2023 | 56,500 | D108103GC20 |
| 7/17/2023 | 7/21/2023 | 56,500 | D108103GC20 |
| 8/7/2023 | 8/11/2023 | 56,500 | D108103GC20 |
| 9/18/2023 | 9/22/2023 | 56,500 | D108103GC20 |
| 10/30/2023 | 11/3/2023 | 56,500 | D108103GC20 |
| 11/20/2023 | 11/24/2023 | 56,500 | D108103GC20 |
| 12/18/2023 | 12/22/2023 | 56,500 | D108103GC20 |
| 8/15/2023 | 8/18/2023 | 49,000 | D108654GC10 |
| 10/9/2023 | 10/12/2023 | 49,000 | D108654GC10 |
| 11/28/2023 | 12/1/2023 | 49,000 | D108654GC10 |
| 6/12/2023 | 6/16/2023 | 56,500 | D78848GC20 |
| 7/3/2023 | 7/7/2023 | 56,500 | D78848GC20 |
| 8/7/2023 | 8/11/2023 | 56,500 | D78848GC20 |
| 9/4/2023 | 9/8/2023 | 56,500 | D78848GC20 |
| 10/2/2023 | 10/6/2023 | 56,500 | D78848GC20 |
| 11/6/2023 | 11/10/2023 | 56,500 | D78848GC20 |
| 12/11/2023 | 12/15/2023 | 56,500 | D78848GC20 |
| 8/22/2023 | 8/25/2023 | 56,400 | D108634GC10 |
| 11/21/2023 | 11/24/2023 | 56,400 | D108634GC10 |
| 7/6/2023 | 7/7/2023 | 36,900 | D108638GC10 |
| 10/11/2023 | 10/12/2023 | 36,900 | D108638GC10 |
| 12/7/2023 | 12/8/2023 | 36,900 | D108638GC10 |
| 6/12/2023 | 6/16/2023 | 70,500 | D108774GC20 |
| 8/7/2023 | 8/11/2023 | 70,500 | D108774GC20 |
| 10/16/2023 | 10/20/2023 | 70,500 | D108774GC20 |
| 12/11/2023 | 12/15/2023 | 70,500 | D108774GC20 |
| 7/24/2023 | 7/27/2023 | 56,400 | D101287GC10 |
| 9/12/2023 | 9/15/2023 | 56,400 | D101287GC10 |
| 11/27/2023 | 11/30/2023 | 56,400 | D101287GC10 |
| 6/6/2023 | 6/9/2023 | 49,000 | D90871GC20 |
| 8/15/2023 | 8/18/2023 | 49,000 | D90871GC20 |
| 9/5/2023 | 9/8/2023 | 49,000 | D90871GC20 |
| 11/7/2023 | 11/10/2023 | 49,000 | D90871GC20 |
| 6/12/2023 | 6/16/2023 | 56,500 | D66376GC51 |
| 7/10/2023 | 7/14/2023 | 56,500 | D66376GC51 |
| 8/7/2023 | 8/11/2023 | 56,500 | D66376GC51 |
| 9/4/2023 | 9/8/2023 | 56,500 | D66376GC51 |
| 10/16/2023 | 10/20/2023 | 56,500 | D66376GC51 |
| 11/13/2023 | 11/17/2023 | 56,500 | D66376GC51 |
| 12/11/2023 | 12/15/2023 | 56,500 | D66376GC51 |
| 6/20/2023 | 6/23/2023 | 49,000 | D109197GC10 |
| 9/19/2023 | 9/22/2023 | 49,000 | D109197GC10 |
| 12/19/2023 | 12/22/2023 | 49,000 | D109197GC10 |
| 6/19/2023 | 6/23/2023 | 56,500 | D66378GC50 |
| 7/10/2023 | 7/14/2023 | 56,500 | D66378GC50 |
| 8/7/2023 | 8/11/2023 | 56,500 | D66378GC50 |
| 9/4/2023 | 9/8/2023 | 56,500 | D66378GC50 |
| 10/16/2023 | 10/20/2023 | 56,500 | D66378GC50 |
| 7/25/2023 | 7/27/2023 | 42,300 | D108305GC30 |
| 7/17/2023 | 7/21/2023 | 56,500 | D80151GC30 |
| 8/7/2023 | 8/11/2023 | 56,500 | D80151GC30 |
| 8/7/2023 | 8/11/2023 | 56,500 | D80155GC30 |
| 7/26/2023 | 7/27/2023 | 36,900 | D83177GC30 |
| 8/17/2023 | 8/18/2023 | 36,900 | D83177GC30 |
| 6/19/2023 | 6/23/2023 | 92,250 | D95507GC20 |
| 7/10/2023 | 7/14/2023 | 92,250 | D95507GC20 |
| 6/19/2023 | 6/23/2023 | 92,250 | D95503GC10 |
| 7/17/2023 | 7/21/2023 | 92,250 | D95503GC10 |
| 6/21/2023 | 6/23/2023 | 55,350 | D1104288GC10 |
| 7/25/2023 | 7/27/2023 | 55,350 | D1104288GC10 |
| 6/26/2023 | 6/30/2023 | 62,000 | 3627 |
| 9/25/2023 | 9/29/2023 | 62,000 | 3627 |
| 12/25/2023 | 12/29/2023 | 62,000 | 3627 |
| 7/17/2023 | 7/21/2023 | 62,000 | 2813 |
| 10/30/2023 | 11/3/2023 | 62,000 | 2813 |
| 7/10/2023 | 7/11/2023 | 25,000 | 2444 |
| 9/4/2023 | 9/5/2023 | 25,000 | 2444 |
| 11/6/2023 | 11/7/2023 | 25,000 | 2444 |
| 6/7/2023 | 6/9/2023 | 39,500 | 2446 |
| 8/2/2023 | 8/4/2023 | 39,500 | 2446 |
| 10/2/2023 | 10/4/2023 | 39,500 | 2446 |
| 12/6/2023 | 12/8/2023 | 39,500 | 2446 |
| 7/17/2023 | 7/21/2023 | 62,000 | 6639 |
| 9/25/2023 | 9/29/2023 | 62,000 | 6639 |
| 11/27/2023 | 12/1/2023 | 62,000 | 6639 |
| 7/17/2023 | 7/20/2023 | 52,000 | DP0119 |
| 10/9/2023 | 10/12/2023 | 52,000 | DP0119 |
| 7/17/2023 | 7/21/2023 | 62,000 | 7956 |
| 9/18/2023 | 9/22/2023 | 62,000 | 7956 |
| 11/20/2023 | 11/24/2023 | 62,000 | 7956 |
| 6/12/2023 | 6/16/2023 | 62,000 | 8256 |
| 8/7/2023 | 8/11/2023 | 62,000 | 8256 |
| 10/16/2023 | 10/20/2023 | 62,000 | 8256 |
| 12/11/2023 | 12/15/2023 | 62,000 | 8256 |
| 6/12/2023 | 6/16/2023 | 62,000 | 8296 |
| 9/4/2023 | 9/8/2023 | 62,000 | 8296 |
| 12/11/2023 | 12/15/2023 | 62,000 | 8296 |
| 6/19/2023 | 6/23/2023 | 62,000 | 8726 |
| 7/17/2023 | 7/21/2023 | 62,000 | 8726 |
| 8/21/2023 | 8/25/2023 | 62,000 | 8726 |
| 9/18/2023 | 9/22/2023 | 62,000 | 8726 |
| 10/16/2023 | 10/20/2023 | 62,000 | 8726 |
| 11/20/2023 | 11/24/2023 | 62,000 | 8726 |
| 12/11/2023 | 12/15/2023 | 62,000 | 8726 |
| 6/26/2023 | 6/30/2023 | 62,000 | 9005 |
| 7/17/2023 | 7/21/2023 | 62,000 | 9005 |
| 8/28/2023 | 9/1/2023 | 62,000 | 9005 |
| 9/25/2023 | 9/29/2023 | 62,000 | 9005 |
| 10/30/2023 | 11/3/2023 | 62,000 | 9005 |
| 11/27/2023 | 12/1/2023 | 62,000 | 9005 |
| 12/18/2023 | 12/22/2023 | 62,000 | 9005 |
| 6/7/2023 | 6/9/2023 | 36,000 | TMAOCP |
| 7/12/2023 | 7/14/2023 | 36,000 | TMAOCP |
| 8/2/2023 | 8/4/2023 | 36,000 | TMAOCP |
| 9/25/2023 | 9/27/2023 | 36,000 | TMAOCP |
| 10/10/2023 | 10/12/2023 | 36,000 | TMAOCP |
| 11/1/2023 | 11/3/2023 | 36,000 | TMAOCP |
| 12/6/2023 | 12/8/2023 | 36,000 | TMAOCP |
| 6/14/2023 | 6/16/2023 | 36,000 | TMDSCP20 |
| 7/19/2023 | 7/21/2023 | 36,000 | TMDSCP20 |
| 8/2/2023 | 8/4/2023 | 36,000 | TMDSCP20 |
| 9/6/2023 | 9/8/2023 | 36,000 | TMDSCP20 |
| 10/10/2023 | 10/12/2023 | 36,000 | TMDSCP20 |
| 11/1/2023 | 11/3/2023 | 36,000 | TMDSCP20 |
| 12/6/2023 | 12/8/2023 | 36,000 | TMDSCP20 |
| 6/12/2023 | 6/14/2023 | 36,000 | TMDDCP |
| 7/24/2023 | 7/26/2023 | 36,000 | TMDDCP |
| 8/21/2023 | 8/23/2023 | 36,000 | TMDDCP |
| 9/18/2023 | 9/20/2023 | 36,000 | TMDDCP |
| 10/24/2023 | 10/26/2023 | 36,000 | TMDDCP |
| 11/20/2023 | 11/22/2023 | 36,000 | TMDDCP |
| 12/18/2023 | 12/20/2023 | 36,000 | TMDDCP |
| 7/24/2023 | 7/26/2023 | 25,000 | CT-ITF+ |
| 12/6/2023 | 12/8/2023 | 25,000 | CT-ITF+ |
| 7/10/2023 | 7/14/2023 | 48,000 | CT01-Network+ |
| 8/2/2023 | 8/4/2023 | 39,000 | CT02-Network+ |
| 12/13/2023 | 12/15/2023 | 39,000 | CT02-Network+ |
| 10/30/2023 | 11/3/2023 | 48,000 | CT01-Security+ |
| 11/6/2023 | 11/10/2023 | 48,000 | CT01-Security+ |
| 6/7/2023 | 6/9/2023 | 39,000 | CT02-Security+ |
| 8/16/2023 | 8/18/2023 | 39,000 | CT02-Security+ |
| 10/9/2023 | 10/11/2023 | 39,000 | CT02-Security+ |
| 12/6/2023 | 12/8/2023 | 39,000 | CT02-Security+ |
| 9/25/2023 | 9/29/2023 | 45,000 | CT-Cloud+ |
| 10/2/2023 | 10/6/2023 | 45,000 | CT-Server+ |
| 11/13/2023 | 11/17/2023 | 48,000 | CT01-CySA+ |
| 8/2/2023 | 8/4/2023 | 39,000 | CT02-CySA+ |
| 11/1/2023 | 11/3/2023 | 39,000 | CT02-CySA+ |
| 7/17/2023 | 7/21/2023 | 48,000 | CT-PenTest+ |
| 12/11/2023 | 12/15/2023 | 48,000 | CT-PenTest+ |
| 10/2/2023 | 10/6/2023 | 54,000 | CT-CASP+ |
| 7/24/2023 | 7/26/2023 | 28,000 | CT-Cloud Essentials+ |
| 11/1/2023 | 11/3/2023 | 28,000 | CT-Cloud Essentials+ |
| 6/7/2023 | 6/9/2023 | 45,000 | CT-Project+ |
| 9/4/2023 | 9/6/2023 | 45,000 | CT-Project+ |
| 6/21/2023 | 6/23/2023 | 22,000 | ITIL-V4 |
| 7/12/2023 | 7/14/2023 | 22,000 | ITIL-V4 |
| 6/21/2023 | 6/23/2023 | 48,500 | ITIL-V4+Exam |
| 7/12/2023 | 7/14/2023 | 48,500 | ITIL-V4+Exam |
| 10/16/2023 | 10/20/2023 | 37,950 | RH124 |
| 11/6/2023 | 11/10/2023 | 37,950 | RH124 |
| 12/18/2023 | 12/22/2023 | 37,950 | RH124 |
| 6/19/2023 | 6/23/2023 | 47,450 | RH134 |
| 8/28/2023 | 9/1/2023 | 47,450 | RH134 |
| 9/25/2023 | 9/29/2023 | 47,450 | RH134 |
| 10/30/2023 | 11/3/2023 | 47,450 | RH134 |
| 11/27/2023 | 12/1/2023 | 47,450 | RH134 |
| 12/25/2023 | 12/29/2023 | 47,450 | RH134 |
| 6/19/2023 | 6/23/2023 | 57,530 | RH135 |
| 8/28/2023 | 9/1/2023 | 57,530 | RH135 |
| 9/25/2023 | 9/29/2023 | 57,530 | RH135 |
| 10/30/2023 | 11/3/2023 | 57,530 | RH135 |
| 11/27/2023 | 12/1/2023 | 57,530 | RH135 |
| 12/25/2023 | 12/29/2023 | 57,530 | RH135 |
| 8/15/2023 | 8/18/2023 | 60,960 | RH294 |
| 9/11/2023 | 9/14/2023 | 60,960 | RH294 |
| 10/24/2023 | 10/27/2023 | 60,960 | RH294 |
| 11/20/2023 | 11/23/2023 | 60,960 | RH294 |
| 12/12/2023 | 12/15/2023 | 60,960 | RH294 |
| 8/15/2023 | 8/18/2023 | 71,040 | RH295 |
| 9/11/2023 | 9/14/2023 | 71,040 | RH295 |
| 10/24/2023 | 10/27/2023 | 71,040 | RH295 |
| 11/20/2023 | 11/23/2023 | 71,040 | RH295 |
| 12/12/2023 | 12/15/2023 | 71,040 | RH295 |
| 11/6/2023 | 11/9/2023 | 60,960 | DO180 |
| 6/28/2023 | 6/30/2023 | 45,720 | DO188 |
| 10/9/2023 | 10/12/2023 | 45,720 | DO280 |
| 12/12/2023 | 12/15/2023 | 45,720 | DO280 |
| - | - | 60,960 | DO288 |
| 6/6/2023 | 6/8/2023 | 9,500 | PYTN102 |
| 6/19/2023 | 6/21/2023 | 7,500 | PYTN103 |
| 6/26/2023 | 6/30/2023 | 19,900 | PYTN104 |
| 7/10/2023 | 7/14/2023 | 35,000 | PMP7 |
| 11/27/2023 | 12/1/2023 | 35,000 | PMP7 |
| 8/18/2023 | 8/18/2023 | 4,000 | AI-050T00 |
| 9/15/2023 | 9/15/2023 | 4,000 | AI-050T00 |
| 10/20/2023 | 10/20/2023 | 4,000 | AI-050T00 |
| 11/17/2023 | 11/17/2023 | 4,000 | AI-050T00 |
| 12/15/2023 | 12/15/2023 | 4,000 | AI-050T00 |
| 8/18/2023 | 8/18/2023 | 4,000 | DP-601T00 |
| 9/15/2023 | 9/15/2023 | 4,000 | DP-601T00 |
| 10/20/2023 | 10/20/2023 | 4,000 | DP-601T00 |
| 11/17/2023 | 11/17/2023 | 4,000 | DP-601T00 |
| 12/15/2023 | 12/15/2023 | 4,000 | DP-601T00 |
| 8/15/2023 | 8/16/2023 | 4,000 | IC-002T00 |
| 9/18/2023 | 9/19/2023 | 4,000 | IC-002T00 |
| 10/19/2023 | 10/20/2023 | 4,000 | IC-002T00 |
| 11/16/2023 | 11/17/2023 | 4,000 | IC-002T00 |
| 12/7/2023 | 12/8/2023 | 4,000 | IC-002T00 |
| 8/21/2023 | 8/24/2023 | 16,000 | DP-203T00 |