Oracle Service Bus 12c: Design & Integrate Services Ed 1
This Oracle Service Bus 12c: Design and Integrate Services training takes a use case driven approach to explain the OSB capabilities of connecting, mediating and coordinating the interaction between different applications and services across a variety of platforms, protocols, and interface technologies. Expert Oracle University instructors discuss OSB as a common infrastructure in support of a broad scale SOA initiative.
STUDENTS WILL LEARN TO
Use Oracle Service Bus 12c to make services interact in a decouple manner.
Implement enterprise-quality message flows with Service Bus 12c.
Implement message validation, routing, transformation and enrichment.
Integrate services with legacy systems.
Enable service level abstraction.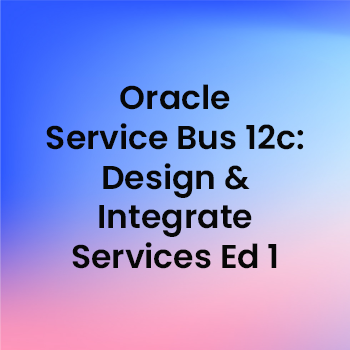 COURSE TOPICS
Module 1 : Introduction
Module 2 : Introducing Oracle Service Bus
Introducing Oracle Service Bus
Introducing Oracle Service Bus (Part 2)
Practice 2-1: Configuring the Integrated WebLogic Server's Default Domain in JDeveloper.
Skill Check: Introducing Oracle Service Bus
Module 3 : Getting Started with Oracle Service Bus Applications
Getting Started with Oracle Service Bus Applications
Getting Started with Oracle Service Bus Applications(Part 2)
Practice 3-1: Deploying and Testing a SOA Composite
Practice 3-2: Virtualizing Service with Service Bus
Practice 3-3: Populating MDS Repository with Source Data
Skill Check: Getting Started with Oracle Service Bus Applications
Module 4 : Basics of Message Flow
Basics of Message Flow
Basics of Message Flow (Part 2)
Practice 4-1: Creating a pipeline template for logging
Practice 4-2: Creating a new pipeline using a pipeline template
Practice 4-3: Debugging a Service Bus Application in JDeveloper
Skill Check: Basics of Message Flow
Module 5 : Validating Messages and Error Handling
Validating Messages and Error Handling
Practice 5-1: Importing Template Resources and Creatin a Business Service
Practice 5-2: Creating the pipeline that validates messages using the Pipeline Template
Skill Check: Validating Messages and Error Handling
Module 6 : Transforming Messages
Transforming Messages
Practice 6-1: Transforming Data using XQuery Transformation
Practice 6-2: Configuring a File Adapter Proxy with nXSD Transformation
Appendix: Building the nXSD Transformation from the Beginning
Skill Check: Transforming Messages
Module 7 : Routing Messages
Routing Messages
Practice 7-1: Static Routing Messages using Conditional Branching
Practice 7-2: Dynamic Routing Messages using XQuery based Policy
Skill Check: Routing Messages
Module 8 : Enriching Messages
Enriching Messages
Practice 8-1: Enriching the Message by Calling a Pipeline Service (Session ID Generation)
Practice 8-2: Enriching the Message by Calling a Business Service (ValidateCreditCard)
Skill Check: Enriching Messages
Module 9 : Processing Messages with Concurrent Calls
Processing Messages with Concurrent Calls
Practice 9-1: Processing Messages with Static Split-Join
Skill Check: Processing Messages with Concurrent Calls
Module 10 : Adapters and Transports
Adapters and Transports
Adapters and Transports (Part 2)
Practice 10-1: Calling a SOA Service using SOA-Direct Protocol
Practice 10-2: Exposing a SOAP Service as a REST Service
Skill Check: Adapters and Transports
Module 11 : Reliable Messaging
Reliable Messaging
Skill Check: Reliable Messaging
Module 12 : Service Bus Security
Service Bus Security
Practice 12-1: Configuring the Security Environment
Practice 12-2: Securing Back-end Web Service and Attaching Security Policy to Business Service
Practice 12-3: Applying a Security Policy to Proxy Service
Skill Check: Service Bus Security
Module 13 : Advanced Topics
Advanced Topics
Advanced Topics (Part 2)
Advanced Topics (Part 3)
Practice 13-1: Configuring Result Caching to Improve Service Performance
Practice 13-2: Adding a Service Level Agreement Alert
Practice 13-3: Building and Deploying Service Bus Projects with Maven (Optional)
Skill Check: Advanced Topics
| Start Date | End Date | Price | Code |
| --- | --- | --- | --- |
| 12/11/2023 | 12/15/2023 | 20,000 | AZ-204T00 |
| 1/8/2024 | 1/12/2024 | 20,000 | AZ-204T00 |
| 2/5/2024 | 2/9/2024 | 20,000 | AZ-204T00 |
| 3/11/2024 | 3/15/2024 | 20,000 | AZ-204T00 |
| 4/22/2024 | 4/26/2024 | 20,000 | AZ-204T00 |
| 5/13/2024 | 5/17/2024 | 20,000 | AZ-204T00 |
| 6/10/2024 | 6/14/2024 | 20,000 | AZ-204T00 |
| 6/6/2023 | 6/9/2023 | 16,000 | AZ-220T00 |
| 7/24/2023 | 7/27/2023 | 16,000 | AZ-220T00 |
| 8/15/2023 | 8/18/2023 | 16,000 | AZ-220T00 |
| 9/5/2023 | 9/8/2023 | 16,000 | AZ-220T00 |
| 10/9/2023 | 10/12/2023 | 16,000 | AZ-220T00 |
| 11/7/2023 | 11/10/2023 | 16,000 | AZ-220T00 |
| 12/12/2023 | 12/15/2023 | 16,000 | AZ-220T00 |
| 12/12/2023 | 12/15/2023 | 16,000 | AZ-400T00 |
| 1/9/2024 | 1/12/2024 | 16,000 | AZ-400T00 |
| 2/6/2024 | 2/9/2024 | 16,000 | AZ-400T00 |
| 3/5/2024 | 3/8/2024 | 16,000 | AZ-400T00 |
| 4/9/2024 | 4/12/2024 | 16,000 | AZ-400T00 |
| 5/7/2024 | 5/10/2024 | 16,000 | AZ-400T00 |
| 6/4/2024 | 6/7/2024 | 16,000 | AZ-400T00 |
| 12/11/2023 | 12/15/2023 | 20,000 | AZ-040T00 |
| 1/8/2024 | 1/12/2024 | 20,000 | AZ-040T00 |
| 2/5/2024 | 2/9/2024 | 20,000 | AZ-040T00 |
| 3/25/2024 | 3/29/2024 | 20,000 | AZ-040T00 |
| 4/22/2024 | 4/26/2024 | 20,000 | AZ-040T00 |
| 5/13/2024 | 5/17/2024 | 20,000 | AZ-040T00 |
| 6/10/2024 | 6/14/2024 | 20,000 | AZ-040T00 |
| 12/11/2023 | 12/14/2023 | 16,000 | AZ-104T00 |
| 1/9/2024 | 1/12/2024 | 16,000 | AZ-104T00 |
| 2/6/2024 | 2/9/2024 | 16,000 | AZ-104T00 |
| 3/5/2024 | 3/8/2024 | 16,000 | AZ-104T00 |
| 4/9/2024 | 4/12/2024 | 16,000 | AZ-104T00 |
| 5/7/2024 | 5/10/2024 | 16,000 | AZ-104T00 |
| 6/4/2024 | 6/7/2024 | 16,000 | AZ-104T00 |
| 12/18/2023 | 12/21/2023 | 16,000 | AZ-140T00 |
| 1/23/2024 | 1/26/2024 | 16,000 | AZ-140T00 |
| 2/20/2024 | 2/23/2024 | 16,000 | AZ-140T00 |
| 3/19/2024 | 3/22/2024 | 16,000 | AZ-140T00 |
| 4/23/2024 | 4/26/2024 | 16,000 | AZ-140T00 |
| 5/27/2024 | 5/30/2024 | 16,000 | AZ-140T00 |
| 6/25/2024 | 6/28/2024 | 16,000 | AZ-140T00 |
| 6/6/2023 | 6/9/2023 | 16,000 | AZ-305T00 |
| 7/17/2023 | 7/20/2023 | 16,000 | AZ-305T00 |
| 8/15/2023 | 8/18/2023 | 16,000 | AZ-305T00 |
| 9/11/2023 | 9/14/2023 | 16,000 | AZ-305T00 |
| 10/9/2023 | 10/12/2023 | 16,000 | AZ-305T00 |
| 11/13/2023 | 11/16/2023 | 16,000 | AZ-305T00 |
| 12/11/2023 | 12/14/2023 | 16,000 | AZ-305T00 |
| 6/6/2023 | 6/9/2023 | 16,000 | AZ-600T00 |
| 7/24/2023 | 7/27/2023 | 16,000 | AZ-600T00 |
| 8/15/2023 | 8/18/2023 | 16,000 | AZ-600T00 |
| 9/5/2023 | 9/8/2023 | 16,000 | AZ-600T00 |
| 10/9/2023 | 10/12/2023 | 16,000 | AZ-600T00 |
| 11/7/2023 | 11/10/2023 | 16,000 | AZ-600T00 |
| 12/12/2023 | 12/15/2023 | 16,000 | AZ-600T00 |
| 6/7/2023 | 6/9/2023 | 12,000 | AZ-700T00 |
| 7/12/2023 | 7/14/2023 | 12,000 | AZ-700T00 |
| 8/2/2023 | 8/4/2023 | 12,000 | AZ-700T00 |
| 9/6/2023 | 9/8/2023 | 12,000 | AZ-700T00 |
| 10/4/2023 | 10/6/2023 | 12,000 | AZ-700T00 |
| 11/1/2023 | 11/3/2023 | 12,000 | AZ-700T00 |
| 12/6/2023 | 12/8/2023 | 12,000 | AZ-700T00 |
| 6/7/2023 | 6/9/2023 | 12,000 | AZ-720T00 |
| 7/12/2023 | 7/14/2023 | 12,000 | AZ-720T00 |
| 8/2/2023 | 8/4/2023 | 12,000 | AZ-720T00 |
| 9/6/2023 | 9/8/2023 | 12,000 | AZ-720T00 |
| 10/4/2023 | 10/6/2023 | 12,000 | AZ-720T00 |
| 11/1/2023 | 11/3/2023 | 12,000 | AZ-720T00 |
| 12/6/2023 | 12/8/2023 | 12,000 | AZ-720T00 |
| 6/6/2023 | 6/9/2023 | 16,000 | AZ-800T00 |
| 7/17/2023 | 7/20/2023 | 16,000 | AZ-800T00 |
| 8/15/2023 | 8/18/2023 | 16,000 | AZ-800T00 |
| 9/11/2023 | 9/14/2023 | 16,000 | AZ-800T00 |
| 10/9/2023 | 10/12/2023 | 16,000 | AZ-800T00 |
| 11/13/2023 | 11/16/2023 | 16,000 | AZ-800T00 |
| 12/11/2023 | 12/14/2023 | 16,000 | AZ-800T00 |
| 6/12/2023 | 6/15/2023 | 16,000 | AZ-801T00 |
| 7/24/2023 | 7/27/2023 | 16,000 | AZ-801T00 |
| 8/21/2023 | 8/24/2023 | 16,000 | AZ-801T00 |
| 9/18/2023 | 9/21/2023 | 16,000 | AZ-801T00 |
| 10/24/2023 | 10/27/2023 | 16,000 | AZ-801T00 |
| 11/20/2023 | 11/23/2023 | 16,000 | AZ-801T00 |
| 12/18/2023 | 12/21/2023 | 16,000 | AZ-801T00 |
| 6/9/2023 | 6/9/2023 | 4,000 | AZ-900T00 |
| 7/7/2023 | 7/7/2023 | 4,000 | AZ-900T00 |
| 8/21/2023 | 8/21/2023 | 4,000 | AZ-900T00 |
| 9/8/2023 | 9/8/2023 | 4,000 | AZ-900T00 |
| 10/12/2023 | 10/12/2023 | 4,000 | AZ-900T00 |
| 11/10/2023 | 11/10/2023 | 4,000 | AZ-900T00 |
| 12/8/2023 | 12/8/2023 | 4,000 | AZ-900T00 |
| 6/6/2023 | 6/9/2023 | 16,000 | AI-102T00 |
| 7/17/2023 | 7/20/2023 | 16,000 | AI-102T00 |
| 8/15/2023 | 8/18/2023 | 16,000 | AI-102T00 |
| 9/11/2023 | 9/14/2023 | 16,000 | AI-102T00 |
| 10/9/2023 | 10/12/2023 | 16,000 | AI-102T00 |
| 11/13/2023 | 11/16/2023 | 16,000 | AI-102T00 |
| 12/11/2023 | 12/14/2023 | 16,000 | AI-102T00 |
| 6/9/2023 | 6/9/2023 | 4,000 | AI-900T00 |
| 7/7/2023 | 7/7/2023 | 4,000 | AI-900T00 |
| 8/11/2023 | 8/11/2023 | 4,000 | AI-900T00 |
| 9/8/2023 | 9/8/2023 | 4,000 | AI-900T00 |
| 10/12/2023 | 10/12/2023 | 4,000 | AI-900T00 |
| 11/10/2023 | 11/10/2023 | 4,000 | AI-900T00 |
| 12/8/2023 | 12/8/2023 | 4,000 | AI-900T00 |
| 6/8/2023 | 6/9/2023 | 8,000 | DP-080T00 |
| 8/10/2023 | 8/11/2023 | 8,000 | DP-080T00 |
| 10/9/2023 | 10/10/2023 | 8,000 | DP-080T00 |
| 12/7/2023 | 12/8/2023 | 8,000 | DP-080T00 |
| 6/7/2023 | 6/9/2023 | 12,000 | DP-100T01 |
| 7/3/2023 | 7/5/2023 | 12,000 | DP-100T01 |
| 8/2/2023 | 8/4/2023 | 12,000 | DP-100T01 |
| 9/6/2023 | 9/8/2023 | 12,000 | DP-100T01 |
| 10/2/2023 | 10/4/2023 | 12,000 | DP-100T01 |
| 11/1/2023 | 11/3/2023 | 12,000 | DP-100T01 |
| 12/6/2023 | 12/8/2023 | 12,000 | DP-100T01 |
| 6/12/2023 | 6/15/2023 | 16,000 | DP-300T00 |
| 7/24/2023 | 7/27/2023 | 16,000 | DP-300T00 |
| 8/21/2023 | 8/24/2023 | 16,000 | DP-300T00 |
| 9/18/2023 | 9/21/2023 | 16,000 | DP-300T00 |
| 10/24/2023 | 10/27/2023 | 16,000 | DP-300T00 |
| 11/20/2023 | 11/23/2023 | 16,000 | DP-300T00 |
| 12/18/2023 | 12/21/2023 | 16,000 | DP-300T00 |
| 6/19/2023 | 6/22/2023 | 16,000 | DP-420T00 |
| 7/17/2023 | 7/20/2023 | 16,000 | DP-420T00 |
| 8/21/2023 | 8/24/2023 | 16,000 | DP-420T00 |
| 9/18/2023 | 9/21/2023 | 16,000 | DP-420T00 |
| 10/16/2023 | 10/19/2023 | 16,000 | DP-420T00 |
| 11/13/2023 | 11/16/2023 | 16,000 | DP-420T00 |
| 12/18/2023 | 12/21/2023 | 16,000 | DP-420T00 |
| 6/26/2023 | 6/29/2023 | 16,000 | DP-500T00 |
| 7/17/2023 | 7/20/2023 | 16,000 | DP-500T00 |
| 8/28/2023 | 8/31/2023 | 16,000 | DP-500T00 |
| 9/25/2023 | 9/29/2023 | 16,000 | DP-500T00 |
| 10/30/2023 | 11/2/2023 | 16,000 | DP-500T00 |
| 11/27/2023 | 11/30/2023 | 16,000 | DP-500T00 |
| 12/25/2023 | 12/28/2023 | 16,000 | DP-500T00 |
| 6/12/2023 | 6/16/2023 | 20,000 | MD-100T00 |
| 7/24/2023 | 7/27/2023 | 20,000 | MD-100T00 |
| 8/7/2023 | 8/11/2023 | 20,000 | MD-100T00 |
| 9/11/2023 | 9/15/2023 | 20,000 | MD-100T00 |
| 10/2/2023 | 10/6/2023 | 20,000 | MD-100T00 |
| 11/13/2023 | 11/17/2023 | 20,000 | MD-100T00 |
| 12/18/2023 | 12/22/2023 | 20,000 | MD-100T00 |
| 6/19/2023 | 6/23/2023 | 20,000 | MD-101T00 |
| 7/10/2023 | 7/14/2023 | 20,000 | MD-101T00 |
| 8/21/2023 | 8/25/2023 | 20,000 | MD-101T00 |
| 9/18/2023 | 9/22/2023 | 20,000 | MD-101T00 |
| 10/16/2023 | 10/20/2023 | 20,000 | MD-101T00 |
| 11/20/2023 | 11/24/2023 | 20,000 | MD-101T00 |
| 12/18/2023 | 12/22/2023 | 20,000 | MD-101T00 |
| 6/26/2023 | 6/30/2023 | 20,000 | MD-102T00 |
| 7/17/2023 | 7/21/2023 | 20,000 | MD-102T00 |
| 8/28/2023 | 9/1/2023 | 20,000 | MD-102T00 |
| 9/25/2023 | 9/29/2023 | 20,000 | MD-102T00 |
| 10/30/2023 | 11/3/2023 | 20,000 | MD-102T00 |
| 11/27/2023 | 12/1/2023 | 20,000 | MD-102T00 |
| 12/25/2023 | 12/29/2023 | 20,000 | MD-102T00 |
| 6/12/2023 | 6/16/2023 | 20,000 | MS-100T00 |
| 7/3/2023 | 7/7/2023 | 20,000 | MS-100T00 |
| 8/7/2023 | 8/11/2023 | 20,000 | MS-100T00 |
| 9/4/2023 | 9/8/2023 | 20,000 | MS-100T00 |
| 10/2/2023 | 10/6/2023 | 20,000 | MS-100T00 |
| 11/6/2023 | 11/10/2023 | 20,000 | MS-100T00 |
| 12/18/2023 | 12/22/2023 | 20,000 | MS-100T00 |
| 6/19/2023 | 6/23/2023 | 20,000 | MS-101T00 |
| 7/10/2023 | 7/14/2023 | 20,000 | MS-101T00 |
| 8/21/2023 | 8/25/2023 | 20,000 | MS-101T00 |
| 9/18/2023 | 9/22/2023 | 20,000 | MS-101T00 |
| 10/16/2023 | 10/20/2023 | 20,000 | MS-101T00 |
| 11/20/2023 | 11/24/2023 | 20,000 | MS-101T00 |
| 12/18/2023 | 12/22/2023 | 20,000 | MS-101T00 |
| 6/26/2023 | 6/30/2023 | 20,000 | MS-102T00 |
| 7/17/2023 | 7/21/2023 | 20,000 | MS-102T00 |
| 8/28/2023 | 9/1/2023 | 20,000 | MS-102T00 |
| 9/25/2023 | 9/29/2023 | 20,000 | MS-102T00 |
| 10/30/2023 | 11/3/2023 | 20,000 | MS-102T00 |
| 11/27/2023 | 12/1/2023 | 20,000 | MS-102T00 |
| 12/25/2023 | 12/29/2023 | 20,000 | MS-102T00 |
| 6/12/2023 | 6/16/2023 | 20,000 | MS-203T00 |
| 7/10/2023 | 7/14/2023 | 20,000 | MS-203T00 |
| 8/21/2023 | 8/25/2023 | 20,000 | MS-203T00 |
| 9/11/2023 | 9/15/2023 | 20,000 | MS-203T00 |
| 10/16/2023 | 10/20/2023 | 20,000 | MS-203T00 |
| 11/13/2023 | 11/17/2023 | 20,000 | MS-203T00 |
| 12/11/2023 | 12/15/2023 | 20,000 | MS-203T00 |
| 6/21/2023 | 6/23/2023 | 20,000 | MS-220T00 |
| 7/19/2023 | 7/21/2023 | 20,000 | MS-220T00 |
| 8/23/2023 | 8/25/2023 | 20,000 | MS-220T00 |
| 9/20/2023 | 9/22/2023 | 20,000 | MS-220T00 |
| 10/25/2023 | 10/27/2023 | 20,000 | MS-220T00 |
| 11/22/2023 | 11/24/2023 | 20,000 | MS-220T00 |
| 12/20/2023 | 12/22/2023 | 20,000 | MS-220T00 |
| 6/13/2023 | 6/16/2023 | 16,000 | MS-600T00 |
| 7/11/2023 | 7/14/2023 | 16,000 | MS-600T00 |
| 8/8/2023 | 8/11/2023 | 16,000 | MS-600T00 |
| 9/5/2023 | 9/8/2023 | 16,000 | MS-600T00 |
| 10/17/2023 | 10/20/2023 | 16,000 | MS-600T00 |
| 11/7/2023 | 11/10/2023 | 16,000 | MS-600T00 |
| 12/12/2023 | 12/15/2023 | 16,000 | MS-600T00 |
| 6/6/2023 | 6/9/2023 | 16,000 | MS-700T00 |
| 7/17/2023 | 7/20/2023 | 16,000 | MS-700T00 |
| 8/15/2023 | 8/18/2023 | 16,000 | MS-700T00 |
| 9/11/2023 | 9/14/2023 | 16,000 | MS-700T00 |
| 10/9/2023 | 10/12/2023 | 16,000 | MS-700T00 |
| 11/13/2023 | 11/16/2023 | 16,000 | MS-700T00 |
| 12/11/2023 | 12/14/2023 | 16,000 | MS-700T00 |
| 6/14/2023 | 6/16/2023 | 12,000 | MS-720T00 |
| 7/19/2023 | 7/21/2023 | 12,000 | MS-720T00 |
| 8/2/2023 | 8/4/2023 | 12,000 | MS-720T00 |
| 9/6/2023 | 9/8/2023 | 12,000 | MS-720T00 |
| 10/10/2023 | 10/12/2023 | 12,000 | MS-720T00 |
| 11/1/2023 | 11/3/2023 | 12,000 | MS-720T00 |
| 12/6/2023 | 12/8/2023 | 12,000 | MS-720T00 |
| 7/17/2023 | 7/20/2023 | 16,000 | MS-721T00 |
| 8/15/2023 | 8/18/2023 | 16,000 | MS-721T00 |
| 9/11/2023 | 9/14/2023 | 16,000 | MS-721T00 |
| 10/9/2023 | 10/12/2023 | 16,000 | MS-721T00 |
| 11/13/2023 | 11/16/2023 | 16,000 | MS-721T00 |
| 12/11/2023 | 12/14/2023 | 16,000 | MS-721T00 |
| 6/26/2023 | 6/28/2023 | 12,000 | MS-740T00 |
| 7/24/2023 | 7/26/2023 | 12,000 | MS-740T00 |
| 8/28/2023 | 8/30/2023 | 12,000 | MS-740T00 |
| 9/25/2023 | 9/27/2023 | 12,000 | MS-740T00 |
| 10/30/2023 | 11/1/2023 | 12,000 | MS-740T00 |
| 11/27/2023 | 11/29/2023 | 12,000 | MS-740T00 |
| 12/25/2023 | 12/27/2023 | 12,000 | MS-740T00 |
| 6/8/2023 | 6/8/2023 | 4,000 | MS-080T00 |
| 7/7/2023 | 7/7/2023 | 4,000 | MS-080T00 |
| 8/11/2023 | 8/11/2023 | 4,000 | MS-080T00 |
| 9/1/2023 | 9/1/2023 | 4,000 | MS-080T00 |
| 10/26/2023 | 10/26/2023 | 4,000 | MS-080T00 |
| 11/3/2023 | 11/3/2023 | 4,000 | MS-080T00 |
| 12/4/2023 | 12/4/2023 | 4,000 | MS-080T00 |
| 6/9/2023 | 6/9/2023 | 4,000 | MS-900T01 |
| 7/27/2023 | 7/27/2023 | 4,000 | MS-900T01 |
| 8/7/2023 | 8/7/2023 | 4,000 | MS-900T01 |
| 9/8/2023 | 9/8/2023 | 4,000 | MS-900T01 |
| 10/27/2023 | 10/27/2023 | 4,000 | MS-900T01 |
| 11/10/2023 | 11/10/2023 | 4,000 | MS-900T01 |
| 12/8/2023 | 12/8/2023 | 4,000 | MS-900T01 |
| 6/12/2023 | 6/16/2023 | 20,000 | 55354A |
| 7/17/2023 | 7/21/2023 | 20,000 | 55354A |
| 8/21/2023 | 8/25/2023 | 20,000 | 55354A |
| 9/11/2023 | 9/15/2023 | 20,000 | 55354A |
| 10/16/2023 | 10/20/2023 | 20,000 | 55354A |
| 11/13/2023 | 11/17/2023 | 20,000 | 55354A |
| 12/11/2023 | 12/15/2023 | 20,000 | 55354A |
| 6/6/2023 | 6/9/2023 | 16,000 | AZ-500T00 |
| 7/17/2023 | 7/20/2023 | 16,000 | AZ-500T00 |
| 8/15/2023 | 8/18/2023 | 16,000 | AZ-500T00 |
| 9/11/2023 | 9/14/2023 | 16,000 | AZ-500T00 |
| 10/9/2023 | 10/12/2023 | 16,000 | AZ-500T00 |
| 11/13/2023 | 11/16/2023 | 16,000 | AZ-500T00 |
| 12/11/2023 | 12/14/2023 | 16,000 | AZ-500T00 |
| 6/12/2023 | 6/15/2023 | 16,000 | MS-500T00 |
| 7/24/2023 | 7/27/2023 | 16,000 | MS-500T00 |
| 8/21/2023 | 8/24/2023 | 16,000 | MS-500T00 |
| 9/18/2023 | 9/21/2023 | 16,000 | MS-500T00 |
| 10/24/2023 | 10/27/2023 | 16,000 | MS-500T00 |
| 11/20/2023 | 11/23/2023 | 16,000 | MS-500T00 |
| 12/18/2023 | 12/21/2023 | 16,000 | MS-500T00 |
| 6/6/2023 | 6/9/2023 | 16,000 | SC-100T00 |
| 7/17/2023 | 7/20/2023 | 16,000 | SC-100T00 |
| 8/15/2023 | 8/18/2023 | 16,000 | SC-100T00 |
| 9/11/2023 | 9/14/2023 | 16,000 | SC-100T00 |
| 10/9/2023 | 10/12/2023 | 16,000 | SC-100T00 |
| 11/13/2023 | 11/16/2023 | 16,000 | SC-100T00 |
| 12/11/2023 | 12/14/2023 | 16,000 | SC-100T00 |
| 6/6/2023 | 6/9/2023 | 16,000 | SC-200T00 |
| 7/17/2023 | 7/20/2023 | 16,000 | SC-200T00 |
| 8/15/2023 | 8/18/2023 | 16,000 | SC-200T00 |
| 9/11/2023 | 9/14/2023 | 16,000 | SC-200T00 |
| 10/9/2023 | 10/12/2023 | 16,000 | SC-200T00 |
| 11/13/2023 | 11/16/2023 | 16,000 | SC-200T00 |
| 12/11/2023 | 12/14/2023 | 16,000 | SC-200T00 |
| 6/12/2023 | 6/15/2023 | 16,000 | SC-300T00 |
| 7/24/2023 | 7/27/2023 | 16,000 | SC-300T00 |
| 8/21/2023 | 8/24/2023 | 16,000 | SC-300T00 |
| 9/18/2023 | 9/21/2023 | 16,000 | SC-300T00 |
| 10/24/2023 | 10/27/2023 | 16,000 | SC-300T00 |
| 11/20/2023 | 11/23/2023 | 16,000 | SC-300T00 |
| 12/18/2023 | 12/21/2023 | 16,000 | SC-300T00 |
| 6/13/2023 | 6/16/2023 | 16,000 | SC-400T00 |
| 7/18/2023 | 7/21/2023 | 16,000 | SC-400T00 |
| 8/28/2023 | 8/31/2023 | 16,000 | SC-400T00 |
| 9/26/2023 | 9/29/2023 | 16,000 | SC-400T00 |
| 10/24/2023 | 10/27/2023 | 16,000 | SC-400T00 |
| 11/28/2023 | 12/1/2023 | 16,000 | SC-400T00 |
| 12/11/2023 | 12/14/2023 | 16,000 | SC-400T00 |
| 6/9/2023 | 6/9/2023 | 4,000 | SC-900T00 |
| 7/27/2023 | 7/27/2023 | 4,000 | SC-900T00 |
| 8/7/2023 | 8/7/2023 | 4,000 | SC-900T00 |
| 9/8/2023 | 9/8/2023 | 4,000 | SC-900T00 |
| 10/6/2023 | 10/6/2023 | 4,000 | SC-900T00 |
| 11/10/2023 | 11/10/2023 | 4,000 | SC-900T00 |
| 12/4/2023 | 12/4/2023 | 4,000 | SC-900T00 |
| 6/26/2023 | 6/29/2023 | 16,000 | PL-100T00 |
| 7/3/2023 | 7/6/2023 | 16,000 | PL-100T00 |
| 8/15/2023 | 8/18/2023 | 16,000 | PL-100T00 |
| 9/11/2023 | 9/14/2023 | 16,000 | PL-100T00 |
| 10/9/2023 | 10/12/2023 | 16,000 | PL-100T00 |
| 11/13/2023 | 11/16/2023 | 16,000 | PL-100T00 |
| 12/11/2023 | 12/14/2023 | 16,000 | PL-100T00 |
| 6/12/2023 | 6/15/2023 | 16,000 | PL-200T00 |
| 8/21/2023 | 8/24/2023 | 16,000 | PL-200T00 |
| 10/24/2023 | 10/27/2023 | 16,000 | PL-200T00 |
| 12/18/2023 | 12/21/2023 | 16,000 | PL-200T00 |
| 7/19/2023 | 7/21/2023 | 12,000 | PL-300T00 |
| 9/25/2023 | 9/27/2023 | 12,000 | PL-300T00 |
| 11/1/2023 | 11/3/2023 | 12,000 | PL-300T00 |
| 6/12/2023 | 6/16/2023 | 20,000 | PL-400T00 |
| 8/21/2023 | 8/25/2023 | 20,000 | PL-400T00 |
| 10/16/2023 | 10/20/2023 | 20,000 | PL-400T00 |
| 12/11/2023 | 12/15/2023 | 20,000 | PL-400T00 |
| 6/12/2023 | 6/15/2023 | 16,000 | PL-500T00 |
| 8/21/2023 | 8/24/2023 | 16,000 | PL-500T00 |
| 10/16/2023 | 10/19/2023 | 16,000 | PL-500T00 |
| 12/11/2023 | 12/14/2023 | 16,000 | PL-500T00 |
| 7/19/2023 | 7/21/2023 | 12,000 | PL-600T00 |
| 9/6/2023 | 9/8/2023 | 12,000 | PL-600T00 |
| 11/1/2023 | 11/3/2023 | 12,000 | PL-600T00 |
| 6/9/2023 | 6/9/2023 | 4,000 | PL-900T00 |
| 7/7/2023 | 7/7/2023 | 4,000 | PL-900T00 |
| 8/11/2023 | 8/11/2023 | 4,000 | PL-900T00 |
| 9/8/2023 | 9/8/2023 | 4,000 | PL-900T00 |
| 10/12/2023 | 10/12/2023 | 4,000 | PL-900T00 |
| 11/10/2023 | 11/10/2023 | 4,000 | PL-900T00 |
| 12/8/2023 | 12/8/2023 | 4,000 | PL-900T00 |
| 6/26/2023 | 6/30/2023 | 12,500 | PWA-201 |
| 7/24/2023 | 7/28/2023 | 12,500 | PWA-201 |
| 8/28/2023 | 9/1/2023 | 12,500 | PWA-201 |
| 9/25/2023 | 9/29/2023 | 12,500 | PWA-201 |
| 10/30/2023 | 11/3/2023 | 12,500 | PWA-201 |
| 11/27/2023 | 12/1/2023 | 12,500 | PWA-201 |
| 12/18/2023 | 12/22/2023 | 12,500 | PWA-201 |
| 10/16/2023 | 10/17/2023 | 5,000 | M365-End-User |
| 11/6/2023 | 11/7/2023 | 5,000 | M365-End-User |
| 12/11/2023 | 12/12/2023 | 5,000 | M365-End-User |
| 6/2/2023 | 6/2/2023 | 2,500 | O365-Admin-ENH |
| 7/7/2023 | 7/7/2023 | 2,500 | O365-Admin-ENH |
| 8/4/2023 | 8/4/2023 | 2,500 | O365-Admin-ENH |
| 9/8/2023 | 9/8/2023 | 2,500 | O365-Admin-ENH |
| 10/6/2023 | 10/6/2023 | 2,500 | O365-Admin-ENH |
| 11/3/2023 | 11/3/2023 | 2,500 | O365-Admin-ENH |
| 12/4/2023 | 12/4/2023 | 2,500 | O365-Admin-ENH |
| 6/16/2023 | 6/16/2023 | 4,000 | 55154B |
| 7/14/2023 | 7/14/2023 | 4,000 | 55154B |
| 8/18/2023 | 8/18/2023 | 4,000 | 55154B |
| 9/15/2023 | 9/15/2023 | 4,000 | 55154B |
| 10/20/2023 | 10/20/2023 | 4,000 | 55154B |
| 11/17/2023 | 11/17/2023 | 4,000 | 55154B |
| 12/15/2023 | 12/15/2023 | 4,000 | 55154B |
| 6/9/2023 | 6/9/2023 | 2,500 | OF-19-NF |
| 7/7/2023 | 7/7/2023 | 2,500 | OF-19-NF |
| 8/11/2023 | 8/11/2023 | 2,500 | OF-19-NF |
| 9/8/2023 | 9/8/2023 | 2,500 | OF-19-NF |
| 10/6/2023 | 10/6/2023 | 2,500 | OF-19-NF |
| 11/3/2023 | 11/3/2023 | 2,500 | OF-19-NF |
| 12/8/2023 | 12/8/2023 | 2,500 | OF-19-NF |
| 6/19/2023 | 6/20/2023 | 5,000 | WD-19-01 |
| 7/17/2023 | 7/18/2023 | 5,000 | WD-19-01 |
| 8/15/2023 | 8/16/2023 | 5,000 | WD-19-01 |
| 9/18/2023 | 9/19/2023 | 5,000 | WD-19-01 |
| 10/24/2023 | 10/25/2023 | 5,000 | WD-19-01 |
| 11/20/2023 | 11/21/2023 | 5,000 | WD-19-01 |
| 12/18/2023 | 12/19/2023 | 5,000 | WD-19-01 |
| 6/21/2023 | 6/22/2023 | 5,000 | WD-19-02 |
| 7/19/2023 | 7/20/2023 | 5,000 | WD-19-02 |
| 8/17/2023 | 8/18/2023 | 5,000 | WD-19-02 |
| 9/20/2023 | 9/21/2023 | 5,000 | WD-19-02 |
| 10/26/2023 | 10/27/2023 | 5,000 | WD-19-02 |
| 11/23/2023 | 11/24/2023 | 5,000 | WD-19-02 |
| 12/20/2023 | 12/21/2023 | 5,000 | WD-19-02 |
| 6/19/2023 | 6/20/2023 | 5,000 | EX-19-01 |
| 7/17/2023 | 7/18/2023 | 5,000 | EX-19-01 |
| 8/15/2023 | 8/16/2023 | 5,000 | EX-19-01 |
| 9/18/2023 | 9/19/2023 | 5,000 | EX-19-01 |
| 10/24/2023 | 10/25/2023 | 5,000 | EX-19-01 |
| 11/20/2023 | 11/21/2023 | 5,000 | EX-19-01 |
| 12/18/2023 | 12/19/2023 | 5,000 | EX-19-01 |
| 6/21/2023 | 6/22/2023 | 5,000 | EX-19-02 |
| 7/19/2023 | 7/20/2023 | 5,000 | EX-19-02 |
| 8/17/2023 | 8/18/2023 | 5,000 | EX-19-02 |
| 9/20/2023 | 9/21/2023 | 5,000 | EX-19-02 |
| 10/26/2023 | 10/27/2023 | 5,000 | EX-19-02 |
| 11/23/2023 | 11/24/2023 | 5,000 | EX-19-02 |
| 12/20/2023 | 12/21/2023 | 5,000 | EX-19-02 |
| 6/23/2023 | 6/23/2023 | 2,500 | EX-19-03 |
| 7/21/2023 | 7/21/2023 | 2,500 | EX-19-03 |
| 8/21/2023 | 8/21/2023 | 2,500 | EX-19-03 |
| 9/22/2023 | 9/22/2023 | 2,500 | EX-19-03 |
| 10/30/2023 | 10/30/2023 | 2,500 | EX-19-03 |
| 11/24/2023 | 11/24/2023 | 2,500 | EX-19-03 |
| 12/22/2023 | 12/22/2023 | 2,500 | EX-19-03 |
| 6/12/2023 | 6/13/2023 | 5,000 | PP-19-01 |
| 7/10/2023 | 7/11/2023 | 5,000 | PP-19-01 |
| 8/7/2023 | 8/8/2023 | 5,000 | PP-19-01 |
| 9/11/2023 | 9/12/2023 | 5,000 | PP-19-01 |
| 10/9/2023 | 10/10/2023 | 5,000 | PP-19-01 |
| 11/6/2023 | 11/7/2023 | 5,000 | PP-19-01 |
| 12/11/2023 | 12/12/2023 | 5,000 | PP-19-01 |
| 6/14/2023 | 6/15/2023 | 5,000 | PP-19-02 |
| 7/12/2023 | 7/13/2023 | 5,000 | PP-19-02 |
| 8/9/2023 | 8/10/2023 | 5,000 | PP-19-02 |
| 9/13/2023 | 9/14/2023 | 5,000 | PP-19-02 |
| 10/11/2023 | 10/12/2023 | 5,000 | PP-19-02 |
| 11/8/2023 | 11/9/2023 | 5,000 | PP-19-02 |
| 12/13/2023 | 12/14/2023 | 5,000 | PP-19-02 |
| 6/7/2023 | 6/9/2023 | 7,500 | PJ-19-US |
| 8/2/2023 | 8/4/2023 | 7,500 | PJ-19-US |
| 10/2/2023 | 10/4/2023 | 7,500 | PJ-19-US |
| 12/6/2023 | 12/8/2023 | 7,500 | PJ-19-US |
| 6/23/2023 | 6/23/2023 | 2,500 | OL-19-01 |
| 9/22/2023 | 9/22/2023 | 2,500 | OL-19-01 |
| 12/22/2023 | 12/22/2023 | 2,500 | OL-19-01 |
| 7/17/2023 | 7/21/2023 | 20,000 | ASP-MVC5 |
| 10/30/2023 | 11/3/2023 | 20,000 | ASP-MVC5 |
| 8/21/2023 | 8/22/2023 | 8,000 | 55267-A |
| 11/20/2023 | 11/21/2023 | 8,000 | 55267-A |
| 7/17/2023 | 7/20/2023 | 16,000 | 55284-A |
| 10/9/2023 | 10/12/2023 | 16,000 | 55284-A |
| 8/21/2023 | 8/22/2023 | 8,000 | 55285-A |
| 11/20/2023 | 11/21/2023 | 8,000 | 55285-A |
| 6/26/2023 | 6/30/2023 | 20,000 | 55039-B |
| 9/25/2023 | 9/29/2023 | 20,000 | 55039-B |
| 12/18/2023 | 12/22/2023 | 20,000 | 55039-B |
| 6/7/2023 | 6/9/2023 | 12,000 | 55199-A |
| 8/2/2023 | 8/4/2023 | 12,000 | 55199-A |
| 10/2/2023 | 10/4/2023 | 12,000 | 55199-A |
| 12/6/2023 | 12/8/2023 | 12,000 | 55199-A |
| 7/10/2023 | 7/11/2023 | 8,000 | 55200-A |
| 9/4/2023 | 9/5/2023 | 8,000 | 55200-A |
| 11/6/2023 | 11/7/2023 | 8,000 | 55200-A |
| 7/17/2023 | 7/20/2023 | 16,000 | 55215-B |
| 10/9/2023 | 10/12/2023 | 16,000 | 55215-B |
| 8/21/2023 | 8/24/2023 | 16,000 | 55217-A |
| 11/20/2023 | 11/23/2023 | 16,000 | 55217-A |
| 7/17/2023 | 7/21/2023 | 20,000 | 55234-A |
| 9/25/2023 | 9/29/2023 | 20,000 | 55234-A |
| 11/27/2023 | 12/1/2023 | 20,000 | 55234-A |
| 6/14/2023 | 6/16/2023 | 12,000 | 55238-B |
| 7/19/2023 | 7/21/2023 | 12,000 | 55238-B |
| 8/2/2023 | 8/4/2023 | 12,000 | 55238-B |
| 9/6/2023 | 9/8/2023 | 12,000 | 55238-B |
| 10/10/2023 | 10/12/2023 | 12,000 | 55238-B |
| 11/1/2023 | 11/3/2023 | 12,000 | 55238-B |
| 12/6/2023 | 12/8/2023 | 12,000 | 55238-B |
| 7/10/2023 | 7/11/2023 | 8,000 | 55251-A |
| 9/4/2023 | 9/5/2023 | 8,000 | 55251-A |
| 11/6/2023 | 11/7/2023 | 8,000 | 55251-A |
| 6/12/2023 | 6/16/2023 | 12,000 | 10972 |
| 7/10/2023 | 7/14/2023 | 12,000 | 10972 |
| 8/10/2023 | 8/14/2023 | 12,000 | 10972 |
| 9/7/2023 | 9/11/2023 | 12,000 | 10972 |
| 10/2/2023 | 10/6/2023 | 12,000 | 10972 |
| 10/30/2023 | 11/3/2023 | 12,000 | 10972 |
| 12/11/2023 | 12/15/2023 | 12,000 | 10972 |
| 6/19/2023 | 6/22/2023 | 16,000 | 10987 |
| 7/17/2023 | 7/20/2023 | 16,000 | 10987 |
| 8/7/2023 | 8/10/2023 | 16,000 | 10987 |
| 9/18/2023 | 9/21/2023 | 16,000 | 10987 |
| 10/16/2023 | 10/19/2023 | 16,000 | 10987 |
| 11/13/2023 | 11/16/2023 | 16,000 | 10987 |
| 12/18/2023 | 12/21/2023 | 16,000 | 10987 |
| 6/27/2023 | 6/29/2023 | 12,000 | 10997 |
| 7/18/2023 | 7/20/2023 | 12,000 | 10997 |
| 8/29/2023 | 8/31/2023 | 12,000 | 10997 |
| 9/27/2023 | 9/29/2023 | 12,000 | 10997 |
| 10/31/2023 | 11/2/2023 | 12,000 | 10997 |
| 11/28/2023 | 11/30/2023 | 12,000 | 10997 |
| 12/26/2023 | 12/28/2023 | 12,000 | 10997 |
| 6/26/2023 | 6/30/2023 | 20,000 | 20761 |
| 7/17/2023 | 7/21/2023 | 20,000 | 20761 |
| 8/28/2023 | 9/1/2023 | 20,000 | 20761 |
| 9/25/2023 | 9/29/2023 | 20,000 | 20761 |
| 10/30/2023 | 11/3/2023 | 20,000 | 20761 |
| 11/27/2023 | 12/1/2023 | 20,000 | 20761 |
| 12/18/2023 | 12/22/2023 | 20,000 | 20761 |
| 6/12/2023 | 6/16/2023 | 20,000 | 20764 |
| 7/17/2023 | 7/21/2023 | 20,000 | 20764 |
| 8/21/2023 | 8/25/2023 | 20,000 | 20764 |
| 9/11/2023 | 9/15/2023 | 20,000 | 20764 |
| 10/16/2023 | 10/20/2023 | 20,000 | 20764 |
| 11/13/2023 | 11/17/2023 | 20,000 | 20764 |
| 12/11/2023 | 12/15/2023 | 20,000 | 20764 |
| 6/14/2023 | 6/15/2023 | 8,000 | 20778 |
| 7/19/2023 | 7/20/2023 | 8,000 | 20778 |
| 8/2/2023 | 8/3/2023 | 8,000 | 20778 |
| 9/6/2023 | 9/7/2023 | 8,000 | 20778 |
| 10/10/2023 | 10/11/2023 | 8,000 | 20778 |
| 11/1/2023 | 11/2/2023 | 8,000 | 20778 |
| 12/6/2023 | 12/7/2023 | 8,000 | 20778 |
| 6/7/2023 | 6/9/2023 | 12,000 | 20779 |
| 7/3/2023 | 7/5/2023 | 12,000 | 20779 |
| 8/2/2023 | 8/4/2023 | 12,000 | 20779 |
| 9/6/2023 | 9/8/2023 | 12,000 | 20779 |
| 10/2/2023 | 10/4/2023 | 12,000 | 20779 |
| 11/1/2023 | 11/3/2023 | 12,000 | 20779 |
| 12/6/2023 | 12/8/2023 | 12,000 | 20779 |
| 6/12/2023 | 6/16/2023 | 20,000 | WS-011T00 |
| 7/10/2023 | 7/14/2023 | 20,000 | WS-011T00 |
| 8/7/2023 | 8/11/2023 | 20,000 | WS-011T00 |
| 9/4/2023 | 9/8/2023 | 20,000 | WS-011T00 |
| 10/16/2023 | 10/20/2023 | 20,000 | WS-011T00 |
| 11/6/2023 | 11/10/2023 | 20,000 | WS-011T00 |
| 12/11/2023 | 12/15/2023 | 20,000 | WS-011T00 |
| 6/12/2023 | 6/16/2023 | 60,000 | VSICM8 |
| 7/3/2023 | 7/7/2023 | 60,000 | VSICM8 |
| 8/7/2023 | 8/11/2023 | 60,000 | VSICM8 |
| 9/4/2023 | 9/8/2023 | 60,000 | VSICM8 |
| 10/2/2023 | 10/6/2023 | 60,000 | VSICM8 |
| 11/6/2023 | 11/10/2023 | 60,000 | VSICM8 |
| 12/18/2023 | 12/22/2023 | 60,000 | VSICM8 |
| 6/8/2023 | 6/12/2023 | 37,000 | VSWN8 |
| 10/9/2023 | 10/11/2023 | 37,000 | VSWN8 |
| 7/17/2023 | 7/21/2023 | 90,000 | VSFT7 |
| 9/18/2023 | 9/22/2023 | 90,000 | VSFT7 |
| 9/18/2023 | 9/22/2023 | 66,000 | VSOS8 |
| 11/27/2023 | 12/1/2023 | 66,000 | VSOS8 |
| 6/26/2023 | 6/30/2023 | 66,000 | VSTS7 |
| 10/30/2023 | 11/3/2023 | 66,000 | VSTS7 |
| 12/25/2023 | 12/29/2023 | 66,000 | VSTS7 |
| 6/7/2023 | 6/9/2023 | 40,000 | VSD7 |
| 7/24/2023 | 7/26/2023 | 40,000 | VSD7 |
| 10/25/2023 | 10/27/2023 | 40,000 | VSD7 |
| 6/8/2023 | 6/9/2023 | 25,000 | SRMICM82 |
| 9/11/2023 | 9/13/2023 | 40,000 | VSKDM7 |
| 10/30/2023 | 11/1/2023 | 40,000 | VSKDM7 |
| 12/6/2023 | 12/8/2023 | 40,000 | VSKDM7 |
| 6/6/2023 | 6/9/2023 | 49,000 | TKGIEICM110 |
| 6/12/2023 | 6/16/2023 | 60,000 | NSXTICM32 |
| 7/3/2023 | 7/7/2023 | 60,000 | NSXTICM32 |
| 10/30/2023 | 11/3/2023 | 66,000 | NSXTD32 |
| 9/25/2023 | 9/29/2023 | 60,000 | VROICM86 |
| 10/2/2023 | 10/6/2023 | 66,000 | NSXTTO32 |
| 10/16/2023 | 10/20/2023 | 60,000 | HDM8 |
| 11/6/2023 | 11/10/2023 | 60,000 | HDM8 |
| 12/7/2023 | 12/8/2023 | 25,000 | HIA8 |
| 8/25/2023 | 8/25/2023 | 10,800 | AWS-CPE |
| 9/18/2023 | 9/18/2023 | 10,800 | AWS-CPE |
| 10/16/2023 | 10/16/2023 | 10,800 | AWS-CPE |
| 11/8/2023 | 11/8/2023 | 10,800 | AWS-CPE |
| 12/7/2023 | 12/7/2023 | 10,800 | AWS-CPE |
| 8/18/2023 | 8/18/2023 | 10,800 | AWS-TE |
| 9/19/2023 | 9/19/2023 | 10,800 | AWS-TE |
| 10/17/2023 | 10/17/2023 | 10,800 | AWS-TE |
| 11/7/2023 | 11/7/2023 | 10,800 | AWS-TE |
| 12/8/2023 | 12/8/2023 | 10,800 | AWS-TE |
| 8/25/2023 | 8/25/2023 | 5,900 | AWS-EBL |
| 10/16/2023 | 10/16/2023 | 5,900 | AWS-EBL |
| 12/7/2023 | 12/7/2023 | 5,900 | AWS-EBL |
| 9/18/2023 | 9/18/2023 | 5,900 | AWS-EFS |
| 11/6/2023 | 11/6/2023 | 5,900 | AWS-EFS |
| 8/22/2023 | 8/24/2023 | 32,400 | AWS-ARC |
| 9/20/2023 | 9/22/2023 | 32,400 | AWS-ARC |
| 10/18/2023 | 10/20/2023 | 32,400 | AWS-ARC |
| 11/15/2023 | 11/17/2023 | 32,400 | AWS-ARC |
| 12/13/2023 | 12/15/2023 | 32,400 | AWS-ARC |
| | | 10,800 | AWS-WBP |
| | | 32,400 | AWS-ADA |
| | | 10,800 | AWS-AWB |
| | | 54,000 | AWS-ARA |
| 8/29/2023 | 8/31/2023 | 32,400 | AWS-COA |
| 9/25/2023 | 9/27/2023 | 32,400 | AWS-COA |
| 10/25/2023 | 10/27/2023 | 32,400 | AWS-COA |
| 12/18/2023 | 12/20/2023 | 32,400 | AWS-COA |
| | | 21,600 | AWS-FIN |
| | | 32,400 | AWS-CFM |
| | | 32,400 | AWS-DWA |
| | | 10,800 | AWS-BLK |
| | | 10,800 | AWS-BDA |
| | | 10,800 | AWS-BBD |
| | | 10,800 | AWS-BSD |
| | | 21,600 | AWS-AVA |
| | | 32,400 | AWS-PDD |
| 9/13/2023 | 9/15/2023 | 32,400 | AWS-DEV |
| | | 32,400 | AWS-ADE |
| | | 32,400 | AWS-DOP |
| | | 10,800 | AWS-DEL |
| | | 32,400 | AWS-MLE |
| | | 10,800 | AWS-PDS |
| | | 43,200 | AWS-MLP |
| | | 32,400 | AWS-SSD |
| | | 21,600 | AWS-VSE |
| 8/25/2023 | 8/25/2023 | 10,800 | AWS-MES |
| 10/16/2023 | 10/16/2023 | 10,800 | AWS-MES |
| 12/7/2023 | 12/7/2023 | 10,800 | AWS-MES |
| | | 32,400 | AWS-MGA |
| 9/18/2023 | 9/18/2023 | 10,800 | AWS-SES |
| 11/6/2023 | 11/6/2023 | 10,800 | AWS-SES |
| | | 32,400 | AWS-SEN |
| | | 10,800 | AWS-SGS |
| | | 10,800 | AWS-SBP |
| 7/24/2023 | 7/26/2023 | 42,300 | D1101651GC10 |
| 10/9/2023 | 10/11/2023 | 42,300 | D1101651GC10 |
| 6/26/2023 | 6/30/2023 | 56,500 | D107509GC10 |
| 7/3/2023 | 7/7/2023 | 56,500 | D107509GC10 |
| 8/7/2023 | 8/11/2023 | 56,500 | D107509GC10 |
| 9/4/2023 | 9/8/2023 | 56,500 | D107509GC10 |
| 10/2/2023 | 10/6/2023 | 56,500 | D107509GC10 |
| 11/6/2023 | 11/10/2023 | 56,500 | D107509GC10 |
| 12/11/2023 | 12/15/2023 | 56,500 | D107509GC10 |
| 6/19/2023 | 6/23/2023 | 56,500 | D107511GC10 |
| 7/10/2023 | 7/14/2023 | 56,500 | D107511GC10 |
| 8/21/2023 | 8/25/2023 | 56,500 | D107511GC10 |
| 9/11/2023 | 9/15/2023 | 56,500 | D107511GC10 |
| 10/16/2023 | 10/20/2023 | 56,500 | D107511GC10 |
| 11/13/2023 | 11/17/2023 | 56,500 | D107511GC10 |
| 12/18/2023 | 12/22/2023 | 56,500 | D107511GC10 |
| 6/26/2023 | 6/30/2023 | 56,500 | D108103GC20 |
| 7/17/2023 | 7/21/2023 | 56,500 | D108103GC20 |
| 8/7/2023 | 8/11/2023 | 56,500 | D108103GC20 |
| 9/18/2023 | 9/22/2023 | 56,500 | D108103GC20 |
| 10/30/2023 | 11/3/2023 | 56,500 | D108103GC20 |
| 11/20/2023 | 11/24/2023 | 56,500 | D108103GC20 |
| 12/18/2023 | 12/22/2023 | 56,500 | D108103GC20 |
| 8/15/2023 | 8/18/2023 | 49,000 | D108654GC10 |
| 10/9/2023 | 10/12/2023 | 49,000 | D108654GC10 |
| 11/28/2023 | 12/1/2023 | 49,000 | D108654GC10 |
| 6/12/2023 | 6/16/2023 | 56,500 | D78848GC20 |
| 7/3/2023 | 7/7/2023 | 56,500 | D78848GC20 |
| 8/7/2023 | 8/11/2023 | 56,500 | D78848GC20 |
| 9/4/2023 | 9/8/2023 | 56,500 | D78848GC20 |
| 10/2/2023 | 10/6/2023 | 56,500 | D78848GC20 |
| 11/6/2023 | 11/10/2023 | 56,500 | D78848GC20 |
| 12/11/2023 | 12/15/2023 | 56,500 | D78848GC20 |
| 8/22/2023 | 8/25/2023 | 56,400 | D108634GC10 |
| 11/21/2023 | 11/24/2023 | 56,400 | D108634GC10 |
| 7/6/2023 | 7/7/2023 | 36,900 | D108638GC10 |
| 10/11/2023 | 10/12/2023 | 36,900 | D108638GC10 |
| 12/7/2023 | 12/8/2023 | 36,900 | D108638GC10 |
| 6/12/2023 | 6/16/2023 | 70,500 | D108774GC20 |
| 8/7/2023 | 8/11/2023 | 70,500 | D108774GC20 |
| 10/16/2023 | 10/20/2023 | 70,500 | D108774GC20 |
| 12/11/2023 | 12/15/2023 | 70,500 | D108774GC20 |
| 7/24/2023 | 7/27/2023 | 56,400 | D101287GC10 |
| 9/12/2023 | 9/15/2023 | 56,400 | D101287GC10 |
| 11/27/2023 | 11/30/2023 | 56,400 | D101287GC10 |
| 6/6/2023 | 6/9/2023 | 49,000 | D90871GC20 |
| 8/15/2023 | 8/18/2023 | 49,000 | D90871GC20 |
| 9/5/2023 | 9/8/2023 | 49,000 | D90871GC20 |
| 11/7/2023 | 11/10/2023 | 49,000 | D90871GC20 |
| 6/12/2023 | 6/16/2023 | 56,500 | D66376GC51 |
| 7/10/2023 | 7/14/2023 | 56,500 | D66376GC51 |
| 8/7/2023 | 8/11/2023 | 56,500 | D66376GC51 |
| 9/4/2023 | 9/8/2023 | 56,500 | D66376GC51 |
| 10/16/2023 | 10/20/2023 | 56,500 | D66376GC51 |
| 11/13/2023 | 11/17/2023 | 56,500 | D66376GC51 |
| 12/11/2023 | 12/15/2023 | 56,500 | D66376GC51 |
| 6/20/2023 | 6/23/2023 | 49,000 | D109197GC10 |
| 9/19/2023 | 9/22/2023 | 49,000 | D109197GC10 |
| 12/19/2023 | 12/22/2023 | 49,000 | D109197GC10 |
| 6/19/2023 | 6/23/2023 | 56,500 | D66378GC50 |
| 7/10/2023 | 7/14/2023 | 56,500 | D66378GC50 |
| 8/7/2023 | 8/11/2023 | 56,500 | D66378GC50 |
| 9/4/2023 | 9/8/2023 | 56,500 | D66378GC50 |
| 10/16/2023 | 10/20/2023 | 56,500 | D66378GC50 |
| 7/25/2023 | 7/27/2023 | 42,300 | D108305GC30 |
| 7/17/2023 | 7/21/2023 | 56,500 | D80151GC30 |
| 8/7/2023 | 8/11/2023 | 56,500 | D80151GC30 |
| 8/7/2023 | 8/11/2023 | 56,500 | D80155GC30 |
| 7/26/2023 | 7/27/2023 | 36,900 | D83177GC30 |
| 8/17/2023 | 8/18/2023 | 36,900 | D83177GC30 |
| 6/19/2023 | 6/23/2023 | 92,250 | D95507GC20 |
| 7/10/2023 | 7/14/2023 | 92,250 | D95507GC20 |
| 6/19/2023 | 6/23/2023 | 92,250 | D95503GC10 |
| 7/17/2023 | 7/21/2023 | 92,250 | D95503GC10 |
| 6/21/2023 | 6/23/2023 | 55,350 | D1104288GC10 |
| 7/25/2023 | 7/27/2023 | 55,350 | D1104288GC10 |
| 6/26/2023 | 6/30/2023 | 62,000 | 3627 |
| 9/25/2023 | 9/29/2023 | 62,000 | 3627 |
| 12/25/2023 | 12/29/2023 | 62,000 | 3627 |
| 7/17/2023 | 7/21/2023 | 62,000 | 2813 |
| 10/30/2023 | 11/3/2023 | 62,000 | 2813 |
| 7/10/2023 | 7/11/2023 | 25,000 | 2444 |
| 9/4/2023 | 9/5/2023 | 25,000 | 2444 |
| 11/6/2023 | 11/7/2023 | 25,000 | 2444 |
| 6/7/2023 | 6/9/2023 | 39,500 | 2446 |
| 8/2/2023 | 8/4/2023 | 39,500 | 2446 |
| 10/2/2023 | 10/4/2023 | 39,500 | 2446 |
| 12/6/2023 | 12/8/2023 | 39,500 | 2446 |
| 7/17/2023 | 7/21/2023 | 62,000 | 6639 |
| 9/25/2023 | 9/29/2023 | 62,000 | 6639 |
| 11/27/2023 | 12/1/2023 | 62,000 | 6639 |
| 7/17/2023 | 7/20/2023 | 52,000 | DP0119 |
| 10/9/2023 | 10/12/2023 | 52,000 | DP0119 |
| 7/17/2023 | 7/21/2023 | 62,000 | 7956 |
| 9/18/2023 | 9/22/2023 | 62,000 | 7956 |
| 11/20/2023 | 11/24/2023 | 62,000 | 7956 |
| 6/12/2023 | 6/16/2023 | 62,000 | 8256 |
| 8/7/2023 | 8/11/2023 | 62,000 | 8256 |
| 10/16/2023 | 10/20/2023 | 62,000 | 8256 |
| 12/11/2023 | 12/15/2023 | 62,000 | 8256 |
| 6/12/2023 | 6/16/2023 | 62,000 | 8296 |
| 9/4/2023 | 9/8/2023 | 62,000 | 8296 |
| 12/11/2023 | 12/15/2023 | 62,000 | 8296 |
| 6/19/2023 | 6/23/2023 | 62,000 | 8726 |
| 7/17/2023 | 7/21/2023 | 62,000 | 8726 |
| 8/21/2023 | 8/25/2023 | 62,000 | 8726 |
| 9/18/2023 | 9/22/2023 | 62,000 | 8726 |
| 10/16/2023 | 10/20/2023 | 62,000 | 8726 |
| 11/20/2023 | 11/24/2023 | 62,000 | 8726 |
| 12/11/2023 | 12/15/2023 | 62,000 | 8726 |
| 6/26/2023 | 6/30/2023 | 62,000 | 9005 |
| 7/17/2023 | 7/21/2023 | 62,000 | 9005 |
| 8/28/2023 | 9/1/2023 | 62,000 | 9005 |
| 9/25/2023 | 9/29/2023 | 62,000 | 9005 |
| 10/30/2023 | 11/3/2023 | 62,000 | 9005 |
| 11/27/2023 | 12/1/2023 | 62,000 | 9005 |
| 12/18/2023 | 12/22/2023 | 62,000 | 9005 |
| 6/7/2023 | 6/9/2023 | 36,000 | TMAOCP |
| 7/12/2023 | 7/14/2023 | 36,000 | TMAOCP |
| 8/2/2023 | 8/4/2023 | 36,000 | TMAOCP |
| 9/25/2023 | 9/27/2023 | 36,000 | TMAOCP |
| 10/10/2023 | 10/12/2023 | 36,000 | TMAOCP |
| 11/1/2023 | 11/3/2023 | 36,000 | TMAOCP |
| 12/6/2023 | 12/8/2023 | 36,000 | TMAOCP |
| 6/14/2023 | 6/16/2023 | 36,000 | TMDSCP20 |
| 7/19/2023 | 7/21/2023 | 36,000 | TMDSCP20 |
| 8/2/2023 | 8/4/2023 | 36,000 | TMDSCP20 |
| 9/6/2023 | 9/8/2023 | 36,000 | TMDSCP20 |
| 10/10/2023 | 10/12/2023 | 36,000 | TMDSCP20 |
| 11/1/2023 | 11/3/2023 | 36,000 | TMDSCP20 |
| 12/6/2023 | 12/8/2023 | 36,000 | TMDSCP20 |
| 6/12/2023 | 6/14/2023 | 36,000 | TMDDCP |
| 7/24/2023 | 7/26/2023 | 36,000 | TMDDCP |
| 8/21/2023 | 8/23/2023 | 36,000 | TMDDCP |
| 9/18/2023 | 9/20/2023 | 36,000 | TMDDCP |
| 10/24/2023 | 10/26/2023 | 36,000 | TMDDCP |
| 11/20/2023 | 11/22/2023 | 36,000 | TMDDCP |
| 12/18/2023 | 12/20/2023 | 36,000 | TMDDCP |
| 7/24/2023 | 7/26/2023 | 25,000 | CT-ITF+ |
| 12/6/2023 | 12/8/2023 | 25,000 | CT-ITF+ |
| 7/10/2023 | 7/14/2023 | 48,000 | CT01-Network+ |
| 8/2/2023 | 8/4/2023 | 39,000 | CT02-Network+ |
| 12/13/2023 | 12/15/2023 | 39,000 | CT02-Network+ |
| 10/30/2023 | 11/3/2023 | 48,000 | CT01-Security+ |
| 11/6/2023 | 11/10/2023 | 48,000 | CT01-Security+ |
| 6/7/2023 | 6/9/2023 | 39,000 | CT02-Security+ |
| 8/16/2023 | 8/18/2023 | 39,000 | CT02-Security+ |
| 10/9/2023 | 10/11/2023 | 39,000 | CT02-Security+ |
| 12/6/2023 | 12/8/2023 | 39,000 | CT02-Security+ |
| 9/25/2023 | 9/29/2023 | 45,000 | CT-Cloud+ |
| 10/2/2023 | 10/6/2023 | 45,000 | CT-Server+ |
| 11/13/2023 | 11/17/2023 | 48,000 | CT01-CySA+ |
| 8/2/2023 | 8/4/2023 | 39,000 | CT02-CySA+ |
| 11/1/2023 | 11/3/2023 | 39,000 | CT02-CySA+ |
| 7/17/2023 | 7/21/2023 | 48,000 | CT-PenTest+ |
| 12/11/2023 | 12/15/2023 | 48,000 | CT-PenTest+ |
| 10/2/2023 | 10/6/2023 | 54,000 | CT-CASP+ |
| 7/24/2023 | 7/26/2023 | 28,000 | CT-Cloud Essentials+ |
| 11/1/2023 | 11/3/2023 | 28,000 | CT-Cloud Essentials+ |
| 6/7/2023 | 6/9/2023 | 45,000 | CT-Project+ |
| 9/4/2023 | 9/6/2023 | 45,000 | CT-Project+ |
| 6/21/2023 | 6/23/2023 | 22,000 | ITIL-V4 |
| 7/12/2023 | 7/14/2023 | 22,000 | ITIL-V4 |
| 6/21/2023 | 6/23/2023 | 48,500 | ITIL-V4+Exam |
| 7/12/2023 | 7/14/2023 | 48,500 | ITIL-V4+Exam |
| 10/16/2023 | 10/20/2023 | 37,950 | RH124 |
| 11/6/2023 | 11/10/2023 | 37,950 | RH124 |
| 12/18/2023 | 12/22/2023 | 37,950 | RH124 |
| 6/19/2023 | 6/23/2023 | 47,450 | RH134 |
| 8/28/2023 | 9/1/2023 | 47,450 | RH134 |
| 9/25/2023 | 9/29/2023 | 47,450 | RH134 |
| 10/30/2023 | 11/3/2023 | 47,450 | RH134 |
| 11/27/2023 | 12/1/2023 | 47,450 | RH134 |
| 12/25/2023 | 12/29/2023 | 47,450 | RH134 |
| 6/19/2023 | 6/23/2023 | 57,530 | RH135 |
| 8/28/2023 | 9/1/2023 | 57,530 | RH135 |
| 9/25/2023 | 9/29/2023 | 57,530 | RH135 |
| 10/30/2023 | 11/3/2023 | 57,530 | RH135 |
| 11/27/2023 | 12/1/2023 | 57,530 | RH135 |
| 12/25/2023 | 12/29/2023 | 57,530 | RH135 |
| 8/15/2023 | 8/18/2023 | 60,960 | RH294 |
| 9/11/2023 | 9/14/2023 | 60,960 | RH294 |
| 10/24/2023 | 10/27/2023 | 60,960 | RH294 |
| 11/20/2023 | 11/23/2023 | 60,960 | RH294 |
| 12/12/2023 | 12/15/2023 | 60,960 | RH294 |
| 8/15/2023 | 8/18/2023 | 71,040 | RH295 |
| 9/11/2023 | 9/14/2023 | 71,040 | RH295 |
| 10/24/2023 | 10/27/2023 | 71,040 | RH295 |
| 11/20/2023 | 11/23/2023 | 71,040 | RH295 |
| 12/12/2023 | 12/15/2023 | 71,040 | RH295 |
| 11/6/2023 | 11/9/2023 | 60,960 | DO180 |
| 6/28/2023 | 6/30/2023 | 45,720 | DO188 |
| 10/9/2023 | 10/12/2023 | 45,720 | DO280 |
| 12/12/2023 | 12/15/2023 | 45,720 | DO280 |
| - | - | 60,960 | DO288 |
| 6/6/2023 | 6/8/2023 | 9,500 | PYTN102 |
| 6/19/2023 | 6/21/2023 | 7,500 | PYTN103 |
| 6/26/2023 | 6/30/2023 | 19,900 | PYTN104 |
| 7/10/2023 | 7/14/2023 | 35,000 | PMP7 |
| 11/27/2023 | 12/1/2023 | 35,000 | PMP7 |
| 8/18/2023 | 8/18/2023 | 4,000 | AI-050T00 |
| 9/15/2023 | 9/15/2023 | 4,000 | AI-050T00 |
| 10/20/2023 | 10/20/2023 | 4,000 | AI-050T00 |
| 11/17/2023 | 11/17/2023 | 4,000 | AI-050T00 |
| 12/15/2023 | 12/15/2023 | 4,000 | AI-050T00 |
| 8/18/2023 | 8/18/2023 | 4,000 | DP-601T00 |
| 9/15/2023 | 9/15/2023 | 4,000 | DP-601T00 |
| 10/20/2023 | 10/20/2023 | 4,000 | DP-601T00 |
| 11/17/2023 | 11/17/2023 | 4,000 | DP-601T00 |
| 12/15/2023 | 12/15/2023 | 4,000 | DP-601T00 |
| 8/15/2023 | 8/16/2023 | 4,000 | IC-002T00 |
| 9/18/2023 | 9/19/2023 | 4,000 | IC-002T00 |
| 10/19/2023 | 10/20/2023 | 4,000 | IC-002T00 |
| 11/16/2023 | 11/17/2023 | 4,000 | IC-002T00 |
| 12/7/2023 | 12/8/2023 | 4,000 | IC-002T00 |
| 8/21/2023 | 8/24/2023 | 16,000 | DP-203T00 |