PeopleSoft Absence Management Rel 9.2 Ed 1
This PeopleSoft Absence Management Rel 9.2 training teaches you how to leverage the functionality for defining absence rules, recording and processing absences. Expert Oracle University instructors will also teach you how to send the results to a payroll system using PeopleSoft 9.2 Absence Management.
STUDENTS WILL LEARN TO
After completing this course, you will be able to:
Create rules for tracking employee absence time.
Define accrual policies.
Report absences and process absences.
Review processing results.
Make adjustments to accruals.
Correct reported absence data.
Create rules that track the time that payees are out sick, on vacation or absent for other reasons.
Define the conditions that must be met before absences can be paid.
Build a processing framework.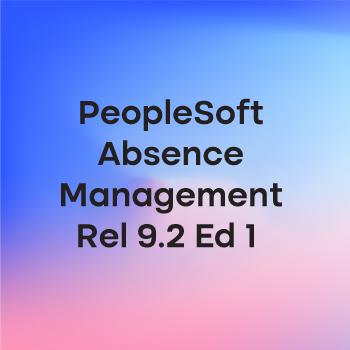 COURSE TOPICS
Module 1 : Creating Schedules
Describing the Use of Schedules
Explaining Schedule Groups
Creating Work Schedules
Viewing Schedule Calendars
Validating Schedule Changes
Describing Holiday Schedules
Explaining Methods of Assigning Work Schedules
Module 2 : Setting Up Supporting Elements
Listing Supporting Elements
Describing System Elements
Creating Variable Elements
Describing Date Elements
Defining Duration Elements
Creating Formula Elements
Describing Operators Used in Formulas
Describing Elements Used to Look Up Values
Module 3 : Viewing and Controlling Absence Processing Results
Defining Rounding Rules
Describing Frequency Conversion
Describing Generation Control
Module 4 : Generating Positive Input for Payroll
Describing Positive Input Generation
Creating Earning and Deduction Elements
Mapping Earnings and Deductions to a Payroll System
Associating Earning and Deduction Elements with Take Elements
Module 5 : Defining Forecasting and Balance Inquiry Processes
Describing Forecasting and Balance Inquiry
Setting Up Forecasting and Balance Inquiry Processing
Forecasting an Absence Event
Viewing Absence Balances
Module 6 : Processing Retroactivity
Explaining Retroactivity
Defining Retroactivity Terminology
Defining Rules for Retroactive Processing
Enabling Retro Processing by Run Type, Calendar, and Calendar Group
Viewing, Adding, and Canceling Retro Triggers
Module 7 : Defining Common Characteristics of Absence Elements
Explaining Absence Element Categories
Identifying Absence Element Types
Identifying Entry Types and Entry Type Prompts
Defining Basic Absence Element Parameters
Module 8 : Defining the Organizational and Processing Frameworks
Defining Element Groups
Defining Eligibility Groups
Defining Pay Entities
Defining Pay Groups
Mapping Pay Groups
Defining Sections
Defining Process Lists
Module 9 : Overriding Supporting Elements
Describing Supporting Element Override
the Element Override Hierarchy
Module 10 : Defining Absence-Based Entitlements and Takes
Defining Absence-Based Entitlement Elements
Defining Take Elements with Absence-Based Entitlement
Describing How to Link Related Absences
Adjusting Absence-Based Entitlements
Module 11 : Using Leave Donations
Setting up Leave Donation Framework
Initiating Leave Transfer Requests
Module 12 : Implementing Segmentation
Describing Types of Segmentation
Defining Segmentation Terminology
Setting Up Segmentation
Viewing, Adding, and Canceling Segmentation Triggers
Describing General Rules for Segmentation Processing
Describing Proration
Module 13 : Processing Off-Cycle Transactions
Explaining Off-Cycle Processing
Entering Instructions for Off-Cycle Processing
Processing Off-Cycle Transactions
Module 14 : Defining Absence Take and Absence Entitlement Elements
Describing Entitlement Accrual
Creating Absence Entitlement Elements
Modifying Entitlement Balance Accumulators
Explaining Absence Types and Reasons
Describing Absence Take Elements
Creating Absence Take Elements
Describing Absence Setup Guidelines
Module 15 :  Setting Up Calendars
Describing Calendar Concepts
Defining Run Types
Defining Periods
Defining Calendars
Defining Calendar Groups
Module 16 : Entering and Processing Absences
Entering Absence Events
Viewing Payee Data
Describing Entitlement and Take Processing
Running the Absence Process
Describing the Processing Phases and Options
Viewing Processing Results
Module 17 : Adjusting Frequency-Based Entitlement
Describing Frequency-Based Entitlement Adjustments
Adjusting Frequency-Based Entitlement Balances
Overriding Frequency-Based Entitlement Definitions
Module 18 : Defining Extended Absences
Setting Up Configurable Sections
Setting Up Attachments
Setting Up Extended Absences
Managing Extended Absences
Module 19 : Implementing Absence Take Features
Defining Qualifying Periods for Using Entitlement
Defining Rules for Negative Entitlement Balances
Using Mapping to Generate Absence Data for Two Take Elements
Explaining How to Store Data in User Defined Fields
Module 20 : Managing Iterative Processing
Describing Trigger Types
Describing Iterative Triggers
Setting Up Trigger Definitions
Viewing Iterative Triggers
Explaining Mass Triggers
Module 21 : Sending Absence Data to Payroll
Describing Transmitted Data
Sending Absence Data to Payroll
Explaining Payroll Processing with Absence Data
Describing the Impact of Retroactivity
| Start Date | End Date | Price | Code |
| --- | --- | --- | --- |
| 12/11/2023 | 12/15/2023 | 20,000 | AZ-204T00 |
| 1/8/2024 | 1/12/2024 | 20,000 | AZ-204T00 |
| 2/5/2024 | 2/9/2024 | 20,000 | AZ-204T00 |
| 3/11/2024 | 3/15/2024 | 20,000 | AZ-204T00 |
| 4/22/2024 | 4/26/2024 | 20,000 | AZ-204T00 |
| 5/13/2024 | 5/17/2024 | 20,000 | AZ-204T00 |
| 6/10/2024 | 6/14/2024 | 20,000 | AZ-204T00 |
| 6/6/2023 | 6/9/2023 | 16,000 | AZ-220T00 |
| 7/24/2023 | 7/27/2023 | 16,000 | AZ-220T00 |
| 8/15/2023 | 8/18/2023 | 16,000 | AZ-220T00 |
| 9/5/2023 | 9/8/2023 | 16,000 | AZ-220T00 |
| 10/9/2023 | 10/12/2023 | 16,000 | AZ-220T00 |
| 11/7/2023 | 11/10/2023 | 16,000 | AZ-220T00 |
| 12/12/2023 | 12/15/2023 | 16,000 | AZ-220T00 |
| 12/12/2023 | 12/15/2023 | 16,000 | AZ-400T00 |
| 1/9/2024 | 1/12/2024 | 16,000 | AZ-400T00 |
| 2/6/2024 | 2/9/2024 | 16,000 | AZ-400T00 |
| 3/5/2024 | 3/8/2024 | 16,000 | AZ-400T00 |
| 4/9/2024 | 4/12/2024 | 16,000 | AZ-400T00 |
| 5/7/2024 | 5/10/2024 | 16,000 | AZ-400T00 |
| 6/4/2024 | 6/7/2024 | 16,000 | AZ-400T00 |
| 12/11/2023 | 12/15/2023 | 20,000 | AZ-040T00 |
| 1/8/2024 | 1/12/2024 | 20,000 | AZ-040T00 |
| 2/5/2024 | 2/9/2024 | 20,000 | AZ-040T00 |
| 3/25/2024 | 3/29/2024 | 20,000 | AZ-040T00 |
| 4/22/2024 | 4/26/2024 | 20,000 | AZ-040T00 |
| 5/13/2024 | 5/17/2024 | 20,000 | AZ-040T00 |
| 6/10/2024 | 6/14/2024 | 20,000 | AZ-040T00 |
| 12/11/2023 | 12/14/2023 | 16,000 | AZ-104T00 |
| 1/9/2024 | 1/12/2024 | 16,000 | AZ-104T00 |
| 2/6/2024 | 2/9/2024 | 16,000 | AZ-104T00 |
| 3/5/2024 | 3/8/2024 | 16,000 | AZ-104T00 |
| 4/9/2024 | 4/12/2024 | 16,000 | AZ-104T00 |
| 5/7/2024 | 5/10/2024 | 16,000 | AZ-104T00 |
| 6/4/2024 | 6/7/2024 | 16,000 | AZ-104T00 |
| 12/18/2023 | 12/21/2023 | 16,000 | AZ-140T00 |
| 1/23/2024 | 1/26/2024 | 16,000 | AZ-140T00 |
| 2/20/2024 | 2/23/2024 | 16,000 | AZ-140T00 |
| 3/19/2024 | 3/22/2024 | 16,000 | AZ-140T00 |
| 4/23/2024 | 4/26/2024 | 16,000 | AZ-140T00 |
| 5/27/2024 | 5/30/2024 | 16,000 | AZ-140T00 |
| 6/25/2024 | 6/28/2024 | 16,000 | AZ-140T00 |
| 12/11/2023 | 12/14/2023 | 16,000 | AZ-305T00 |
| 1/16/2024 | 1/19/2024 | 16,000 | AZ-305T00 |
| 2/13/2024 | 2/16/2024 | 16,000 | AZ-305T00 |
| 3/12/2024 | 3/15/2024 | 16,000 | AZ-305T00 |
| 4/23/2024 | 4/26/2024 | 16,000 | AZ-305T00 |
| 5/14/2024 | 5/17/2024 | 16,000 | AZ-305T00 |
| 6/4/2024 | 6/7/2024 | 16,000 | AZ-305T00 |
| 6/6/2023 | 6/9/2023 | 16,000 | AZ-600T00 |
| 7/24/2023 | 7/27/2023 | 16,000 | AZ-600T00 |
| 8/15/2023 | 8/18/2023 | 16,000 | AZ-600T00 |
| 9/5/2023 | 9/8/2023 | 16,000 | AZ-600T00 |
| 10/9/2023 | 10/12/2023 | 16,000 | AZ-600T00 |
| 11/7/2023 | 11/10/2023 | 16,000 | AZ-600T00 |
| 12/12/2023 | 12/15/2023 | 16,000 | AZ-600T00 |
| 12/6/2023 | 12/8/2023 | 12,000 | AZ-700T00 |
| 1/10/2024 | 1/12/2024 | 12,000 | AZ-700T00 |
| 2/7/2024 | 2/9/2024 | 12,000 | AZ-700T00 |
| 3/6/2024 | 3/8/2024 | 12,000 | AZ-700T00 |
| 4/3/2024 | 4/5/2024 | 12,000 | AZ-700T00 |
| 5/8/2024 | 5/10/2024 | 12,000 | AZ-700T00 |
| 6/5/2024 | 6/7/2024 | 12,000 | AZ-700T00 |
| 7/10/2024 | 7/12/2024 | 12,000 | AZ-700T00 |
| 6/7/2023 | 6/9/2023 | 12,000 | AZ-720T00 |
| 7/12/2023 | 7/14/2023 | 12,000 | AZ-720T00 |
| 8/2/2023 | 8/4/2023 | 12,000 | AZ-720T00 |
| 9/6/2023 | 9/8/2023 | 12,000 | AZ-720T00 |
| 10/4/2023 | 10/6/2023 | 12,000 | AZ-720T00 |
| 11/1/2023 | 11/3/2023 | 12,000 | AZ-720T00 |
| 12/6/2023 | 12/8/2023 | 12,000 | AZ-720T00 |
| 12/11/2023 | 12/14/2023 | 16,000 | AZ-800T00 |
| 1/16/2024 | 1/19/2024 | 16,000 | AZ-800T00 |
| 2/13/2024 | 2/16/2024 | 16,000 | AZ-800T00 |
| 3/12/2024 | 3/15/2024 | 16,000 | AZ-800T00 |
| 4/23/2024 | 4/26/2024 | 16,000 | AZ-800T00 |
| 5/14/2024 | 5/17/2024 | 16,000 | AZ-800T00 |
| 6/4/2024 | 6/7/2024 | 16,000 | AZ-800T00 |
| 12/18/2023 | 12/21/2023 | 16,000 | AZ-801T00 |
| 1/23/2024 | 1/26/2024 | 16,000 | AZ-801T00 |
| 2/20/2024 | 2/23/2024 | 16,000 | AZ-801T00 |
| 3/19/2024 | 3/22/2024 | 16,000 | AZ-801T00 |
| 4/23/2024 | 4/26/2024 | 16,000 | AZ-801T00 |
| 5/28/2024 | 5/31/2024 | 16,000 | AZ-801T00 |
| 6/18/2024 | 6/21/2024 | 16,000 | AZ-801T00 |
| 12/8/2023 | 12/8/2023 | 4,000 | AZ-900T00 |
| 1/8/2024 | 1/8/2024 | 4,000 | AZ-900T00 |
| 2/5/2024 | 2/5/2024 | 4,000 | AZ-900T00 |
| 3/4/2024 | 3/4/2024 | 4,000 | AZ-900T00 |
| 4/5/2024 | 4/5/2024 | 4,000 | AZ-900T00 |
| 5/10/2024 | 5/10/2024 | 4,000 | AZ-900T00 |
| 6/10/2024 | 6/10/2024 | 4,000 | AZ-900T00 |
| 12/11/2023 | 12/14/2023 | 16,000 | AI-102T00 |
| 1/16/2024 | 1/19/2024 | 16,000 | AI-102T00 |
| 2/13/2024 | 2/16/2024 | 16,000 | AI-102T00 |
| 3/12/2024 | 3/15/2024 | 16,000 | AI-102T00 |
| 4/9/2024 | 4/12/2024 | 16,000 | AI-102T00 |
| 5/14/2024 | 5/17/2024 | 16,000 | AI-102T00 |
| 6/4/2024 | 6/7/2024 | 16,000 | AI-102T00 |
| 12/8/2023 | 12/8/2023 | 4,000 | AI-900T00 |
| 1/8/2024 | 1/8/2024 | 4,000 | AI-900T00 |
| 2/5/2024 | 2/5/2024 | 4,000 | AI-900T00 |
| 3/4/2024 | 3/4/2024 | 4,000 | AI-900T00 |
| 4/9/2024 | 4/9/2024 | 4,000 | AI-900T00 |
| 5/13/2024 | 5/13/2024 | 4,000 | AI-900T00 |
| 6/10/2024 | 6/10/2024 | 4,000 | AI-900T00 |
| 12/7/2023 | 12/8/2023 | 8,000 | DP-080T00 |
| 1/11/2024 | 1/12/2024 | 8,000 | DP-080T00 |
| 2/5/2024 | 2/6/2024 | 8,000 | DP-080T00 |
| 3/4/2024 | 3/5/2024 | 8,000 | DP-080T00 |
| 4/10/2024 | 4/11/2024 | 8,000 | DP-080T00 |
| 5/13/2024 | 5/14/2024 | 8,000 | DP-080T00 |
| 6/6/2024 | 6/7/2024 | 8,000 | DP-080T00 |
| 12/6/2023 | 12/8/2023 | 12,000 | DP-100T01 |
| 1/10/2024 | 1/12/2024 | 12,000 | DP-100T01 |
| 2/7/2024 | 2/9/2024 | 12,000 | DP-100T01 |
| 3/6/2024 | 3/8/2024 | 12,000 | DP-100T01 |
| 4/3/2024 | 4/5/2024 | 12,000 | DP-100T01 |
| 5/8/2024 | 5/10/2024 | 12,000 | DP-100T01 |
| 6/5/2024 | 6/7/2024 | 12,000 | DP-100T01 |
| 12/18/2023 | 12/21/2023 | 16,000 | DP-300T00 |
| 1/23/2024 | 1/26/2024 | 16,000 | DP-300T00 |
| 2/20/2024 | 2/23/2024 | 16,000 | DP-300T00 |
| 3/19/2024 | 3/22/2024 | 16,000 | DP-300T00 |
| 4/23/2024 | 4/26/2024 | 16,000 | DP-300T00 |
| 5/14/2024 | 5/17/2024 | 16,000 | DP-300T00 |
| 6/18/2024 | 6/21/2024 | 16,000 | DP-300T00 |
| 12/18/2023 | 12/21/2023 | 16,000 | DP-420T00 |
| 1/23/2024 | 1/26/2024 | 16,000 | DP-420T00 |
| 2/20/2024 | 2/23/2024 | 16,000 | DP-420T00 |
| 3/19/2024 | 3/22/2024 | 16,000 | DP-420T00 |
| 4/23/2024 | 4/26/2024 | 16,000 | DP-420T00 |
| 5/14/2024 | 5/17/2024 | 16,000 | DP-420T00 |
| 6/18/2024 | 6/21/2024 | 16,000 | DP-420T00 |
| 12/25/2023 | 12/28/2023 | 16,000 | DP-500T00 |
| 1/23/2024 | 1/26/2024 | 16,000 | DP-500T00 |
| 2/20/2024 | 2/23/2024 | 16,000 | DP-500T00 |
| 3/19/2024 | 3/22/2024 | 16,000 | DP-500T00 |
| 4/23/2024 | 4/26/2024 | 16,000 | DP-500T00 |
| 5/28/2024 | 5/31/2024 | 16,000 | DP-500T00 |
| 6/25/2024 | 6/28/2024 | 16,000 | DP-500T00 |
| 6/12/2023 | 6/16/2023 | 20,000 | MD-100T00 |
| 7/24/2023 | 7/27/2023 | 20,000 | MD-100T00 |
| 8/7/2023 | 8/11/2023 | 20,000 | MD-100T00 |
| 9/11/2023 | 9/15/2023 | 20,000 | MD-100T00 |
| 10/2/2023 | 10/6/2023 | 20,000 | MD-100T00 |
| 11/13/2023 | 11/17/2023 | 20,000 | MD-100T00 |
| 12/18/2023 | 12/22/2023 | 20,000 | MD-100T00 |
| 6/19/2023 | 6/23/2023 | 20,000 | MD-101T00 |
| 7/10/2023 | 7/14/2023 | 20,000 | MD-101T00 |
| 8/21/2023 | 8/25/2023 | 20,000 | MD-101T00 |
| 9/18/2023 | 9/22/2023 | 20,000 | MD-101T00 |
| 10/16/2023 | 10/20/2023 | 20,000 | MD-101T00 |
| 11/20/2023 | 11/24/2023 | 20,000 | MD-101T00 |
| 12/18/2023 | 12/22/2023 | 20,000 | MD-101T00 |
| 12/25/2023 | 12/29/2023 | 20,000 | MD-102T00 |
| 1/22/2024 | 1/26/2024 | 20,000 | MD-102T00 |
| 2/19/2024 | 2/23/2024 | 20,000 | MD-102T00 |
| 3/25/2024 | 3/29/2024 | 20,000 | MD-102T00 |
| 4/22/2024 | 4/26/2024 | 20,000 | MD-102T00 |
| 5/27/2024 | 5/31/2024 | 20,000 | MD-102T00 |
| 6/24/2024 | 6/28/2024 | 20,000 | MD-102T00 |
| 12/25/2023 | 12/29/2023 | 20,000 | MS-100T00 |
| 7/3/2023 | 7/7/2023 | 20,000 | MS-100T00 |
| 8/7/2023 | 8/11/2023 | 20,000 | MS-100T00 |
| 9/4/2023 | 9/8/2023 | 20,000 | MS-100T00 |
| 10/2/2023 | 10/6/2023 | 20,000 | MS-100T00 |
| 11/6/2023 | 11/10/2023 | 20,000 | MS-100T00 |
| 12/18/2023 | 12/22/2023 | 20,000 | MS-100T00 |
| 6/19/2023 | 6/23/2023 | 20,000 | MS-101T00 |
| 7/10/2023 | 7/14/2023 | 20,000 | MS-101T00 |
| 8/21/2023 | 8/25/2023 | 20,000 | MS-101T00 |
| 9/18/2023 | 9/22/2023 | 20,000 | MS-101T00 |
| 10/16/2023 | 10/20/2023 | 20,000 | MS-101T00 |
| 11/20/2023 | 11/24/2023 | 20,000 | MS-101T00 |
| 12/18/2023 | 12/22/2023 | 20,000 | MS-101T00 |
| 12/25/2023 | 12/29/2023 | 20,000 | MS-102T00 |
| 1/22/2024 | 1/26/2024 | 20,000 | MS-102T00 |
| 2/19/2024 | 2/23/2024 | 20,000 | MS-102T00 |
| 3/25/2024 | 3/29/2024 | 20,000 | MS-102T00 |
| 4/22/2024 | 4/26/2024 | 20,000 | MS-102T00 |
| 5/27/2024 | 5/31/2024 | 20,000 | MS-102T00 |
| 6/24/2024 | 6/28/2024 | 20,000 | MS-102T00 |
| 12/11/2023 | 12/15/2023 | 20,000 | MS-203T00 |
| 1/15/2024 | 1/19/2024 | 20,000 | MS-203T00 |
| 2/12/2024 | 2/16/2024 | 20,000 | MS-203T00 |
| 3/11/2024 | 3/15/2024 | 20,000 | MS-203T00 |
| 4/22/2024 | 4/26/2024 | 20,000 | MS-203T00 |
| 5/13/2024 | 5/17/2024 | 20,000 | MS-203T00 |
| 6/10/2024 | 6/14/2024 | 20,000 | MS-203T00 |
| 6/21/2023 | 6/23/2023 | 20,000 | MS-220T00 |
| 7/19/2023 | 7/21/2023 | 20,000 | MS-220T00 |
| 8/23/2023 | 8/25/2023 | 20,000 | MS-220T00 |
| 9/20/2023 | 9/22/2023 | 20,000 | MS-220T00 |
| 10/25/2023 | 10/27/2023 | 20,000 | MS-220T00 |
| 11/22/2023 | 11/24/2023 | 20,000 | MS-220T00 |
| 12/20/2023 | 12/22/2023 | 20,000 | MS-220T00 |
| 12/12/2023 | 12/15/2023 | 16,000 | MS-600T00 |
| 1/9/2024 | 1/12/2024 | 16,000 | MS-600T00 |
| 2/6/2024 | 2/9/2024 | 16,000 | MS-600T00 |
| 3/5/2024 | 3/8/2024 | 16,000 | MS-600T00 |
| 4/23/2024 | 4/26/2024 | 16,000 | MS-600T00 |
| 5/7/2024 | 5/10/2024 | 16,000 | MS-600T00 |
| 6/11/2024 | 6/14/2024 | 16,000 | MS-600T00 |
| 12/11/2023 | 12/14/2023 | 16,000 | MS-700T00 |
| 1/16/2024 | 1/19/2024 | 16,000 | MS-700T00 |
| 2/13/2024 | 2/16/2024 | 16,000 | MS-700T00 |
| 3/12/2024 | 3/15/2024 | 16,000 | MS-700T00 |
| 4/23/2024 | 4/26/2024 | 16,000 | MS-700T00 |
| 5/14/2024 | 5/17/2024 | 16,000 | MS-700T00 |
| 6/4/2024 | 6/7/2024 | 16,000 | MS-700T00 |
| 6/14/2023 | 6/16/2023 | 12,000 | MS-720T00 |
| 7/19/2023 | 7/21/2023 | 12,000 | MS-720T00 |
| 8/2/2023 | 8/4/2023 | 12,000 | MS-720T00 |
| 9/6/2023 | 9/8/2023 | 12,000 | MS-720T00 |
| 10/10/2023 | 10/12/2023 | 12,000 | MS-720T00 |
| 11/1/2023 | 11/3/2023 | 12,000 | MS-720T00 |
| 12/6/2023 | 12/8/2023 | 12,000 | MS-720T00 |
| 12/11/2023 | 12/14/2023 | 16,000 | MS-721T00 |
| 1/16/2024 | 1/19/2024 | 16,000 | MS-721T00 |
| 2/13/2024 | 2/16/2024 | 16,000 | MS-721T00 |
| 3/12/2024 | 3/15/2024 | 16,000 | MS-721T00 |
| 4/9/2024 | 4/12/2024 | 16,000 | MS-721T00 |
| 5/14/2024 | 5/17/2024 | 16,000 | MS-721T00 |
| 6/18/2024 | 6/21/2024 | 16,000 | MS-721T00 |
| 6/26/2023 | 6/28/2023 | 12,000 | MS-740T00 |
| 7/24/2023 | 7/26/2023 | 12,000 | MS-740T00 |
| 8/28/2023 | 8/30/2023 | 12,000 | MS-740T00 |
| 9/25/2023 | 9/27/2023 | 12,000 | MS-740T00 |
| 10/30/2023 | 11/1/2023 | 12,000 | MS-740T00 |
| 11/27/2023 | 11/29/2023 | 12,000 | MS-740T00 |
| 12/25/2023 | 12/27/2023 | 12,000 | MS-740T00 |
| 12/4/2023 | 12/4/2023 | 4,000 | MS-080T00 |
| 1/29/2024 | 1/29/2024 | 4,000 | MS-080T00 |
| 2/12/2024 | 2/12/2024 | 4,000 | MS-080T00 |
| 3/15/2024 | 3/15/2024 | 4,000 | MS-080T00 |
| 4/9/2024 | 4/9/2024 | 4,000 | MS-080T00 |
| 5/20/2024 | 5/20/2024 | 4,000 | MS-080T00 |
| 6/14/2024 | 6/14/2024 | 4,000 | MS-080T00 |
| 12/8/2023 | 12/8/2023 | 4,000 | MS-900T01 |
| 1/29/2024 | 1/29/2024 | 4,000 | MS-900T01 |
| 2/12/2024 | 2/12/2024 | 4,000 | MS-900T01 |
| 3/15/2024 | 3/15/2024 | 4,000 | MS-900T01 |
| 4/9/2024 | 4/9/2024 | 4,000 | MS-900T01 |
| 5/20/2024 | 5/20/2024 | 4,000 | MS-900T01 |
| 6/14/2024 | 6/14/2024 | 4,000 | MS-900T01 |
| 12/11/2023 | 12/15/2023 | 20,000 | 55354A |
| 1/15/2024 | 1/19/2024 | 20,000 | 55354A |
| 2/12/2024 | 2/16/2024 | 20,000 | 55354A |
| 3/18/2024 | 3/22/2024 | 20,000 | 55354A |
| 4/22/2024 | 4/26/2024 | 20,000 | 55354A |
| 5/13/2024 | 5/17/2024 | 20,000 | 55354A |
| 6/10/2024 | 6/14/2024 | 20,000 | 55354A |
| 12/11/2023 | 12/14/2023 | 16,000 | AZ-500T00 |
| 1/16/2024 | 1/19/2024 | 16,000 | AZ-500T00 |
| 2/13/2024 | 2/16/2024 | 16,000 | AZ-500T00 |
| 3/12/2024 | 3/15/2024 | 16,000 | AZ-500T00 |
| 4/23/2024 | 4/26/2024 | 16,000 | AZ-500T00 |
| 5/14/2024 | 5/17/2024 | 16,000 | AZ-500T00 |
| 6/4/2024 | 6/7/2024 | 16,000 | AZ-500T00 |
| 6/12/2023 | 6/15/2023 | 16,000 | MS-500T00 |
| 7/24/2023 | 7/27/2023 | 16,000 | MS-500T00 |
| 8/21/2023 | 8/24/2023 | 16,000 | MS-500T00 |
| 9/18/2023 | 9/21/2023 | 16,000 | MS-500T00 |
| 10/24/2023 | 10/27/2023 | 16,000 | MS-500T00 |
| 11/20/2023 | 11/23/2023 | 16,000 | MS-500T00 |
| 12/18/2023 | 12/21/2023 | 16,000 | MS-500T00 |
| 12/11/2023 | 12/14/2023 | 16,000 | SC-100T00 |
| 1/16/2024 | 1/19/2024 | 16,000 | SC-100T00 |
| 2/13/2024 | 2/16/2024 | 16,000 | SC-100T00 |
| 3/12/2024 | 3/15/2024 | 16,000 | SC-100T00 |
| 4/23/2024 | 4/26/2024 | 16,000 | SC-100T00 |
| 5/14/2024 | 5/17/2024 | 16,000 | SC-100T00 |
| 6/4/2024 | 6/7/2024 | 16,000 | SC-100T00 |
| 12/11/2023 | 12/14/2023 | 16,000 | SC-200T00 |
| 1/16/2024 | 1/19/2024 | 16,000 | SC-200T00 |
| 2/13/2024 | 2/16/2024 | 16,000 | SC-200T00 |
| 3/12/2024 | 3/15/2024 | 16,000 | SC-200T00 |
| 4/23/2024 | 4/26/2024 | 16,000 | SC-200T00 |
| 5/14/2024 | 5/17/2024 | 16,000 | SC-200T00 |
| 6/4/2024 | 6/7/2024 | 16,000 | SC-200T00 |
| 12/18/2023 | 12/21/2023 | 16,000 | SC-300T00 |
| 1/23/2024 | 1/26/2024 | 16,000 | SC-300T00 |
| 2/20/2024 | 2/23/2024 | 16,000 | SC-300T00 |
| 3/19/2024 | 3/22/2024 | 16,000 | SC-300T00 |
| 4/23/2024 | 4/26/2024 | 16,000 | SC-300T00 |
| 5/28/2024 | 5/31/2024 | 16,000 | SC-300T00 |
| 6/18/2024 | 6/21/2024 | 16,000 | SC-300T00 |
| 12/12/2023 | 12/15/2023 | 16,000 | SC-400T00 |
| 1/16/2024 | 1/19/2024 | 16,000 | SC-400T00 |
| 2/13/2024 | 2/16/2024 | 16,000 | SC-400T00 |
| 3/19/2024 | 3/22/2024 | 16,000 | SC-400T00 |
| 4/9/2024 | 4/12/2024 | 16,000 | SC-400T00 |
| 5/14/2024 | 5/17/2024 | 16,000 | SC-400T00 |
| 6/18/2024 | 6/21/2024 | 16,000 | SC-400T00 |
| 12/4/2023 | 12/4/2023 | 4,000 | SC-900T00 |
| 1/8/2024 | 1/8/2024 | 4,000 | SC-900T00 |
| 2/16/2024 | 2/16/2024 | 4,000 | SC-900T00 |
| 3/15/2024 | 3/15/2024 | 4,000 | SC-900T00 |
| 4/5/2024 | 4/5/2024 | 4,000 | SC-900T00 |
| 5/7/2024 | 5/7/2024 | 4,000 | SC-900T00 |
| 6/10/2024 | 6/10/2024 | 4,000 | SC-900T00 |
| 12/11/2023 | 12/14/2023 | 16,000 | PL-100T00 |
| 1/9/2024 | 1/12/2024 | 16,000 | PL-100T00 |
| 2/6/2024 | 2/9/2024 | 16,000 | PL-100T00 |
| 3/5/2024 | 3/8/2024 | 16,000 | PL-100T00 |
| 4/9/2024 | 4/12/2024 | 16,000 | PL-100T00 |
| 5/7/2024 | 5/10/2024 | 16,000 | PL-100T00 |
| 6/4/2024 | 6/7/2024 | 16,000 | PL-100T00 |
| 12/18/2023 | 12/21/2023 | 16,000 | PL-200T00 |
| 1/16/2024 | 1/19/2024 | 16,000 | PL-200T00 |
| 2/20/2024 | 2/23/2024 | 16,000 | PL-200T00 |
| 3/12/2024 | 3/15/2024 | 16,000 | PL-200T00 |
| 4/23/2024 | 4/26/2024 | 16,000 | PL-200T00 |
| 5/14/2024 | 5/17/2024 | 16,000 | PL-200T00 |
| 6/18/2024 | 6/21/2024 | 16,000 | PL-200T00 |
| 1/17/2024 | 1/19/2024 | 12,000 | PL-300T00 |
| 2/12/2024 | 2/14/2024 | 12,000 | PL-300T00 |
| 3/11/2024 | 3/13/2024 | 12,000 | PL-300T00 |
| 4/17/2024 | 4/19/2024 | 12,000 | PL-300T00 |
| 5/15/2024 | 5/17/2024 | 12,000 | PL-300T00 |
| 6/10/2024 | 6/12/2024 | 12,000 | PL-300T00 |
| 12/11/2023 | 12/15/2023 | 20,000 | PL-400T00 |
| 1/15/2024 | 1/19/2024 | 20,000 | PL-400T00 |
| 2/12/2024 | 2/16/2024 | 20,000 | PL-400T00 |
| 3/18/2024 | 3/22/2024 | 20,000 | PL-400T00 |
| 4/22/2024 | 4/26/2024 | 20,000 | PL-400T00 |
| 5/27/2024 | 5/31/2024 | 20,000 | PL-400T00 |
| 6/17/2024 | 6/21/2024 | 20,000 | PL-400T00 |
| 12/11/2023 | 12/14/2023 | 16,000 | PL-500T00 |
| 1/23/2024 | 1/26/2024 | 16,000 | PL-500T00 |
| 2/13/2024 | 2/16/2024 | 16,000 | PL-500T00 |
| 3/19/2024 | 3/22/2024 | 16,000 | PL-500T00 |
| 4/23/2024 | 4/26/2024 | 12,000 | PL-500T00 |
| 5/28/2024 | 5/31/2024 | 12,000 | PL-500T00 |
| 6/18/2024 | 6/21/2024 | 12,000 | PL-500T00 |
| 1/22/2024 | 1/24/2024 | 12,000 | PL-600T00 |
| 2/21/2024 | 2/23/2024 | 12,000 | PL-600T00 |
| 3/11/2024 | 3/13/2024 | 12,000 | PL-600T00 |
| 4/17/2024 | 4/19/2024 | 12,000 | PL-600T00 |
| 5/15/2024 | 5/17/2024 | 12,000 | PL-600T00 |
| 6/17/2024 | 6/19/2024 | 12,000 | PL-600T00 |
| 12/8/2023 | 12/8/2023 | 4,000 | PL-900T00 |
| 1/8/2024 | 1/8/2024 | 4,000 | PL-900T00 |
| 2/12/2024 | 2/12/2024 | 4,000 | PL-900T00 |
| 3/11/2024 | 3/11/2024 | 4,000 | PL-900T00 |
| 4/5/2024 | 4/5/2024 | 4,000 | PL-900T00 |
| 5/10/2024 | 5/10/2024 | 4,000 | PL-900T00 |
| 6/10/2024 | 6/10/2024 | 4,000 | PL-900T00 |
| 12/18/2023 | 12/22/2023 | 12,500 | PWA-201 |
| 1/22/2024 | 1/26/2024 | 12,500 | PWA-201 |
| 2/19/2024 | 2/23/2024 | 12,500 | PWA-201 |
| 3/25/2024 | 3/29/2024 | 12,500 | PWA-201 |
| 4/22/2024 | 4/26/2024 | 12,500 | PWA-201 |
| 5/27/2024 | 5/31/2024 | 12,500 | PWA-201 |
| 6/24/2024 | 6/28/2024 | 12,500 | PWA-201 |
| 12/11/2023 | 12/12/2023 | 5,000 | M365-End-User |
| 1/8/2024 | 1/9/2024 | 5,000 | M365-End-User |
| 2/5/2024 | 2/6/2024 | 5,000 | M365-End-User |
| 3/4/2024 | 3/5/2024 | 5,000 | M365-End-User |
| 4/1/2024 | 4/2/2024 | 5,000 | M365-End-User |
| 5/13/2024 | 5/14/2024 | 5,000 | M365-End-User |
| 6/13/2024 | 6/14/2024 | 5,000 | M365-End-User |
| 6/2/2023 | 6/2/2023 | 2,500 | O365-Admin-ENH |
| 7/7/2023 | 7/7/2023 | 2,500 | O365-Admin-ENH |
| 8/4/2023 | 8/4/2023 | 2,500 | O365-Admin-ENH |
| 9/8/2023 | 9/8/2023 | 2,500 | O365-Admin-ENH |
| 10/6/2023 | 10/6/2023 | 2,500 | O365-Admin-ENH |
| 11/3/2023 | 11/3/2023 | 2,500 | O365-Admin-ENH |
| 12/4/2023 | 12/4/2023 | 2,500 | O365-Admin-ENH |
| 12/15/2023 | 12/15/2023 | 4,000 | 55154B |
| 1/22/2024 | 1/22/2024 | 4,000 | 55154B |
| 2/16/2024 | 2/16/2024 | 4,000 | 55154B |
| 3/15/2024 | 3/15/2024 | 4,000 | 55154B |
| 4/19/2024 | 4/19/2024 | 4,000 | 55154B |
| 5/20/2024 | 5/20/2024 | 4,000 | 55154B |
| 6/13/2024 | 6/13/2024 | 4,000 | 55154B |
| 12/8/2023 | 12/8/2023 | 2,500 | OF-19-NF |
| 1/8/2024 | 1/8/2024 | 2,500 | OF-19-NF |
| 2/5/2024 | 2/5/2024 | 2,500 | OF-19-NF |
| 3/11/2024 | 3/11/2024 | 2,500 | OF-19-NF |
| 4/9/2024 | 4/9/2024 | 2,500 | OF-19-NF |
| 5/10/2024 | 5/10/2024 | 2,500 | OF-19-NF |
| 6/10/2024 | 6/10/2024 | 2,500 | OF-19-NF |
| 6/19/2023 | 6/20/2023 | 5,000 | WD-19-01 |
| 7/17/2023 | 7/18/2023 | 5,000 | WD-19-01 |
| 8/15/2023 | 8/16/2023 | 5,000 | WD-19-01 |
| 9/18/2023 | 9/19/2023 | 5,000 | WD-19-01 |
| 10/24/2023 | 10/25/2023 | 5,000 | WD-19-01 |
| 11/20/2023 | 11/21/2023 | 5,000 | WD-19-01 |
| 12/18/2023 | 12/19/2023 | 5,000 | WD-19-01 |
| 6/21/2023 | 6/22/2023 | 5,000 | WD-19-02 |
| 7/19/2023 | 7/20/2023 | 5,000 | WD-19-02 |
| 8/17/2023 | 8/18/2023 | 5,000 | WD-19-02 |
| 9/20/2023 | 9/21/2023 | 5,000 | WD-19-02 |
| 10/26/2023 | 10/27/2023 | 5,000 | WD-19-02 |
| 11/23/2023 | 11/24/2023 | 5,000 | WD-19-02 |
| 12/20/2023 | 12/21/2023 | 5,000 | WD-19-02 |
| 6/19/2023 | 6/20/2023 | 5,000 | EX-19-01 |
| 7/17/2023 | 7/18/2023 | 5,000 | EX-19-01 |
| 8/15/2023 | 8/16/2023 | 5,000 | EX-19-01 |
| 9/18/2023 | 9/19/2023 | 5,000 | EX-19-01 |
| 10/24/2023 | 10/25/2023 | 5,000 | EX-19-01 |
| 11/20/2023 | 11/21/2023 | 5,000 | EX-19-01 |
| 12/18/2023 | 12/19/2023 | 5,000 | EX-19-01 |
| 6/21/2023 | 6/22/2023 | 5,000 | EX-19-02 |
| 7/19/2023 | 7/20/2023 | 5,000 | EX-19-02 |
| 8/17/2023 | 8/18/2023 | 5,000 | EX-19-02 |
| 9/20/2023 | 9/21/2023 | 5,000 | EX-19-02 |
| 10/26/2023 | 10/27/2023 | 5,000 | EX-19-02 |
| 11/23/2023 | 11/24/2023 | 5,000 | EX-19-02 |
| 12/20/2023 | 12/21/2023 | 5,000 | EX-19-02 |
| 6/23/2023 | 6/23/2023 | 2,500 | EX-19-03 |
| 7/21/2023 | 7/21/2023 | 2,500 | EX-19-03 |
| 8/21/2023 | 8/21/2023 | 2,500 | EX-19-03 |
| 9/22/2023 | 9/22/2023 | 2,500 | EX-19-03 |
| 10/30/2023 | 10/30/2023 | 2,500 | EX-19-03 |
| 11/24/2023 | 11/24/2023 | 2,500 | EX-19-03 |
| 12/22/2023 | 12/22/2023 | 2,500 | EX-19-03 |
| 6/12/2023 | 6/13/2023 | 5,000 | PP-19-01 |
| 7/10/2023 | 7/11/2023 | 5,000 | PP-19-01 |
| 8/7/2023 | 8/8/2023 | 5,000 | PP-19-01 |
| 9/11/2023 | 9/12/2023 | 5,000 | PP-19-01 |
| 10/9/2023 | 10/10/2023 | 5,000 | PP-19-01 |
| 11/6/2023 | 11/7/2023 | 5,000 | PP-19-01 |
| 12/11/2023 | 12/12/2023 | 5,000 | PP-19-01 |
| 6/14/2023 | 6/15/2023 | 5,000 | PP-19-02 |
| 7/12/2023 | 7/13/2023 | 5,000 | PP-19-02 |
| 8/9/2023 | 8/10/2023 | 5,000 | PP-19-02 |
| 9/13/2023 | 9/14/2023 | 5,000 | PP-19-02 |
| 10/11/2023 | 10/12/2023 | 5,000 | PP-19-02 |
| 11/8/2023 | 11/9/2023 | 5,000 | PP-19-02 |
| 12/13/2023 | 12/14/2023 | 5,000 | PP-19-02 |
| 6/7/2023 | 6/9/2023 | 7,500 | PJ-19-US |
| 8/2/2023 | 8/4/2023 | 7,500 | PJ-19-US |
| 10/2/2023 | 10/4/2023 | 7,500 | PJ-19-US |
| 12/6/2023 | 12/8/2023 | 7,500 | PJ-19-US |
| 6/23/2023 | 6/23/2023 | 2,500 | OL-19-01 |
| 9/22/2023 | 9/22/2023 | 2,500 | OL-19-01 |
| 12/22/2023 | 12/22/2023 | 2,500 | OL-19-01 |
| 7/17/2023 | 7/21/2023 | 20,000 | ASP-MVC5 |
| 10/30/2023 | 11/3/2023 | 20,000 | ASP-MVC5 |
| 8/21/2023 | 8/22/2023 | 8,000 | 55267-A |
| 11/20/2023 | 11/21/2023 | 8,000 | 55267-A |
| 7/17/2023 | 7/20/2023 | 16,000 | 55284-A |
| 10/9/2023 | 10/12/2023 | 16,000 | 55284-A |
| 8/21/2023 | 8/22/2023 | 8,000 | 55285-A |
| 11/20/2023 | 11/21/2023 | 8,000 | 55285-A |
| 6/26/2023 | 6/30/2023 | 20,000 | 55039-B |
| 9/25/2023 | 9/29/2023 | 20,000 | 55039-B |
| 12/18/2023 | 12/22/2023 | 20,000 | 55039-B |
| 6/7/2023 | 6/9/2023 | 12,000 | 55199-A |
| 8/2/2023 | 8/4/2023 | 12,000 | 55199-A |
| 10/2/2023 | 10/4/2023 | 12,000 | 55199-A |
| 12/6/2023 | 12/8/2023 | 12,000 | 55199-A |
| 7/10/2023 | 7/11/2023 | 8,000 | 55200-A |
| 9/4/2023 | 9/5/2023 | 8,000 | 55200-A |
| 11/6/2023 | 11/7/2023 | 8,000 | 55200-A |
| 7/17/2023 | 7/20/2023 | 16,000 | 55215-B |
| 10/9/2023 | 10/12/2023 | 16,000 | 55215-B |
| 8/21/2023 | 8/24/2023 | 16,000 | 55217-A |
| 11/20/2023 | 11/23/2023 | 16,000 | 55217-A |
| 7/17/2023 | 7/21/2023 | 20,000 | 55234-A |
| 9/25/2023 | 9/29/2023 | 20,000 | 55234-A |
| 11/27/2023 | 12/1/2023 | 20,000 | 55234-A |
| 6/14/2023 | 6/16/2023 | 12,000 | 55238-B |
| 7/19/2023 | 7/21/2023 | 12,000 | 55238-B |
| 8/2/2023 | 8/4/2023 | 12,000 | 55238-B |
| 9/6/2023 | 9/8/2023 | 12,000 | 55238-B |
| 10/10/2023 | 10/12/2023 | 12,000 | 55238-B |
| 11/1/2023 | 11/3/2023 | 12,000 | 55238-B |
| 12/6/2023 | 12/8/2023 | 12,000 | 55238-B |
| 7/10/2023 | 7/11/2023 | 8,000 | 55251-A |
| 9/4/2023 | 9/5/2023 | 8,000 | 55251-A |
| 11/6/2023 | 11/7/2023 | 8,000 | 55251-A |
| 6/12/2023 | 6/16/2023 | 12,000 | 10972 |
| 7/10/2023 | 7/14/2023 | 12,000 | 10972 |
| 8/10/2023 | 8/14/2023 | 12,000 | 10972 |
| 9/7/2023 | 9/11/2023 | 12,000 | 10972 |
| 10/2/2023 | 10/6/2023 | 12,000 | 10972 |
| 10/30/2023 | 11/3/2023 | 12,000 | 10972 |
| 12/11/2023 | 12/15/2023 | 12,000 | 10972 |
| 6/19/2023 | 6/22/2023 | 16,000 | 10987 |
| 7/17/2023 | 7/20/2023 | 16,000 | 10987 |
| 8/7/2023 | 8/10/2023 | 16,000 | 10987 |
| 9/18/2023 | 9/21/2023 | 16,000 | 10987 |
| 10/16/2023 | 10/19/2023 | 16,000 | 10987 |
| 11/13/2023 | 11/16/2023 | 16,000 | 10987 |
| 12/18/2023 | 12/21/2023 | 16,000 | 10987 |
| 6/27/2023 | 6/29/2023 | 12,000 | 10997 |
| 7/18/2023 | 7/20/2023 | 12,000 | 10997 |
| 8/29/2023 | 8/31/2023 | 12,000 | 10997 |
| 9/27/2023 | 9/29/2023 | 12,000 | 10997 |
| 10/31/2023 | 11/2/2023 | 12,000 | 10997 |
| 11/28/2023 | 11/30/2023 | 12,000 | 10997 |
| 12/26/2023 | 12/28/2023 | 12,000 | 10997 |
| 6/26/2023 | 6/30/2023 | 20,000 | 20761 |
| 7/17/2023 | 7/21/2023 | 20,000 | 20761 |
| 8/28/2023 | 9/1/2023 | 20,000 | 20761 |
| 9/25/2023 | 9/29/2023 | 20,000 | 20761 |
| 10/30/2023 | 11/3/2023 | 20,000 | 20761 |
| 11/27/2023 | 12/1/2023 | 20,000 | 20761 |
| 12/18/2023 | 12/22/2023 | 20,000 | 20761 |
| 6/12/2023 | 6/16/2023 | 20,000 | 20764 |
| 7/17/2023 | 7/21/2023 | 20,000 | 20764 |
| 8/21/2023 | 8/25/2023 | 20,000 | 20764 |
| 9/11/2023 | 9/15/2023 | 20,000 | 20764 |
| 10/16/2023 | 10/20/2023 | 20,000 | 20764 |
| 11/13/2023 | 11/17/2023 | 20,000 | 20764 |
| 12/11/2023 | 12/15/2023 | 20,000 | 20764 |
| 6/14/2023 | 6/15/2023 | 8,000 | 20778 |
| 7/19/2023 | 7/20/2023 | 8,000 | 20778 |
| 8/2/2023 | 8/3/2023 | 8,000 | 20778 |
| 9/6/2023 | 9/7/2023 | 8,000 | 20778 |
| 10/10/2023 | 10/11/2023 | 8,000 | 20778 |
| 11/1/2023 | 11/2/2023 | 8,000 | 20778 |
| 12/6/2023 | 12/7/2023 | 8,000 | 20778 |
| 6/7/2023 | 6/9/2023 | 12,000 | 20779 |
| 7/3/2023 | 7/5/2023 | 12,000 | 20779 |
| 8/2/2023 | 8/4/2023 | 12,000 | 20779 |
| 9/6/2023 | 9/8/2023 | 12,000 | 20779 |
| 10/2/2023 | 10/4/2023 | 12,000 | 20779 |
| 11/1/2023 | 11/3/2023 | 12,000 | 20779 |
| 12/6/2023 | 12/8/2023 | 12,000 | 20779 |
| 6/12/2023 | 6/16/2023 | 20,000 | WS-011T00 |
| 7/10/2023 | 7/14/2023 | 20,000 | WS-011T00 |
| 8/7/2023 | 8/11/2023 | 20,000 | WS-011T00 |
| 9/4/2023 | 9/8/2023 | 20,000 | WS-011T00 |
| 10/16/2023 | 10/20/2023 | 20,000 | WS-011T00 |
| 11/6/2023 | 11/10/2023 | 20,000 | WS-011T00 |
| 12/11/2023 | 12/15/2023 | 20,000 | WS-011T00 |
| 6/12/2023 | 6/16/2023 | 60,000 | VSICM8 |
| 7/3/2023 | 7/7/2023 | 60,000 | VSICM8 |
| 8/7/2023 | 8/11/2023 | 60,000 | VSICM8 |
| 9/4/2023 | 9/8/2023 | 60,000 | VSICM8 |
| 10/2/2023 | 10/6/2023 | 60,000 | VSICM8 |
| 11/6/2023 | 11/10/2023 | 60,000 | VSICM8 |
| 12/18/2023 | 12/22/2023 | 60,000 | VSICM8 |
| 6/8/2023 | 6/12/2023 | 37,000 | VSWN8 |
| 10/9/2023 | 10/11/2023 | 37,000 | VSWN8 |
| 7/17/2023 | 7/21/2023 | 90,000 | VSFT7 |
| 9/18/2023 | 9/22/2023 | 90,000 | VSFT7 |
| 9/18/2023 | 9/22/2023 | 66,000 | VSOS8 |
| 11/27/2023 | 12/1/2023 | 66,000 | VSOS8 |
| 6/26/2023 | 6/30/2023 | 66,000 | VSTS7 |
| 10/30/2023 | 11/3/2023 | 66,000 | VSTS7 |
| 12/25/2023 | 12/29/2023 | 66,000 | VSTS7 |
| 6/7/2023 | 6/9/2023 | 40,000 | VSD7 |
| 7/24/2023 | 7/26/2023 | 40,000 | VSD7 |
| 10/25/2023 | 10/27/2023 | 40,000 | VSD7 |
| 6/8/2023 | 6/9/2023 | 25,000 | SRMICM82 |
| 9/11/2023 | 9/13/2023 | 40,000 | VSKDM7 |
| 10/30/2023 | 11/1/2023 | 40,000 | VSKDM7 |
| 12/6/2023 | 12/8/2023 | 40,000 | VSKDM7 |
| 6/6/2023 | 6/9/2023 | 49,000 | TKGIEICM110 |
| 6/12/2023 | 6/16/2023 | 60,000 | NSXTICM32 |
| 7/3/2023 | 7/7/2023 | 60,000 | NSXTICM32 |
| 10/30/2023 | 11/3/2023 | 66,000 | NSXTD32 |
| 9/25/2023 | 9/29/2023 | 60,000 | VROICM86 |
| 10/2/2023 | 10/6/2023 | 66,000 | NSXTTO32 |
| 10/16/2023 | 10/20/2023 | 60,000 | HDM8 |
| 11/6/2023 | 11/10/2023 | 60,000 | HDM8 |
| 12/7/2023 | 12/8/2023 | 25,000 | HIA8 |
| 8/25/2023 | 8/25/2023 | 10,800 | AWS-CPE |
| 9/18/2023 | 9/18/2023 | 10,800 | AWS-CPE |
| 10/16/2023 | 10/16/2023 | 10,800 | AWS-CPE |
| 11/8/2023 | 11/8/2023 | 10,800 | AWS-CPE |
| 12/7/2023 | 12/7/2023 | 10,800 | AWS-CPE |
| 8/18/2023 | 8/18/2023 | 10,800 | AWS-TE |
| 9/19/2023 | 9/19/2023 | 10,800 | AWS-TE |
| 10/17/2023 | 10/17/2023 | 10,800 | AWS-TE |
| 11/7/2023 | 11/7/2023 | 10,800 | AWS-TE |
| 12/8/2023 | 12/8/2023 | 10,800 | AWS-TE |
| 8/25/2023 | 8/25/2023 | 5,900 | AWS-EBL |
| 10/16/2023 | 10/16/2023 | 5,900 | AWS-EBL |
| 12/7/2023 | 12/7/2023 | 5,900 | AWS-EBL |
| 9/18/2023 | 9/18/2023 | 5,900 | AWS-EFS |
| 11/6/2023 | 11/6/2023 | 5,900 | AWS-EFS |
| 8/22/2023 | 8/24/2023 | 32,400 | AWS-ARC |
| 9/20/2023 | 9/22/2023 | 32,400 | AWS-ARC |
| 10/18/2023 | 10/20/2023 | 32,400 | AWS-ARC |
| 11/15/2023 | 11/17/2023 | 32,400 | AWS-ARC |
| 12/13/2023 | 12/15/2023 | 32,400 | AWS-ARC |
| | | 10,800 | AWS-WBP |
| | | 32,400 | AWS-ADA |
| | | 10,800 | AWS-AWB |
| | | 54,000 | AWS-ARA |
| 8/29/2023 | 8/31/2023 | 32,400 | AWS-COA |
| 9/25/2023 | 9/27/2023 | 32,400 | AWS-COA |
| 10/25/2023 | 10/27/2023 | 32,400 | AWS-COA |
| 12/18/2023 | 12/20/2023 | 32,400 | AWS-COA |
| | | 21,600 | AWS-FIN |
| | | 32,400 | AWS-CFM |
| | | 32,400 | AWS-DWA |
| | | 10,800 | AWS-BLK |
| | | 10,800 | AWS-BDA |
| | | 10,800 | AWS-BBD |
| | | 10,800 | AWS-BSD |
| | | 21,600 | AWS-AVA |
| | | 32,400 | AWS-PDD |
| 9/13/2023 | 9/15/2023 | 32,400 | AWS-DEV |
| | | 32,400 | AWS-ADE |
| | | 32,400 | AWS-DOP |
| | | 10,800 | AWS-DEL |
| | | 32,400 | AWS-MLE |
| | | 10,800 | AWS-PDS |
| | | 43,200 | AWS-MLP |
| | | 32,400 | AWS-SSD |
| | | 21,600 | AWS-VSE |
| 8/25/2023 | 8/25/2023 | 10,800 | AWS-MES |
| 10/16/2023 | 10/16/2023 | 10,800 | AWS-MES |
| 12/7/2023 | 12/7/2023 | 10,800 | AWS-MES |
| | | 32,400 | AWS-MGA |
| 9/18/2023 | 9/18/2023 | 10,800 | AWS-SES |
| 11/6/2023 | 11/6/2023 | 10,800 | AWS-SES |
| | | 32,400 | AWS-SEN |
| | | 10,800 | AWS-SGS |
| | | 10,800 | AWS-SBP |
| 7/24/2023 | 7/26/2023 | 42,300 | D1101651GC10 |
| 10/9/2023 | 10/11/2023 | 42,300 | D1101651GC10 |
| 6/26/2023 | 6/30/2023 | 56,500 | D107509GC10 |
| 7/3/2023 | 7/7/2023 | 56,500 | D107509GC10 |
| 8/7/2023 | 8/11/2023 | 56,500 | D107509GC10 |
| 9/4/2023 | 9/8/2023 | 56,500 | D107509GC10 |
| 10/2/2023 | 10/6/2023 | 56,500 | D107509GC10 |
| 11/6/2023 | 11/10/2023 | 56,500 | D107509GC10 |
| 12/11/2023 | 12/15/2023 | 56,500 | D107509GC10 |
| 6/19/2023 | 6/23/2023 | 56,500 | D107511GC10 |
| 7/10/2023 | 7/14/2023 | 56,500 | D107511GC10 |
| 8/21/2023 | 8/25/2023 | 56,500 | D107511GC10 |
| 9/11/2023 | 9/15/2023 | 56,500 | D107511GC10 |
| 10/16/2023 | 10/20/2023 | 56,500 | D107511GC10 |
| 11/13/2023 | 11/17/2023 | 56,500 | D107511GC10 |
| 12/18/2023 | 12/22/2023 | 56,500 | D107511GC10 |
| 6/26/2023 | 6/30/2023 | 56,500 | D108103GC20 |
| 7/17/2023 | 7/21/2023 | 56,500 | D108103GC20 |
| 8/7/2023 | 8/11/2023 | 56,500 | D108103GC20 |
| 9/18/2023 | 9/22/2023 | 56,500 | D108103GC20 |
| 10/30/2023 | 11/3/2023 | 56,500 | D108103GC20 |
| 11/20/2023 | 11/24/2023 | 56,500 | D108103GC20 |
| 12/18/2023 | 12/22/2023 | 56,500 | D108103GC20 |
| 8/15/2023 | 8/18/2023 | 49,000 | D108654GC10 |
| 10/9/2023 | 10/12/2023 | 49,000 | D108654GC10 |
| 11/28/2023 | 12/1/2023 | 49,000 | D108654GC10 |
| 6/12/2023 | 6/16/2023 | 56,500 | D78848GC20 |
| 7/3/2023 | 7/7/2023 | 56,500 | D78848GC20 |
| 8/7/2023 | 8/11/2023 | 56,500 | D78848GC20 |
| 9/4/2023 | 9/8/2023 | 56,500 | D78848GC20 |
| 10/2/2023 | 10/6/2023 | 56,500 | D78848GC20 |
| 11/6/2023 | 11/10/2023 | 56,500 | D78848GC20 |
| 12/11/2023 | 12/15/2023 | 56,500 | D78848GC20 |
| 8/22/2023 | 8/25/2023 | 56,400 | D108634GC10 |
| 11/21/2023 | 11/24/2023 | 56,400 | D108634GC10 |
| 7/6/2023 | 7/7/2023 | 36,900 | D108638GC10 |
| 10/11/2023 | 10/12/2023 | 36,900 | D108638GC10 |
| 12/7/2023 | 12/8/2023 | 36,900 | D108638GC10 |
| 6/12/2023 | 6/16/2023 | 70,500 | D108774GC20 |
| 8/7/2023 | 8/11/2023 | 70,500 | D108774GC20 |
| 10/16/2023 | 10/20/2023 | 70,500 | D108774GC20 |
| 12/11/2023 | 12/15/2023 | 70,500 | D108774GC20 |
| 7/24/2023 | 7/27/2023 | 56,400 | D101287GC10 |
| 9/12/2023 | 9/15/2023 | 56,400 | D101287GC10 |
| 11/27/2023 | 11/30/2023 | 56,400 | D101287GC10 |
| 6/6/2023 | 6/9/2023 | 49,000 | D90871GC20 |
| 8/15/2023 | 8/18/2023 | 49,000 | D90871GC20 |
| 9/5/2023 | 9/8/2023 | 49,000 | D90871GC20 |
| 11/7/2023 | 11/10/2023 | 49,000 | D90871GC20 |
| 6/12/2023 | 6/16/2023 | 56,500 | D66376GC51 |
| 7/10/2023 | 7/14/2023 | 56,500 | D66376GC51 |
| 8/7/2023 | 8/11/2023 | 56,500 | D66376GC51 |
| 9/4/2023 | 9/8/2023 | 56,500 | D66376GC51 |
| 10/16/2023 | 10/20/2023 | 56,500 | D66376GC51 |
| 11/13/2023 | 11/17/2023 | 56,500 | D66376GC51 |
| 12/11/2023 | 12/15/2023 | 56,500 | D66376GC51 |
| 6/20/2023 | 6/23/2023 | 49,000 | D109197GC10 |
| 9/19/2023 | 9/22/2023 | 49,000 | D109197GC10 |
| 12/19/2023 | 12/22/2023 | 49,000 | D109197GC10 |
| 6/19/2023 | 6/23/2023 | 56,500 | D66378GC50 |
| 7/10/2023 | 7/14/2023 | 56,500 | D66378GC50 |
| 8/7/2023 | 8/11/2023 | 56,500 | D66378GC50 |
| 9/4/2023 | 9/8/2023 | 56,500 | D66378GC50 |
| 10/16/2023 | 10/20/2023 | 56,500 | D66378GC50 |
| 7/25/2023 | 7/27/2023 | 42,300 | D108305GC30 |
| 7/17/2023 | 7/21/2023 | 56,500 | D80151GC30 |
| 8/7/2023 | 8/11/2023 | 56,500 | D80151GC30 |
| 8/7/2023 | 8/11/2023 | 56,500 | D80155GC30 |
| 7/26/2023 | 7/27/2023 | 36,900 | D83177GC30 |
| 8/17/2023 | 8/18/2023 | 36,900 | D83177GC30 |
| 6/19/2023 | 6/23/2023 | 92,250 | D95507GC20 |
| 7/10/2023 | 7/14/2023 | 92,250 | D95507GC20 |
| 6/19/2023 | 6/23/2023 | 92,250 | D95503GC10 |
| 7/17/2023 | 7/21/2023 | 92,250 | D95503GC10 |
| 6/21/2023 | 6/23/2023 | 55,350 | D1104288GC10 |
| 7/25/2023 | 7/27/2023 | 55,350 | D1104288GC10 |
| 6/26/2023 | 6/30/2023 | 62,000 | 3627 |
| 9/25/2023 | 9/29/2023 | 62,000 | 3627 |
| 12/25/2023 | 12/29/2023 | 62,000 | 3627 |
| 7/17/2023 | 7/21/2023 | 62,000 | 2813 |
| 10/30/2023 | 11/3/2023 | 62,000 | 2813 |
| 7/10/2023 | 7/11/2023 | 25,000 | 2444 |
| 9/4/2023 | 9/5/2023 | 25,000 | 2444 |
| 11/6/2023 | 11/7/2023 | 25,000 | 2444 |
| 6/7/2023 | 6/9/2023 | 39,500 | 2446 |
| 8/2/2023 | 8/4/2023 | 39,500 | 2446 |
| 10/2/2023 | 10/4/2023 | 39,500 | 2446 |
| 12/6/2023 | 12/8/2023 | 39,500 | 2446 |
| 7/17/2023 | 7/21/2023 | 62,000 | 6639 |
| 9/25/2023 | 9/29/2023 | 62,000 | 6639 |
| 11/27/2023 | 12/1/2023 | 62,000 | 6639 |
| 7/17/2023 | 7/20/2023 | 52,000 | DP0119 |
| 10/9/2023 | 10/12/2023 | 52,000 | DP0119 |
| 7/17/2023 | 7/21/2023 | 62,000 | 7956 |
| 9/18/2023 | 9/22/2023 | 62,000 | 7956 |
| 11/20/2023 | 11/24/2023 | 62,000 | 7956 |
| 6/12/2023 | 6/16/2023 | 62,000 | 8256 |
| 8/7/2023 | 8/11/2023 | 62,000 | 8256 |
| 10/16/2023 | 10/20/2023 | 62,000 | 8256 |
| 12/11/2023 | 12/15/2023 | 62,000 | 8256 |
| 6/12/2023 | 6/16/2023 | 62,000 | 8296 |
| 9/4/2023 | 9/8/2023 | 62,000 | 8296 |
| 12/11/2023 | 12/15/2023 | 62,000 | 8296 |
| 6/19/2023 | 6/23/2023 | 62,000 | 8726 |
| 7/17/2023 | 7/21/2023 | 62,000 | 8726 |
| 8/21/2023 | 8/25/2023 | 62,000 | 8726 |
| 9/18/2023 | 9/22/2023 | 62,000 | 8726 |
| 10/16/2023 | 10/20/2023 | 62,000 | 8726 |
| 11/20/2023 | 11/24/2023 | 62,000 | 8726 |
| 12/11/2023 | 12/15/2023 | 62,000 | 8726 |
| 6/26/2023 | 6/30/2023 | 62,000 | 9005 |
| 7/17/2023 | 7/21/2023 | 62,000 | 9005 |
| 8/28/2023 | 9/1/2023 | 62,000 | 9005 |
| 9/25/2023 | 9/29/2023 | 62,000 | 9005 |
| 10/30/2023 | 11/3/2023 | 62,000 | 9005 |
| 11/27/2023 | 12/1/2023 | 62,000 | 9005 |
| 12/18/2023 | 12/22/2023 | 62,000 | 9005 |
| 6/7/2023 | 6/9/2023 | 36,000 | TMAOCP |
| 7/12/2023 | 7/14/2023 | 36,000 | TMAOCP |
| 8/2/2023 | 8/4/2023 | 36,000 | TMAOCP |
| 9/25/2023 | 9/27/2023 | 36,000 | TMAOCP |
| 10/10/2023 | 10/12/2023 | 36,000 | TMAOCP |
| 11/1/2023 | 11/3/2023 | 36,000 | TMAOCP |
| 12/6/2023 | 12/8/2023 | 36,000 | TMAOCP |
| 6/14/2023 | 6/16/2023 | 36,000 | TMDSCP20 |
| 7/19/2023 | 7/21/2023 | 36,000 | TMDSCP20 |
| 8/2/2023 | 8/4/2023 | 36,000 | TMDSCP20 |
| 9/6/2023 | 9/8/2023 | 36,000 | TMDSCP20 |
| 10/10/2023 | 10/12/2023 | 36,000 | TMDSCP20 |
| 11/1/2023 | 11/3/2023 | 36,000 | TMDSCP20 |
| 12/6/2023 | 12/8/2023 | 36,000 | TMDSCP20 |
| 6/12/2023 | 6/14/2023 | 36,000 | TMDDCP |
| 7/24/2023 | 7/26/2023 | 36,000 | TMDDCP |
| 8/21/2023 | 8/23/2023 | 36,000 | TMDDCP |
| 9/18/2023 | 9/20/2023 | 36,000 | TMDDCP |
| 10/24/2023 | 10/26/2023 | 36,000 | TMDDCP |
| 11/20/2023 | 11/22/2023 | 36,000 | TMDDCP |
| 12/18/2023 | 12/20/2023 | 36,000 | TMDDCP |
| 7/24/2023 | 7/26/2023 | 25,000 | CT-ITF+ |
| 12/6/2023 | 12/8/2023 | 25,000 | CT-ITF+ |
| 7/10/2023 | 7/14/2023 | 48,000 | CT01-Network+ |
| 8/2/2023 | 8/4/2023 | 39,000 | CT02-Network+ |
| 12/13/2023 | 12/15/2023 | 39,000 | CT02-Network+ |
| 10/30/2023 | 11/3/2023 | 48,000 | CT01-Security+ |
| 11/6/2023 | 11/10/2023 | 48,000 | CT01-Security+ |
| 6/7/2023 | 6/9/2023 | 39,000 | CT02-Security+ |
| 8/16/2023 | 8/18/2023 | 39,000 | CT02-Security+ |
| 10/9/2023 | 10/11/2023 | 39,000 | CT02-Security+ |
| 12/6/2023 | 12/8/2023 | 39,000 | CT02-Security+ |
| 9/25/2023 | 9/29/2023 | 45,000 | CT-Cloud+ |
| 10/2/2023 | 10/6/2023 | 45,000 | CT-Server+ |
| 11/13/2023 | 11/17/2023 | 48,000 | CT01-CySA+ |
| 8/2/2023 | 8/4/2023 | 39,000 | CT02-CySA+ |
| 11/1/2023 | 11/3/2023 | 39,000 | CT02-CySA+ |
| 7/17/2023 | 7/21/2023 | 48,000 | CT-PenTest+ |
| 12/11/2023 | 12/15/2023 | 48,000 | CT-PenTest+ |
| 10/2/2023 | 10/6/2023 | 54,000 | CT-CASP+ |
| 7/24/2023 | 7/26/2023 | 28,000 | CT-Cloud Essentials+ |
| 11/1/2023 | 11/3/2023 | 28,000 | CT-Cloud Essentials+ |
| 6/7/2023 | 6/9/2023 | 45,000 | CT-Project+ |
| 9/4/2023 | 9/6/2023 | 45,000 | CT-Project+ |
| 6/21/2023 | 6/23/2023 | 22,000 | ITIL-V4 |
| 7/12/2023 | 7/14/2023 | 22,000 | ITIL-V4 |
| 6/21/2023 | 6/23/2023 | 48,500 | ITIL-V4+Exam |
| 7/12/2023 | 7/14/2023 | 48,500 | ITIL-V4+Exam |
| 10/16/2023 | 10/20/2023 | 37,950 | RH124 |
| 11/6/2023 | 11/10/2023 | 37,950 | RH124 |
| 12/18/2023 | 12/22/2023 | 37,950 | RH124 |
| 6/19/2023 | 6/23/2023 | 47,450 | RH134 |
| 8/28/2023 | 9/1/2023 | 47,450 | RH134 |
| 9/25/2023 | 9/29/2023 | 47,450 | RH134 |
| 10/30/2023 | 11/3/2023 | 47,450 | RH134 |
| 11/27/2023 | 12/1/2023 | 47,450 | RH134 |
| 12/25/2023 | 12/29/2023 | 47,450 | RH134 |
| 6/19/2023 | 6/23/2023 | 57,530 | RH135 |
| 8/28/2023 | 9/1/2023 | 57,530 | RH135 |
| 9/25/2023 | 9/29/2023 | 57,530 | RH135 |
| 10/30/2023 | 11/3/2023 | 57,530 | RH135 |
| 11/27/2023 | 12/1/2023 | 57,530 | RH135 |
| 12/25/2023 | 12/29/2023 | 57,530 | RH135 |
| 8/15/2023 | 8/18/2023 | 60,960 | RH294 |
| 9/11/2023 | 9/14/2023 | 60,960 | RH294 |
| 10/24/2023 | 10/27/2023 | 60,960 | RH294 |
| 11/20/2023 | 11/23/2023 | 60,960 | RH294 |
| 12/12/2023 | 12/15/2023 | 60,960 | RH294 |
| 8/15/2023 | 8/18/2023 | 71,040 | RH295 |
| 9/11/2023 | 9/14/2023 | 71,040 | RH295 |
| 10/24/2023 | 10/27/2023 | 71,040 | RH295 |
| 11/20/2023 | 11/23/2023 | 71,040 | RH295 |
| 12/12/2023 | 12/15/2023 | 71,040 | RH295 |
| 11/6/2023 | 11/9/2023 | 60,960 | DO180 |
| 6/28/2023 | 6/30/2023 | 45,720 | DO188 |
| 10/9/2023 | 10/12/2023 | 45,720 | DO280 |
| 12/12/2023 | 12/15/2023 | 45,720 | DO280 |
| - | - | 60,960 | DO288 |
| 6/6/2023 | 6/8/2023 | 9,500 | PYTN102 |
| 6/19/2023 | 6/21/2023 | 7,500 | PYTN103 |
| 6/26/2023 | 6/30/2023 | 19,900 | PYTN104 |
| 7/10/2023 | 7/14/2023 | 35,000 | PMP7 |
| 11/27/2023 | 12/1/2023 | 35,000 | PMP7 |
| 8/18/2023 | 8/18/2023 | 4,000 | AI-050T00 |
| 9/15/2023 | 9/15/2023 | 4,000 | AI-050T00 |
| 10/20/2023 | 10/20/2023 | 4,000 | AI-050T00 |
| 11/17/2023 | 11/17/2023 | 4,000 | AI-050T00 |
| 12/15/2023 | 12/15/2023 | 4,000 | AI-050T00 |
| 8/18/2023 | 8/18/2023 | 4,000 | DP-601T00 |
| 9/15/2023 | 9/15/2023 | 4,000 | DP-601T00 |
| 10/20/2023 | 10/20/2023 | 4,000 | DP-601T00 |
| 11/17/2023 | 11/17/2023 | 4,000 | DP-601T00 |
| 12/15/2023 | 12/15/2023 | 4,000 | DP-601T00 |
| 8/15/2023 | 8/16/2023 | 4,000 | IC-002T00 |
| 9/18/2023 | 9/19/2023 | 4,000 | IC-002T00 |
| 10/19/2023 | 10/20/2023 | 4,000 | IC-002T00 |
| 11/16/2023 | 11/17/2023 | 4,000 | IC-002T00 |
| 12/7/2023 | 12/8/2023 | 4,000 | IC-002T00 |
| 8/21/2023 | 8/24/2023 | 16,000 | DP-203T00 |