PeopleSoft Fluid User Interface Ed 1
This PeopleSoft Fluid User Interface training introduces you to the development paradigm for the PeopleSoft Fluid User Interface. Explore conceptual information, tasks and techniques used to develop fluid applications.
Prerequisite skills include:
PeopleSoft Fluid User Interface Rel 8.54 or Rel 8.55 only
STUDENTS WILL LEARN TO
Describe characteristics of a fluid application.
Identify and use the elements of fluid applications.
Apply the principles and guidelines of fluid application development methodology.
Design, create, and deploy fluid pages.
Create and register fluid components.
Test fluid applications.
Control layout, appearance, and behavior of fluid pages using CSS 3.
Implement keyword and real-time search for fluid applications.
Create and manage fluid homepages and dashboards.
Create and enhance tile definitions.
Identify and use PeopleCode designed for fluid applications.
Enable and manage push notifications.
Use additional advanced page design features.
Work with fluid wrapper components.
Create subpages and configure drop zones.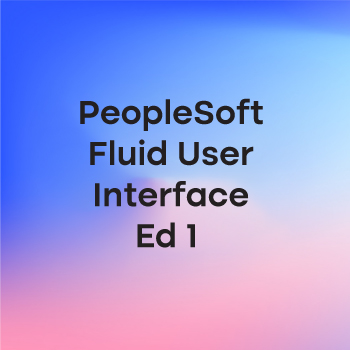 COURSE TOPICS
Module 1 : Fluid User Interface Course Overview
Module 2 : Fluid User Interface Technology Overview
Technology Overview
Recognizing the Demand for Responsive Applications
Activity 1: Finding Information in PeopleSoft Online Help Related to PeopleSoft Fluid User Interface
Module 3 : Working with the Elements of a Fluid Application
Working with the Elements of a Fluid Application
Working with Fluid Homepages
Activity 2: Using the Elements of the Fluid User Interface
Module 4 : Working with Fluid Pages and Page Controls
Working with Fluid Pages and Page Controls
Understanding Fluid Page Types
Comparing Classic and Fluid Page Controls
Working with Grids
Activity 3: Observing Fluid Page Layout Techniques
Activity 4: Creating Fluid Pages
Module 5 : Working with Fluid Components
Working with Fluid Components
Activity 5: Creating and Registering a Fluid Component
Module 6 : Testing Fluid Applications
Testing Fluid Applications
Using PeopleTools Testing Features (continued)
Activity 6: Testing a Fluid Application
Module 7 : Working with Subpages and Secondary Pages
Working with Subpages and Secondary Pages
Working with Secondary Pages (continued)
Activity 7: Building a Student Self Service Application
Module 8 : Managing Fluid Page Display with Cascading Style Sheets
Managing Fluid Page Display with Cascading Style Sheets
Extending or Overriding the Default Styles
Activity 8: Modifying the Look and Feel of Fluid Applications Using CSS
Module 9 : Working with Search Pages
Working with Search Pages
Using the Search Results Page
Incorporating a Search Framework-based Keyword Search into Fluid Applications
Activity 9: Working with Keyword Search
Activity 10: Implementing Real-Time Search for a Fluid Component
Activity 11: Exploring Additional Uses of Real-Time Search
Module 10 : Working with Fluid Homepages and Dashboards
Working with Fluid Homepages and Dashboards
Creating and Managing Fluid Homepages
Managing System Settings for Fluid
Creating and Managing Fluid Dashboards
Activity 12: Creating and Managing Fluid Homepages
Activity 13: Creating and Managing Fluid Dashboards
Module 11 : Working with Tiles and Tile Wizard
Working with Tiles and Tile Wizard
Working with Tile Wizard
Activity 14: Creating and Enhancing Tile Definitions
Module 12 : Using PeopleCode in Fluid Applications
Using PeopleCode in Fluid Applications
UsingPT_PAGE_UTILStoModifyFluidApplications
Activity 15: Using PeopleCode to Detect the Device Type
Activity 16: Using PeopleCode to Apply Styles
Activity 17: Modifying a Fluid Application with PT_PAGE_UTILS
Activity 18: Creating a Tile with Dynamic Content
Module 13 : Working with Push Notifications
Working with Push Notifications
Creating Push Notification Events
Configuring Push Notifications in a Cluster (continued)
Activity 19: Using Push Notifications
Module 14 : Exploring Advanced Page Design Techniques
Exploring Advanced Page Design Techniques
Describing Other Grid Types
Creating Sectional Tabs and Fluid Pop-up Menus
Activity 20: Finishing the Personal Information Application
Activity 21: Creating a Stacked Grid
Activity 22: Creating a Fluid Pop-up Menu
Module 15 : Working with Fluid Wrappers
Working with Fluid Wrappers
Implementing Master/Detail Components
Activity 23: Creating a Fluid Navigation Collection
Activity 24: Creating a Master/Detail Application
Module 16 : Configuring Drop Zones
Configuring Drop Zones
Activity 25: Configuring Drop Zones
Module 17 : Fluid User Interface Course Review
Fluid User Interface Course Review
| Start Date | End Date | Price | Code |
| --- | --- | --- | --- |
| 12/11/2023 | 12/15/2023 | 20,000 | AZ-204T00 |
| 1/8/2024 | 1/12/2024 | 20,000 | AZ-204T00 |
| 2/5/2024 | 2/9/2024 | 20,000 | AZ-204T00 |
| 3/11/2024 | 3/15/2024 | 20,000 | AZ-204T00 |
| 4/22/2024 | 4/26/2024 | 20,000 | AZ-204T00 |
| 5/13/2024 | 5/17/2024 | 20,000 | AZ-204T00 |
| 6/10/2024 | 6/14/2024 | 20,000 | AZ-204T00 |
| 6/6/2023 | 6/9/2023 | 16,000 | AZ-220T00 |
| 7/24/2023 | 7/27/2023 | 16,000 | AZ-220T00 |
| 8/15/2023 | 8/18/2023 | 16,000 | AZ-220T00 |
| 9/5/2023 | 9/8/2023 | 16,000 | AZ-220T00 |
| 10/9/2023 | 10/12/2023 | 16,000 | AZ-220T00 |
| 11/7/2023 | 11/10/2023 | 16,000 | AZ-220T00 |
| 12/12/2023 | 12/15/2023 | 16,000 | AZ-220T00 |
| 12/12/2023 | 12/15/2023 | 16,000 | AZ-400T00 |
| 1/9/2024 | 1/12/2024 | 16,000 | AZ-400T00 |
| 2/6/2024 | 2/9/2024 | 16,000 | AZ-400T00 |
| 3/5/2024 | 3/8/2024 | 16,000 | AZ-400T00 |
| 4/9/2024 | 4/12/2024 | 16,000 | AZ-400T00 |
| 5/7/2024 | 5/10/2024 | 16,000 | AZ-400T00 |
| 6/4/2024 | 6/7/2024 | 16,000 | AZ-400T00 |
| 12/11/2023 | 12/15/2023 | 20,000 | AZ-040T00 |
| 1/8/2024 | 1/12/2024 | 20,000 | AZ-040T00 |
| 2/5/2024 | 2/9/2024 | 20,000 | AZ-040T00 |
| 3/25/2024 | 3/29/2024 | 20,000 | AZ-040T00 |
| 4/22/2024 | 4/26/2024 | 20,000 | AZ-040T00 |
| 5/13/2024 | 5/17/2024 | 20,000 | AZ-040T00 |
| 6/10/2024 | 6/14/2024 | 20,000 | AZ-040T00 |
| 12/11/2023 | 12/14/2023 | 16,000 | AZ-104T00 |
| 1/9/2024 | 1/12/2024 | 16,000 | AZ-104T00 |
| 2/6/2024 | 2/9/2024 | 16,000 | AZ-104T00 |
| 3/5/2024 | 3/8/2024 | 16,000 | AZ-104T00 |
| 4/9/2024 | 4/12/2024 | 16,000 | AZ-104T00 |
| 5/7/2024 | 5/10/2024 | 16,000 | AZ-104T00 |
| 6/4/2024 | 6/7/2024 | 16,000 | AZ-104T00 |
| 12/18/2023 | 12/21/2023 | 16,000 | AZ-140T00 |
| 1/23/2024 | 1/26/2024 | 16,000 | AZ-140T00 |
| 2/20/2024 | 2/23/2024 | 16,000 | AZ-140T00 |
| 3/19/2024 | 3/22/2024 | 16,000 | AZ-140T00 |
| 4/23/2024 | 4/26/2024 | 16,000 | AZ-140T00 |
| 5/27/2024 | 5/30/2024 | 16,000 | AZ-140T00 |
| 6/25/2024 | 6/28/2024 | 16,000 | AZ-140T00 |
| 6/6/2023 | 6/9/2023 | 16,000 | AZ-305T00 |
| 7/17/2023 | 7/20/2023 | 16,000 | AZ-305T00 |
| 8/15/2023 | 8/18/2023 | 16,000 | AZ-305T00 |
| 9/11/2023 | 9/14/2023 | 16,000 | AZ-305T00 |
| 10/9/2023 | 10/12/2023 | 16,000 | AZ-305T00 |
| 11/13/2023 | 11/16/2023 | 16,000 | AZ-305T00 |
| 12/11/2023 | 12/14/2023 | 16,000 | AZ-305T00 |
| 6/6/2023 | 6/9/2023 | 16,000 | AZ-600T00 |
| 7/24/2023 | 7/27/2023 | 16,000 | AZ-600T00 |
| 8/15/2023 | 8/18/2023 | 16,000 | AZ-600T00 |
| 9/5/2023 | 9/8/2023 | 16,000 | AZ-600T00 |
| 10/9/2023 | 10/12/2023 | 16,000 | AZ-600T00 |
| 11/7/2023 | 11/10/2023 | 16,000 | AZ-600T00 |
| 12/12/2023 | 12/15/2023 | 16,000 | AZ-600T00 |
| 6/7/2023 | 6/9/2023 | 12,000 | AZ-700T00 |
| 7/12/2023 | 7/14/2023 | 12,000 | AZ-700T00 |
| 8/2/2023 | 8/4/2023 | 12,000 | AZ-700T00 |
| 9/6/2023 | 9/8/2023 | 12,000 | AZ-700T00 |
| 10/4/2023 | 10/6/2023 | 12,000 | AZ-700T00 |
| 11/1/2023 | 11/3/2023 | 12,000 | AZ-700T00 |
| 12/6/2023 | 12/8/2023 | 12,000 | AZ-700T00 |
| 6/7/2023 | 6/9/2023 | 12,000 | AZ-720T00 |
| 7/12/2023 | 7/14/2023 | 12,000 | AZ-720T00 |
| 8/2/2023 | 8/4/2023 | 12,000 | AZ-720T00 |
| 9/6/2023 | 9/8/2023 | 12,000 | AZ-720T00 |
| 10/4/2023 | 10/6/2023 | 12,000 | AZ-720T00 |
| 11/1/2023 | 11/3/2023 | 12,000 | AZ-720T00 |
| 12/6/2023 | 12/8/2023 | 12,000 | AZ-720T00 |
| 6/6/2023 | 6/9/2023 | 16,000 | AZ-800T00 |
| 7/17/2023 | 7/20/2023 | 16,000 | AZ-800T00 |
| 8/15/2023 | 8/18/2023 | 16,000 | AZ-800T00 |
| 9/11/2023 | 9/14/2023 | 16,000 | AZ-800T00 |
| 10/9/2023 | 10/12/2023 | 16,000 | AZ-800T00 |
| 11/13/2023 | 11/16/2023 | 16,000 | AZ-800T00 |
| 12/11/2023 | 12/14/2023 | 16,000 | AZ-800T00 |
| 6/12/2023 | 6/15/2023 | 16,000 | AZ-801T00 |
| 7/24/2023 | 7/27/2023 | 16,000 | AZ-801T00 |
| 8/21/2023 | 8/24/2023 | 16,000 | AZ-801T00 |
| 9/18/2023 | 9/21/2023 | 16,000 | AZ-801T00 |
| 10/24/2023 | 10/27/2023 | 16,000 | AZ-801T00 |
| 11/20/2023 | 11/23/2023 | 16,000 | AZ-801T00 |
| 12/18/2023 | 12/21/2023 | 16,000 | AZ-801T00 |
| 6/9/2023 | 6/9/2023 | 4,000 | AZ-900T00 |
| 7/7/2023 | 7/7/2023 | 4,000 | AZ-900T00 |
| 8/21/2023 | 8/21/2023 | 4,000 | AZ-900T00 |
| 9/8/2023 | 9/8/2023 | 4,000 | AZ-900T00 |
| 10/12/2023 | 10/12/2023 | 4,000 | AZ-900T00 |
| 11/10/2023 | 11/10/2023 | 4,000 | AZ-900T00 |
| 12/8/2023 | 12/8/2023 | 4,000 | AZ-900T00 |
| 6/6/2023 | 6/9/2023 | 16,000 | AI-102T00 |
| 7/17/2023 | 7/20/2023 | 16,000 | AI-102T00 |
| 8/15/2023 | 8/18/2023 | 16,000 | AI-102T00 |
| 9/11/2023 | 9/14/2023 | 16,000 | AI-102T00 |
| 10/9/2023 | 10/12/2023 | 16,000 | AI-102T00 |
| 11/13/2023 | 11/16/2023 | 16,000 | AI-102T00 |
| 12/11/2023 | 12/14/2023 | 16,000 | AI-102T00 |
| 6/9/2023 | 6/9/2023 | 4,000 | AI-900T00 |
| 7/7/2023 | 7/7/2023 | 4,000 | AI-900T00 |
| 8/11/2023 | 8/11/2023 | 4,000 | AI-900T00 |
| 9/8/2023 | 9/8/2023 | 4,000 | AI-900T00 |
| 10/12/2023 | 10/12/2023 | 4,000 | AI-900T00 |
| 11/10/2023 | 11/10/2023 | 4,000 | AI-900T00 |
| 12/8/2023 | 12/8/2023 | 4,000 | AI-900T00 |
| 6/8/2023 | 6/9/2023 | 8,000 | DP-080T00 |
| 8/10/2023 | 8/11/2023 | 8,000 | DP-080T00 |
| 10/9/2023 | 10/10/2023 | 8,000 | DP-080T00 |
| 12/7/2023 | 12/8/2023 | 8,000 | DP-080T00 |
| 6/7/2023 | 6/9/2023 | 12,000 | DP-100T01 |
| 7/3/2023 | 7/5/2023 | 12,000 | DP-100T01 |
| 8/2/2023 | 8/4/2023 | 12,000 | DP-100T01 |
| 9/6/2023 | 9/8/2023 | 12,000 | DP-100T01 |
| 10/2/2023 | 10/4/2023 | 12,000 | DP-100T01 |
| 11/1/2023 | 11/3/2023 | 12,000 | DP-100T01 |
| 12/6/2023 | 12/8/2023 | 12,000 | DP-100T01 |
| 6/12/2023 | 6/15/2023 | 16,000 | DP-300T00 |
| 7/24/2023 | 7/27/2023 | 16,000 | DP-300T00 |
| 8/21/2023 | 8/24/2023 | 16,000 | DP-300T00 |
| 9/18/2023 | 9/21/2023 | 16,000 | DP-300T00 |
| 10/24/2023 | 10/27/2023 | 16,000 | DP-300T00 |
| 11/20/2023 | 11/23/2023 | 16,000 | DP-300T00 |
| 12/18/2023 | 12/21/2023 | 16,000 | DP-300T00 |
| 6/19/2023 | 6/22/2023 | 16,000 | DP-420T00 |
| 7/17/2023 | 7/20/2023 | 16,000 | DP-420T00 |
| 8/21/2023 | 8/24/2023 | 16,000 | DP-420T00 |
| 9/18/2023 | 9/21/2023 | 16,000 | DP-420T00 |
| 10/16/2023 | 10/19/2023 | 16,000 | DP-420T00 |
| 11/13/2023 | 11/16/2023 | 16,000 | DP-420T00 |
| 12/18/2023 | 12/21/2023 | 16,000 | DP-420T00 |
| 6/26/2023 | 6/29/2023 | 16,000 | DP-500T00 |
| 7/17/2023 | 7/20/2023 | 16,000 | DP-500T00 |
| 8/28/2023 | 8/31/2023 | 16,000 | DP-500T00 |
| 9/25/2023 | 9/29/2023 | 16,000 | DP-500T00 |
| 10/30/2023 | 11/2/2023 | 16,000 | DP-500T00 |
| 11/27/2023 | 11/30/2023 | 16,000 | DP-500T00 |
| 12/25/2023 | 12/28/2023 | 16,000 | DP-500T00 |
| 6/12/2023 | 6/16/2023 | 20,000 | MD-100T00 |
| 7/24/2023 | 7/27/2023 | 20,000 | MD-100T00 |
| 8/7/2023 | 8/11/2023 | 20,000 | MD-100T00 |
| 9/11/2023 | 9/15/2023 | 20,000 | MD-100T00 |
| 10/2/2023 | 10/6/2023 | 20,000 | MD-100T00 |
| 11/13/2023 | 11/17/2023 | 20,000 | MD-100T00 |
| 12/18/2023 | 12/22/2023 | 20,000 | MD-100T00 |
| 6/19/2023 | 6/23/2023 | 20,000 | MD-101T00 |
| 7/10/2023 | 7/14/2023 | 20,000 | MD-101T00 |
| 8/21/2023 | 8/25/2023 | 20,000 | MD-101T00 |
| 9/18/2023 | 9/22/2023 | 20,000 | MD-101T00 |
| 10/16/2023 | 10/20/2023 | 20,000 | MD-101T00 |
| 11/20/2023 | 11/24/2023 | 20,000 | MD-101T00 |
| 12/18/2023 | 12/22/2023 | 20,000 | MD-101T00 |
| 6/26/2023 | 6/30/2023 | 20,000 | MD-102T00 |
| 7/17/2023 | 7/21/2023 | 20,000 | MD-102T00 |
| 8/28/2023 | 9/1/2023 | 20,000 | MD-102T00 |
| 9/25/2023 | 9/29/2023 | 20,000 | MD-102T00 |
| 10/30/2023 | 11/3/2023 | 20,000 | MD-102T00 |
| 11/27/2023 | 12/1/2023 | 20,000 | MD-102T00 |
| 12/25/2023 | 12/29/2023 | 20,000 | MD-102T00 |
| 6/12/2023 | 6/16/2023 | 20,000 | MS-100T00 |
| 7/3/2023 | 7/7/2023 | 20,000 | MS-100T00 |
| 8/7/2023 | 8/11/2023 | 20,000 | MS-100T00 |
| 9/4/2023 | 9/8/2023 | 20,000 | MS-100T00 |
| 10/2/2023 | 10/6/2023 | 20,000 | MS-100T00 |
| 11/6/2023 | 11/10/2023 | 20,000 | MS-100T00 |
| 12/18/2023 | 12/22/2023 | 20,000 | MS-100T00 |
| 6/19/2023 | 6/23/2023 | 20,000 | MS-101T00 |
| 7/10/2023 | 7/14/2023 | 20,000 | MS-101T00 |
| 8/21/2023 | 8/25/2023 | 20,000 | MS-101T00 |
| 9/18/2023 | 9/22/2023 | 20,000 | MS-101T00 |
| 10/16/2023 | 10/20/2023 | 20,000 | MS-101T00 |
| 11/20/2023 | 11/24/2023 | 20,000 | MS-101T00 |
| 12/18/2023 | 12/22/2023 | 20,000 | MS-101T00 |
| 6/26/2023 | 6/30/2023 | 20,000 | MS-102T00 |
| 7/17/2023 | 7/21/2023 | 20,000 | MS-102T00 |
| 8/28/2023 | 9/1/2023 | 20,000 | MS-102T00 |
| 9/25/2023 | 9/29/2023 | 20,000 | MS-102T00 |
| 10/30/2023 | 11/3/2023 | 20,000 | MS-102T00 |
| 11/27/2023 | 12/1/2023 | 20,000 | MS-102T00 |
| 12/25/2023 | 12/29/2023 | 20,000 | MS-102T00 |
| 6/12/2023 | 6/16/2023 | 20,000 | MS-203T00 |
| 7/10/2023 | 7/14/2023 | 20,000 | MS-203T00 |
| 8/21/2023 | 8/25/2023 | 20,000 | MS-203T00 |
| 9/11/2023 | 9/15/2023 | 20,000 | MS-203T00 |
| 10/16/2023 | 10/20/2023 | 20,000 | MS-203T00 |
| 11/13/2023 | 11/17/2023 | 20,000 | MS-203T00 |
| 12/11/2023 | 12/15/2023 | 20,000 | MS-203T00 |
| 6/21/2023 | 6/23/2023 | 20,000 | MS-220T00 |
| 7/19/2023 | 7/21/2023 | 20,000 | MS-220T00 |
| 8/23/2023 | 8/25/2023 | 20,000 | MS-220T00 |
| 9/20/2023 | 9/22/2023 | 20,000 | MS-220T00 |
| 10/25/2023 | 10/27/2023 | 20,000 | MS-220T00 |
| 11/22/2023 | 11/24/2023 | 20,000 | MS-220T00 |
| 12/20/2023 | 12/22/2023 | 20,000 | MS-220T00 |
| 6/13/2023 | 6/16/2023 | 16,000 | MS-600T00 |
| 7/11/2023 | 7/14/2023 | 16,000 | MS-600T00 |
| 8/8/2023 | 8/11/2023 | 16,000 | MS-600T00 |
| 9/5/2023 | 9/8/2023 | 16,000 | MS-600T00 |
| 10/17/2023 | 10/20/2023 | 16,000 | MS-600T00 |
| 11/7/2023 | 11/10/2023 | 16,000 | MS-600T00 |
| 12/12/2023 | 12/15/2023 | 16,000 | MS-600T00 |
| 6/6/2023 | 6/9/2023 | 16,000 | MS-700T00 |
| 7/17/2023 | 7/20/2023 | 16,000 | MS-700T00 |
| 8/15/2023 | 8/18/2023 | 16,000 | MS-700T00 |
| 9/11/2023 | 9/14/2023 | 16,000 | MS-700T00 |
| 10/9/2023 | 10/12/2023 | 16,000 | MS-700T00 |
| 11/13/2023 | 11/16/2023 | 16,000 | MS-700T00 |
| 12/11/2023 | 12/14/2023 | 16,000 | MS-700T00 |
| 6/14/2023 | 6/16/2023 | 12,000 | MS-720T00 |
| 7/19/2023 | 7/21/2023 | 12,000 | MS-720T00 |
| 8/2/2023 | 8/4/2023 | 12,000 | MS-720T00 |
| 9/6/2023 | 9/8/2023 | 12,000 | MS-720T00 |
| 10/10/2023 | 10/12/2023 | 12,000 | MS-720T00 |
| 11/1/2023 | 11/3/2023 | 12,000 | MS-720T00 |
| 12/6/2023 | 12/8/2023 | 12,000 | MS-720T00 |
| 7/17/2023 | 7/20/2023 | 16,000 | MS-721T00 |
| 8/15/2023 | 8/18/2023 | 16,000 | MS-721T00 |
| 9/11/2023 | 9/14/2023 | 16,000 | MS-721T00 |
| 10/9/2023 | 10/12/2023 | 16,000 | MS-721T00 |
| 11/13/2023 | 11/16/2023 | 16,000 | MS-721T00 |
| 12/11/2023 | 12/14/2023 | 16,000 | MS-721T00 |
| 6/26/2023 | 6/28/2023 | 12,000 | MS-740T00 |
| 7/24/2023 | 7/26/2023 | 12,000 | MS-740T00 |
| 8/28/2023 | 8/30/2023 | 12,000 | MS-740T00 |
| 9/25/2023 | 9/27/2023 | 12,000 | MS-740T00 |
| 10/30/2023 | 11/1/2023 | 12,000 | MS-740T00 |
| 11/27/2023 | 11/29/2023 | 12,000 | MS-740T00 |
| 12/25/2023 | 12/27/2023 | 12,000 | MS-740T00 |
| 6/8/2023 | 6/8/2023 | 4,000 | MS-080T00 |
| 7/7/2023 | 7/7/2023 | 4,000 | MS-080T00 |
| 8/11/2023 | 8/11/2023 | 4,000 | MS-080T00 |
| 9/1/2023 | 9/1/2023 | 4,000 | MS-080T00 |
| 10/26/2023 | 10/26/2023 | 4,000 | MS-080T00 |
| 11/3/2023 | 11/3/2023 | 4,000 | MS-080T00 |
| 12/4/2023 | 12/4/2023 | 4,000 | MS-080T00 |
| 6/9/2023 | 6/9/2023 | 4,000 | MS-900T01 |
| 7/27/2023 | 7/27/2023 | 4,000 | MS-900T01 |
| 8/7/2023 | 8/7/2023 | 4,000 | MS-900T01 |
| 9/8/2023 | 9/8/2023 | 4,000 | MS-900T01 |
| 10/27/2023 | 10/27/2023 | 4,000 | MS-900T01 |
| 11/10/2023 | 11/10/2023 | 4,000 | MS-900T01 |
| 12/8/2023 | 12/8/2023 | 4,000 | MS-900T01 |
| 6/12/2023 | 6/16/2023 | 20,000 | 55354A |
| 7/17/2023 | 7/21/2023 | 20,000 | 55354A |
| 8/21/2023 | 8/25/2023 | 20,000 | 55354A |
| 9/11/2023 | 9/15/2023 | 20,000 | 55354A |
| 10/16/2023 | 10/20/2023 | 20,000 | 55354A |
| 11/13/2023 | 11/17/2023 | 20,000 | 55354A |
| 12/11/2023 | 12/15/2023 | 20,000 | 55354A |
| 6/6/2023 | 6/9/2023 | 16,000 | AZ-500T00 |
| 7/17/2023 | 7/20/2023 | 16,000 | AZ-500T00 |
| 8/15/2023 | 8/18/2023 | 16,000 | AZ-500T00 |
| 9/11/2023 | 9/14/2023 | 16,000 | AZ-500T00 |
| 10/9/2023 | 10/12/2023 | 16,000 | AZ-500T00 |
| 11/13/2023 | 11/16/2023 | 16,000 | AZ-500T00 |
| 12/11/2023 | 12/14/2023 | 16,000 | AZ-500T00 |
| 6/12/2023 | 6/15/2023 | 16,000 | MS-500T00 |
| 7/24/2023 | 7/27/2023 | 16,000 | MS-500T00 |
| 8/21/2023 | 8/24/2023 | 16,000 | MS-500T00 |
| 9/18/2023 | 9/21/2023 | 16,000 | MS-500T00 |
| 10/24/2023 | 10/27/2023 | 16,000 | MS-500T00 |
| 11/20/2023 | 11/23/2023 | 16,000 | MS-500T00 |
| 12/18/2023 | 12/21/2023 | 16,000 | MS-500T00 |
| 6/6/2023 | 6/9/2023 | 16,000 | SC-100T00 |
| 7/17/2023 | 7/20/2023 | 16,000 | SC-100T00 |
| 8/15/2023 | 8/18/2023 | 16,000 | SC-100T00 |
| 9/11/2023 | 9/14/2023 | 16,000 | SC-100T00 |
| 10/9/2023 | 10/12/2023 | 16,000 | SC-100T00 |
| 11/13/2023 | 11/16/2023 | 16,000 | SC-100T00 |
| 12/11/2023 | 12/14/2023 | 16,000 | SC-100T00 |
| 6/6/2023 | 6/9/2023 | 16,000 | SC-200T00 |
| 7/17/2023 | 7/20/2023 | 16,000 | SC-200T00 |
| 8/15/2023 | 8/18/2023 | 16,000 | SC-200T00 |
| 9/11/2023 | 9/14/2023 | 16,000 | SC-200T00 |
| 10/9/2023 | 10/12/2023 | 16,000 | SC-200T00 |
| 11/13/2023 | 11/16/2023 | 16,000 | SC-200T00 |
| 12/11/2023 | 12/14/2023 | 16,000 | SC-200T00 |
| 6/12/2023 | 6/15/2023 | 16,000 | SC-300T00 |
| 7/24/2023 | 7/27/2023 | 16,000 | SC-300T00 |
| 8/21/2023 | 8/24/2023 | 16,000 | SC-300T00 |
| 9/18/2023 | 9/21/2023 | 16,000 | SC-300T00 |
| 10/24/2023 | 10/27/2023 | 16,000 | SC-300T00 |
| 11/20/2023 | 11/23/2023 | 16,000 | SC-300T00 |
| 12/18/2023 | 12/21/2023 | 16,000 | SC-300T00 |
| 6/13/2023 | 6/16/2023 | 16,000 | SC-400T00 |
| 7/18/2023 | 7/21/2023 | 16,000 | SC-400T00 |
| 8/28/2023 | 8/31/2023 | 16,000 | SC-400T00 |
| 9/26/2023 | 9/29/2023 | 16,000 | SC-400T00 |
| 10/24/2023 | 10/27/2023 | 16,000 | SC-400T00 |
| 11/28/2023 | 12/1/2023 | 16,000 | SC-400T00 |
| 12/11/2023 | 12/14/2023 | 16,000 | SC-400T00 |
| 6/9/2023 | 6/9/2023 | 4,000 | SC-900T00 |
| 7/27/2023 | 7/27/2023 | 4,000 | SC-900T00 |
| 8/7/2023 | 8/7/2023 | 4,000 | SC-900T00 |
| 9/8/2023 | 9/8/2023 | 4,000 | SC-900T00 |
| 10/6/2023 | 10/6/2023 | 4,000 | SC-900T00 |
| 11/10/2023 | 11/10/2023 | 4,000 | SC-900T00 |
| 12/4/2023 | 12/4/2023 | 4,000 | SC-900T00 |
| 6/26/2023 | 6/29/2023 | 16,000 | PL-100T00 |
| 7/3/2023 | 7/6/2023 | 16,000 | PL-100T00 |
| 8/15/2023 | 8/18/2023 | 16,000 | PL-100T00 |
| 9/11/2023 | 9/14/2023 | 16,000 | PL-100T00 |
| 10/9/2023 | 10/12/2023 | 16,000 | PL-100T00 |
| 11/13/2023 | 11/16/2023 | 16,000 | PL-100T00 |
| 12/11/2023 | 12/14/2023 | 16,000 | PL-100T00 |
| 6/12/2023 | 6/15/2023 | 16,000 | PL-200T00 |
| 8/21/2023 | 8/24/2023 | 16,000 | PL-200T00 |
| 10/24/2023 | 10/27/2023 | 16,000 | PL-200T00 |
| 12/18/2023 | 12/21/2023 | 16,000 | PL-200T00 |
| 7/19/2023 | 7/21/2023 | 12,000 | PL-300T00 |
| 9/25/2023 | 9/27/2023 | 12,000 | PL-300T00 |
| 11/1/2023 | 11/3/2023 | 12,000 | PL-300T00 |
| 6/12/2023 | 6/16/2023 | 20,000 | PL-400T00 |
| 8/21/2023 | 8/25/2023 | 20,000 | PL-400T00 |
| 10/16/2023 | 10/20/2023 | 20,000 | PL-400T00 |
| 12/11/2023 | 12/15/2023 | 20,000 | PL-400T00 |
| 6/12/2023 | 6/15/2023 | 16,000 | PL-500T00 |
| 8/21/2023 | 8/24/2023 | 16,000 | PL-500T00 |
| 10/16/2023 | 10/19/2023 | 16,000 | PL-500T00 |
| 12/11/2023 | 12/14/2023 | 16,000 | PL-500T00 |
| 7/19/2023 | 7/21/2023 | 12,000 | PL-600T00 |
| 9/6/2023 | 9/8/2023 | 12,000 | PL-600T00 |
| 11/1/2023 | 11/3/2023 | 12,000 | PL-600T00 |
| 6/9/2023 | 6/9/2023 | 4,000 | PL-900T00 |
| 7/7/2023 | 7/7/2023 | 4,000 | PL-900T00 |
| 8/11/2023 | 8/11/2023 | 4,000 | PL-900T00 |
| 9/8/2023 | 9/8/2023 | 4,000 | PL-900T00 |
| 10/12/2023 | 10/12/2023 | 4,000 | PL-900T00 |
| 11/10/2023 | 11/10/2023 | 4,000 | PL-900T00 |
| 12/8/2023 | 12/8/2023 | 4,000 | PL-900T00 |
| 6/26/2023 | 6/30/2023 | 12,500 | PWA-201 |
| 7/24/2023 | 7/28/2023 | 12,500 | PWA-201 |
| 8/28/2023 | 9/1/2023 | 12,500 | PWA-201 |
| 9/25/2023 | 9/29/2023 | 12,500 | PWA-201 |
| 10/30/2023 | 11/3/2023 | 12,500 | PWA-201 |
| 11/27/2023 | 12/1/2023 | 12,500 | PWA-201 |
| 12/18/2023 | 12/22/2023 | 12,500 | PWA-201 |
| 10/16/2023 | 10/17/2023 | 5,000 | M365-End-User |
| 11/6/2023 | 11/7/2023 | 5,000 | M365-End-User |
| 12/11/2023 | 12/12/2023 | 5,000 | M365-End-User |
| 6/2/2023 | 6/2/2023 | 2,500 | O365-Admin-ENH |
| 7/7/2023 | 7/7/2023 | 2,500 | O365-Admin-ENH |
| 8/4/2023 | 8/4/2023 | 2,500 | O365-Admin-ENH |
| 9/8/2023 | 9/8/2023 | 2,500 | O365-Admin-ENH |
| 10/6/2023 | 10/6/2023 | 2,500 | O365-Admin-ENH |
| 11/3/2023 | 11/3/2023 | 2,500 | O365-Admin-ENH |
| 12/4/2023 | 12/4/2023 | 2,500 | O365-Admin-ENH |
| 6/16/2023 | 6/16/2023 | 4,000 | 55154B |
| 7/14/2023 | 7/14/2023 | 4,000 | 55154B |
| 8/18/2023 | 8/18/2023 | 4,000 | 55154B |
| 9/15/2023 | 9/15/2023 | 4,000 | 55154B |
| 10/20/2023 | 10/20/2023 | 4,000 | 55154B |
| 11/17/2023 | 11/17/2023 | 4,000 | 55154B |
| 12/15/2023 | 12/15/2023 | 4,000 | 55154B |
| 6/9/2023 | 6/9/2023 | 2,500 | OF-19-NF |
| 7/7/2023 | 7/7/2023 | 2,500 | OF-19-NF |
| 8/11/2023 | 8/11/2023 | 2,500 | OF-19-NF |
| 9/8/2023 | 9/8/2023 | 2,500 | OF-19-NF |
| 10/6/2023 | 10/6/2023 | 2,500 | OF-19-NF |
| 11/3/2023 | 11/3/2023 | 2,500 | OF-19-NF |
| 12/8/2023 | 12/8/2023 | 2,500 | OF-19-NF |
| 6/19/2023 | 6/20/2023 | 5,000 | WD-19-01 |
| 7/17/2023 | 7/18/2023 | 5,000 | WD-19-01 |
| 8/15/2023 | 8/16/2023 | 5,000 | WD-19-01 |
| 9/18/2023 | 9/19/2023 | 5,000 | WD-19-01 |
| 10/24/2023 | 10/25/2023 | 5,000 | WD-19-01 |
| 11/20/2023 | 11/21/2023 | 5,000 | WD-19-01 |
| 12/18/2023 | 12/19/2023 | 5,000 | WD-19-01 |
| 6/21/2023 | 6/22/2023 | 5,000 | WD-19-02 |
| 7/19/2023 | 7/20/2023 | 5,000 | WD-19-02 |
| 8/17/2023 | 8/18/2023 | 5,000 | WD-19-02 |
| 9/20/2023 | 9/21/2023 | 5,000 | WD-19-02 |
| 10/26/2023 | 10/27/2023 | 5,000 | WD-19-02 |
| 11/23/2023 | 11/24/2023 | 5,000 | WD-19-02 |
| 12/20/2023 | 12/21/2023 | 5,000 | WD-19-02 |
| 6/19/2023 | 6/20/2023 | 5,000 | EX-19-01 |
| 7/17/2023 | 7/18/2023 | 5,000 | EX-19-01 |
| 8/15/2023 | 8/16/2023 | 5,000 | EX-19-01 |
| 9/18/2023 | 9/19/2023 | 5,000 | EX-19-01 |
| 10/24/2023 | 10/25/2023 | 5,000 | EX-19-01 |
| 11/20/2023 | 11/21/2023 | 5,000 | EX-19-01 |
| 12/18/2023 | 12/19/2023 | 5,000 | EX-19-01 |
| 6/21/2023 | 6/22/2023 | 5,000 | EX-19-02 |
| 7/19/2023 | 7/20/2023 | 5,000 | EX-19-02 |
| 8/17/2023 | 8/18/2023 | 5,000 | EX-19-02 |
| 9/20/2023 | 9/21/2023 | 5,000 | EX-19-02 |
| 10/26/2023 | 10/27/2023 | 5,000 | EX-19-02 |
| 11/23/2023 | 11/24/2023 | 5,000 | EX-19-02 |
| 12/20/2023 | 12/21/2023 | 5,000 | EX-19-02 |
| 6/23/2023 | 6/23/2023 | 2,500 | EX-19-03 |
| 7/21/2023 | 7/21/2023 | 2,500 | EX-19-03 |
| 8/21/2023 | 8/21/2023 | 2,500 | EX-19-03 |
| 9/22/2023 | 9/22/2023 | 2,500 | EX-19-03 |
| 10/30/2023 | 10/30/2023 | 2,500 | EX-19-03 |
| 11/24/2023 | 11/24/2023 | 2,500 | EX-19-03 |
| 12/22/2023 | 12/22/2023 | 2,500 | EX-19-03 |
| 6/12/2023 | 6/13/2023 | 5,000 | PP-19-01 |
| 7/10/2023 | 7/11/2023 | 5,000 | PP-19-01 |
| 8/7/2023 | 8/8/2023 | 5,000 | PP-19-01 |
| 9/11/2023 | 9/12/2023 | 5,000 | PP-19-01 |
| 10/9/2023 | 10/10/2023 | 5,000 | PP-19-01 |
| 11/6/2023 | 11/7/2023 | 5,000 | PP-19-01 |
| 12/11/2023 | 12/12/2023 | 5,000 | PP-19-01 |
| 6/14/2023 | 6/15/2023 | 5,000 | PP-19-02 |
| 7/12/2023 | 7/13/2023 | 5,000 | PP-19-02 |
| 8/9/2023 | 8/10/2023 | 5,000 | PP-19-02 |
| 9/13/2023 | 9/14/2023 | 5,000 | PP-19-02 |
| 10/11/2023 | 10/12/2023 | 5,000 | PP-19-02 |
| 11/8/2023 | 11/9/2023 | 5,000 | PP-19-02 |
| 12/13/2023 | 12/14/2023 | 5,000 | PP-19-02 |
| 6/7/2023 | 6/9/2023 | 7,500 | PJ-19-US |
| 8/2/2023 | 8/4/2023 | 7,500 | PJ-19-US |
| 10/2/2023 | 10/4/2023 | 7,500 | PJ-19-US |
| 12/6/2023 | 12/8/2023 | 7,500 | PJ-19-US |
| 6/23/2023 | 6/23/2023 | 2,500 | OL-19-01 |
| 9/22/2023 | 9/22/2023 | 2,500 | OL-19-01 |
| 12/22/2023 | 12/22/2023 | 2,500 | OL-19-01 |
| 7/17/2023 | 7/21/2023 | 20,000 | ASP-MVC5 |
| 10/30/2023 | 11/3/2023 | 20,000 | ASP-MVC5 |
| 8/21/2023 | 8/22/2023 | 8,000 | 55267-A |
| 11/20/2023 | 11/21/2023 | 8,000 | 55267-A |
| 7/17/2023 | 7/20/2023 | 16,000 | 55284-A |
| 10/9/2023 | 10/12/2023 | 16,000 | 55284-A |
| 8/21/2023 | 8/22/2023 | 8,000 | 55285-A |
| 11/20/2023 | 11/21/2023 | 8,000 | 55285-A |
| 6/26/2023 | 6/30/2023 | 20,000 | 55039-B |
| 9/25/2023 | 9/29/2023 | 20,000 | 55039-B |
| 12/18/2023 | 12/22/2023 | 20,000 | 55039-B |
| 6/7/2023 | 6/9/2023 | 12,000 | 55199-A |
| 8/2/2023 | 8/4/2023 | 12,000 | 55199-A |
| 10/2/2023 | 10/4/2023 | 12,000 | 55199-A |
| 12/6/2023 | 12/8/2023 | 12,000 | 55199-A |
| 7/10/2023 | 7/11/2023 | 8,000 | 55200-A |
| 9/4/2023 | 9/5/2023 | 8,000 | 55200-A |
| 11/6/2023 | 11/7/2023 | 8,000 | 55200-A |
| 7/17/2023 | 7/20/2023 | 16,000 | 55215-B |
| 10/9/2023 | 10/12/2023 | 16,000 | 55215-B |
| 8/21/2023 | 8/24/2023 | 16,000 | 55217-A |
| 11/20/2023 | 11/23/2023 | 16,000 | 55217-A |
| 7/17/2023 | 7/21/2023 | 20,000 | 55234-A |
| 9/25/2023 | 9/29/2023 | 20,000 | 55234-A |
| 11/27/2023 | 12/1/2023 | 20,000 | 55234-A |
| 6/14/2023 | 6/16/2023 | 12,000 | 55238-B |
| 7/19/2023 | 7/21/2023 | 12,000 | 55238-B |
| 8/2/2023 | 8/4/2023 | 12,000 | 55238-B |
| 9/6/2023 | 9/8/2023 | 12,000 | 55238-B |
| 10/10/2023 | 10/12/2023 | 12,000 | 55238-B |
| 11/1/2023 | 11/3/2023 | 12,000 | 55238-B |
| 12/6/2023 | 12/8/2023 | 12,000 | 55238-B |
| 7/10/2023 | 7/11/2023 | 8,000 | 55251-A |
| 9/4/2023 | 9/5/2023 | 8,000 | 55251-A |
| 11/6/2023 | 11/7/2023 | 8,000 | 55251-A |
| 6/12/2023 | 6/16/2023 | 12,000 | 10972 |
| 7/10/2023 | 7/14/2023 | 12,000 | 10972 |
| 8/10/2023 | 8/14/2023 | 12,000 | 10972 |
| 9/7/2023 | 9/11/2023 | 12,000 | 10972 |
| 10/2/2023 | 10/6/2023 | 12,000 | 10972 |
| 10/30/2023 | 11/3/2023 | 12,000 | 10972 |
| 12/11/2023 | 12/15/2023 | 12,000 | 10972 |
| 6/19/2023 | 6/22/2023 | 16,000 | 10987 |
| 7/17/2023 | 7/20/2023 | 16,000 | 10987 |
| 8/7/2023 | 8/10/2023 | 16,000 | 10987 |
| 9/18/2023 | 9/21/2023 | 16,000 | 10987 |
| 10/16/2023 | 10/19/2023 | 16,000 | 10987 |
| 11/13/2023 | 11/16/2023 | 16,000 | 10987 |
| 12/18/2023 | 12/21/2023 | 16,000 | 10987 |
| 6/27/2023 | 6/29/2023 | 12,000 | 10997 |
| 7/18/2023 | 7/20/2023 | 12,000 | 10997 |
| 8/29/2023 | 8/31/2023 | 12,000 | 10997 |
| 9/27/2023 | 9/29/2023 | 12,000 | 10997 |
| 10/31/2023 | 11/2/2023 | 12,000 | 10997 |
| 11/28/2023 | 11/30/2023 | 12,000 | 10997 |
| 12/26/2023 | 12/28/2023 | 12,000 | 10997 |
| 6/26/2023 | 6/30/2023 | 20,000 | 20761 |
| 7/17/2023 | 7/21/2023 | 20,000 | 20761 |
| 8/28/2023 | 9/1/2023 | 20,000 | 20761 |
| 9/25/2023 | 9/29/2023 | 20,000 | 20761 |
| 10/30/2023 | 11/3/2023 | 20,000 | 20761 |
| 11/27/2023 | 12/1/2023 | 20,000 | 20761 |
| 12/18/2023 | 12/22/2023 | 20,000 | 20761 |
| 6/12/2023 | 6/16/2023 | 20,000 | 20764 |
| 7/17/2023 | 7/21/2023 | 20,000 | 20764 |
| 8/21/2023 | 8/25/2023 | 20,000 | 20764 |
| 9/11/2023 | 9/15/2023 | 20,000 | 20764 |
| 10/16/2023 | 10/20/2023 | 20,000 | 20764 |
| 11/13/2023 | 11/17/2023 | 20,000 | 20764 |
| 12/11/2023 | 12/15/2023 | 20,000 | 20764 |
| 6/14/2023 | 6/15/2023 | 8,000 | 20778 |
| 7/19/2023 | 7/20/2023 | 8,000 | 20778 |
| 8/2/2023 | 8/3/2023 | 8,000 | 20778 |
| 9/6/2023 | 9/7/2023 | 8,000 | 20778 |
| 10/10/2023 | 10/11/2023 | 8,000 | 20778 |
| 11/1/2023 | 11/2/2023 | 8,000 | 20778 |
| 12/6/2023 | 12/7/2023 | 8,000 | 20778 |
| 6/7/2023 | 6/9/2023 | 12,000 | 20779 |
| 7/3/2023 | 7/5/2023 | 12,000 | 20779 |
| 8/2/2023 | 8/4/2023 | 12,000 | 20779 |
| 9/6/2023 | 9/8/2023 | 12,000 | 20779 |
| 10/2/2023 | 10/4/2023 | 12,000 | 20779 |
| 11/1/2023 | 11/3/2023 | 12,000 | 20779 |
| 12/6/2023 | 12/8/2023 | 12,000 | 20779 |
| 6/12/2023 | 6/16/2023 | 20,000 | WS-011T00 |
| 7/10/2023 | 7/14/2023 | 20,000 | WS-011T00 |
| 8/7/2023 | 8/11/2023 | 20,000 | WS-011T00 |
| 9/4/2023 | 9/8/2023 | 20,000 | WS-011T00 |
| 10/16/2023 | 10/20/2023 | 20,000 | WS-011T00 |
| 11/6/2023 | 11/10/2023 | 20,000 | WS-011T00 |
| 12/11/2023 | 12/15/2023 | 20,000 | WS-011T00 |
| 6/12/2023 | 6/16/2023 | 60,000 | VSICM8 |
| 7/3/2023 | 7/7/2023 | 60,000 | VSICM8 |
| 8/7/2023 | 8/11/2023 | 60,000 | VSICM8 |
| 9/4/2023 | 9/8/2023 | 60,000 | VSICM8 |
| 10/2/2023 | 10/6/2023 | 60,000 | VSICM8 |
| 11/6/2023 | 11/10/2023 | 60,000 | VSICM8 |
| 12/18/2023 | 12/22/2023 | 60,000 | VSICM8 |
| 6/8/2023 | 6/12/2023 | 37,000 | VSWN8 |
| 10/9/2023 | 10/11/2023 | 37,000 | VSWN8 |
| 7/17/2023 | 7/21/2023 | 90,000 | VSFT7 |
| 9/18/2023 | 9/22/2023 | 90,000 | VSFT7 |
| 9/18/2023 | 9/22/2023 | 66,000 | VSOS8 |
| 11/27/2023 | 12/1/2023 | 66,000 | VSOS8 |
| 6/26/2023 | 6/30/2023 | 66,000 | VSTS7 |
| 10/30/2023 | 11/3/2023 | 66,000 | VSTS7 |
| 12/25/2023 | 12/29/2023 | 66,000 | VSTS7 |
| 6/7/2023 | 6/9/2023 | 40,000 | VSD7 |
| 7/24/2023 | 7/26/2023 | 40,000 | VSD7 |
| 10/25/2023 | 10/27/2023 | 40,000 | VSD7 |
| 6/8/2023 | 6/9/2023 | 25,000 | SRMICM82 |
| 9/11/2023 | 9/13/2023 | 40,000 | VSKDM7 |
| 10/30/2023 | 11/1/2023 | 40,000 | VSKDM7 |
| 12/6/2023 | 12/8/2023 | 40,000 | VSKDM7 |
| 6/6/2023 | 6/9/2023 | 49,000 | TKGIEICM110 |
| 6/12/2023 | 6/16/2023 | 60,000 | NSXTICM32 |
| 7/3/2023 | 7/7/2023 | 60,000 | NSXTICM32 |
| 10/30/2023 | 11/3/2023 | 66,000 | NSXTD32 |
| 9/25/2023 | 9/29/2023 | 60,000 | VROICM86 |
| 10/2/2023 | 10/6/2023 | 66,000 | NSXTTO32 |
| 10/16/2023 | 10/20/2023 | 60,000 | HDM8 |
| 11/6/2023 | 11/10/2023 | 60,000 | HDM8 |
| 12/7/2023 | 12/8/2023 | 25,000 | HIA8 |
| 8/25/2023 | 8/25/2023 | 10,800 | AWS-CPE |
| 9/18/2023 | 9/18/2023 | 10,800 | AWS-CPE |
| 10/16/2023 | 10/16/2023 | 10,800 | AWS-CPE |
| 11/8/2023 | 11/8/2023 | 10,800 | AWS-CPE |
| 12/7/2023 | 12/7/2023 | 10,800 | AWS-CPE |
| 8/18/2023 | 8/18/2023 | 10,800 | AWS-TE |
| 9/19/2023 | 9/19/2023 | 10,800 | AWS-TE |
| 10/17/2023 | 10/17/2023 | 10,800 | AWS-TE |
| 11/7/2023 | 11/7/2023 | 10,800 | AWS-TE |
| 12/8/2023 | 12/8/2023 | 10,800 | AWS-TE |
| 8/25/2023 | 8/25/2023 | 5,900 | AWS-EBL |
| 10/16/2023 | 10/16/2023 | 5,900 | AWS-EBL |
| 12/7/2023 | 12/7/2023 | 5,900 | AWS-EBL |
| 9/18/2023 | 9/18/2023 | 5,900 | AWS-EFS |
| 11/6/2023 | 11/6/2023 | 5,900 | AWS-EFS |
| 8/22/2023 | 8/24/2023 | 32,400 | AWS-ARC |
| 9/20/2023 | 9/22/2023 | 32,400 | AWS-ARC |
| 10/18/2023 | 10/20/2023 | 32,400 | AWS-ARC |
| 11/15/2023 | 11/17/2023 | 32,400 | AWS-ARC |
| 12/13/2023 | 12/15/2023 | 32,400 | AWS-ARC |
| | | 10,800 | AWS-WBP |
| | | 32,400 | AWS-ADA |
| | | 10,800 | AWS-AWB |
| | | 54,000 | AWS-ARA |
| 8/29/2023 | 8/31/2023 | 32,400 | AWS-COA |
| 9/25/2023 | 9/27/2023 | 32,400 | AWS-COA |
| 10/25/2023 | 10/27/2023 | 32,400 | AWS-COA |
| 12/18/2023 | 12/20/2023 | 32,400 | AWS-COA |
| | | 21,600 | AWS-FIN |
| | | 32,400 | AWS-CFM |
| | | 32,400 | AWS-DWA |
| | | 10,800 | AWS-BLK |
| | | 10,800 | AWS-BDA |
| | | 10,800 | AWS-BBD |
| | | 10,800 | AWS-BSD |
| | | 21,600 | AWS-AVA |
| | | 32,400 | AWS-PDD |
| 9/13/2023 | 9/15/2023 | 32,400 | AWS-DEV |
| | | 32,400 | AWS-ADE |
| | | 32,400 | AWS-DOP |
| | | 10,800 | AWS-DEL |
| | | 32,400 | AWS-MLE |
| | | 10,800 | AWS-PDS |
| | | 43,200 | AWS-MLP |
| | | 32,400 | AWS-SSD |
| | | 21,600 | AWS-VSE |
| 8/25/2023 | 8/25/2023 | 10,800 | AWS-MES |
| 10/16/2023 | 10/16/2023 | 10,800 | AWS-MES |
| 12/7/2023 | 12/7/2023 | 10,800 | AWS-MES |
| | | 32,400 | AWS-MGA |
| 9/18/2023 | 9/18/2023 | 10,800 | AWS-SES |
| 11/6/2023 | 11/6/2023 | 10,800 | AWS-SES |
| | | 32,400 | AWS-SEN |
| | | 10,800 | AWS-SGS |
| | | 10,800 | AWS-SBP |
| 7/24/2023 | 7/26/2023 | 42,300 | D1101651GC10 |
| 10/9/2023 | 10/11/2023 | 42,300 | D1101651GC10 |
| 6/26/2023 | 6/30/2023 | 56,500 | D107509GC10 |
| 7/3/2023 | 7/7/2023 | 56,500 | D107509GC10 |
| 8/7/2023 | 8/11/2023 | 56,500 | D107509GC10 |
| 9/4/2023 | 9/8/2023 | 56,500 | D107509GC10 |
| 10/2/2023 | 10/6/2023 | 56,500 | D107509GC10 |
| 11/6/2023 | 11/10/2023 | 56,500 | D107509GC10 |
| 12/11/2023 | 12/15/2023 | 56,500 | D107509GC10 |
| 6/19/2023 | 6/23/2023 | 56,500 | D107511GC10 |
| 7/10/2023 | 7/14/2023 | 56,500 | D107511GC10 |
| 8/21/2023 | 8/25/2023 | 56,500 | D107511GC10 |
| 9/11/2023 | 9/15/2023 | 56,500 | D107511GC10 |
| 10/16/2023 | 10/20/2023 | 56,500 | D107511GC10 |
| 11/13/2023 | 11/17/2023 | 56,500 | D107511GC10 |
| 12/18/2023 | 12/22/2023 | 56,500 | D107511GC10 |
| 6/26/2023 | 6/30/2023 | 56,500 | D108103GC20 |
| 7/17/2023 | 7/21/2023 | 56,500 | D108103GC20 |
| 8/7/2023 | 8/11/2023 | 56,500 | D108103GC20 |
| 9/18/2023 | 9/22/2023 | 56,500 | D108103GC20 |
| 10/30/2023 | 11/3/2023 | 56,500 | D108103GC20 |
| 11/20/2023 | 11/24/2023 | 56,500 | D108103GC20 |
| 12/18/2023 | 12/22/2023 | 56,500 | D108103GC20 |
| 8/15/2023 | 8/18/2023 | 49,000 | D108654GC10 |
| 10/9/2023 | 10/12/2023 | 49,000 | D108654GC10 |
| 11/28/2023 | 12/1/2023 | 49,000 | D108654GC10 |
| 6/12/2023 | 6/16/2023 | 56,500 | D78848GC20 |
| 7/3/2023 | 7/7/2023 | 56,500 | D78848GC20 |
| 8/7/2023 | 8/11/2023 | 56,500 | D78848GC20 |
| 9/4/2023 | 9/8/2023 | 56,500 | D78848GC20 |
| 10/2/2023 | 10/6/2023 | 56,500 | D78848GC20 |
| 11/6/2023 | 11/10/2023 | 56,500 | D78848GC20 |
| 12/11/2023 | 12/15/2023 | 56,500 | D78848GC20 |
| 8/22/2023 | 8/25/2023 | 56,400 | D108634GC10 |
| 11/21/2023 | 11/24/2023 | 56,400 | D108634GC10 |
| 7/6/2023 | 7/7/2023 | 36,900 | D108638GC10 |
| 10/11/2023 | 10/12/2023 | 36,900 | D108638GC10 |
| 12/7/2023 | 12/8/2023 | 36,900 | D108638GC10 |
| 6/12/2023 | 6/16/2023 | 70,500 | D108774GC20 |
| 8/7/2023 | 8/11/2023 | 70,500 | D108774GC20 |
| 10/16/2023 | 10/20/2023 | 70,500 | D108774GC20 |
| 12/11/2023 | 12/15/2023 | 70,500 | D108774GC20 |
| 7/24/2023 | 7/27/2023 | 56,400 | D101287GC10 |
| 9/12/2023 | 9/15/2023 | 56,400 | D101287GC10 |
| 11/27/2023 | 11/30/2023 | 56,400 | D101287GC10 |
| 6/6/2023 | 6/9/2023 | 49,000 | D90871GC20 |
| 8/15/2023 | 8/18/2023 | 49,000 | D90871GC20 |
| 9/5/2023 | 9/8/2023 | 49,000 | D90871GC20 |
| 11/7/2023 | 11/10/2023 | 49,000 | D90871GC20 |
| 6/12/2023 | 6/16/2023 | 56,500 | D66376GC51 |
| 7/10/2023 | 7/14/2023 | 56,500 | D66376GC51 |
| 8/7/2023 | 8/11/2023 | 56,500 | D66376GC51 |
| 9/4/2023 | 9/8/2023 | 56,500 | D66376GC51 |
| 10/16/2023 | 10/20/2023 | 56,500 | D66376GC51 |
| 11/13/2023 | 11/17/2023 | 56,500 | D66376GC51 |
| 12/11/2023 | 12/15/2023 | 56,500 | D66376GC51 |
| 6/20/2023 | 6/23/2023 | 49,000 | D109197GC10 |
| 9/19/2023 | 9/22/2023 | 49,000 | D109197GC10 |
| 12/19/2023 | 12/22/2023 | 49,000 | D109197GC10 |
| 6/19/2023 | 6/23/2023 | 56,500 | D66378GC50 |
| 7/10/2023 | 7/14/2023 | 56,500 | D66378GC50 |
| 8/7/2023 | 8/11/2023 | 56,500 | D66378GC50 |
| 9/4/2023 | 9/8/2023 | 56,500 | D66378GC50 |
| 10/16/2023 | 10/20/2023 | 56,500 | D66378GC50 |
| 7/25/2023 | 7/27/2023 | 42,300 | D108305GC30 |
| 7/17/2023 | 7/21/2023 | 56,500 | D80151GC30 |
| 8/7/2023 | 8/11/2023 | 56,500 | D80151GC30 |
| 8/7/2023 | 8/11/2023 | 56,500 | D80155GC30 |
| 7/26/2023 | 7/27/2023 | 36,900 | D83177GC30 |
| 8/17/2023 | 8/18/2023 | 36,900 | D83177GC30 |
| 6/19/2023 | 6/23/2023 | 92,250 | D95507GC20 |
| 7/10/2023 | 7/14/2023 | 92,250 | D95507GC20 |
| 6/19/2023 | 6/23/2023 | 92,250 | D95503GC10 |
| 7/17/2023 | 7/21/2023 | 92,250 | D95503GC10 |
| 6/21/2023 | 6/23/2023 | 55,350 | D1104288GC10 |
| 7/25/2023 | 7/27/2023 | 55,350 | D1104288GC10 |
| 6/26/2023 | 6/30/2023 | 62,000 | 3627 |
| 9/25/2023 | 9/29/2023 | 62,000 | 3627 |
| 12/25/2023 | 12/29/2023 | 62,000 | 3627 |
| 7/17/2023 | 7/21/2023 | 62,000 | 2813 |
| 10/30/2023 | 11/3/2023 | 62,000 | 2813 |
| 7/10/2023 | 7/11/2023 | 25,000 | 2444 |
| 9/4/2023 | 9/5/2023 | 25,000 | 2444 |
| 11/6/2023 | 11/7/2023 | 25,000 | 2444 |
| 6/7/2023 | 6/9/2023 | 39,500 | 2446 |
| 8/2/2023 | 8/4/2023 | 39,500 | 2446 |
| 10/2/2023 | 10/4/2023 | 39,500 | 2446 |
| 12/6/2023 | 12/8/2023 | 39,500 | 2446 |
| 7/17/2023 | 7/21/2023 | 62,000 | 6639 |
| 9/25/2023 | 9/29/2023 | 62,000 | 6639 |
| 11/27/2023 | 12/1/2023 | 62,000 | 6639 |
| 7/17/2023 | 7/20/2023 | 52,000 | DP0119 |
| 10/9/2023 | 10/12/2023 | 52,000 | DP0119 |
| 7/17/2023 | 7/21/2023 | 62,000 | 7956 |
| 9/18/2023 | 9/22/2023 | 62,000 | 7956 |
| 11/20/2023 | 11/24/2023 | 62,000 | 7956 |
| 6/12/2023 | 6/16/2023 | 62,000 | 8256 |
| 8/7/2023 | 8/11/2023 | 62,000 | 8256 |
| 10/16/2023 | 10/20/2023 | 62,000 | 8256 |
| 12/11/2023 | 12/15/2023 | 62,000 | 8256 |
| 6/12/2023 | 6/16/2023 | 62,000 | 8296 |
| 9/4/2023 | 9/8/2023 | 62,000 | 8296 |
| 12/11/2023 | 12/15/2023 | 62,000 | 8296 |
| 6/19/2023 | 6/23/2023 | 62,000 | 8726 |
| 7/17/2023 | 7/21/2023 | 62,000 | 8726 |
| 8/21/2023 | 8/25/2023 | 62,000 | 8726 |
| 9/18/2023 | 9/22/2023 | 62,000 | 8726 |
| 10/16/2023 | 10/20/2023 | 62,000 | 8726 |
| 11/20/2023 | 11/24/2023 | 62,000 | 8726 |
| 12/11/2023 | 12/15/2023 | 62,000 | 8726 |
| 6/26/2023 | 6/30/2023 | 62,000 | 9005 |
| 7/17/2023 | 7/21/2023 | 62,000 | 9005 |
| 8/28/2023 | 9/1/2023 | 62,000 | 9005 |
| 9/25/2023 | 9/29/2023 | 62,000 | 9005 |
| 10/30/2023 | 11/3/2023 | 62,000 | 9005 |
| 11/27/2023 | 12/1/2023 | 62,000 | 9005 |
| 12/18/2023 | 12/22/2023 | 62,000 | 9005 |
| 6/7/2023 | 6/9/2023 | 36,000 | TMAOCP |
| 7/12/2023 | 7/14/2023 | 36,000 | TMAOCP |
| 8/2/2023 | 8/4/2023 | 36,000 | TMAOCP |
| 9/25/2023 | 9/27/2023 | 36,000 | TMAOCP |
| 10/10/2023 | 10/12/2023 | 36,000 | TMAOCP |
| 11/1/2023 | 11/3/2023 | 36,000 | TMAOCP |
| 12/6/2023 | 12/8/2023 | 36,000 | TMAOCP |
| 6/14/2023 | 6/16/2023 | 36,000 | TMDSCP20 |
| 7/19/2023 | 7/21/2023 | 36,000 | TMDSCP20 |
| 8/2/2023 | 8/4/2023 | 36,000 | TMDSCP20 |
| 9/6/2023 | 9/8/2023 | 36,000 | TMDSCP20 |
| 10/10/2023 | 10/12/2023 | 36,000 | TMDSCP20 |
| 11/1/2023 | 11/3/2023 | 36,000 | TMDSCP20 |
| 12/6/2023 | 12/8/2023 | 36,000 | TMDSCP20 |
| 6/12/2023 | 6/14/2023 | 36,000 | TMDDCP |
| 7/24/2023 | 7/26/2023 | 36,000 | TMDDCP |
| 8/21/2023 | 8/23/2023 | 36,000 | TMDDCP |
| 9/18/2023 | 9/20/2023 | 36,000 | TMDDCP |
| 10/24/2023 | 10/26/2023 | 36,000 | TMDDCP |
| 11/20/2023 | 11/22/2023 | 36,000 | TMDDCP |
| 12/18/2023 | 12/20/2023 | 36,000 | TMDDCP |
| 7/24/2023 | 7/26/2023 | 25,000 | CT-ITF+ |
| 12/6/2023 | 12/8/2023 | 25,000 | CT-ITF+ |
| 7/10/2023 | 7/14/2023 | 48,000 | CT01-Network+ |
| 8/2/2023 | 8/4/2023 | 39,000 | CT02-Network+ |
| 12/13/2023 | 12/15/2023 | 39,000 | CT02-Network+ |
| 10/30/2023 | 11/3/2023 | 48,000 | CT01-Security+ |
| 11/6/2023 | 11/10/2023 | 48,000 | CT01-Security+ |
| 6/7/2023 | 6/9/2023 | 39,000 | CT02-Security+ |
| 8/16/2023 | 8/18/2023 | 39,000 | CT02-Security+ |
| 10/9/2023 | 10/11/2023 | 39,000 | CT02-Security+ |
| 12/6/2023 | 12/8/2023 | 39,000 | CT02-Security+ |
| 9/25/2023 | 9/29/2023 | 45,000 | CT-Cloud+ |
| 10/2/2023 | 10/6/2023 | 45,000 | CT-Server+ |
| 11/13/2023 | 11/17/2023 | 48,000 | CT01-CySA+ |
| 8/2/2023 | 8/4/2023 | 39,000 | CT02-CySA+ |
| 11/1/2023 | 11/3/2023 | 39,000 | CT02-CySA+ |
| 7/17/2023 | 7/21/2023 | 48,000 | CT-PenTest+ |
| 12/11/2023 | 12/15/2023 | 48,000 | CT-PenTest+ |
| 10/2/2023 | 10/6/2023 | 54,000 | CT-CASP+ |
| 7/24/2023 | 7/26/2023 | 28,000 | CT-Cloud Essentials+ |
| 11/1/2023 | 11/3/2023 | 28,000 | CT-Cloud Essentials+ |
| 6/7/2023 | 6/9/2023 | 45,000 | CT-Project+ |
| 9/4/2023 | 9/6/2023 | 45,000 | CT-Project+ |
| 6/21/2023 | 6/23/2023 | 22,000 | ITIL-V4 |
| 7/12/2023 | 7/14/2023 | 22,000 | ITIL-V4 |
| 6/21/2023 | 6/23/2023 | 48,500 | ITIL-V4+Exam |
| 7/12/2023 | 7/14/2023 | 48,500 | ITIL-V4+Exam |
| 10/16/2023 | 10/20/2023 | 37,950 | RH124 |
| 11/6/2023 | 11/10/2023 | 37,950 | RH124 |
| 12/18/2023 | 12/22/2023 | 37,950 | RH124 |
| 6/19/2023 | 6/23/2023 | 47,450 | RH134 |
| 8/28/2023 | 9/1/2023 | 47,450 | RH134 |
| 9/25/2023 | 9/29/2023 | 47,450 | RH134 |
| 10/30/2023 | 11/3/2023 | 47,450 | RH134 |
| 11/27/2023 | 12/1/2023 | 47,450 | RH134 |
| 12/25/2023 | 12/29/2023 | 47,450 | RH134 |
| 6/19/2023 | 6/23/2023 | 57,530 | RH135 |
| 8/28/2023 | 9/1/2023 | 57,530 | RH135 |
| 9/25/2023 | 9/29/2023 | 57,530 | RH135 |
| 10/30/2023 | 11/3/2023 | 57,530 | RH135 |
| 11/27/2023 | 12/1/2023 | 57,530 | RH135 |
| 12/25/2023 | 12/29/2023 | 57,530 | RH135 |
| 8/15/2023 | 8/18/2023 | 60,960 | RH294 |
| 9/11/2023 | 9/14/2023 | 60,960 | RH294 |
| 10/24/2023 | 10/27/2023 | 60,960 | RH294 |
| 11/20/2023 | 11/23/2023 | 60,960 | RH294 |
| 12/12/2023 | 12/15/2023 | 60,960 | RH294 |
| 8/15/2023 | 8/18/2023 | 71,040 | RH295 |
| 9/11/2023 | 9/14/2023 | 71,040 | RH295 |
| 10/24/2023 | 10/27/2023 | 71,040 | RH295 |
| 11/20/2023 | 11/23/2023 | 71,040 | RH295 |
| 12/12/2023 | 12/15/2023 | 71,040 | RH295 |
| 11/6/2023 | 11/9/2023 | 60,960 | DO180 |
| 6/28/2023 | 6/30/2023 | 45,720 | DO188 |
| 10/9/2023 | 10/12/2023 | 45,720 | DO280 |
| 12/12/2023 | 12/15/2023 | 45,720 | DO280 |
| - | - | 60,960 | DO288 |
| 6/6/2023 | 6/8/2023 | 9,500 | PYTN102 |
| 6/19/2023 | 6/21/2023 | 7,500 | PYTN103 |
| 6/26/2023 | 6/30/2023 | 19,900 | PYTN104 |
| 7/10/2023 | 7/14/2023 | 35,000 | PMP7 |
| 11/27/2023 | 12/1/2023 | 35,000 | PMP7 |
| 8/18/2023 | 8/18/2023 | 4,000 | AI-050T00 |
| 9/15/2023 | 9/15/2023 | 4,000 | AI-050T00 |
| 10/20/2023 | 10/20/2023 | 4,000 | AI-050T00 |
| 11/17/2023 | 11/17/2023 | 4,000 | AI-050T00 |
| 12/15/2023 | 12/15/2023 | 4,000 | AI-050T00 |
| 8/18/2023 | 8/18/2023 | 4,000 | DP-601T00 |
| 9/15/2023 | 9/15/2023 | 4,000 | DP-601T00 |
| 10/20/2023 | 10/20/2023 | 4,000 | DP-601T00 |
| 11/17/2023 | 11/17/2023 | 4,000 | DP-601T00 |
| 12/15/2023 | 12/15/2023 | 4,000 | DP-601T00 |
| 8/15/2023 | 8/16/2023 | 4,000 | IC-002T00 |
| 9/18/2023 | 9/19/2023 | 4,000 | IC-002T00 |
| 10/19/2023 | 10/20/2023 | 4,000 | IC-002T00 |
| 11/16/2023 | 11/17/2023 | 4,000 | IC-002T00 |
| 12/7/2023 | 12/8/2023 | 4,000 | IC-002T00 |
| 8/21/2023 | 8/24/2023 | 16,000 | DP-203T00 |