PeopleSoft PeopleCode Ed 1
This PeopleSoft PeopleCode training teaches you how to use the essential tools to work with PeopleCode, PeopleSoft's object-oriented programming language. Learn through hands-on exercises.
STUDENTS WILL LEARN TO
Identify when PeopleCode events occur in the component processor flow.
Write PeopleCode programs and choose the events in which to place them.
Manipulate data in the component buffer.
Use the PeopleCode development tools to write, edit, and debug PeopleCode programs.
Program with object-oriented PeopleCode.
Create, use, and extend application classes.
Use SQL in PeopleCode programs.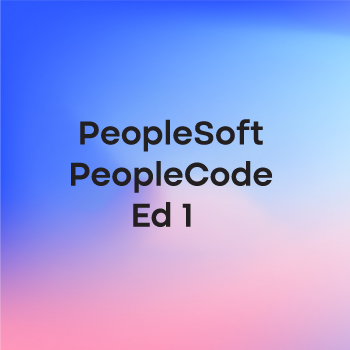 COURSE TOPICS
Module 1 : PeopleCode Course Overview
PeopleCode Course Overview
Module 2 : PeopleCode Technology Overview
PeopleCode Technology Overview
Module 3 : Using PeopleCode Development Tools
Using PeopleCode Development Tools
Locating PeopleCode Programs
Using the PeopleCode Debugger
Describing Additional Development Tools
Activity 1: Reviewing the PeopleSoft Application Development Process
Activity 2: Using the PeopleCode Editor
Activity 3: Debugging PeopleCode Programs
Module 4 : Understanding the Component Processor and PeopleCode Events
Understanding the Component Processor and PeopleCode Events
Identifying PeopleCode Events
Describing Component Build and Page Display Events
Describing Field Action Events
Describing Save Action Events
Describing Add Mode Processing
Activity 4: Using SearchInit to Control the Search Page
Activity 5: Placing WinMessage in Search Events
Activity 6: Placing WinMessage in Component Build Events
Activity 7: Placing WinMessage in Row Action Events
Activity 8: Placing WinMessage in Save Action Events
Activity 9: Examining Deferred Processing
Activity 10: Reviewing the Programs That Synchronize Student Addresses with Customer Addresses
Module 5 : Writing PeopleCode Programs
Writing PeopleCode Programs
Writing Conditional Statements (continued)
Activity 11: Selecting the Correct PeopleCode Events for Error Messages
Module 6 : Using PeopleCode Variables
Using PeopleCode Variables
Incorporating Derived/Work Fields into Your Applications
Describing Contextual Prompt Table Edits
Activity 12: Calculating and Displaying Derived Values
Activity 13: Reviewing the Setup for Contextual Prompt Table Edits
Module 7 : Using PeopleCode Built-In Functions
Using PeopleCode Built-In Functions
Explaining String Functions
Activity 14: Using PeopleCode Built-In Functions
Module 8 : Writing User-Defined Functions
Writing User-Defined Functions
Calling User-Defined Functions
Activity 15: Writing User-Defined Functions
Module 9 : Explaining the Component Buffer
Explaining the Component Buffer
Activity 16: Determining the Contents of the Component Buffer
Module 10 : Using Legacy Techniques to Access Data in the Component Buffer
Using Legacy Techniques to Access Data in the Component Buffer
Module 11 : Programming With Object-Oriented PeopleCode
Programming With Object-Oriented PeopleCode
Instantiating Objects of the components Buffer Classes
RowNumber Property
Activity 17: Using Methods and Properties of the Field Class
Module 12 : Referencing Data in the Component Buffer
Referencing Data in the Component Buffer
Instructor Demonstration
Using Shorthand Dot Notation
Traversing Multiple Occurs Levels in the Component Buffer
Activity 18: Traversing Objects and Data in the Component Buffer
Activity 19: Looping Through Data in a Rowset
Activity 20: Modifying Objects at Multiple Occurs Levels
Module 13 : Using Additional Component Buffer Methods
Using Additional Component Buffer Methods
Using the Rowset Flush Method
Working with Standalone Rowsets
Using Other Component Buffer Methods
Activity 21: Using the Select Method to Display Enrollments
Activity 22: Flushing Data from a Rowset
Activity 23: Using a Standalone Rowset to Calculate Effort Spent
Module 14 : Creating and Using Application Classes
Creating and Using Application Classes
Using the PeopleCode Editor to Create and Modify Application Classes
Using Application Classes
Passing Parameters to Methods
Activity 24: Creating and Using an Application Class
Activity 25: Passing Method Parameters by Value
Activity 26: Passing Method Parameters by Reference
Module 15 : Extending and Implementing Base Classes
Extending and Implementing Base Classes
Activity 27: Extending a Built-in Class
Module 16 : Executing SQL in PeopleCode
Executing SQL in PeopleCode
Creating SQL Definitions
Using the SQL Class and SQL Objects
Incorporating Meta-SQL in PeopleCode and SQL Definitions Executing SQL Using Record Objects
Activity 28: Updating Effort Spent with a SQLExec Statement
Activity 29: Updating Effort Spent with a SQL Definition
Activity 30: Updating Effort Spent Using a SQL Object
Activity 31: Choosing the Best SQL Option
Activity 32: Using Object-Oriented Techniques to Execute SQL in PeopleCode
Module 17 : Using PeopleCode to Create Charts
Using PeopleCode to Create Charts
Activity 33: Creating a Bar Chart
Module 18 : PeopleCode Course Workshop
PeopleCode Course Workshop
Module 19 : PeopleSoft Peoplecode Course Review
| Start Date | End Date | Price | Code |
| --- | --- | --- | --- |
| 12/11/2023 | 12/15/2023 | 20,000 | AZ-204T00 |
| 1/8/2024 | 1/12/2024 | 20,000 | AZ-204T00 |
| 2/5/2024 | 2/9/2024 | 20,000 | AZ-204T00 |
| 3/11/2024 | 3/15/2024 | 20,000 | AZ-204T00 |
| 4/22/2024 | 4/26/2024 | 20,000 | AZ-204T00 |
| 5/13/2024 | 5/17/2024 | 20,000 | AZ-204T00 |
| 6/10/2024 | 6/14/2024 | 20,000 | AZ-204T00 |
| 6/6/2023 | 6/9/2023 | 16,000 | AZ-220T00 |
| 7/24/2023 | 7/27/2023 | 16,000 | AZ-220T00 |
| 8/15/2023 | 8/18/2023 | 16,000 | AZ-220T00 |
| 9/5/2023 | 9/8/2023 | 16,000 | AZ-220T00 |
| 10/9/2023 | 10/12/2023 | 16,000 | AZ-220T00 |
| 11/7/2023 | 11/10/2023 | 16,000 | AZ-220T00 |
| 12/12/2023 | 12/15/2023 | 16,000 | AZ-220T00 |
| 12/12/2023 | 12/15/2023 | 16,000 | AZ-400T00 |
| 1/9/2024 | 1/12/2024 | 16,000 | AZ-400T00 |
| 2/6/2024 | 2/9/2024 | 16,000 | AZ-400T00 |
| 3/5/2024 | 3/8/2024 | 16,000 | AZ-400T00 |
| 4/9/2024 | 4/12/2024 | 16,000 | AZ-400T00 |
| 5/7/2024 | 5/10/2024 | 16,000 | AZ-400T00 |
| 6/4/2024 | 6/7/2024 | 16,000 | AZ-400T00 |
| 12/11/2023 | 12/15/2023 | 20,000 | AZ-040T00 |
| 1/8/2024 | 1/12/2024 | 20,000 | AZ-040T00 |
| 2/5/2024 | 2/9/2024 | 20,000 | AZ-040T00 |
| 3/25/2024 | 3/29/2024 | 20,000 | AZ-040T00 |
| 4/22/2024 | 4/26/2024 | 20,000 | AZ-040T00 |
| 5/13/2024 | 5/17/2024 | 20,000 | AZ-040T00 |
| 6/10/2024 | 6/14/2024 | 20,000 | AZ-040T00 |
| 12/11/2023 | 12/14/2023 | 16,000 | AZ-104T00 |
| 1/9/2024 | 1/12/2024 | 16,000 | AZ-104T00 |
| 2/6/2024 | 2/9/2024 | 16,000 | AZ-104T00 |
| 3/5/2024 | 3/8/2024 | 16,000 | AZ-104T00 |
| 4/9/2024 | 4/12/2024 | 16,000 | AZ-104T00 |
| 5/7/2024 | 5/10/2024 | 16,000 | AZ-104T00 |
| 6/4/2024 | 6/7/2024 | 16,000 | AZ-104T00 |
| 12/18/2023 | 12/21/2023 | 16,000 | AZ-140T00 |
| 1/23/2024 | 1/26/2024 | 16,000 | AZ-140T00 |
| 2/20/2024 | 2/23/2024 | 16,000 | AZ-140T00 |
| 3/19/2024 | 3/22/2024 | 16,000 | AZ-140T00 |
| 4/23/2024 | 4/26/2024 | 16,000 | AZ-140T00 |
| 5/27/2024 | 5/30/2024 | 16,000 | AZ-140T00 |
| 6/25/2024 | 6/28/2024 | 16,000 | AZ-140T00 |
| 6/6/2023 | 6/9/2023 | 16,000 | AZ-305T00 |
| 7/17/2023 | 7/20/2023 | 16,000 | AZ-305T00 |
| 8/15/2023 | 8/18/2023 | 16,000 | AZ-305T00 |
| 9/11/2023 | 9/14/2023 | 16,000 | AZ-305T00 |
| 10/9/2023 | 10/12/2023 | 16,000 | AZ-305T00 |
| 11/13/2023 | 11/16/2023 | 16,000 | AZ-305T00 |
| 12/11/2023 | 12/14/2023 | 16,000 | AZ-305T00 |
| 6/6/2023 | 6/9/2023 | 16,000 | AZ-600T00 |
| 7/24/2023 | 7/27/2023 | 16,000 | AZ-600T00 |
| 8/15/2023 | 8/18/2023 | 16,000 | AZ-600T00 |
| 9/5/2023 | 9/8/2023 | 16,000 | AZ-600T00 |
| 10/9/2023 | 10/12/2023 | 16,000 | AZ-600T00 |
| 11/7/2023 | 11/10/2023 | 16,000 | AZ-600T00 |
| 12/12/2023 | 12/15/2023 | 16,000 | AZ-600T00 |
| 6/7/2023 | 6/9/2023 | 12,000 | AZ-700T00 |
| 7/12/2023 | 7/14/2023 | 12,000 | AZ-700T00 |
| 8/2/2023 | 8/4/2023 | 12,000 | AZ-700T00 |
| 9/6/2023 | 9/8/2023 | 12,000 | AZ-700T00 |
| 10/4/2023 | 10/6/2023 | 12,000 | AZ-700T00 |
| 11/1/2023 | 11/3/2023 | 12,000 | AZ-700T00 |
| 12/6/2023 | 12/8/2023 | 12,000 | AZ-700T00 |
| 6/7/2023 | 6/9/2023 | 12,000 | AZ-720T00 |
| 7/12/2023 | 7/14/2023 | 12,000 | AZ-720T00 |
| 8/2/2023 | 8/4/2023 | 12,000 | AZ-720T00 |
| 9/6/2023 | 9/8/2023 | 12,000 | AZ-720T00 |
| 10/4/2023 | 10/6/2023 | 12,000 | AZ-720T00 |
| 11/1/2023 | 11/3/2023 | 12,000 | AZ-720T00 |
| 12/6/2023 | 12/8/2023 | 12,000 | AZ-720T00 |
| 6/6/2023 | 6/9/2023 | 16,000 | AZ-800T00 |
| 7/17/2023 | 7/20/2023 | 16,000 | AZ-800T00 |
| 8/15/2023 | 8/18/2023 | 16,000 | AZ-800T00 |
| 9/11/2023 | 9/14/2023 | 16,000 | AZ-800T00 |
| 10/9/2023 | 10/12/2023 | 16,000 | AZ-800T00 |
| 11/13/2023 | 11/16/2023 | 16,000 | AZ-800T00 |
| 12/11/2023 | 12/14/2023 | 16,000 | AZ-800T00 |
| 6/12/2023 | 6/15/2023 | 16,000 | AZ-801T00 |
| 7/24/2023 | 7/27/2023 | 16,000 | AZ-801T00 |
| 8/21/2023 | 8/24/2023 | 16,000 | AZ-801T00 |
| 9/18/2023 | 9/21/2023 | 16,000 | AZ-801T00 |
| 10/24/2023 | 10/27/2023 | 16,000 | AZ-801T00 |
| 11/20/2023 | 11/23/2023 | 16,000 | AZ-801T00 |
| 12/18/2023 | 12/21/2023 | 16,000 | AZ-801T00 |
| 6/9/2023 | 6/9/2023 | 4,000 | AZ-900T00 |
| 7/7/2023 | 7/7/2023 | 4,000 | AZ-900T00 |
| 8/21/2023 | 8/21/2023 | 4,000 | AZ-900T00 |
| 9/8/2023 | 9/8/2023 | 4,000 | AZ-900T00 |
| 10/12/2023 | 10/12/2023 | 4,000 | AZ-900T00 |
| 11/10/2023 | 11/10/2023 | 4,000 | AZ-900T00 |
| 12/8/2023 | 12/8/2023 | 4,000 | AZ-900T00 |
| 6/6/2023 | 6/9/2023 | 16,000 | AI-102T00 |
| 7/17/2023 | 7/20/2023 | 16,000 | AI-102T00 |
| 8/15/2023 | 8/18/2023 | 16,000 | AI-102T00 |
| 9/11/2023 | 9/14/2023 | 16,000 | AI-102T00 |
| 10/9/2023 | 10/12/2023 | 16,000 | AI-102T00 |
| 11/13/2023 | 11/16/2023 | 16,000 | AI-102T00 |
| 12/11/2023 | 12/14/2023 | 16,000 | AI-102T00 |
| 6/9/2023 | 6/9/2023 | 4,000 | AI-900T00 |
| 7/7/2023 | 7/7/2023 | 4,000 | AI-900T00 |
| 8/11/2023 | 8/11/2023 | 4,000 | AI-900T00 |
| 9/8/2023 | 9/8/2023 | 4,000 | AI-900T00 |
| 10/12/2023 | 10/12/2023 | 4,000 | AI-900T00 |
| 11/10/2023 | 11/10/2023 | 4,000 | AI-900T00 |
| 12/8/2023 | 12/8/2023 | 4,000 | AI-900T00 |
| 6/8/2023 | 6/9/2023 | 8,000 | DP-080T00 |
| 8/10/2023 | 8/11/2023 | 8,000 | DP-080T00 |
| 10/9/2023 | 10/10/2023 | 8,000 | DP-080T00 |
| 12/7/2023 | 12/8/2023 | 8,000 | DP-080T00 |
| 6/7/2023 | 6/9/2023 | 12,000 | DP-100T01 |
| 7/3/2023 | 7/5/2023 | 12,000 | DP-100T01 |
| 8/2/2023 | 8/4/2023 | 12,000 | DP-100T01 |
| 9/6/2023 | 9/8/2023 | 12,000 | DP-100T01 |
| 10/2/2023 | 10/4/2023 | 12,000 | DP-100T01 |
| 11/1/2023 | 11/3/2023 | 12,000 | DP-100T01 |
| 12/6/2023 | 12/8/2023 | 12,000 | DP-100T01 |
| 6/12/2023 | 6/15/2023 | 16,000 | DP-300T00 |
| 7/24/2023 | 7/27/2023 | 16,000 | DP-300T00 |
| 8/21/2023 | 8/24/2023 | 16,000 | DP-300T00 |
| 9/18/2023 | 9/21/2023 | 16,000 | DP-300T00 |
| 10/24/2023 | 10/27/2023 | 16,000 | DP-300T00 |
| 11/20/2023 | 11/23/2023 | 16,000 | DP-300T00 |
| 12/18/2023 | 12/21/2023 | 16,000 | DP-300T00 |
| 6/19/2023 | 6/22/2023 | 16,000 | DP-420T00 |
| 7/17/2023 | 7/20/2023 | 16,000 | DP-420T00 |
| 8/21/2023 | 8/24/2023 | 16,000 | DP-420T00 |
| 9/18/2023 | 9/21/2023 | 16,000 | DP-420T00 |
| 10/16/2023 | 10/19/2023 | 16,000 | DP-420T00 |
| 11/13/2023 | 11/16/2023 | 16,000 | DP-420T00 |
| 12/18/2023 | 12/21/2023 | 16,000 | DP-420T00 |
| 6/26/2023 | 6/29/2023 | 16,000 | DP-500T00 |
| 7/17/2023 | 7/20/2023 | 16,000 | DP-500T00 |
| 8/28/2023 | 8/31/2023 | 16,000 | DP-500T00 |
| 9/25/2023 | 9/29/2023 | 16,000 | DP-500T00 |
| 10/30/2023 | 11/2/2023 | 16,000 | DP-500T00 |
| 11/27/2023 | 11/30/2023 | 16,000 | DP-500T00 |
| 12/25/2023 | 12/28/2023 | 16,000 | DP-500T00 |
| 6/12/2023 | 6/16/2023 | 20,000 | MD-100T00 |
| 7/24/2023 | 7/27/2023 | 20,000 | MD-100T00 |
| 8/7/2023 | 8/11/2023 | 20,000 | MD-100T00 |
| 9/11/2023 | 9/15/2023 | 20,000 | MD-100T00 |
| 10/2/2023 | 10/6/2023 | 20,000 | MD-100T00 |
| 11/13/2023 | 11/17/2023 | 20,000 | MD-100T00 |
| 12/18/2023 | 12/22/2023 | 20,000 | MD-100T00 |
| 6/19/2023 | 6/23/2023 | 20,000 | MD-101T00 |
| 7/10/2023 | 7/14/2023 | 20,000 | MD-101T00 |
| 8/21/2023 | 8/25/2023 | 20,000 | MD-101T00 |
| 9/18/2023 | 9/22/2023 | 20,000 | MD-101T00 |
| 10/16/2023 | 10/20/2023 | 20,000 | MD-101T00 |
| 11/20/2023 | 11/24/2023 | 20,000 | MD-101T00 |
| 12/18/2023 | 12/22/2023 | 20,000 | MD-101T00 |
| 6/26/2023 | 6/30/2023 | 20,000 | MD-102T00 |
| 7/17/2023 | 7/21/2023 | 20,000 | MD-102T00 |
| 8/28/2023 | 9/1/2023 | 20,000 | MD-102T00 |
| 9/25/2023 | 9/29/2023 | 20,000 | MD-102T00 |
| 10/30/2023 | 11/3/2023 | 20,000 | MD-102T00 |
| 11/27/2023 | 12/1/2023 | 20,000 | MD-102T00 |
| 12/25/2023 | 12/29/2023 | 20,000 | MD-102T00 |
| 6/12/2023 | 6/16/2023 | 20,000 | MS-100T00 |
| 7/3/2023 | 7/7/2023 | 20,000 | MS-100T00 |
| 8/7/2023 | 8/11/2023 | 20,000 | MS-100T00 |
| 9/4/2023 | 9/8/2023 | 20,000 | MS-100T00 |
| 10/2/2023 | 10/6/2023 | 20,000 | MS-100T00 |
| 11/6/2023 | 11/10/2023 | 20,000 | MS-100T00 |
| 12/18/2023 | 12/22/2023 | 20,000 | MS-100T00 |
| 6/19/2023 | 6/23/2023 | 20,000 | MS-101T00 |
| 7/10/2023 | 7/14/2023 | 20,000 | MS-101T00 |
| 8/21/2023 | 8/25/2023 | 20,000 | MS-101T00 |
| 9/18/2023 | 9/22/2023 | 20,000 | MS-101T00 |
| 10/16/2023 | 10/20/2023 | 20,000 | MS-101T00 |
| 11/20/2023 | 11/24/2023 | 20,000 | MS-101T00 |
| 12/18/2023 | 12/22/2023 | 20,000 | MS-101T00 |
| 6/26/2023 | 6/30/2023 | 20,000 | MS-102T00 |
| 7/17/2023 | 7/21/2023 | 20,000 | MS-102T00 |
| 8/28/2023 | 9/1/2023 | 20,000 | MS-102T00 |
| 9/25/2023 | 9/29/2023 | 20,000 | MS-102T00 |
| 10/30/2023 | 11/3/2023 | 20,000 | MS-102T00 |
| 11/27/2023 | 12/1/2023 | 20,000 | MS-102T00 |
| 12/25/2023 | 12/29/2023 | 20,000 | MS-102T00 |
| 6/12/2023 | 6/16/2023 | 20,000 | MS-203T00 |
| 7/10/2023 | 7/14/2023 | 20,000 | MS-203T00 |
| 8/21/2023 | 8/25/2023 | 20,000 | MS-203T00 |
| 9/11/2023 | 9/15/2023 | 20,000 | MS-203T00 |
| 10/16/2023 | 10/20/2023 | 20,000 | MS-203T00 |
| 11/13/2023 | 11/17/2023 | 20,000 | MS-203T00 |
| 12/11/2023 | 12/15/2023 | 20,000 | MS-203T00 |
| 6/21/2023 | 6/23/2023 | 20,000 | MS-220T00 |
| 7/19/2023 | 7/21/2023 | 20,000 | MS-220T00 |
| 8/23/2023 | 8/25/2023 | 20,000 | MS-220T00 |
| 9/20/2023 | 9/22/2023 | 20,000 | MS-220T00 |
| 10/25/2023 | 10/27/2023 | 20,000 | MS-220T00 |
| 11/22/2023 | 11/24/2023 | 20,000 | MS-220T00 |
| 12/20/2023 | 12/22/2023 | 20,000 | MS-220T00 |
| 6/13/2023 | 6/16/2023 | 16,000 | MS-600T00 |
| 7/11/2023 | 7/14/2023 | 16,000 | MS-600T00 |
| 8/8/2023 | 8/11/2023 | 16,000 | MS-600T00 |
| 9/5/2023 | 9/8/2023 | 16,000 | MS-600T00 |
| 10/17/2023 | 10/20/2023 | 16,000 | MS-600T00 |
| 11/7/2023 | 11/10/2023 | 16,000 | MS-600T00 |
| 12/12/2023 | 12/15/2023 | 16,000 | MS-600T00 |
| 6/6/2023 | 6/9/2023 | 16,000 | MS-700T00 |
| 7/17/2023 | 7/20/2023 | 16,000 | MS-700T00 |
| 8/15/2023 | 8/18/2023 | 16,000 | MS-700T00 |
| 9/11/2023 | 9/14/2023 | 16,000 | MS-700T00 |
| 10/9/2023 | 10/12/2023 | 16,000 | MS-700T00 |
| 11/13/2023 | 11/16/2023 | 16,000 | MS-700T00 |
| 12/11/2023 | 12/14/2023 | 16,000 | MS-700T00 |
| 6/14/2023 | 6/16/2023 | 12,000 | MS-720T00 |
| 7/19/2023 | 7/21/2023 | 12,000 | MS-720T00 |
| 8/2/2023 | 8/4/2023 | 12,000 | MS-720T00 |
| 9/6/2023 | 9/8/2023 | 12,000 | MS-720T00 |
| 10/10/2023 | 10/12/2023 | 12,000 | MS-720T00 |
| 11/1/2023 | 11/3/2023 | 12,000 | MS-720T00 |
| 12/6/2023 | 12/8/2023 | 12,000 | MS-720T00 |
| 7/17/2023 | 7/20/2023 | 16,000 | MS-721T00 |
| 8/15/2023 | 8/18/2023 | 16,000 | MS-721T00 |
| 9/11/2023 | 9/14/2023 | 16,000 | MS-721T00 |
| 10/9/2023 | 10/12/2023 | 16,000 | MS-721T00 |
| 11/13/2023 | 11/16/2023 | 16,000 | MS-721T00 |
| 12/11/2023 | 12/14/2023 | 16,000 | MS-721T00 |
| 6/26/2023 | 6/28/2023 | 12,000 | MS-740T00 |
| 7/24/2023 | 7/26/2023 | 12,000 | MS-740T00 |
| 8/28/2023 | 8/30/2023 | 12,000 | MS-740T00 |
| 9/25/2023 | 9/27/2023 | 12,000 | MS-740T00 |
| 10/30/2023 | 11/1/2023 | 12,000 | MS-740T00 |
| 11/27/2023 | 11/29/2023 | 12,000 | MS-740T00 |
| 12/25/2023 | 12/27/2023 | 12,000 | MS-740T00 |
| 6/8/2023 | 6/8/2023 | 4,000 | MS-080T00 |
| 7/7/2023 | 7/7/2023 | 4,000 | MS-080T00 |
| 8/11/2023 | 8/11/2023 | 4,000 | MS-080T00 |
| 9/1/2023 | 9/1/2023 | 4,000 | MS-080T00 |
| 10/26/2023 | 10/26/2023 | 4,000 | MS-080T00 |
| 11/3/2023 | 11/3/2023 | 4,000 | MS-080T00 |
| 12/4/2023 | 12/4/2023 | 4,000 | MS-080T00 |
| 6/9/2023 | 6/9/2023 | 4,000 | MS-900T01 |
| 7/27/2023 | 7/27/2023 | 4,000 | MS-900T01 |
| 8/7/2023 | 8/7/2023 | 4,000 | MS-900T01 |
| 9/8/2023 | 9/8/2023 | 4,000 | MS-900T01 |
| 10/27/2023 | 10/27/2023 | 4,000 | MS-900T01 |
| 11/10/2023 | 11/10/2023 | 4,000 | MS-900T01 |
| 12/8/2023 | 12/8/2023 | 4,000 | MS-900T01 |
| 6/12/2023 | 6/16/2023 | 20,000 | 55354A |
| 7/17/2023 | 7/21/2023 | 20,000 | 55354A |
| 8/21/2023 | 8/25/2023 | 20,000 | 55354A |
| 9/11/2023 | 9/15/2023 | 20,000 | 55354A |
| 10/16/2023 | 10/20/2023 | 20,000 | 55354A |
| 11/13/2023 | 11/17/2023 | 20,000 | 55354A |
| 12/11/2023 | 12/15/2023 | 20,000 | 55354A |
| 6/6/2023 | 6/9/2023 | 16,000 | AZ-500T00 |
| 7/17/2023 | 7/20/2023 | 16,000 | AZ-500T00 |
| 8/15/2023 | 8/18/2023 | 16,000 | AZ-500T00 |
| 9/11/2023 | 9/14/2023 | 16,000 | AZ-500T00 |
| 10/9/2023 | 10/12/2023 | 16,000 | AZ-500T00 |
| 11/13/2023 | 11/16/2023 | 16,000 | AZ-500T00 |
| 12/11/2023 | 12/14/2023 | 16,000 | AZ-500T00 |
| 6/12/2023 | 6/15/2023 | 16,000 | MS-500T00 |
| 7/24/2023 | 7/27/2023 | 16,000 | MS-500T00 |
| 8/21/2023 | 8/24/2023 | 16,000 | MS-500T00 |
| 9/18/2023 | 9/21/2023 | 16,000 | MS-500T00 |
| 10/24/2023 | 10/27/2023 | 16,000 | MS-500T00 |
| 11/20/2023 | 11/23/2023 | 16,000 | MS-500T00 |
| 12/18/2023 | 12/21/2023 | 16,000 | MS-500T00 |
| 6/6/2023 | 6/9/2023 | 16,000 | SC-100T00 |
| 7/17/2023 | 7/20/2023 | 16,000 | SC-100T00 |
| 8/15/2023 | 8/18/2023 | 16,000 | SC-100T00 |
| 9/11/2023 | 9/14/2023 | 16,000 | SC-100T00 |
| 10/9/2023 | 10/12/2023 | 16,000 | SC-100T00 |
| 11/13/2023 | 11/16/2023 | 16,000 | SC-100T00 |
| 12/11/2023 | 12/14/2023 | 16,000 | SC-100T00 |
| 6/6/2023 | 6/9/2023 | 16,000 | SC-200T00 |
| 7/17/2023 | 7/20/2023 | 16,000 | SC-200T00 |
| 8/15/2023 | 8/18/2023 | 16,000 | SC-200T00 |
| 9/11/2023 | 9/14/2023 | 16,000 | SC-200T00 |
| 10/9/2023 | 10/12/2023 | 16,000 | SC-200T00 |
| 11/13/2023 | 11/16/2023 | 16,000 | SC-200T00 |
| 12/11/2023 | 12/14/2023 | 16,000 | SC-200T00 |
| 6/12/2023 | 6/15/2023 | 16,000 | SC-300T00 |
| 7/24/2023 | 7/27/2023 | 16,000 | SC-300T00 |
| 8/21/2023 | 8/24/2023 | 16,000 | SC-300T00 |
| 9/18/2023 | 9/21/2023 | 16,000 | SC-300T00 |
| 10/24/2023 | 10/27/2023 | 16,000 | SC-300T00 |
| 11/20/2023 | 11/23/2023 | 16,000 | SC-300T00 |
| 12/18/2023 | 12/21/2023 | 16,000 | SC-300T00 |
| 6/13/2023 | 6/16/2023 | 16,000 | SC-400T00 |
| 7/18/2023 | 7/21/2023 | 16,000 | SC-400T00 |
| 8/28/2023 | 8/31/2023 | 16,000 | SC-400T00 |
| 9/26/2023 | 9/29/2023 | 16,000 | SC-400T00 |
| 10/24/2023 | 10/27/2023 | 16,000 | SC-400T00 |
| 11/28/2023 | 12/1/2023 | 16,000 | SC-400T00 |
| 12/11/2023 | 12/14/2023 | 16,000 | SC-400T00 |
| 6/9/2023 | 6/9/2023 | 4,000 | SC-900T00 |
| 7/27/2023 | 7/27/2023 | 4,000 | SC-900T00 |
| 8/7/2023 | 8/7/2023 | 4,000 | SC-900T00 |
| 9/8/2023 | 9/8/2023 | 4,000 | SC-900T00 |
| 10/6/2023 | 10/6/2023 | 4,000 | SC-900T00 |
| 11/10/2023 | 11/10/2023 | 4,000 | SC-900T00 |
| 12/4/2023 | 12/4/2023 | 4,000 | SC-900T00 |
| 6/26/2023 | 6/29/2023 | 16,000 | PL-100T00 |
| 7/3/2023 | 7/6/2023 | 16,000 | PL-100T00 |
| 8/15/2023 | 8/18/2023 | 16,000 | PL-100T00 |
| 9/11/2023 | 9/14/2023 | 16,000 | PL-100T00 |
| 10/9/2023 | 10/12/2023 | 16,000 | PL-100T00 |
| 11/13/2023 | 11/16/2023 | 16,000 | PL-100T00 |
| 12/11/2023 | 12/14/2023 | 16,000 | PL-100T00 |
| 6/12/2023 | 6/15/2023 | 16,000 | PL-200T00 |
| 8/21/2023 | 8/24/2023 | 16,000 | PL-200T00 |
| 10/24/2023 | 10/27/2023 | 16,000 | PL-200T00 |
| 12/18/2023 | 12/21/2023 | 16,000 | PL-200T00 |
| 7/19/2023 | 7/21/2023 | 12,000 | PL-300T00 |
| 9/25/2023 | 9/27/2023 | 12,000 | PL-300T00 |
| 11/1/2023 | 11/3/2023 | 12,000 | PL-300T00 |
| 6/12/2023 | 6/16/2023 | 20,000 | PL-400T00 |
| 8/21/2023 | 8/25/2023 | 20,000 | PL-400T00 |
| 10/16/2023 | 10/20/2023 | 20,000 | PL-400T00 |
| 12/11/2023 | 12/15/2023 | 20,000 | PL-400T00 |
| 6/12/2023 | 6/15/2023 | 16,000 | PL-500T00 |
| 8/21/2023 | 8/24/2023 | 16,000 | PL-500T00 |
| 10/16/2023 | 10/19/2023 | 16,000 | PL-500T00 |
| 12/11/2023 | 12/14/2023 | 16,000 | PL-500T00 |
| 7/19/2023 | 7/21/2023 | 12,000 | PL-600T00 |
| 9/6/2023 | 9/8/2023 | 12,000 | PL-600T00 |
| 11/1/2023 | 11/3/2023 | 12,000 | PL-600T00 |
| 6/9/2023 | 6/9/2023 | 4,000 | PL-900T00 |
| 7/7/2023 | 7/7/2023 | 4,000 | PL-900T00 |
| 8/11/2023 | 8/11/2023 | 4,000 | PL-900T00 |
| 9/8/2023 | 9/8/2023 | 4,000 | PL-900T00 |
| 10/12/2023 | 10/12/2023 | 4,000 | PL-900T00 |
| 11/10/2023 | 11/10/2023 | 4,000 | PL-900T00 |
| 12/8/2023 | 12/8/2023 | 4,000 | PL-900T00 |
| 6/26/2023 | 6/30/2023 | 12,500 | PWA-201 |
| 7/24/2023 | 7/28/2023 | 12,500 | PWA-201 |
| 8/28/2023 | 9/1/2023 | 12,500 | PWA-201 |
| 9/25/2023 | 9/29/2023 | 12,500 | PWA-201 |
| 10/30/2023 | 11/3/2023 | 12,500 | PWA-201 |
| 11/27/2023 | 12/1/2023 | 12,500 | PWA-201 |
| 12/18/2023 | 12/22/2023 | 12,500 | PWA-201 |
| 10/16/2023 | 10/17/2023 | 5,000 | M365-End-User |
| 11/6/2023 | 11/7/2023 | 5,000 | M365-End-User |
| 12/11/2023 | 12/12/2023 | 5,000 | M365-End-User |
| 6/2/2023 | 6/2/2023 | 2,500 | O365-Admin-ENH |
| 7/7/2023 | 7/7/2023 | 2,500 | O365-Admin-ENH |
| 8/4/2023 | 8/4/2023 | 2,500 | O365-Admin-ENH |
| 9/8/2023 | 9/8/2023 | 2,500 | O365-Admin-ENH |
| 10/6/2023 | 10/6/2023 | 2,500 | O365-Admin-ENH |
| 11/3/2023 | 11/3/2023 | 2,500 | O365-Admin-ENH |
| 12/4/2023 | 12/4/2023 | 2,500 | O365-Admin-ENH |
| 6/16/2023 | 6/16/2023 | 4,000 | 55154B |
| 7/14/2023 | 7/14/2023 | 4,000 | 55154B |
| 8/18/2023 | 8/18/2023 | 4,000 | 55154B |
| 9/15/2023 | 9/15/2023 | 4,000 | 55154B |
| 10/20/2023 | 10/20/2023 | 4,000 | 55154B |
| 11/17/2023 | 11/17/2023 | 4,000 | 55154B |
| 12/15/2023 | 12/15/2023 | 4,000 | 55154B |
| 6/9/2023 | 6/9/2023 | 2,500 | OF-19-NF |
| 7/7/2023 | 7/7/2023 | 2,500 | OF-19-NF |
| 8/11/2023 | 8/11/2023 | 2,500 | OF-19-NF |
| 9/8/2023 | 9/8/2023 | 2,500 | OF-19-NF |
| 10/6/2023 | 10/6/2023 | 2,500 | OF-19-NF |
| 11/3/2023 | 11/3/2023 | 2,500 | OF-19-NF |
| 12/8/2023 | 12/8/2023 | 2,500 | OF-19-NF |
| 6/19/2023 | 6/20/2023 | 5,000 | WD-19-01 |
| 7/17/2023 | 7/18/2023 | 5,000 | WD-19-01 |
| 8/15/2023 | 8/16/2023 | 5,000 | WD-19-01 |
| 9/18/2023 | 9/19/2023 | 5,000 | WD-19-01 |
| 10/24/2023 | 10/25/2023 | 5,000 | WD-19-01 |
| 11/20/2023 | 11/21/2023 | 5,000 | WD-19-01 |
| 12/18/2023 | 12/19/2023 | 5,000 | WD-19-01 |
| 6/21/2023 | 6/22/2023 | 5,000 | WD-19-02 |
| 7/19/2023 | 7/20/2023 | 5,000 | WD-19-02 |
| 8/17/2023 | 8/18/2023 | 5,000 | WD-19-02 |
| 9/20/2023 | 9/21/2023 | 5,000 | WD-19-02 |
| 10/26/2023 | 10/27/2023 | 5,000 | WD-19-02 |
| 11/23/2023 | 11/24/2023 | 5,000 | WD-19-02 |
| 12/20/2023 | 12/21/2023 | 5,000 | WD-19-02 |
| 6/19/2023 | 6/20/2023 | 5,000 | EX-19-01 |
| 7/17/2023 | 7/18/2023 | 5,000 | EX-19-01 |
| 8/15/2023 | 8/16/2023 | 5,000 | EX-19-01 |
| 9/18/2023 | 9/19/2023 | 5,000 | EX-19-01 |
| 10/24/2023 | 10/25/2023 | 5,000 | EX-19-01 |
| 11/20/2023 | 11/21/2023 | 5,000 | EX-19-01 |
| 12/18/2023 | 12/19/2023 | 5,000 | EX-19-01 |
| 6/21/2023 | 6/22/2023 | 5,000 | EX-19-02 |
| 7/19/2023 | 7/20/2023 | 5,000 | EX-19-02 |
| 8/17/2023 | 8/18/2023 | 5,000 | EX-19-02 |
| 9/20/2023 | 9/21/2023 | 5,000 | EX-19-02 |
| 10/26/2023 | 10/27/2023 | 5,000 | EX-19-02 |
| 11/23/2023 | 11/24/2023 | 5,000 | EX-19-02 |
| 12/20/2023 | 12/21/2023 | 5,000 | EX-19-02 |
| 6/23/2023 | 6/23/2023 | 2,500 | EX-19-03 |
| 7/21/2023 | 7/21/2023 | 2,500 | EX-19-03 |
| 8/21/2023 | 8/21/2023 | 2,500 | EX-19-03 |
| 9/22/2023 | 9/22/2023 | 2,500 | EX-19-03 |
| 10/30/2023 | 10/30/2023 | 2,500 | EX-19-03 |
| 11/24/2023 | 11/24/2023 | 2,500 | EX-19-03 |
| 12/22/2023 | 12/22/2023 | 2,500 | EX-19-03 |
| 6/12/2023 | 6/13/2023 | 5,000 | PP-19-01 |
| 7/10/2023 | 7/11/2023 | 5,000 | PP-19-01 |
| 8/7/2023 | 8/8/2023 | 5,000 | PP-19-01 |
| 9/11/2023 | 9/12/2023 | 5,000 | PP-19-01 |
| 10/9/2023 | 10/10/2023 | 5,000 | PP-19-01 |
| 11/6/2023 | 11/7/2023 | 5,000 | PP-19-01 |
| 12/11/2023 | 12/12/2023 | 5,000 | PP-19-01 |
| 6/14/2023 | 6/15/2023 | 5,000 | PP-19-02 |
| 7/12/2023 | 7/13/2023 | 5,000 | PP-19-02 |
| 8/9/2023 | 8/10/2023 | 5,000 | PP-19-02 |
| 9/13/2023 | 9/14/2023 | 5,000 | PP-19-02 |
| 10/11/2023 | 10/12/2023 | 5,000 | PP-19-02 |
| 11/8/2023 | 11/9/2023 | 5,000 | PP-19-02 |
| 12/13/2023 | 12/14/2023 | 5,000 | PP-19-02 |
| 6/7/2023 | 6/9/2023 | 7,500 | PJ-19-US |
| 8/2/2023 | 8/4/2023 | 7,500 | PJ-19-US |
| 10/2/2023 | 10/4/2023 | 7,500 | PJ-19-US |
| 12/6/2023 | 12/8/2023 | 7,500 | PJ-19-US |
| 6/23/2023 | 6/23/2023 | 2,500 | OL-19-01 |
| 9/22/2023 | 9/22/2023 | 2,500 | OL-19-01 |
| 12/22/2023 | 12/22/2023 | 2,500 | OL-19-01 |
| 7/17/2023 | 7/21/2023 | 20,000 | ASP-MVC5 |
| 10/30/2023 | 11/3/2023 | 20,000 | ASP-MVC5 |
| 8/21/2023 | 8/22/2023 | 8,000 | 55267-A |
| 11/20/2023 | 11/21/2023 | 8,000 | 55267-A |
| 7/17/2023 | 7/20/2023 | 16,000 | 55284-A |
| 10/9/2023 | 10/12/2023 | 16,000 | 55284-A |
| 8/21/2023 | 8/22/2023 | 8,000 | 55285-A |
| 11/20/2023 | 11/21/2023 | 8,000 | 55285-A |
| 6/26/2023 | 6/30/2023 | 20,000 | 55039-B |
| 9/25/2023 | 9/29/2023 | 20,000 | 55039-B |
| 12/18/2023 | 12/22/2023 | 20,000 | 55039-B |
| 6/7/2023 | 6/9/2023 | 12,000 | 55199-A |
| 8/2/2023 | 8/4/2023 | 12,000 | 55199-A |
| 10/2/2023 | 10/4/2023 | 12,000 | 55199-A |
| 12/6/2023 | 12/8/2023 | 12,000 | 55199-A |
| 7/10/2023 | 7/11/2023 | 8,000 | 55200-A |
| 9/4/2023 | 9/5/2023 | 8,000 | 55200-A |
| 11/6/2023 | 11/7/2023 | 8,000 | 55200-A |
| 7/17/2023 | 7/20/2023 | 16,000 | 55215-B |
| 10/9/2023 | 10/12/2023 | 16,000 | 55215-B |
| 8/21/2023 | 8/24/2023 | 16,000 | 55217-A |
| 11/20/2023 | 11/23/2023 | 16,000 | 55217-A |
| 7/17/2023 | 7/21/2023 | 20,000 | 55234-A |
| 9/25/2023 | 9/29/2023 | 20,000 | 55234-A |
| 11/27/2023 | 12/1/2023 | 20,000 | 55234-A |
| 6/14/2023 | 6/16/2023 | 12,000 | 55238-B |
| 7/19/2023 | 7/21/2023 | 12,000 | 55238-B |
| 8/2/2023 | 8/4/2023 | 12,000 | 55238-B |
| 9/6/2023 | 9/8/2023 | 12,000 | 55238-B |
| 10/10/2023 | 10/12/2023 | 12,000 | 55238-B |
| 11/1/2023 | 11/3/2023 | 12,000 | 55238-B |
| 12/6/2023 | 12/8/2023 | 12,000 | 55238-B |
| 7/10/2023 | 7/11/2023 | 8,000 | 55251-A |
| 9/4/2023 | 9/5/2023 | 8,000 | 55251-A |
| 11/6/2023 | 11/7/2023 | 8,000 | 55251-A |
| 6/12/2023 | 6/16/2023 | 12,000 | 10972 |
| 7/10/2023 | 7/14/2023 | 12,000 | 10972 |
| 8/10/2023 | 8/14/2023 | 12,000 | 10972 |
| 9/7/2023 | 9/11/2023 | 12,000 | 10972 |
| 10/2/2023 | 10/6/2023 | 12,000 | 10972 |
| 10/30/2023 | 11/3/2023 | 12,000 | 10972 |
| 12/11/2023 | 12/15/2023 | 12,000 | 10972 |
| 6/19/2023 | 6/22/2023 | 16,000 | 10987 |
| 7/17/2023 | 7/20/2023 | 16,000 | 10987 |
| 8/7/2023 | 8/10/2023 | 16,000 | 10987 |
| 9/18/2023 | 9/21/2023 | 16,000 | 10987 |
| 10/16/2023 | 10/19/2023 | 16,000 | 10987 |
| 11/13/2023 | 11/16/2023 | 16,000 | 10987 |
| 12/18/2023 | 12/21/2023 | 16,000 | 10987 |
| 6/27/2023 | 6/29/2023 | 12,000 | 10997 |
| 7/18/2023 | 7/20/2023 | 12,000 | 10997 |
| 8/29/2023 | 8/31/2023 | 12,000 | 10997 |
| 9/27/2023 | 9/29/2023 | 12,000 | 10997 |
| 10/31/2023 | 11/2/2023 | 12,000 | 10997 |
| 11/28/2023 | 11/30/2023 | 12,000 | 10997 |
| 12/26/2023 | 12/28/2023 | 12,000 | 10997 |
| 6/26/2023 | 6/30/2023 | 20,000 | 20761 |
| 7/17/2023 | 7/21/2023 | 20,000 | 20761 |
| 8/28/2023 | 9/1/2023 | 20,000 | 20761 |
| 9/25/2023 | 9/29/2023 | 20,000 | 20761 |
| 10/30/2023 | 11/3/2023 | 20,000 | 20761 |
| 11/27/2023 | 12/1/2023 | 20,000 | 20761 |
| 12/18/2023 | 12/22/2023 | 20,000 | 20761 |
| 6/12/2023 | 6/16/2023 | 20,000 | 20764 |
| 7/17/2023 | 7/21/2023 | 20,000 | 20764 |
| 8/21/2023 | 8/25/2023 | 20,000 | 20764 |
| 9/11/2023 | 9/15/2023 | 20,000 | 20764 |
| 10/16/2023 | 10/20/2023 | 20,000 | 20764 |
| 11/13/2023 | 11/17/2023 | 20,000 | 20764 |
| 12/11/2023 | 12/15/2023 | 20,000 | 20764 |
| 6/14/2023 | 6/15/2023 | 8,000 | 20778 |
| 7/19/2023 | 7/20/2023 | 8,000 | 20778 |
| 8/2/2023 | 8/3/2023 | 8,000 | 20778 |
| 9/6/2023 | 9/7/2023 | 8,000 | 20778 |
| 10/10/2023 | 10/11/2023 | 8,000 | 20778 |
| 11/1/2023 | 11/2/2023 | 8,000 | 20778 |
| 12/6/2023 | 12/7/2023 | 8,000 | 20778 |
| 6/7/2023 | 6/9/2023 | 12,000 | 20779 |
| 7/3/2023 | 7/5/2023 | 12,000 | 20779 |
| 8/2/2023 | 8/4/2023 | 12,000 | 20779 |
| 9/6/2023 | 9/8/2023 | 12,000 | 20779 |
| 10/2/2023 | 10/4/2023 | 12,000 | 20779 |
| 11/1/2023 | 11/3/2023 | 12,000 | 20779 |
| 12/6/2023 | 12/8/2023 | 12,000 | 20779 |
| 6/12/2023 | 6/16/2023 | 20,000 | WS-011T00 |
| 7/10/2023 | 7/14/2023 | 20,000 | WS-011T00 |
| 8/7/2023 | 8/11/2023 | 20,000 | WS-011T00 |
| 9/4/2023 | 9/8/2023 | 20,000 | WS-011T00 |
| 10/16/2023 | 10/20/2023 | 20,000 | WS-011T00 |
| 11/6/2023 | 11/10/2023 | 20,000 | WS-011T00 |
| 12/11/2023 | 12/15/2023 | 20,000 | WS-011T00 |
| 6/12/2023 | 6/16/2023 | 60,000 | VSICM8 |
| 7/3/2023 | 7/7/2023 | 60,000 | VSICM8 |
| 8/7/2023 | 8/11/2023 | 60,000 | VSICM8 |
| 9/4/2023 | 9/8/2023 | 60,000 | VSICM8 |
| 10/2/2023 | 10/6/2023 | 60,000 | VSICM8 |
| 11/6/2023 | 11/10/2023 | 60,000 | VSICM8 |
| 12/18/2023 | 12/22/2023 | 60,000 | VSICM8 |
| 6/8/2023 | 6/12/2023 | 37,000 | VSWN8 |
| 10/9/2023 | 10/11/2023 | 37,000 | VSWN8 |
| 7/17/2023 | 7/21/2023 | 90,000 | VSFT7 |
| 9/18/2023 | 9/22/2023 | 90,000 | VSFT7 |
| 9/18/2023 | 9/22/2023 | 66,000 | VSOS8 |
| 11/27/2023 | 12/1/2023 | 66,000 | VSOS8 |
| 6/26/2023 | 6/30/2023 | 66,000 | VSTS7 |
| 10/30/2023 | 11/3/2023 | 66,000 | VSTS7 |
| 12/25/2023 | 12/29/2023 | 66,000 | VSTS7 |
| 6/7/2023 | 6/9/2023 | 40,000 | VSD7 |
| 7/24/2023 | 7/26/2023 | 40,000 | VSD7 |
| 10/25/2023 | 10/27/2023 | 40,000 | VSD7 |
| 6/8/2023 | 6/9/2023 | 25,000 | SRMICM82 |
| 9/11/2023 | 9/13/2023 | 40,000 | VSKDM7 |
| 10/30/2023 | 11/1/2023 | 40,000 | VSKDM7 |
| 12/6/2023 | 12/8/2023 | 40,000 | VSKDM7 |
| 6/6/2023 | 6/9/2023 | 49,000 | TKGIEICM110 |
| 6/12/2023 | 6/16/2023 | 60,000 | NSXTICM32 |
| 7/3/2023 | 7/7/2023 | 60,000 | NSXTICM32 |
| 10/30/2023 | 11/3/2023 | 66,000 | NSXTD32 |
| 9/25/2023 | 9/29/2023 | 60,000 | VROICM86 |
| 10/2/2023 | 10/6/2023 | 66,000 | NSXTTO32 |
| 10/16/2023 | 10/20/2023 | 60,000 | HDM8 |
| 11/6/2023 | 11/10/2023 | 60,000 | HDM8 |
| 12/7/2023 | 12/8/2023 | 25,000 | HIA8 |
| 8/25/2023 | 8/25/2023 | 10,800 | AWS-CPE |
| 9/18/2023 | 9/18/2023 | 10,800 | AWS-CPE |
| 10/16/2023 | 10/16/2023 | 10,800 | AWS-CPE |
| 11/8/2023 | 11/8/2023 | 10,800 | AWS-CPE |
| 12/7/2023 | 12/7/2023 | 10,800 | AWS-CPE |
| 8/18/2023 | 8/18/2023 | 10,800 | AWS-TE |
| 9/19/2023 | 9/19/2023 | 10,800 | AWS-TE |
| 10/17/2023 | 10/17/2023 | 10,800 | AWS-TE |
| 11/7/2023 | 11/7/2023 | 10,800 | AWS-TE |
| 12/8/2023 | 12/8/2023 | 10,800 | AWS-TE |
| 8/25/2023 | 8/25/2023 | 5,900 | AWS-EBL |
| 10/16/2023 | 10/16/2023 | 5,900 | AWS-EBL |
| 12/7/2023 | 12/7/2023 | 5,900 | AWS-EBL |
| 9/18/2023 | 9/18/2023 | 5,900 | AWS-EFS |
| 11/6/2023 | 11/6/2023 | 5,900 | AWS-EFS |
| 8/22/2023 | 8/24/2023 | 32,400 | AWS-ARC |
| 9/20/2023 | 9/22/2023 | 32,400 | AWS-ARC |
| 10/18/2023 | 10/20/2023 | 32,400 | AWS-ARC |
| 11/15/2023 | 11/17/2023 | 32,400 | AWS-ARC |
| 12/13/2023 | 12/15/2023 | 32,400 | AWS-ARC |
| | | 10,800 | AWS-WBP |
| | | 32,400 | AWS-ADA |
| | | 10,800 | AWS-AWB |
| | | 54,000 | AWS-ARA |
| 8/29/2023 | 8/31/2023 | 32,400 | AWS-COA |
| 9/25/2023 | 9/27/2023 | 32,400 | AWS-COA |
| 10/25/2023 | 10/27/2023 | 32,400 | AWS-COA |
| 12/18/2023 | 12/20/2023 | 32,400 | AWS-COA |
| | | 21,600 | AWS-FIN |
| | | 32,400 | AWS-CFM |
| | | 32,400 | AWS-DWA |
| | | 10,800 | AWS-BLK |
| | | 10,800 | AWS-BDA |
| | | 10,800 | AWS-BBD |
| | | 10,800 | AWS-BSD |
| | | 21,600 | AWS-AVA |
| | | 32,400 | AWS-PDD |
| 9/13/2023 | 9/15/2023 | 32,400 | AWS-DEV |
| | | 32,400 | AWS-ADE |
| | | 32,400 | AWS-DOP |
| | | 10,800 | AWS-DEL |
| | | 32,400 | AWS-MLE |
| | | 10,800 | AWS-PDS |
| | | 43,200 | AWS-MLP |
| | | 32,400 | AWS-SSD |
| | | 21,600 | AWS-VSE |
| 8/25/2023 | 8/25/2023 | 10,800 | AWS-MES |
| 10/16/2023 | 10/16/2023 | 10,800 | AWS-MES |
| 12/7/2023 | 12/7/2023 | 10,800 | AWS-MES |
| | | 32,400 | AWS-MGA |
| 9/18/2023 | 9/18/2023 | 10,800 | AWS-SES |
| 11/6/2023 | 11/6/2023 | 10,800 | AWS-SES |
| | | 32,400 | AWS-SEN |
| | | 10,800 | AWS-SGS |
| | | 10,800 | AWS-SBP |
| 7/24/2023 | 7/26/2023 | 42,300 | D1101651GC10 |
| 10/9/2023 | 10/11/2023 | 42,300 | D1101651GC10 |
| 6/26/2023 | 6/30/2023 | 56,500 | D107509GC10 |
| 7/3/2023 | 7/7/2023 | 56,500 | D107509GC10 |
| 8/7/2023 | 8/11/2023 | 56,500 | D107509GC10 |
| 9/4/2023 | 9/8/2023 | 56,500 | D107509GC10 |
| 10/2/2023 | 10/6/2023 | 56,500 | D107509GC10 |
| 11/6/2023 | 11/10/2023 | 56,500 | D107509GC10 |
| 12/11/2023 | 12/15/2023 | 56,500 | D107509GC10 |
| 6/19/2023 | 6/23/2023 | 56,500 | D107511GC10 |
| 7/10/2023 | 7/14/2023 | 56,500 | D107511GC10 |
| 8/21/2023 | 8/25/2023 | 56,500 | D107511GC10 |
| 9/11/2023 | 9/15/2023 | 56,500 | D107511GC10 |
| 10/16/2023 | 10/20/2023 | 56,500 | D107511GC10 |
| 11/13/2023 | 11/17/2023 | 56,500 | D107511GC10 |
| 12/18/2023 | 12/22/2023 | 56,500 | D107511GC10 |
| 6/26/2023 | 6/30/2023 | 56,500 | D108103GC20 |
| 7/17/2023 | 7/21/2023 | 56,500 | D108103GC20 |
| 8/7/2023 | 8/11/2023 | 56,500 | D108103GC20 |
| 9/18/2023 | 9/22/2023 | 56,500 | D108103GC20 |
| 10/30/2023 | 11/3/2023 | 56,500 | D108103GC20 |
| 11/20/2023 | 11/24/2023 | 56,500 | D108103GC20 |
| 12/18/2023 | 12/22/2023 | 56,500 | D108103GC20 |
| 8/15/2023 | 8/18/2023 | 49,000 | D108654GC10 |
| 10/9/2023 | 10/12/2023 | 49,000 | D108654GC10 |
| 11/28/2023 | 12/1/2023 | 49,000 | D108654GC10 |
| 6/12/2023 | 6/16/2023 | 56,500 | D78848GC20 |
| 7/3/2023 | 7/7/2023 | 56,500 | D78848GC20 |
| 8/7/2023 | 8/11/2023 | 56,500 | D78848GC20 |
| 9/4/2023 | 9/8/2023 | 56,500 | D78848GC20 |
| 10/2/2023 | 10/6/2023 | 56,500 | D78848GC20 |
| 11/6/2023 | 11/10/2023 | 56,500 | D78848GC20 |
| 12/11/2023 | 12/15/2023 | 56,500 | D78848GC20 |
| 8/22/2023 | 8/25/2023 | 56,400 | D108634GC10 |
| 11/21/2023 | 11/24/2023 | 56,400 | D108634GC10 |
| 7/6/2023 | 7/7/2023 | 36,900 | D108638GC10 |
| 10/11/2023 | 10/12/2023 | 36,900 | D108638GC10 |
| 12/7/2023 | 12/8/2023 | 36,900 | D108638GC10 |
| 6/12/2023 | 6/16/2023 | 70,500 | D108774GC20 |
| 8/7/2023 | 8/11/2023 | 70,500 | D108774GC20 |
| 10/16/2023 | 10/20/2023 | 70,500 | D108774GC20 |
| 12/11/2023 | 12/15/2023 | 70,500 | D108774GC20 |
| 7/24/2023 | 7/27/2023 | 56,400 | D101287GC10 |
| 9/12/2023 | 9/15/2023 | 56,400 | D101287GC10 |
| 11/27/2023 | 11/30/2023 | 56,400 | D101287GC10 |
| 6/6/2023 | 6/9/2023 | 49,000 | D90871GC20 |
| 8/15/2023 | 8/18/2023 | 49,000 | D90871GC20 |
| 9/5/2023 | 9/8/2023 | 49,000 | D90871GC20 |
| 11/7/2023 | 11/10/2023 | 49,000 | D90871GC20 |
| 6/12/2023 | 6/16/2023 | 56,500 | D66376GC51 |
| 7/10/2023 | 7/14/2023 | 56,500 | D66376GC51 |
| 8/7/2023 | 8/11/2023 | 56,500 | D66376GC51 |
| 9/4/2023 | 9/8/2023 | 56,500 | D66376GC51 |
| 10/16/2023 | 10/20/2023 | 56,500 | D66376GC51 |
| 11/13/2023 | 11/17/2023 | 56,500 | D66376GC51 |
| 12/11/2023 | 12/15/2023 | 56,500 | D66376GC51 |
| 6/20/2023 | 6/23/2023 | 49,000 | D109197GC10 |
| 9/19/2023 | 9/22/2023 | 49,000 | D109197GC10 |
| 12/19/2023 | 12/22/2023 | 49,000 | D109197GC10 |
| 6/19/2023 | 6/23/2023 | 56,500 | D66378GC50 |
| 7/10/2023 | 7/14/2023 | 56,500 | D66378GC50 |
| 8/7/2023 | 8/11/2023 | 56,500 | D66378GC50 |
| 9/4/2023 | 9/8/2023 | 56,500 | D66378GC50 |
| 10/16/2023 | 10/20/2023 | 56,500 | D66378GC50 |
| 7/25/2023 | 7/27/2023 | 42,300 | D108305GC30 |
| 7/17/2023 | 7/21/2023 | 56,500 | D80151GC30 |
| 8/7/2023 | 8/11/2023 | 56,500 | D80151GC30 |
| 8/7/2023 | 8/11/2023 | 56,500 | D80155GC30 |
| 7/26/2023 | 7/27/2023 | 36,900 | D83177GC30 |
| 8/17/2023 | 8/18/2023 | 36,900 | D83177GC30 |
| 6/19/2023 | 6/23/2023 | 92,250 | D95507GC20 |
| 7/10/2023 | 7/14/2023 | 92,250 | D95507GC20 |
| 6/19/2023 | 6/23/2023 | 92,250 | D95503GC10 |
| 7/17/2023 | 7/21/2023 | 92,250 | D95503GC10 |
| 6/21/2023 | 6/23/2023 | 55,350 | D1104288GC10 |
| 7/25/2023 | 7/27/2023 | 55,350 | D1104288GC10 |
| 6/26/2023 | 6/30/2023 | 62,000 | 3627 |
| 9/25/2023 | 9/29/2023 | 62,000 | 3627 |
| 12/25/2023 | 12/29/2023 | 62,000 | 3627 |
| 7/17/2023 | 7/21/2023 | 62,000 | 2813 |
| 10/30/2023 | 11/3/2023 | 62,000 | 2813 |
| 7/10/2023 | 7/11/2023 | 25,000 | 2444 |
| 9/4/2023 | 9/5/2023 | 25,000 | 2444 |
| 11/6/2023 | 11/7/2023 | 25,000 | 2444 |
| 6/7/2023 | 6/9/2023 | 39,500 | 2446 |
| 8/2/2023 | 8/4/2023 | 39,500 | 2446 |
| 10/2/2023 | 10/4/2023 | 39,500 | 2446 |
| 12/6/2023 | 12/8/2023 | 39,500 | 2446 |
| 7/17/2023 | 7/21/2023 | 62,000 | 6639 |
| 9/25/2023 | 9/29/2023 | 62,000 | 6639 |
| 11/27/2023 | 12/1/2023 | 62,000 | 6639 |
| 7/17/2023 | 7/20/2023 | 52,000 | DP0119 |
| 10/9/2023 | 10/12/2023 | 52,000 | DP0119 |
| 7/17/2023 | 7/21/2023 | 62,000 | 7956 |
| 9/18/2023 | 9/22/2023 | 62,000 | 7956 |
| 11/20/2023 | 11/24/2023 | 62,000 | 7956 |
| 6/12/2023 | 6/16/2023 | 62,000 | 8256 |
| 8/7/2023 | 8/11/2023 | 62,000 | 8256 |
| 10/16/2023 | 10/20/2023 | 62,000 | 8256 |
| 12/11/2023 | 12/15/2023 | 62,000 | 8256 |
| 6/12/2023 | 6/16/2023 | 62,000 | 8296 |
| 9/4/2023 | 9/8/2023 | 62,000 | 8296 |
| 12/11/2023 | 12/15/2023 | 62,000 | 8296 |
| 6/19/2023 | 6/23/2023 | 62,000 | 8726 |
| 7/17/2023 | 7/21/2023 | 62,000 | 8726 |
| 8/21/2023 | 8/25/2023 | 62,000 | 8726 |
| 9/18/2023 | 9/22/2023 | 62,000 | 8726 |
| 10/16/2023 | 10/20/2023 | 62,000 | 8726 |
| 11/20/2023 | 11/24/2023 | 62,000 | 8726 |
| 12/11/2023 | 12/15/2023 | 62,000 | 8726 |
| 6/26/2023 | 6/30/2023 | 62,000 | 9005 |
| 7/17/2023 | 7/21/2023 | 62,000 | 9005 |
| 8/28/2023 | 9/1/2023 | 62,000 | 9005 |
| 9/25/2023 | 9/29/2023 | 62,000 | 9005 |
| 10/30/2023 | 11/3/2023 | 62,000 | 9005 |
| 11/27/2023 | 12/1/2023 | 62,000 | 9005 |
| 12/18/2023 | 12/22/2023 | 62,000 | 9005 |
| 6/7/2023 | 6/9/2023 | 36,000 | TMAOCP |
| 7/12/2023 | 7/14/2023 | 36,000 | TMAOCP |
| 8/2/2023 | 8/4/2023 | 36,000 | TMAOCP |
| 9/25/2023 | 9/27/2023 | 36,000 | TMAOCP |
| 10/10/2023 | 10/12/2023 | 36,000 | TMAOCP |
| 11/1/2023 | 11/3/2023 | 36,000 | TMAOCP |
| 12/6/2023 | 12/8/2023 | 36,000 | TMAOCP |
| 6/14/2023 | 6/16/2023 | 36,000 | TMDSCP20 |
| 7/19/2023 | 7/21/2023 | 36,000 | TMDSCP20 |
| 8/2/2023 | 8/4/2023 | 36,000 | TMDSCP20 |
| 9/6/2023 | 9/8/2023 | 36,000 | TMDSCP20 |
| 10/10/2023 | 10/12/2023 | 36,000 | TMDSCP20 |
| 11/1/2023 | 11/3/2023 | 36,000 | TMDSCP20 |
| 12/6/2023 | 12/8/2023 | 36,000 | TMDSCP20 |
| 6/12/2023 | 6/14/2023 | 36,000 | TMDDCP |
| 7/24/2023 | 7/26/2023 | 36,000 | TMDDCP |
| 8/21/2023 | 8/23/2023 | 36,000 | TMDDCP |
| 9/18/2023 | 9/20/2023 | 36,000 | TMDDCP |
| 10/24/2023 | 10/26/2023 | 36,000 | TMDDCP |
| 11/20/2023 | 11/22/2023 | 36,000 | TMDDCP |
| 12/18/2023 | 12/20/2023 | 36,000 | TMDDCP |
| 7/24/2023 | 7/26/2023 | 25,000 | CT-ITF+ |
| 12/6/2023 | 12/8/2023 | 25,000 | CT-ITF+ |
| 7/10/2023 | 7/14/2023 | 48,000 | CT01-Network+ |
| 8/2/2023 | 8/4/2023 | 39,000 | CT02-Network+ |
| 12/13/2023 | 12/15/2023 | 39,000 | CT02-Network+ |
| 10/30/2023 | 11/3/2023 | 48,000 | CT01-Security+ |
| 11/6/2023 | 11/10/2023 | 48,000 | CT01-Security+ |
| 6/7/2023 | 6/9/2023 | 39,000 | CT02-Security+ |
| 8/16/2023 | 8/18/2023 | 39,000 | CT02-Security+ |
| 10/9/2023 | 10/11/2023 | 39,000 | CT02-Security+ |
| 12/6/2023 | 12/8/2023 | 39,000 | CT02-Security+ |
| 9/25/2023 | 9/29/2023 | 45,000 | CT-Cloud+ |
| 10/2/2023 | 10/6/2023 | 45,000 | CT-Server+ |
| 11/13/2023 | 11/17/2023 | 48,000 | CT01-CySA+ |
| 8/2/2023 | 8/4/2023 | 39,000 | CT02-CySA+ |
| 11/1/2023 | 11/3/2023 | 39,000 | CT02-CySA+ |
| 7/17/2023 | 7/21/2023 | 48,000 | CT-PenTest+ |
| 12/11/2023 | 12/15/2023 | 48,000 | CT-PenTest+ |
| 10/2/2023 | 10/6/2023 | 54,000 | CT-CASP+ |
| 7/24/2023 | 7/26/2023 | 28,000 | CT-Cloud Essentials+ |
| 11/1/2023 | 11/3/2023 | 28,000 | CT-Cloud Essentials+ |
| 6/7/2023 | 6/9/2023 | 45,000 | CT-Project+ |
| 9/4/2023 | 9/6/2023 | 45,000 | CT-Project+ |
| 6/21/2023 | 6/23/2023 | 22,000 | ITIL-V4 |
| 7/12/2023 | 7/14/2023 | 22,000 | ITIL-V4 |
| 6/21/2023 | 6/23/2023 | 48,500 | ITIL-V4+Exam |
| 7/12/2023 | 7/14/2023 | 48,500 | ITIL-V4+Exam |
| 10/16/2023 | 10/20/2023 | 37,950 | RH124 |
| 11/6/2023 | 11/10/2023 | 37,950 | RH124 |
| 12/18/2023 | 12/22/2023 | 37,950 | RH124 |
| 6/19/2023 | 6/23/2023 | 47,450 | RH134 |
| 8/28/2023 | 9/1/2023 | 47,450 | RH134 |
| 9/25/2023 | 9/29/2023 | 47,450 | RH134 |
| 10/30/2023 | 11/3/2023 | 47,450 | RH134 |
| 11/27/2023 | 12/1/2023 | 47,450 | RH134 |
| 12/25/2023 | 12/29/2023 | 47,450 | RH134 |
| 6/19/2023 | 6/23/2023 | 57,530 | RH135 |
| 8/28/2023 | 9/1/2023 | 57,530 | RH135 |
| 9/25/2023 | 9/29/2023 | 57,530 | RH135 |
| 10/30/2023 | 11/3/2023 | 57,530 | RH135 |
| 11/27/2023 | 12/1/2023 | 57,530 | RH135 |
| 12/25/2023 | 12/29/2023 | 57,530 | RH135 |
| 8/15/2023 | 8/18/2023 | 60,960 | RH294 |
| 9/11/2023 | 9/14/2023 | 60,960 | RH294 |
| 10/24/2023 | 10/27/2023 | 60,960 | RH294 |
| 11/20/2023 | 11/23/2023 | 60,960 | RH294 |
| 12/12/2023 | 12/15/2023 | 60,960 | RH294 |
| 8/15/2023 | 8/18/2023 | 71,040 | RH295 |
| 9/11/2023 | 9/14/2023 | 71,040 | RH295 |
| 10/24/2023 | 10/27/2023 | 71,040 | RH295 |
| 11/20/2023 | 11/23/2023 | 71,040 | RH295 |
| 12/12/2023 | 12/15/2023 | 71,040 | RH295 |
| 11/6/2023 | 11/9/2023 | 60,960 | DO180 |
| 6/28/2023 | 6/30/2023 | 45,720 | DO188 |
| 10/9/2023 | 10/12/2023 | 45,720 | DO280 |
| 12/12/2023 | 12/15/2023 | 45,720 | DO280 |
| - | - | 60,960 | DO288 |
| 6/6/2023 | 6/8/2023 | 9,500 | PYTN102 |
| 6/19/2023 | 6/21/2023 | 7,500 | PYTN103 |
| 6/26/2023 | 6/30/2023 | 19,900 | PYTN104 |
| 7/10/2023 | 7/14/2023 | 35,000 | PMP7 |
| 11/27/2023 | 12/1/2023 | 35,000 | PMP7 |
| 8/18/2023 | 8/18/2023 | 4,000 | AI-050T00 |
| 9/15/2023 | 9/15/2023 | 4,000 | AI-050T00 |
| 10/20/2023 | 10/20/2023 | 4,000 | AI-050T00 |
| 11/17/2023 | 11/17/2023 | 4,000 | AI-050T00 |
| 12/15/2023 | 12/15/2023 | 4,000 | AI-050T00 |
| 8/18/2023 | 8/18/2023 | 4,000 | DP-601T00 |
| 9/15/2023 | 9/15/2023 | 4,000 | DP-601T00 |
| 10/20/2023 | 10/20/2023 | 4,000 | DP-601T00 |
| 11/17/2023 | 11/17/2023 | 4,000 | DP-601T00 |
| 12/15/2023 | 12/15/2023 | 4,000 | DP-601T00 |
| 8/15/2023 | 8/16/2023 | 4,000 | IC-002T00 |
| 9/18/2023 | 9/19/2023 | 4,000 | IC-002T00 |
| 10/19/2023 | 10/20/2023 | 4,000 | IC-002T00 |
| 11/16/2023 | 11/17/2023 | 4,000 | IC-002T00 |
| 12/7/2023 | 12/8/2023 | 4,000 | IC-002T00 |
| 8/21/2023 | 8/24/2023 | 16,000 | DP-203T00 |