PeopleSoft PeopleTools II ed1
This PeopleTools II training helps you develop and configure more advanced PeopleSoft applications. Learn to create applications that incorporate parent-child data structures, views, multiple occurs levels, subrecords, subpages, tableset sharing, and selected fluid user interface features.
STUDENTS WILL LEARN TO
Apply PeopleSoft design methodology in developing both classic and fluid applications.
Create and use views as the basis for summary pages, search records, and prompt tables.
Explain and implement TableSet sharing.
Create records and pages that maintain parent-child relationships.
Explain the buffer allocation process and its impact on application performance.
Create and use subrecords and subpages in an application.
Build components that demonstrate the benefits and detractors of deferred processing mode.
Write PeopleCode programs to satisfy business requirements and enhance applications.
Enhance application and page functionality using advanced PeopleTools features, such as: images, links, styles, and deferred processing.
Troubleshoot common problems in PeopleSoft applications.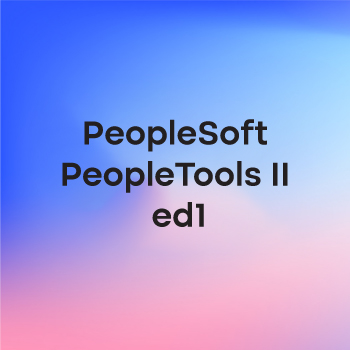 COURSE TOPICS
Module 1 : PeopleTools II Course Overview
Module 2 : PeopleTools II Technology Overview
Technology Overview
Describing the Difference Between Development and Test Environments (continued)
Module 3 : Developing Applications with PeopleTools
Developing Applications with PeopleTools
Creating Data Structures
Creating User Interfaces
Testing Applications
Creating Fluid Applications
Review
Activity 1: Designing an Application
Activity 2: Creating Data Structures
Activity 3: Creating User Interfaces
Activity 4: Testing the Application
Activity 5: Creating a Fluid Application
Module 4 : Using Views in PeopleSoft Applications
Using Views in PeopleSoft Applications
Creating PeopleSoft SQL Views
Creating PeopleSoft Query Views
Creating PeopleSoft Dynamic Views
Activity 6: Writing SQL Statements
Activity 7: Creating PeopleSoft SQL Views
Activity 8: Creating PeopleSoft Query Views
Module 5 : Creating Summary Pages Using Views
Creating Summary Pages Using Views
Determining the Key Structure for a Summary View
Creating Summary Pages Using Views (Review )
Activity 9: Creating a Summary Application
Activity 10: Using Views in Summary Applications
Module 6 : Creating and Using Search Records
Creating and Using Search Records
Using Views to Provide Additional Search Criteria
Using Views to Provide Additional Search Criteria (continued)
Activity 11: Modifying a Search Record
Activity 12: Using a Search View
Activity 13: Implementing the Add Search Record
Activity 14: Creating an Application
Module 7 : Implementing Search Pages for Fluid Applications
Implementing Search Pages for Fluid Applications
Describing How the PeopleSoft Fluid User Interface Uses Search Pages (continued)
Incorporating a Search Framework-based Keyword Search into Fluid Applications (continued)
Incorporating Pivot Grid-based Real-Time Search into Fluid Applications
Activity 15: Working with Keyword Search
Activity 16: Implementing Real-Time Component Search for a Fluid Application
Module 8 : Using Views as Prompt Table Edits
Using Views as Prompt Table Edits
Explaining the Mechanics of Prompting
Activity 17: Creating a Prompt Table View
Activity 18: Examining Prompt Table Functionality
Activity 19: Enhancing the Student Suggestions Application
Module 9 : Explaining TableSet Sharing
Explaining TableSet Sharing
Explaining the Technical Aspects of TableSet Sharing
Explaining the Technical Aspects of TableSet Sharing (continued)
Implementing TableSet Sharing
Activity 20: Observing TableSet Sharing
Activity 21: Implementing TableSet Sharing for the Maintain Purchase Orders Application
Activity 22: Using TableSet Sharing
Module 10 : Creating Parent-Child Relationships
Creating Parent-Child Relationships
Enforcing Parent-Child Relationships on Page Definitions
Activity 23: Creating Parent-Child Records in PeopleSoft Applications
Activity 24: Creating Parent-Child Pages in PeopleSoft Applications
Activity 25: Creating Parent-Child Relationships
Module 11 : Explaining Buffer Allocation
Explaining Buffer Allocation
Determining the Effect of Buffer Allocation on Performance
Module 12 : Creating Subrecords and Subpages
Creating Subrecords and Subpages
Stating the Purpose of Subpages
Activity 26: Creating and Using Subrecords
Activity 27: Creating and Using Subpages
Module 13 : Using Deferred Processing
Using Deferred Processing
Activity 28: Working with Processing Modes
Module 14 : Introducing PeopleCode in PeopleSoft Applications
Introducing PeopleCode in PeopleSoft Applications
Accessing PeopleCode Programs
Exploring Selected PeopleCode Subjects
Adding Comments to PeopleCode Programs
Creating Error Messages Using the Message Catalog
Performing Validations with PeopleCode
Describing RowInit and FieldChange PeopleCode
Activity 29: Observing PeopleCode in Action
Activity 30: Examining PeopleCode Locations
Activity 31: Writing PeopleCode Error and Warning Programs
Activity 32: Using Comments in PeopleCode Programs
Activity 33: Using the Message Catalog
Activity 34: Writing PeopleCode Programs to Perform Validations
Activity 35: Observing the Behavior of RowInit and FieldChange PeopleCode
Module 15 : Using Images in PeopleSoft Applications
Using Images in PeopleSoft Applications
Working with Images as Application Data
Activity 36: Working with Static Images
Activity 37: Working with Images as Application Data
Module 16 : Creating and Using Style Sheets in Classic Applications
Creating and Using Style Sheets in Classic Applications
Overriding the System Style Sheet
Activity 38: Working with Style Sheet Elements
Activity 39: Using Styles in a Classic Application
Module 17 : Designing More Advanced Pages
Designing More Advanced Pages
Creating Pages with Alternate Data Displays
Creating Links to Internal and External Pages
Creating Pop-up Pages
Review
Activity 40: Using the Message Catalog in Page Design
Activity 41: Creating Alternate Data Displays
Activity 42: Creating Links in a PeopleSoft Application
Activity 43: Creating a Pop-up Page
Module 18 : Final Course Activities
Final Course Activities
Activity 44: Troubleshooting Complex Applications
Activity 45: Creating a Complex Application (Part 01)
Activity 45: Creating a Complex Application (Part 02)
Module 19 : PeopleTools II Course Review
| Start Date | End Date | Price | Code |
| --- | --- | --- | --- |
| 12/11/2023 | 12/15/2023 | 20,000 | AZ-204T00 |
| 1/8/2024 | 1/12/2024 | 20,000 | AZ-204T00 |
| 2/5/2024 | 2/9/2024 | 20,000 | AZ-204T00 |
| 3/11/2024 | 3/15/2024 | 20,000 | AZ-204T00 |
| 4/22/2024 | 4/26/2024 | 20,000 | AZ-204T00 |
| 5/13/2024 | 5/17/2024 | 20,000 | AZ-204T00 |
| 6/10/2024 | 6/14/2024 | 20,000 | AZ-204T00 |
| 6/6/2023 | 6/9/2023 | 16,000 | AZ-220T00 |
| 7/24/2023 | 7/27/2023 | 16,000 | AZ-220T00 |
| 8/15/2023 | 8/18/2023 | 16,000 | AZ-220T00 |
| 9/5/2023 | 9/8/2023 | 16,000 | AZ-220T00 |
| 10/9/2023 | 10/12/2023 | 16,000 | AZ-220T00 |
| 11/7/2023 | 11/10/2023 | 16,000 | AZ-220T00 |
| 12/12/2023 | 12/15/2023 | 16,000 | AZ-220T00 |
| 12/12/2023 | 12/15/2023 | 16,000 | AZ-400T00 |
| 1/9/2024 | 1/12/2024 | 16,000 | AZ-400T00 |
| 2/6/2024 | 2/9/2024 | 16,000 | AZ-400T00 |
| 3/5/2024 | 3/8/2024 | 16,000 | AZ-400T00 |
| 4/9/2024 | 4/12/2024 | 16,000 | AZ-400T00 |
| 5/7/2024 | 5/10/2024 | 16,000 | AZ-400T00 |
| 6/4/2024 | 6/7/2024 | 16,000 | AZ-400T00 |
| 12/11/2023 | 12/15/2023 | 20,000 | AZ-040T00 |
| 1/8/2024 | 1/12/2024 | 20,000 | AZ-040T00 |
| 2/5/2024 | 2/9/2024 | 20,000 | AZ-040T00 |
| 3/25/2024 | 3/29/2024 | 20,000 | AZ-040T00 |
| 4/22/2024 | 4/26/2024 | 20,000 | AZ-040T00 |
| 5/13/2024 | 5/17/2024 | 20,000 | AZ-040T00 |
| 6/10/2024 | 6/14/2024 | 20,000 | AZ-040T00 |
| 12/11/2023 | 12/14/2023 | 16,000 | AZ-104T00 |
| 1/9/2024 | 1/12/2024 | 16,000 | AZ-104T00 |
| 2/6/2024 | 2/9/2024 | 16,000 | AZ-104T00 |
| 3/5/2024 | 3/8/2024 | 16,000 | AZ-104T00 |
| 4/9/2024 | 4/12/2024 | 16,000 | AZ-104T00 |
| 5/7/2024 | 5/10/2024 | 16,000 | AZ-104T00 |
| 6/4/2024 | 6/7/2024 | 16,000 | AZ-104T00 |
| 12/18/2023 | 12/21/2023 | 16,000 | AZ-140T00 |
| 1/23/2024 | 1/26/2024 | 16,000 | AZ-140T00 |
| 2/20/2024 | 2/23/2024 | 16,000 | AZ-140T00 |
| 3/19/2024 | 3/22/2024 | 16,000 | AZ-140T00 |
| 4/23/2024 | 4/26/2024 | 16,000 | AZ-140T00 |
| 5/27/2024 | 5/30/2024 | 16,000 | AZ-140T00 |
| 6/25/2024 | 6/28/2024 | 16,000 | AZ-140T00 |
| 6/6/2023 | 6/9/2023 | 16,000 | AZ-305T00 |
| 7/17/2023 | 7/20/2023 | 16,000 | AZ-305T00 |
| 8/15/2023 | 8/18/2023 | 16,000 | AZ-305T00 |
| 9/11/2023 | 9/14/2023 | 16,000 | AZ-305T00 |
| 10/9/2023 | 10/12/2023 | 16,000 | AZ-305T00 |
| 11/13/2023 | 11/16/2023 | 16,000 | AZ-305T00 |
| 12/11/2023 | 12/14/2023 | 16,000 | AZ-305T00 |
| 6/6/2023 | 6/9/2023 | 16,000 | AZ-600T00 |
| 7/24/2023 | 7/27/2023 | 16,000 | AZ-600T00 |
| 8/15/2023 | 8/18/2023 | 16,000 | AZ-600T00 |
| 9/5/2023 | 9/8/2023 | 16,000 | AZ-600T00 |
| 10/9/2023 | 10/12/2023 | 16,000 | AZ-600T00 |
| 11/7/2023 | 11/10/2023 | 16,000 | AZ-600T00 |
| 12/12/2023 | 12/15/2023 | 16,000 | AZ-600T00 |
| 6/7/2023 | 6/9/2023 | 12,000 | AZ-700T00 |
| 7/12/2023 | 7/14/2023 | 12,000 | AZ-700T00 |
| 8/2/2023 | 8/4/2023 | 12,000 | AZ-700T00 |
| 9/6/2023 | 9/8/2023 | 12,000 | AZ-700T00 |
| 10/4/2023 | 10/6/2023 | 12,000 | AZ-700T00 |
| 11/1/2023 | 11/3/2023 | 12,000 | AZ-700T00 |
| 12/6/2023 | 12/8/2023 | 12,000 | AZ-700T00 |
| 6/7/2023 | 6/9/2023 | 12,000 | AZ-720T00 |
| 7/12/2023 | 7/14/2023 | 12,000 | AZ-720T00 |
| 8/2/2023 | 8/4/2023 | 12,000 | AZ-720T00 |
| 9/6/2023 | 9/8/2023 | 12,000 | AZ-720T00 |
| 10/4/2023 | 10/6/2023 | 12,000 | AZ-720T00 |
| 11/1/2023 | 11/3/2023 | 12,000 | AZ-720T00 |
| 12/6/2023 | 12/8/2023 | 12,000 | AZ-720T00 |
| 6/6/2023 | 6/9/2023 | 16,000 | AZ-800T00 |
| 7/17/2023 | 7/20/2023 | 16,000 | AZ-800T00 |
| 8/15/2023 | 8/18/2023 | 16,000 | AZ-800T00 |
| 9/11/2023 | 9/14/2023 | 16,000 | AZ-800T00 |
| 10/9/2023 | 10/12/2023 | 16,000 | AZ-800T00 |
| 11/13/2023 | 11/16/2023 | 16,000 | AZ-800T00 |
| 12/11/2023 | 12/14/2023 | 16,000 | AZ-800T00 |
| 6/12/2023 | 6/15/2023 | 16,000 | AZ-801T00 |
| 7/24/2023 | 7/27/2023 | 16,000 | AZ-801T00 |
| 8/21/2023 | 8/24/2023 | 16,000 | AZ-801T00 |
| 9/18/2023 | 9/21/2023 | 16,000 | AZ-801T00 |
| 10/24/2023 | 10/27/2023 | 16,000 | AZ-801T00 |
| 11/20/2023 | 11/23/2023 | 16,000 | AZ-801T00 |
| 12/18/2023 | 12/21/2023 | 16,000 | AZ-801T00 |
| 6/9/2023 | 6/9/2023 | 4,000 | AZ-900T00 |
| 7/7/2023 | 7/7/2023 | 4,000 | AZ-900T00 |
| 8/21/2023 | 8/21/2023 | 4,000 | AZ-900T00 |
| 9/8/2023 | 9/8/2023 | 4,000 | AZ-900T00 |
| 10/12/2023 | 10/12/2023 | 4,000 | AZ-900T00 |
| 11/10/2023 | 11/10/2023 | 4,000 | AZ-900T00 |
| 12/8/2023 | 12/8/2023 | 4,000 | AZ-900T00 |
| 6/6/2023 | 6/9/2023 | 16,000 | AI-102T00 |
| 7/17/2023 | 7/20/2023 | 16,000 | AI-102T00 |
| 8/15/2023 | 8/18/2023 | 16,000 | AI-102T00 |
| 9/11/2023 | 9/14/2023 | 16,000 | AI-102T00 |
| 10/9/2023 | 10/12/2023 | 16,000 | AI-102T00 |
| 11/13/2023 | 11/16/2023 | 16,000 | AI-102T00 |
| 12/11/2023 | 12/14/2023 | 16,000 | AI-102T00 |
| 6/9/2023 | 6/9/2023 | 4,000 | AI-900T00 |
| 7/7/2023 | 7/7/2023 | 4,000 | AI-900T00 |
| 8/11/2023 | 8/11/2023 | 4,000 | AI-900T00 |
| 9/8/2023 | 9/8/2023 | 4,000 | AI-900T00 |
| 10/12/2023 | 10/12/2023 | 4,000 | AI-900T00 |
| 11/10/2023 | 11/10/2023 | 4,000 | AI-900T00 |
| 12/8/2023 | 12/8/2023 | 4,000 | AI-900T00 |
| 6/8/2023 | 6/9/2023 | 8,000 | DP-080T00 |
| 8/10/2023 | 8/11/2023 | 8,000 | DP-080T00 |
| 10/9/2023 | 10/10/2023 | 8,000 | DP-080T00 |
| 12/7/2023 | 12/8/2023 | 8,000 | DP-080T00 |
| 6/7/2023 | 6/9/2023 | 12,000 | DP-100T01 |
| 7/3/2023 | 7/5/2023 | 12,000 | DP-100T01 |
| 8/2/2023 | 8/4/2023 | 12,000 | DP-100T01 |
| 9/6/2023 | 9/8/2023 | 12,000 | DP-100T01 |
| 10/2/2023 | 10/4/2023 | 12,000 | DP-100T01 |
| 11/1/2023 | 11/3/2023 | 12,000 | DP-100T01 |
| 12/6/2023 | 12/8/2023 | 12,000 | DP-100T01 |
| 6/12/2023 | 6/15/2023 | 16,000 | DP-300T00 |
| 7/24/2023 | 7/27/2023 | 16,000 | DP-300T00 |
| 8/21/2023 | 8/24/2023 | 16,000 | DP-300T00 |
| 9/18/2023 | 9/21/2023 | 16,000 | DP-300T00 |
| 10/24/2023 | 10/27/2023 | 16,000 | DP-300T00 |
| 11/20/2023 | 11/23/2023 | 16,000 | DP-300T00 |
| 12/18/2023 | 12/21/2023 | 16,000 | DP-300T00 |
| 6/19/2023 | 6/22/2023 | 16,000 | DP-420T00 |
| 7/17/2023 | 7/20/2023 | 16,000 | DP-420T00 |
| 8/21/2023 | 8/24/2023 | 16,000 | DP-420T00 |
| 9/18/2023 | 9/21/2023 | 16,000 | DP-420T00 |
| 10/16/2023 | 10/19/2023 | 16,000 | DP-420T00 |
| 11/13/2023 | 11/16/2023 | 16,000 | DP-420T00 |
| 12/18/2023 | 12/21/2023 | 16,000 | DP-420T00 |
| 6/26/2023 | 6/29/2023 | 16,000 | DP-500T00 |
| 7/17/2023 | 7/20/2023 | 16,000 | DP-500T00 |
| 8/28/2023 | 8/31/2023 | 16,000 | DP-500T00 |
| 9/25/2023 | 9/29/2023 | 16,000 | DP-500T00 |
| 10/30/2023 | 11/2/2023 | 16,000 | DP-500T00 |
| 11/27/2023 | 11/30/2023 | 16,000 | DP-500T00 |
| 12/25/2023 | 12/28/2023 | 16,000 | DP-500T00 |
| 6/12/2023 | 6/16/2023 | 20,000 | MD-100T00 |
| 7/24/2023 | 7/27/2023 | 20,000 | MD-100T00 |
| 8/7/2023 | 8/11/2023 | 20,000 | MD-100T00 |
| 9/11/2023 | 9/15/2023 | 20,000 | MD-100T00 |
| 10/2/2023 | 10/6/2023 | 20,000 | MD-100T00 |
| 11/13/2023 | 11/17/2023 | 20,000 | MD-100T00 |
| 12/18/2023 | 12/22/2023 | 20,000 | MD-100T00 |
| 6/19/2023 | 6/23/2023 | 20,000 | MD-101T00 |
| 7/10/2023 | 7/14/2023 | 20,000 | MD-101T00 |
| 8/21/2023 | 8/25/2023 | 20,000 | MD-101T00 |
| 9/18/2023 | 9/22/2023 | 20,000 | MD-101T00 |
| 10/16/2023 | 10/20/2023 | 20,000 | MD-101T00 |
| 11/20/2023 | 11/24/2023 | 20,000 | MD-101T00 |
| 12/18/2023 | 12/22/2023 | 20,000 | MD-101T00 |
| 6/26/2023 | 6/30/2023 | 20,000 | MD-102T00 |
| 7/17/2023 | 7/21/2023 | 20,000 | MD-102T00 |
| 8/28/2023 | 9/1/2023 | 20,000 | MD-102T00 |
| 9/25/2023 | 9/29/2023 | 20,000 | MD-102T00 |
| 10/30/2023 | 11/3/2023 | 20,000 | MD-102T00 |
| 11/27/2023 | 12/1/2023 | 20,000 | MD-102T00 |
| 12/25/2023 | 12/29/2023 | 20,000 | MD-102T00 |
| 6/12/2023 | 6/16/2023 | 20,000 | MS-100T00 |
| 7/3/2023 | 7/7/2023 | 20,000 | MS-100T00 |
| 8/7/2023 | 8/11/2023 | 20,000 | MS-100T00 |
| 9/4/2023 | 9/8/2023 | 20,000 | MS-100T00 |
| 10/2/2023 | 10/6/2023 | 20,000 | MS-100T00 |
| 11/6/2023 | 11/10/2023 | 20,000 | MS-100T00 |
| 12/18/2023 | 12/22/2023 | 20,000 | MS-100T00 |
| 6/19/2023 | 6/23/2023 | 20,000 | MS-101T00 |
| 7/10/2023 | 7/14/2023 | 20,000 | MS-101T00 |
| 8/21/2023 | 8/25/2023 | 20,000 | MS-101T00 |
| 9/18/2023 | 9/22/2023 | 20,000 | MS-101T00 |
| 10/16/2023 | 10/20/2023 | 20,000 | MS-101T00 |
| 11/20/2023 | 11/24/2023 | 20,000 | MS-101T00 |
| 12/18/2023 | 12/22/2023 | 20,000 | MS-101T00 |
| 6/26/2023 | 6/30/2023 | 20,000 | MS-102T00 |
| 7/17/2023 | 7/21/2023 | 20,000 | MS-102T00 |
| 8/28/2023 | 9/1/2023 | 20,000 | MS-102T00 |
| 9/25/2023 | 9/29/2023 | 20,000 | MS-102T00 |
| 10/30/2023 | 11/3/2023 | 20,000 | MS-102T00 |
| 11/27/2023 | 12/1/2023 | 20,000 | MS-102T00 |
| 12/25/2023 | 12/29/2023 | 20,000 | MS-102T00 |
| 6/12/2023 | 6/16/2023 | 20,000 | MS-203T00 |
| 7/10/2023 | 7/14/2023 | 20,000 | MS-203T00 |
| 8/21/2023 | 8/25/2023 | 20,000 | MS-203T00 |
| 9/11/2023 | 9/15/2023 | 20,000 | MS-203T00 |
| 10/16/2023 | 10/20/2023 | 20,000 | MS-203T00 |
| 11/13/2023 | 11/17/2023 | 20,000 | MS-203T00 |
| 12/11/2023 | 12/15/2023 | 20,000 | MS-203T00 |
| 6/21/2023 | 6/23/2023 | 20,000 | MS-220T00 |
| 7/19/2023 | 7/21/2023 | 20,000 | MS-220T00 |
| 8/23/2023 | 8/25/2023 | 20,000 | MS-220T00 |
| 9/20/2023 | 9/22/2023 | 20,000 | MS-220T00 |
| 10/25/2023 | 10/27/2023 | 20,000 | MS-220T00 |
| 11/22/2023 | 11/24/2023 | 20,000 | MS-220T00 |
| 12/20/2023 | 12/22/2023 | 20,000 | MS-220T00 |
| 6/13/2023 | 6/16/2023 | 16,000 | MS-600T00 |
| 7/11/2023 | 7/14/2023 | 16,000 | MS-600T00 |
| 8/8/2023 | 8/11/2023 | 16,000 | MS-600T00 |
| 9/5/2023 | 9/8/2023 | 16,000 | MS-600T00 |
| 10/17/2023 | 10/20/2023 | 16,000 | MS-600T00 |
| 11/7/2023 | 11/10/2023 | 16,000 | MS-600T00 |
| 12/12/2023 | 12/15/2023 | 16,000 | MS-600T00 |
| 6/6/2023 | 6/9/2023 | 16,000 | MS-700T00 |
| 7/17/2023 | 7/20/2023 | 16,000 | MS-700T00 |
| 8/15/2023 | 8/18/2023 | 16,000 | MS-700T00 |
| 9/11/2023 | 9/14/2023 | 16,000 | MS-700T00 |
| 10/9/2023 | 10/12/2023 | 16,000 | MS-700T00 |
| 11/13/2023 | 11/16/2023 | 16,000 | MS-700T00 |
| 12/11/2023 | 12/14/2023 | 16,000 | MS-700T00 |
| 6/14/2023 | 6/16/2023 | 12,000 | MS-720T00 |
| 7/19/2023 | 7/21/2023 | 12,000 | MS-720T00 |
| 8/2/2023 | 8/4/2023 | 12,000 | MS-720T00 |
| 9/6/2023 | 9/8/2023 | 12,000 | MS-720T00 |
| 10/10/2023 | 10/12/2023 | 12,000 | MS-720T00 |
| 11/1/2023 | 11/3/2023 | 12,000 | MS-720T00 |
| 12/6/2023 | 12/8/2023 | 12,000 | MS-720T00 |
| 7/17/2023 | 7/20/2023 | 16,000 | MS-721T00 |
| 8/15/2023 | 8/18/2023 | 16,000 | MS-721T00 |
| 9/11/2023 | 9/14/2023 | 16,000 | MS-721T00 |
| 10/9/2023 | 10/12/2023 | 16,000 | MS-721T00 |
| 11/13/2023 | 11/16/2023 | 16,000 | MS-721T00 |
| 12/11/2023 | 12/14/2023 | 16,000 | MS-721T00 |
| 6/26/2023 | 6/28/2023 | 12,000 | MS-740T00 |
| 7/24/2023 | 7/26/2023 | 12,000 | MS-740T00 |
| 8/28/2023 | 8/30/2023 | 12,000 | MS-740T00 |
| 9/25/2023 | 9/27/2023 | 12,000 | MS-740T00 |
| 10/30/2023 | 11/1/2023 | 12,000 | MS-740T00 |
| 11/27/2023 | 11/29/2023 | 12,000 | MS-740T00 |
| 12/25/2023 | 12/27/2023 | 12,000 | MS-740T00 |
| 6/8/2023 | 6/8/2023 | 4,000 | MS-080T00 |
| 7/7/2023 | 7/7/2023 | 4,000 | MS-080T00 |
| 8/11/2023 | 8/11/2023 | 4,000 | MS-080T00 |
| 9/1/2023 | 9/1/2023 | 4,000 | MS-080T00 |
| 10/26/2023 | 10/26/2023 | 4,000 | MS-080T00 |
| 11/3/2023 | 11/3/2023 | 4,000 | MS-080T00 |
| 12/4/2023 | 12/4/2023 | 4,000 | MS-080T00 |
| 6/9/2023 | 6/9/2023 | 4,000 | MS-900T01 |
| 7/27/2023 | 7/27/2023 | 4,000 | MS-900T01 |
| 8/7/2023 | 8/7/2023 | 4,000 | MS-900T01 |
| 9/8/2023 | 9/8/2023 | 4,000 | MS-900T01 |
| 10/27/2023 | 10/27/2023 | 4,000 | MS-900T01 |
| 11/10/2023 | 11/10/2023 | 4,000 | MS-900T01 |
| 12/8/2023 | 12/8/2023 | 4,000 | MS-900T01 |
| 6/12/2023 | 6/16/2023 | 20,000 | 55354A |
| 7/17/2023 | 7/21/2023 | 20,000 | 55354A |
| 8/21/2023 | 8/25/2023 | 20,000 | 55354A |
| 9/11/2023 | 9/15/2023 | 20,000 | 55354A |
| 10/16/2023 | 10/20/2023 | 20,000 | 55354A |
| 11/13/2023 | 11/17/2023 | 20,000 | 55354A |
| 12/11/2023 | 12/15/2023 | 20,000 | 55354A |
| 6/6/2023 | 6/9/2023 | 16,000 | AZ-500T00 |
| 7/17/2023 | 7/20/2023 | 16,000 | AZ-500T00 |
| 8/15/2023 | 8/18/2023 | 16,000 | AZ-500T00 |
| 9/11/2023 | 9/14/2023 | 16,000 | AZ-500T00 |
| 10/9/2023 | 10/12/2023 | 16,000 | AZ-500T00 |
| 11/13/2023 | 11/16/2023 | 16,000 | AZ-500T00 |
| 12/11/2023 | 12/14/2023 | 16,000 | AZ-500T00 |
| 6/12/2023 | 6/15/2023 | 16,000 | MS-500T00 |
| 7/24/2023 | 7/27/2023 | 16,000 | MS-500T00 |
| 8/21/2023 | 8/24/2023 | 16,000 | MS-500T00 |
| 9/18/2023 | 9/21/2023 | 16,000 | MS-500T00 |
| 10/24/2023 | 10/27/2023 | 16,000 | MS-500T00 |
| 11/20/2023 | 11/23/2023 | 16,000 | MS-500T00 |
| 12/18/2023 | 12/21/2023 | 16,000 | MS-500T00 |
| 6/6/2023 | 6/9/2023 | 16,000 | SC-100T00 |
| 7/17/2023 | 7/20/2023 | 16,000 | SC-100T00 |
| 8/15/2023 | 8/18/2023 | 16,000 | SC-100T00 |
| 9/11/2023 | 9/14/2023 | 16,000 | SC-100T00 |
| 10/9/2023 | 10/12/2023 | 16,000 | SC-100T00 |
| 11/13/2023 | 11/16/2023 | 16,000 | SC-100T00 |
| 12/11/2023 | 12/14/2023 | 16,000 | SC-100T00 |
| 6/6/2023 | 6/9/2023 | 16,000 | SC-200T00 |
| 7/17/2023 | 7/20/2023 | 16,000 | SC-200T00 |
| 8/15/2023 | 8/18/2023 | 16,000 | SC-200T00 |
| 9/11/2023 | 9/14/2023 | 16,000 | SC-200T00 |
| 10/9/2023 | 10/12/2023 | 16,000 | SC-200T00 |
| 11/13/2023 | 11/16/2023 | 16,000 | SC-200T00 |
| 12/11/2023 | 12/14/2023 | 16,000 | SC-200T00 |
| 6/12/2023 | 6/15/2023 | 16,000 | SC-300T00 |
| 7/24/2023 | 7/27/2023 | 16,000 | SC-300T00 |
| 8/21/2023 | 8/24/2023 | 16,000 | SC-300T00 |
| 9/18/2023 | 9/21/2023 | 16,000 | SC-300T00 |
| 10/24/2023 | 10/27/2023 | 16,000 | SC-300T00 |
| 11/20/2023 | 11/23/2023 | 16,000 | SC-300T00 |
| 12/18/2023 | 12/21/2023 | 16,000 | SC-300T00 |
| 6/13/2023 | 6/16/2023 | 16,000 | SC-400T00 |
| 7/18/2023 | 7/21/2023 | 16,000 | SC-400T00 |
| 8/28/2023 | 8/31/2023 | 16,000 | SC-400T00 |
| 9/26/2023 | 9/29/2023 | 16,000 | SC-400T00 |
| 10/24/2023 | 10/27/2023 | 16,000 | SC-400T00 |
| 11/28/2023 | 12/1/2023 | 16,000 | SC-400T00 |
| 12/11/2023 | 12/14/2023 | 16,000 | SC-400T00 |
| 6/9/2023 | 6/9/2023 | 4,000 | SC-900T00 |
| 7/27/2023 | 7/27/2023 | 4,000 | SC-900T00 |
| 8/7/2023 | 8/7/2023 | 4,000 | SC-900T00 |
| 9/8/2023 | 9/8/2023 | 4,000 | SC-900T00 |
| 10/6/2023 | 10/6/2023 | 4,000 | SC-900T00 |
| 11/10/2023 | 11/10/2023 | 4,000 | SC-900T00 |
| 12/4/2023 | 12/4/2023 | 4,000 | SC-900T00 |
| 6/26/2023 | 6/29/2023 | 16,000 | PL-100T00 |
| 7/3/2023 | 7/6/2023 | 16,000 | PL-100T00 |
| 8/15/2023 | 8/18/2023 | 16,000 | PL-100T00 |
| 9/11/2023 | 9/14/2023 | 16,000 | PL-100T00 |
| 10/9/2023 | 10/12/2023 | 16,000 | PL-100T00 |
| 11/13/2023 | 11/16/2023 | 16,000 | PL-100T00 |
| 12/11/2023 | 12/14/2023 | 16,000 | PL-100T00 |
| 6/12/2023 | 6/15/2023 | 16,000 | PL-200T00 |
| 8/21/2023 | 8/24/2023 | 16,000 | PL-200T00 |
| 10/24/2023 | 10/27/2023 | 16,000 | PL-200T00 |
| 12/18/2023 | 12/21/2023 | 16,000 | PL-200T00 |
| 7/19/2023 | 7/21/2023 | 12,000 | PL-300T00 |
| 9/25/2023 | 9/27/2023 | 12,000 | PL-300T00 |
| 11/1/2023 | 11/3/2023 | 12,000 | PL-300T00 |
| 6/12/2023 | 6/16/2023 | 20,000 | PL-400T00 |
| 8/21/2023 | 8/25/2023 | 20,000 | PL-400T00 |
| 10/16/2023 | 10/20/2023 | 20,000 | PL-400T00 |
| 12/11/2023 | 12/15/2023 | 20,000 | PL-400T00 |
| 6/12/2023 | 6/15/2023 | 16,000 | PL-500T00 |
| 8/21/2023 | 8/24/2023 | 16,000 | PL-500T00 |
| 10/16/2023 | 10/19/2023 | 16,000 | PL-500T00 |
| 12/11/2023 | 12/14/2023 | 16,000 | PL-500T00 |
| 7/19/2023 | 7/21/2023 | 12,000 | PL-600T00 |
| 9/6/2023 | 9/8/2023 | 12,000 | PL-600T00 |
| 11/1/2023 | 11/3/2023 | 12,000 | PL-600T00 |
| 6/9/2023 | 6/9/2023 | 4,000 | PL-900T00 |
| 7/7/2023 | 7/7/2023 | 4,000 | PL-900T00 |
| 8/11/2023 | 8/11/2023 | 4,000 | PL-900T00 |
| 9/8/2023 | 9/8/2023 | 4,000 | PL-900T00 |
| 10/12/2023 | 10/12/2023 | 4,000 | PL-900T00 |
| 11/10/2023 | 11/10/2023 | 4,000 | PL-900T00 |
| 12/8/2023 | 12/8/2023 | 4,000 | PL-900T00 |
| 6/26/2023 | 6/30/2023 | 12,500 | PWA-201 |
| 7/24/2023 | 7/28/2023 | 12,500 | PWA-201 |
| 8/28/2023 | 9/1/2023 | 12,500 | PWA-201 |
| 9/25/2023 | 9/29/2023 | 12,500 | PWA-201 |
| 10/30/2023 | 11/3/2023 | 12,500 | PWA-201 |
| 11/27/2023 | 12/1/2023 | 12,500 | PWA-201 |
| 12/18/2023 | 12/22/2023 | 12,500 | PWA-201 |
| 10/16/2023 | 10/17/2023 | 5,000 | M365-End-User |
| 11/6/2023 | 11/7/2023 | 5,000 | M365-End-User |
| 12/11/2023 | 12/12/2023 | 5,000 | M365-End-User |
| 6/2/2023 | 6/2/2023 | 2,500 | O365-Admin-ENH |
| 7/7/2023 | 7/7/2023 | 2,500 | O365-Admin-ENH |
| 8/4/2023 | 8/4/2023 | 2,500 | O365-Admin-ENH |
| 9/8/2023 | 9/8/2023 | 2,500 | O365-Admin-ENH |
| 10/6/2023 | 10/6/2023 | 2,500 | O365-Admin-ENH |
| 11/3/2023 | 11/3/2023 | 2,500 | O365-Admin-ENH |
| 12/4/2023 | 12/4/2023 | 2,500 | O365-Admin-ENH |
| 6/16/2023 | 6/16/2023 | 4,000 | 55154B |
| 7/14/2023 | 7/14/2023 | 4,000 | 55154B |
| 8/18/2023 | 8/18/2023 | 4,000 | 55154B |
| 9/15/2023 | 9/15/2023 | 4,000 | 55154B |
| 10/20/2023 | 10/20/2023 | 4,000 | 55154B |
| 11/17/2023 | 11/17/2023 | 4,000 | 55154B |
| 12/15/2023 | 12/15/2023 | 4,000 | 55154B |
| 6/9/2023 | 6/9/2023 | 2,500 | OF-19-NF |
| 7/7/2023 | 7/7/2023 | 2,500 | OF-19-NF |
| 8/11/2023 | 8/11/2023 | 2,500 | OF-19-NF |
| 9/8/2023 | 9/8/2023 | 2,500 | OF-19-NF |
| 10/6/2023 | 10/6/2023 | 2,500 | OF-19-NF |
| 11/3/2023 | 11/3/2023 | 2,500 | OF-19-NF |
| 12/8/2023 | 12/8/2023 | 2,500 | OF-19-NF |
| 6/19/2023 | 6/20/2023 | 5,000 | WD-19-01 |
| 7/17/2023 | 7/18/2023 | 5,000 | WD-19-01 |
| 8/15/2023 | 8/16/2023 | 5,000 | WD-19-01 |
| 9/18/2023 | 9/19/2023 | 5,000 | WD-19-01 |
| 10/24/2023 | 10/25/2023 | 5,000 | WD-19-01 |
| 11/20/2023 | 11/21/2023 | 5,000 | WD-19-01 |
| 12/18/2023 | 12/19/2023 | 5,000 | WD-19-01 |
| 6/21/2023 | 6/22/2023 | 5,000 | WD-19-02 |
| 7/19/2023 | 7/20/2023 | 5,000 | WD-19-02 |
| 8/17/2023 | 8/18/2023 | 5,000 | WD-19-02 |
| 9/20/2023 | 9/21/2023 | 5,000 | WD-19-02 |
| 10/26/2023 | 10/27/2023 | 5,000 | WD-19-02 |
| 11/23/2023 | 11/24/2023 | 5,000 | WD-19-02 |
| 12/20/2023 | 12/21/2023 | 5,000 | WD-19-02 |
| 6/19/2023 | 6/20/2023 | 5,000 | EX-19-01 |
| 7/17/2023 | 7/18/2023 | 5,000 | EX-19-01 |
| 8/15/2023 | 8/16/2023 | 5,000 | EX-19-01 |
| 9/18/2023 | 9/19/2023 | 5,000 | EX-19-01 |
| 10/24/2023 | 10/25/2023 | 5,000 | EX-19-01 |
| 11/20/2023 | 11/21/2023 | 5,000 | EX-19-01 |
| 12/18/2023 | 12/19/2023 | 5,000 | EX-19-01 |
| 6/21/2023 | 6/22/2023 | 5,000 | EX-19-02 |
| 7/19/2023 | 7/20/2023 | 5,000 | EX-19-02 |
| 8/17/2023 | 8/18/2023 | 5,000 | EX-19-02 |
| 9/20/2023 | 9/21/2023 | 5,000 | EX-19-02 |
| 10/26/2023 | 10/27/2023 | 5,000 | EX-19-02 |
| 11/23/2023 | 11/24/2023 | 5,000 | EX-19-02 |
| 12/20/2023 | 12/21/2023 | 5,000 | EX-19-02 |
| 6/23/2023 | 6/23/2023 | 2,500 | EX-19-03 |
| 7/21/2023 | 7/21/2023 | 2,500 | EX-19-03 |
| 8/21/2023 | 8/21/2023 | 2,500 | EX-19-03 |
| 9/22/2023 | 9/22/2023 | 2,500 | EX-19-03 |
| 10/30/2023 | 10/30/2023 | 2,500 | EX-19-03 |
| 11/24/2023 | 11/24/2023 | 2,500 | EX-19-03 |
| 12/22/2023 | 12/22/2023 | 2,500 | EX-19-03 |
| 6/12/2023 | 6/13/2023 | 5,000 | PP-19-01 |
| 7/10/2023 | 7/11/2023 | 5,000 | PP-19-01 |
| 8/7/2023 | 8/8/2023 | 5,000 | PP-19-01 |
| 9/11/2023 | 9/12/2023 | 5,000 | PP-19-01 |
| 10/9/2023 | 10/10/2023 | 5,000 | PP-19-01 |
| 11/6/2023 | 11/7/2023 | 5,000 | PP-19-01 |
| 12/11/2023 | 12/12/2023 | 5,000 | PP-19-01 |
| 6/14/2023 | 6/15/2023 | 5,000 | PP-19-02 |
| 7/12/2023 | 7/13/2023 | 5,000 | PP-19-02 |
| 8/9/2023 | 8/10/2023 | 5,000 | PP-19-02 |
| 9/13/2023 | 9/14/2023 | 5,000 | PP-19-02 |
| 10/11/2023 | 10/12/2023 | 5,000 | PP-19-02 |
| 11/8/2023 | 11/9/2023 | 5,000 | PP-19-02 |
| 12/13/2023 | 12/14/2023 | 5,000 | PP-19-02 |
| 6/7/2023 | 6/9/2023 | 7,500 | PJ-19-US |
| 8/2/2023 | 8/4/2023 | 7,500 | PJ-19-US |
| 10/2/2023 | 10/4/2023 | 7,500 | PJ-19-US |
| 12/6/2023 | 12/8/2023 | 7,500 | PJ-19-US |
| 6/23/2023 | 6/23/2023 | 2,500 | OL-19-01 |
| 9/22/2023 | 9/22/2023 | 2,500 | OL-19-01 |
| 12/22/2023 | 12/22/2023 | 2,500 | OL-19-01 |
| 7/17/2023 | 7/21/2023 | 20,000 | ASP-MVC5 |
| 10/30/2023 | 11/3/2023 | 20,000 | ASP-MVC5 |
| 8/21/2023 | 8/22/2023 | 8,000 | 55267-A |
| 11/20/2023 | 11/21/2023 | 8,000 | 55267-A |
| 7/17/2023 | 7/20/2023 | 16,000 | 55284-A |
| 10/9/2023 | 10/12/2023 | 16,000 | 55284-A |
| 8/21/2023 | 8/22/2023 | 8,000 | 55285-A |
| 11/20/2023 | 11/21/2023 | 8,000 | 55285-A |
| 6/26/2023 | 6/30/2023 | 20,000 | 55039-B |
| 9/25/2023 | 9/29/2023 | 20,000 | 55039-B |
| 12/18/2023 | 12/22/2023 | 20,000 | 55039-B |
| 6/7/2023 | 6/9/2023 | 12,000 | 55199-A |
| 8/2/2023 | 8/4/2023 | 12,000 | 55199-A |
| 10/2/2023 | 10/4/2023 | 12,000 | 55199-A |
| 12/6/2023 | 12/8/2023 | 12,000 | 55199-A |
| 7/10/2023 | 7/11/2023 | 8,000 | 55200-A |
| 9/4/2023 | 9/5/2023 | 8,000 | 55200-A |
| 11/6/2023 | 11/7/2023 | 8,000 | 55200-A |
| 7/17/2023 | 7/20/2023 | 16,000 | 55215-B |
| 10/9/2023 | 10/12/2023 | 16,000 | 55215-B |
| 8/21/2023 | 8/24/2023 | 16,000 | 55217-A |
| 11/20/2023 | 11/23/2023 | 16,000 | 55217-A |
| 7/17/2023 | 7/21/2023 | 20,000 | 55234-A |
| 9/25/2023 | 9/29/2023 | 20,000 | 55234-A |
| 11/27/2023 | 12/1/2023 | 20,000 | 55234-A |
| 6/14/2023 | 6/16/2023 | 12,000 | 55238-B |
| 7/19/2023 | 7/21/2023 | 12,000 | 55238-B |
| 8/2/2023 | 8/4/2023 | 12,000 | 55238-B |
| 9/6/2023 | 9/8/2023 | 12,000 | 55238-B |
| 10/10/2023 | 10/12/2023 | 12,000 | 55238-B |
| 11/1/2023 | 11/3/2023 | 12,000 | 55238-B |
| 12/6/2023 | 12/8/2023 | 12,000 | 55238-B |
| 7/10/2023 | 7/11/2023 | 8,000 | 55251-A |
| 9/4/2023 | 9/5/2023 | 8,000 | 55251-A |
| 11/6/2023 | 11/7/2023 | 8,000 | 55251-A |
| 6/12/2023 | 6/16/2023 | 12,000 | 10972 |
| 7/10/2023 | 7/14/2023 | 12,000 | 10972 |
| 8/10/2023 | 8/14/2023 | 12,000 | 10972 |
| 9/7/2023 | 9/11/2023 | 12,000 | 10972 |
| 10/2/2023 | 10/6/2023 | 12,000 | 10972 |
| 10/30/2023 | 11/3/2023 | 12,000 | 10972 |
| 12/11/2023 | 12/15/2023 | 12,000 | 10972 |
| 6/19/2023 | 6/22/2023 | 16,000 | 10987 |
| 7/17/2023 | 7/20/2023 | 16,000 | 10987 |
| 8/7/2023 | 8/10/2023 | 16,000 | 10987 |
| 9/18/2023 | 9/21/2023 | 16,000 | 10987 |
| 10/16/2023 | 10/19/2023 | 16,000 | 10987 |
| 11/13/2023 | 11/16/2023 | 16,000 | 10987 |
| 12/18/2023 | 12/21/2023 | 16,000 | 10987 |
| 6/27/2023 | 6/29/2023 | 12,000 | 10997 |
| 7/18/2023 | 7/20/2023 | 12,000 | 10997 |
| 8/29/2023 | 8/31/2023 | 12,000 | 10997 |
| 9/27/2023 | 9/29/2023 | 12,000 | 10997 |
| 10/31/2023 | 11/2/2023 | 12,000 | 10997 |
| 11/28/2023 | 11/30/2023 | 12,000 | 10997 |
| 12/26/2023 | 12/28/2023 | 12,000 | 10997 |
| 6/26/2023 | 6/30/2023 | 20,000 | 20761 |
| 7/17/2023 | 7/21/2023 | 20,000 | 20761 |
| 8/28/2023 | 9/1/2023 | 20,000 | 20761 |
| 9/25/2023 | 9/29/2023 | 20,000 | 20761 |
| 10/30/2023 | 11/3/2023 | 20,000 | 20761 |
| 11/27/2023 | 12/1/2023 | 20,000 | 20761 |
| 12/18/2023 | 12/22/2023 | 20,000 | 20761 |
| 6/12/2023 | 6/16/2023 | 20,000 | 20764 |
| 7/17/2023 | 7/21/2023 | 20,000 | 20764 |
| 8/21/2023 | 8/25/2023 | 20,000 | 20764 |
| 9/11/2023 | 9/15/2023 | 20,000 | 20764 |
| 10/16/2023 | 10/20/2023 | 20,000 | 20764 |
| 11/13/2023 | 11/17/2023 | 20,000 | 20764 |
| 12/11/2023 | 12/15/2023 | 20,000 | 20764 |
| 6/14/2023 | 6/15/2023 | 8,000 | 20778 |
| 7/19/2023 | 7/20/2023 | 8,000 | 20778 |
| 8/2/2023 | 8/3/2023 | 8,000 | 20778 |
| 9/6/2023 | 9/7/2023 | 8,000 | 20778 |
| 10/10/2023 | 10/11/2023 | 8,000 | 20778 |
| 11/1/2023 | 11/2/2023 | 8,000 | 20778 |
| 12/6/2023 | 12/7/2023 | 8,000 | 20778 |
| 6/7/2023 | 6/9/2023 | 12,000 | 20779 |
| 7/3/2023 | 7/5/2023 | 12,000 | 20779 |
| 8/2/2023 | 8/4/2023 | 12,000 | 20779 |
| 9/6/2023 | 9/8/2023 | 12,000 | 20779 |
| 10/2/2023 | 10/4/2023 | 12,000 | 20779 |
| 11/1/2023 | 11/3/2023 | 12,000 | 20779 |
| 12/6/2023 | 12/8/2023 | 12,000 | 20779 |
| 6/12/2023 | 6/16/2023 | 20,000 | WS-011T00 |
| 7/10/2023 | 7/14/2023 | 20,000 | WS-011T00 |
| 8/7/2023 | 8/11/2023 | 20,000 | WS-011T00 |
| 9/4/2023 | 9/8/2023 | 20,000 | WS-011T00 |
| 10/16/2023 | 10/20/2023 | 20,000 | WS-011T00 |
| 11/6/2023 | 11/10/2023 | 20,000 | WS-011T00 |
| 12/11/2023 | 12/15/2023 | 20,000 | WS-011T00 |
| 6/12/2023 | 6/16/2023 | 60,000 | VSICM8 |
| 7/3/2023 | 7/7/2023 | 60,000 | VSICM8 |
| 8/7/2023 | 8/11/2023 | 60,000 | VSICM8 |
| 9/4/2023 | 9/8/2023 | 60,000 | VSICM8 |
| 10/2/2023 | 10/6/2023 | 60,000 | VSICM8 |
| 11/6/2023 | 11/10/2023 | 60,000 | VSICM8 |
| 12/18/2023 | 12/22/2023 | 60,000 | VSICM8 |
| 6/8/2023 | 6/12/2023 | 37,000 | VSWN8 |
| 10/9/2023 | 10/11/2023 | 37,000 | VSWN8 |
| 7/17/2023 | 7/21/2023 | 90,000 | VSFT7 |
| 9/18/2023 | 9/22/2023 | 90,000 | VSFT7 |
| 9/18/2023 | 9/22/2023 | 66,000 | VSOS8 |
| 11/27/2023 | 12/1/2023 | 66,000 | VSOS8 |
| 6/26/2023 | 6/30/2023 | 66,000 | VSTS7 |
| 10/30/2023 | 11/3/2023 | 66,000 | VSTS7 |
| 12/25/2023 | 12/29/2023 | 66,000 | VSTS7 |
| 6/7/2023 | 6/9/2023 | 40,000 | VSD7 |
| 7/24/2023 | 7/26/2023 | 40,000 | VSD7 |
| 10/25/2023 | 10/27/2023 | 40,000 | VSD7 |
| 6/8/2023 | 6/9/2023 | 25,000 | SRMICM82 |
| 9/11/2023 | 9/13/2023 | 40,000 | VSKDM7 |
| 10/30/2023 | 11/1/2023 | 40,000 | VSKDM7 |
| 12/6/2023 | 12/8/2023 | 40,000 | VSKDM7 |
| 6/6/2023 | 6/9/2023 | 49,000 | TKGIEICM110 |
| 6/12/2023 | 6/16/2023 | 60,000 | NSXTICM32 |
| 7/3/2023 | 7/7/2023 | 60,000 | NSXTICM32 |
| 10/30/2023 | 11/3/2023 | 66,000 | NSXTD32 |
| 9/25/2023 | 9/29/2023 | 60,000 | VROICM86 |
| 10/2/2023 | 10/6/2023 | 66,000 | NSXTTO32 |
| 10/16/2023 | 10/20/2023 | 60,000 | HDM8 |
| 11/6/2023 | 11/10/2023 | 60,000 | HDM8 |
| 12/7/2023 | 12/8/2023 | 25,000 | HIA8 |
| 8/25/2023 | 8/25/2023 | 10,800 | AWS-CPE |
| 9/18/2023 | 9/18/2023 | 10,800 | AWS-CPE |
| 10/16/2023 | 10/16/2023 | 10,800 | AWS-CPE |
| 11/8/2023 | 11/8/2023 | 10,800 | AWS-CPE |
| 12/7/2023 | 12/7/2023 | 10,800 | AWS-CPE |
| 8/18/2023 | 8/18/2023 | 10,800 | AWS-TE |
| 9/19/2023 | 9/19/2023 | 10,800 | AWS-TE |
| 10/17/2023 | 10/17/2023 | 10,800 | AWS-TE |
| 11/7/2023 | 11/7/2023 | 10,800 | AWS-TE |
| 12/8/2023 | 12/8/2023 | 10,800 | AWS-TE |
| 8/25/2023 | 8/25/2023 | 5,900 | AWS-EBL |
| 10/16/2023 | 10/16/2023 | 5,900 | AWS-EBL |
| 12/7/2023 | 12/7/2023 | 5,900 | AWS-EBL |
| 9/18/2023 | 9/18/2023 | 5,900 | AWS-EFS |
| 11/6/2023 | 11/6/2023 | 5,900 | AWS-EFS |
| 8/22/2023 | 8/24/2023 | 32,400 | AWS-ARC |
| 9/20/2023 | 9/22/2023 | 32,400 | AWS-ARC |
| 10/18/2023 | 10/20/2023 | 32,400 | AWS-ARC |
| 11/15/2023 | 11/17/2023 | 32,400 | AWS-ARC |
| 12/13/2023 | 12/15/2023 | 32,400 | AWS-ARC |
| | | 10,800 | AWS-WBP |
| | | 32,400 | AWS-ADA |
| | | 10,800 | AWS-AWB |
| | | 54,000 | AWS-ARA |
| 8/29/2023 | 8/31/2023 | 32,400 | AWS-COA |
| 9/25/2023 | 9/27/2023 | 32,400 | AWS-COA |
| 10/25/2023 | 10/27/2023 | 32,400 | AWS-COA |
| 12/18/2023 | 12/20/2023 | 32,400 | AWS-COA |
| | | 21,600 | AWS-FIN |
| | | 32,400 | AWS-CFM |
| | | 32,400 | AWS-DWA |
| | | 10,800 | AWS-BLK |
| | | 10,800 | AWS-BDA |
| | | 10,800 | AWS-BBD |
| | | 10,800 | AWS-BSD |
| | | 21,600 | AWS-AVA |
| | | 32,400 | AWS-PDD |
| 9/13/2023 | 9/15/2023 | 32,400 | AWS-DEV |
| | | 32,400 | AWS-ADE |
| | | 32,400 | AWS-DOP |
| | | 10,800 | AWS-DEL |
| | | 32,400 | AWS-MLE |
| | | 10,800 | AWS-PDS |
| | | 43,200 | AWS-MLP |
| | | 32,400 | AWS-SSD |
| | | 21,600 | AWS-VSE |
| 8/25/2023 | 8/25/2023 | 10,800 | AWS-MES |
| 10/16/2023 | 10/16/2023 | 10,800 | AWS-MES |
| 12/7/2023 | 12/7/2023 | 10,800 | AWS-MES |
| | | 32,400 | AWS-MGA |
| 9/18/2023 | 9/18/2023 | 10,800 | AWS-SES |
| 11/6/2023 | 11/6/2023 | 10,800 | AWS-SES |
| | | 32,400 | AWS-SEN |
| | | 10,800 | AWS-SGS |
| | | 10,800 | AWS-SBP |
| 7/24/2023 | 7/26/2023 | 42,300 | D1101651GC10 |
| 10/9/2023 | 10/11/2023 | 42,300 | D1101651GC10 |
| 6/26/2023 | 6/30/2023 | 56,500 | D107509GC10 |
| 7/3/2023 | 7/7/2023 | 56,500 | D107509GC10 |
| 8/7/2023 | 8/11/2023 | 56,500 | D107509GC10 |
| 9/4/2023 | 9/8/2023 | 56,500 | D107509GC10 |
| 10/2/2023 | 10/6/2023 | 56,500 | D107509GC10 |
| 11/6/2023 | 11/10/2023 | 56,500 | D107509GC10 |
| 12/11/2023 | 12/15/2023 | 56,500 | D107509GC10 |
| 6/19/2023 | 6/23/2023 | 56,500 | D107511GC10 |
| 7/10/2023 | 7/14/2023 | 56,500 | D107511GC10 |
| 8/21/2023 | 8/25/2023 | 56,500 | D107511GC10 |
| 9/11/2023 | 9/15/2023 | 56,500 | D107511GC10 |
| 10/16/2023 | 10/20/2023 | 56,500 | D107511GC10 |
| 11/13/2023 | 11/17/2023 | 56,500 | D107511GC10 |
| 12/18/2023 | 12/22/2023 | 56,500 | D107511GC10 |
| 6/26/2023 | 6/30/2023 | 56,500 | D108103GC20 |
| 7/17/2023 | 7/21/2023 | 56,500 | D108103GC20 |
| 8/7/2023 | 8/11/2023 | 56,500 | D108103GC20 |
| 9/18/2023 | 9/22/2023 | 56,500 | D108103GC20 |
| 10/30/2023 | 11/3/2023 | 56,500 | D108103GC20 |
| 11/20/2023 | 11/24/2023 | 56,500 | D108103GC20 |
| 12/18/2023 | 12/22/2023 | 56,500 | D108103GC20 |
| 8/15/2023 | 8/18/2023 | 49,000 | D108654GC10 |
| 10/9/2023 | 10/12/2023 | 49,000 | D108654GC10 |
| 11/28/2023 | 12/1/2023 | 49,000 | D108654GC10 |
| 6/12/2023 | 6/16/2023 | 56,500 | D78848GC20 |
| 7/3/2023 | 7/7/2023 | 56,500 | D78848GC20 |
| 8/7/2023 | 8/11/2023 | 56,500 | D78848GC20 |
| 9/4/2023 | 9/8/2023 | 56,500 | D78848GC20 |
| 10/2/2023 | 10/6/2023 | 56,500 | D78848GC20 |
| 11/6/2023 | 11/10/2023 | 56,500 | D78848GC20 |
| 12/11/2023 | 12/15/2023 | 56,500 | D78848GC20 |
| 8/22/2023 | 8/25/2023 | 56,400 | D108634GC10 |
| 11/21/2023 | 11/24/2023 | 56,400 | D108634GC10 |
| 7/6/2023 | 7/7/2023 | 36,900 | D108638GC10 |
| 10/11/2023 | 10/12/2023 | 36,900 | D108638GC10 |
| 12/7/2023 | 12/8/2023 | 36,900 | D108638GC10 |
| 6/12/2023 | 6/16/2023 | 70,500 | D108774GC20 |
| 8/7/2023 | 8/11/2023 | 70,500 | D108774GC20 |
| 10/16/2023 | 10/20/2023 | 70,500 | D108774GC20 |
| 12/11/2023 | 12/15/2023 | 70,500 | D108774GC20 |
| 7/24/2023 | 7/27/2023 | 56,400 | D101287GC10 |
| 9/12/2023 | 9/15/2023 | 56,400 | D101287GC10 |
| 11/27/2023 | 11/30/2023 | 56,400 | D101287GC10 |
| 6/6/2023 | 6/9/2023 | 49,000 | D90871GC20 |
| 8/15/2023 | 8/18/2023 | 49,000 | D90871GC20 |
| 9/5/2023 | 9/8/2023 | 49,000 | D90871GC20 |
| 11/7/2023 | 11/10/2023 | 49,000 | D90871GC20 |
| 6/12/2023 | 6/16/2023 | 56,500 | D66376GC51 |
| 7/10/2023 | 7/14/2023 | 56,500 | D66376GC51 |
| 8/7/2023 | 8/11/2023 | 56,500 | D66376GC51 |
| 9/4/2023 | 9/8/2023 | 56,500 | D66376GC51 |
| 10/16/2023 | 10/20/2023 | 56,500 | D66376GC51 |
| 11/13/2023 | 11/17/2023 | 56,500 | D66376GC51 |
| 12/11/2023 | 12/15/2023 | 56,500 | D66376GC51 |
| 6/20/2023 | 6/23/2023 | 49,000 | D109197GC10 |
| 9/19/2023 | 9/22/2023 | 49,000 | D109197GC10 |
| 12/19/2023 | 12/22/2023 | 49,000 | D109197GC10 |
| 6/19/2023 | 6/23/2023 | 56,500 | D66378GC50 |
| 7/10/2023 | 7/14/2023 | 56,500 | D66378GC50 |
| 8/7/2023 | 8/11/2023 | 56,500 | D66378GC50 |
| 9/4/2023 | 9/8/2023 | 56,500 | D66378GC50 |
| 10/16/2023 | 10/20/2023 | 56,500 | D66378GC50 |
| 7/25/2023 | 7/27/2023 | 42,300 | D108305GC30 |
| 7/17/2023 | 7/21/2023 | 56,500 | D80151GC30 |
| 8/7/2023 | 8/11/2023 | 56,500 | D80151GC30 |
| 8/7/2023 | 8/11/2023 | 56,500 | D80155GC30 |
| 7/26/2023 | 7/27/2023 | 36,900 | D83177GC30 |
| 8/17/2023 | 8/18/2023 | 36,900 | D83177GC30 |
| 6/19/2023 | 6/23/2023 | 92,250 | D95507GC20 |
| 7/10/2023 | 7/14/2023 | 92,250 | D95507GC20 |
| 6/19/2023 | 6/23/2023 | 92,250 | D95503GC10 |
| 7/17/2023 | 7/21/2023 | 92,250 | D95503GC10 |
| 6/21/2023 | 6/23/2023 | 55,350 | D1104288GC10 |
| 7/25/2023 | 7/27/2023 | 55,350 | D1104288GC10 |
| 6/26/2023 | 6/30/2023 | 62,000 | 3627 |
| 9/25/2023 | 9/29/2023 | 62,000 | 3627 |
| 12/25/2023 | 12/29/2023 | 62,000 | 3627 |
| 7/17/2023 | 7/21/2023 | 62,000 | 2813 |
| 10/30/2023 | 11/3/2023 | 62,000 | 2813 |
| 7/10/2023 | 7/11/2023 | 25,000 | 2444 |
| 9/4/2023 | 9/5/2023 | 25,000 | 2444 |
| 11/6/2023 | 11/7/2023 | 25,000 | 2444 |
| 6/7/2023 | 6/9/2023 | 39,500 | 2446 |
| 8/2/2023 | 8/4/2023 | 39,500 | 2446 |
| 10/2/2023 | 10/4/2023 | 39,500 | 2446 |
| 12/6/2023 | 12/8/2023 | 39,500 | 2446 |
| 7/17/2023 | 7/21/2023 | 62,000 | 6639 |
| 9/25/2023 | 9/29/2023 | 62,000 | 6639 |
| 11/27/2023 | 12/1/2023 | 62,000 | 6639 |
| 7/17/2023 | 7/20/2023 | 52,000 | DP0119 |
| 10/9/2023 | 10/12/2023 | 52,000 | DP0119 |
| 7/17/2023 | 7/21/2023 | 62,000 | 7956 |
| 9/18/2023 | 9/22/2023 | 62,000 | 7956 |
| 11/20/2023 | 11/24/2023 | 62,000 | 7956 |
| 6/12/2023 | 6/16/2023 | 62,000 | 8256 |
| 8/7/2023 | 8/11/2023 | 62,000 | 8256 |
| 10/16/2023 | 10/20/2023 | 62,000 | 8256 |
| 12/11/2023 | 12/15/2023 | 62,000 | 8256 |
| 6/12/2023 | 6/16/2023 | 62,000 | 8296 |
| 9/4/2023 | 9/8/2023 | 62,000 | 8296 |
| 12/11/2023 | 12/15/2023 | 62,000 | 8296 |
| 6/19/2023 | 6/23/2023 | 62,000 | 8726 |
| 7/17/2023 | 7/21/2023 | 62,000 | 8726 |
| 8/21/2023 | 8/25/2023 | 62,000 | 8726 |
| 9/18/2023 | 9/22/2023 | 62,000 | 8726 |
| 10/16/2023 | 10/20/2023 | 62,000 | 8726 |
| 11/20/2023 | 11/24/2023 | 62,000 | 8726 |
| 12/11/2023 | 12/15/2023 | 62,000 | 8726 |
| 6/26/2023 | 6/30/2023 | 62,000 | 9005 |
| 7/17/2023 | 7/21/2023 | 62,000 | 9005 |
| 8/28/2023 | 9/1/2023 | 62,000 | 9005 |
| 9/25/2023 | 9/29/2023 | 62,000 | 9005 |
| 10/30/2023 | 11/3/2023 | 62,000 | 9005 |
| 11/27/2023 | 12/1/2023 | 62,000 | 9005 |
| 12/18/2023 | 12/22/2023 | 62,000 | 9005 |
| 6/7/2023 | 6/9/2023 | 36,000 | TMAOCP |
| 7/12/2023 | 7/14/2023 | 36,000 | TMAOCP |
| 8/2/2023 | 8/4/2023 | 36,000 | TMAOCP |
| 9/25/2023 | 9/27/2023 | 36,000 | TMAOCP |
| 10/10/2023 | 10/12/2023 | 36,000 | TMAOCP |
| 11/1/2023 | 11/3/2023 | 36,000 | TMAOCP |
| 12/6/2023 | 12/8/2023 | 36,000 | TMAOCP |
| 6/14/2023 | 6/16/2023 | 36,000 | TMDSCP20 |
| 7/19/2023 | 7/21/2023 | 36,000 | TMDSCP20 |
| 8/2/2023 | 8/4/2023 | 36,000 | TMDSCP20 |
| 9/6/2023 | 9/8/2023 | 36,000 | TMDSCP20 |
| 10/10/2023 | 10/12/2023 | 36,000 | TMDSCP20 |
| 11/1/2023 | 11/3/2023 | 36,000 | TMDSCP20 |
| 12/6/2023 | 12/8/2023 | 36,000 | TMDSCP20 |
| 6/12/2023 | 6/14/2023 | 36,000 | TMDDCP |
| 7/24/2023 | 7/26/2023 | 36,000 | TMDDCP |
| 8/21/2023 | 8/23/2023 | 36,000 | TMDDCP |
| 9/18/2023 | 9/20/2023 | 36,000 | TMDDCP |
| 10/24/2023 | 10/26/2023 | 36,000 | TMDDCP |
| 11/20/2023 | 11/22/2023 | 36,000 | TMDDCP |
| 12/18/2023 | 12/20/2023 | 36,000 | TMDDCP |
| 7/24/2023 | 7/26/2023 | 25,000 | CT-ITF+ |
| 12/6/2023 | 12/8/2023 | 25,000 | CT-ITF+ |
| 7/10/2023 | 7/14/2023 | 48,000 | CT01-Network+ |
| 8/2/2023 | 8/4/2023 | 39,000 | CT02-Network+ |
| 12/13/2023 | 12/15/2023 | 39,000 | CT02-Network+ |
| 10/30/2023 | 11/3/2023 | 48,000 | CT01-Security+ |
| 11/6/2023 | 11/10/2023 | 48,000 | CT01-Security+ |
| 6/7/2023 | 6/9/2023 | 39,000 | CT02-Security+ |
| 8/16/2023 | 8/18/2023 | 39,000 | CT02-Security+ |
| 10/9/2023 | 10/11/2023 | 39,000 | CT02-Security+ |
| 12/6/2023 | 12/8/2023 | 39,000 | CT02-Security+ |
| 9/25/2023 | 9/29/2023 | 45,000 | CT-Cloud+ |
| 10/2/2023 | 10/6/2023 | 45,000 | CT-Server+ |
| 11/13/2023 | 11/17/2023 | 48,000 | CT01-CySA+ |
| 8/2/2023 | 8/4/2023 | 39,000 | CT02-CySA+ |
| 11/1/2023 | 11/3/2023 | 39,000 | CT02-CySA+ |
| 7/17/2023 | 7/21/2023 | 48,000 | CT-PenTest+ |
| 12/11/2023 | 12/15/2023 | 48,000 | CT-PenTest+ |
| 10/2/2023 | 10/6/2023 | 54,000 | CT-CASP+ |
| 7/24/2023 | 7/26/2023 | 28,000 | CT-Cloud Essentials+ |
| 11/1/2023 | 11/3/2023 | 28,000 | CT-Cloud Essentials+ |
| 6/7/2023 | 6/9/2023 | 45,000 | CT-Project+ |
| 9/4/2023 | 9/6/2023 | 45,000 | CT-Project+ |
| 6/21/2023 | 6/23/2023 | 22,000 | ITIL-V4 |
| 7/12/2023 | 7/14/2023 | 22,000 | ITIL-V4 |
| 6/21/2023 | 6/23/2023 | 48,500 | ITIL-V4+Exam |
| 7/12/2023 | 7/14/2023 | 48,500 | ITIL-V4+Exam |
| 10/16/2023 | 10/20/2023 | 37,950 | RH124 |
| 11/6/2023 | 11/10/2023 | 37,950 | RH124 |
| 12/18/2023 | 12/22/2023 | 37,950 | RH124 |
| 6/19/2023 | 6/23/2023 | 47,450 | RH134 |
| 8/28/2023 | 9/1/2023 | 47,450 | RH134 |
| 9/25/2023 | 9/29/2023 | 47,450 | RH134 |
| 10/30/2023 | 11/3/2023 | 47,450 | RH134 |
| 11/27/2023 | 12/1/2023 | 47,450 | RH134 |
| 12/25/2023 | 12/29/2023 | 47,450 | RH134 |
| 6/19/2023 | 6/23/2023 | 57,530 | RH135 |
| 8/28/2023 | 9/1/2023 | 57,530 | RH135 |
| 9/25/2023 | 9/29/2023 | 57,530 | RH135 |
| 10/30/2023 | 11/3/2023 | 57,530 | RH135 |
| 11/27/2023 | 12/1/2023 | 57,530 | RH135 |
| 12/25/2023 | 12/29/2023 | 57,530 | RH135 |
| 8/15/2023 | 8/18/2023 | 60,960 | RH294 |
| 9/11/2023 | 9/14/2023 | 60,960 | RH294 |
| 10/24/2023 | 10/27/2023 | 60,960 | RH294 |
| 11/20/2023 | 11/23/2023 | 60,960 | RH294 |
| 12/12/2023 | 12/15/2023 | 60,960 | RH294 |
| 8/15/2023 | 8/18/2023 | 71,040 | RH295 |
| 9/11/2023 | 9/14/2023 | 71,040 | RH295 |
| 10/24/2023 | 10/27/2023 | 71,040 | RH295 |
| 11/20/2023 | 11/23/2023 | 71,040 | RH295 |
| 12/12/2023 | 12/15/2023 | 71,040 | RH295 |
| 11/6/2023 | 11/9/2023 | 60,960 | DO180 |
| 6/28/2023 | 6/30/2023 | 45,720 | DO188 |
| 10/9/2023 | 10/12/2023 | 45,720 | DO280 |
| 12/12/2023 | 12/15/2023 | 45,720 | DO280 |
| - | - | 60,960 | DO288 |
| 6/6/2023 | 6/8/2023 | 9,500 | PYTN102 |
| 6/19/2023 | 6/21/2023 | 7,500 | PYTN103 |
| 6/26/2023 | 6/30/2023 | 19,900 | PYTN104 |
| 7/10/2023 | 7/14/2023 | 35,000 | PMP7 |
| 11/27/2023 | 12/1/2023 | 35,000 | PMP7 |
| 8/18/2023 | 8/18/2023 | 4,000 | AI-050T00 |
| 9/15/2023 | 9/15/2023 | 4,000 | AI-050T00 |
| 10/20/2023 | 10/20/2023 | 4,000 | AI-050T00 |
| 11/17/2023 | 11/17/2023 | 4,000 | AI-050T00 |
| 12/15/2023 | 12/15/2023 | 4,000 | AI-050T00 |
| 8/18/2023 | 8/18/2023 | 4,000 | DP-601T00 |
| 9/15/2023 | 9/15/2023 | 4,000 | DP-601T00 |
| 10/20/2023 | 10/20/2023 | 4,000 | DP-601T00 |
| 11/17/2023 | 11/17/2023 | 4,000 | DP-601T00 |
| 12/15/2023 | 12/15/2023 | 4,000 | DP-601T00 |
| 8/15/2023 | 8/16/2023 | 4,000 | IC-002T00 |
| 9/18/2023 | 9/19/2023 | 4,000 | IC-002T00 |
| 10/19/2023 | 10/20/2023 | 4,000 | IC-002T00 |
| 11/16/2023 | 11/17/2023 | 4,000 | IC-002T00 |
| 12/7/2023 | 12/8/2023 | 4,000 | IC-002T00 |
| 8/21/2023 | 8/24/2023 | 16,000 | DP-203T00 |