Video Streaming Essentials for AWS Media Services 
In this course, you will learn best practices for designing and using cloud-based video workflows. It covers important concepts related to video processing and delivery, the variables that can impact migration decisions, and real-world examples of hybrid and cloud use cases for AWS Media Services. It also introduces security, machine learning, and analytics concepts to help you consider how AWS Media Services fit into your overall cloud strategy. • Course level: Intermediate • Duration: 2 days
ACTIVITES
This course includes presentations, demonstrations, and hands-on labs.
COURSE OBJECTIVES
In this course, you will learn to:
Articulate the essential terms and concepts fundamental to making video streaming workflow decisions, including video metrics, compression, distribution, and protocols.
Describe the four fundamental stages of video streaming workflows: ingest, process, store, and deliver.
Describe which AWS services can be used in each stage of a video streaming workflow, including ingest, processing, storage, and delivery.
Analyze video streaming workflow diagrams using AWS services, based on simple to complex use cases.
Recognize the key variables that influence workflow decisions.
Recognize how AWS services for compliance, storage, and compute interact with AWS Media Services in video streaming workflows and the functions they perform.
Use the AWS Management Console to build and run simple video streaming workflows for live and video-on-demand content.
Recognize the automation and data analytics available for Media Services when used with AWS Machine Learning and explore media-specific use cases for these services.
Explain the importance of security in the AWS Cloud and how it is applied in video streaming workflows.
INTENDED AUDIENCE
This course is intended for individuals who work in or are considering migration to AWS Media Services, including those in the following roles:
Video Operator/Engineer
Developer
Architect
Project Manager/Engineer
PREREQUISITES
We strongly recommend learners complete the required prerequisites prior to class, and suggest completion of the optional prerequisites for an optimal experience.
Required:
Optional: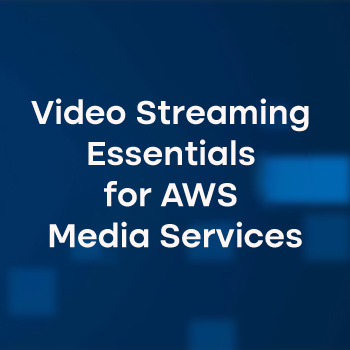 COURSE OUTLINE
Day 1
Module 1: Important Video Concepts
Resolution, bitrate, frame rate, latency, and compression
Codecs and containers
Group of pictures (GOP) encoding
ABR, packaging and distribution
Internet protocols used in video streaming
Module 2: Anatomy of Streaming Workflows
Four stages of video streaming
Variables that affect design decisions
Module 3: Using AWS Services in Video-on-Demand (VOD) Workflows
Converting a film or tape library for internet streaming
Increasing reach and accessibility using multiple languages and captions
Streaming edited highlights from a live event
Analyzing and tagging VOD files for media content analysis using machine learning and data analytics
Day 2
Module 4: Optimizing Workflows
Security
Migrating to the cloud
Cloud financial management
Module 5: Using AWS Services in Live Workflows
Challenges of live streaming
Live streaming a simple interview show
Live streaming a major sporting event to a global audience
Live switching between multiple inputs
Saving segments from a live show to create VOD segments
Module 6: Recap and Review
Module 7: Next Steps
| Start Date | End Date | Price | Code |
| --- | --- | --- | --- |
| 12/11/2023 | 12/15/2023 | 20,000 | AZ-204T00 |
| 1/8/2024 | 1/12/2024 | 20,000 | AZ-204T00 |
| 2/5/2024 | 2/9/2024 | 20,000 | AZ-204T00 |
| 3/11/2024 | 3/15/2024 | 20,000 | AZ-204T00 |
| 4/22/2024 | 4/26/2024 | 20,000 | AZ-204T00 |
| 5/13/2024 | 5/17/2024 | 20,000 | AZ-204T00 |
| 6/10/2024 | 6/14/2024 | 20,000 | AZ-204T00 |
| 6/6/2023 | 6/9/2023 | 16,000 | AZ-220T00 |
| 7/24/2023 | 7/27/2023 | 16,000 | AZ-220T00 |
| 8/15/2023 | 8/18/2023 | 16,000 | AZ-220T00 |
| 9/5/2023 | 9/8/2023 | 16,000 | AZ-220T00 |
| 10/9/2023 | 10/12/2023 | 16,000 | AZ-220T00 |
| 11/7/2023 | 11/10/2023 | 16,000 | AZ-220T00 |
| 12/12/2023 | 12/15/2023 | 16,000 | AZ-220T00 |
| 12/12/2023 | 12/15/2023 | 16,000 | AZ-400T00 |
| 1/9/2024 | 1/12/2024 | 16,000 | AZ-400T00 |
| 2/6/2024 | 2/9/2024 | 16,000 | AZ-400T00 |
| 3/5/2024 | 3/8/2024 | 16,000 | AZ-400T00 |
| 4/9/2024 | 4/12/2024 | 16,000 | AZ-400T00 |
| 5/7/2024 | 5/10/2024 | 16,000 | AZ-400T00 |
| 6/4/2024 | 6/7/2024 | 16,000 | AZ-400T00 |
| 12/11/2023 | 12/15/2023 | 20,000 | AZ-040T00 |
| 1/8/2024 | 1/12/2024 | 20,000 | AZ-040T00 |
| 2/5/2024 | 2/9/2024 | 20,000 | AZ-040T00 |
| 3/25/2024 | 3/29/2024 | 20,000 | AZ-040T00 |
| 4/22/2024 | 4/26/2024 | 20,000 | AZ-040T00 |
| 5/13/2024 | 5/17/2024 | 20,000 | AZ-040T00 |
| 6/10/2024 | 6/14/2024 | 20,000 | AZ-040T00 |
| 12/11/2023 | 12/14/2023 | 16,000 | AZ-104T00 |
| 1/9/2024 | 1/12/2024 | 16,000 | AZ-104T00 |
| 2/6/2024 | 2/9/2024 | 16,000 | AZ-104T00 |
| 3/5/2024 | 3/8/2024 | 16,000 | AZ-104T00 |
| 4/9/2024 | 4/12/2024 | 16,000 | AZ-104T00 |
| 5/7/2024 | 5/10/2024 | 16,000 | AZ-104T00 |
| 6/4/2024 | 6/7/2024 | 16,000 | AZ-104T00 |
| 12/18/2023 | 12/21/2023 | 16,000 | AZ-140T00 |
| 1/23/2024 | 1/26/2024 | 16,000 | AZ-140T00 |
| 2/20/2024 | 2/23/2024 | 16,000 | AZ-140T00 |
| 3/19/2024 | 3/22/2024 | 16,000 | AZ-140T00 |
| 4/23/2024 | 4/26/2024 | 16,000 | AZ-140T00 |
| 5/27/2024 | 5/30/2024 | 16,000 | AZ-140T00 |
| 6/25/2024 | 6/28/2024 | 16,000 | AZ-140T00 |
| 12/11/2023 | 12/14/2023 | 16,000 | AZ-305T00 |
| 1/16/2024 | 1/19/2024 | 16,000 | AZ-305T00 |
| 2/13/2024 | 2/16/2024 | 16,000 | AZ-305T00 |
| 3/12/2024 | 3/15/2024 | 16,000 | AZ-305T00 |
| 4/23/2024 | 4/26/2024 | 16,000 | AZ-305T00 |
| 5/14/2024 | 5/17/2024 | 16,000 | AZ-305T00 |
| 6/4/2024 | 6/7/2024 | 16,000 | AZ-305T00 |
| 6/6/2023 | 6/9/2023 | 16,000 | AZ-600T00 |
| 7/24/2023 | 7/27/2023 | 16,000 | AZ-600T00 |
| 8/15/2023 | 8/18/2023 | 16,000 | AZ-600T00 |
| 9/5/2023 | 9/8/2023 | 16,000 | AZ-600T00 |
| 10/9/2023 | 10/12/2023 | 16,000 | AZ-600T00 |
| 11/7/2023 | 11/10/2023 | 16,000 | AZ-600T00 |
| 12/12/2023 | 12/15/2023 | 16,000 | AZ-600T00 |
| 12/6/2023 | 12/8/2023 | 12,000 | AZ-700T00 |
| 1/10/2024 | 1/12/2024 | 12,000 | AZ-700T00 |
| 2/7/2024 | 2/9/2024 | 12,000 | AZ-700T00 |
| 3/6/2024 | 3/8/2024 | 12,000 | AZ-700T00 |
| 4/3/2024 | 4/5/2024 | 12,000 | AZ-700T00 |
| 5/8/2024 | 5/10/2024 | 12,000 | AZ-700T00 |
| 6/5/2024 | 6/7/2024 | 12,000 | AZ-700T00 |
| 7/10/2024 | 7/12/2024 | 12,000 | AZ-700T00 |
| 6/7/2023 | 6/9/2023 | 12,000 | AZ-720T00 |
| 7/12/2023 | 7/14/2023 | 12,000 | AZ-720T00 |
| 8/2/2023 | 8/4/2023 | 12,000 | AZ-720T00 |
| 9/6/2023 | 9/8/2023 | 12,000 | AZ-720T00 |
| 10/4/2023 | 10/6/2023 | 12,000 | AZ-720T00 |
| 11/1/2023 | 11/3/2023 | 12,000 | AZ-720T00 |
| 12/6/2023 | 12/8/2023 | 12,000 | AZ-720T00 |
| 12/11/2023 | 12/14/2023 | 16,000 | AZ-800T00 |
| 1/16/2024 | 1/19/2024 | 16,000 | AZ-800T00 |
| 2/13/2024 | 2/16/2024 | 16,000 | AZ-800T00 |
| 3/12/2024 | 3/15/2024 | 16,000 | AZ-800T00 |
| 4/23/2024 | 4/26/2024 | 16,000 | AZ-800T00 |
| 5/14/2024 | 5/17/2024 | 16,000 | AZ-800T00 |
| 6/4/2024 | 6/7/2024 | 16,000 | AZ-800T00 |
| 12/18/2023 | 12/21/2023 | 16,000 | AZ-801T00 |
| 1/23/2024 | 1/26/2024 | 16,000 | AZ-801T00 |
| 2/20/2024 | 2/23/2024 | 16,000 | AZ-801T00 |
| 3/19/2024 | 3/22/2024 | 16,000 | AZ-801T00 |
| 4/23/2024 | 4/26/2024 | 16,000 | AZ-801T00 |
| 5/28/2024 | 5/31/2024 | 16,000 | AZ-801T00 |
| 6/18/2024 | 6/21/2024 | 16,000 | AZ-801T00 |
| 12/7/2023 | 12/7/2023 | 4,000 | AZ-900T00 |
| 1/8/2024 | 1/8/2024 | 4,000 | AZ-900T00 |
| 2/5/2024 | 2/5/2024 | 4,000 | AZ-900T00 |
| 3/4/2024 | 3/4/2024 | 4,000 | AZ-900T00 |
| 4/5/2024 | 4/5/2024 | 4,000 | AZ-900T00 |
| 5/10/2024 | 5/10/2024 | 4,000 | AZ-900T00 |
| 6/10/2024 | 6/10/2024 | 4,000 | AZ-900T00 |
| 12/11/2023 | 12/14/2023 | 16,000 | AI-102T00 |
| 1/16/2024 | 1/19/2024 | 16,000 | AI-102T00 |
| 2/13/2024 | 2/16/2024 | 16,000 | AI-102T00 |
| 3/12/2024 | 3/15/2024 | 16,000 | AI-102T00 |
| 4/9/2024 | 4/12/2024 | 16,000 | AI-102T00 |
| 5/14/2024 | 5/17/2024 | 16,000 | AI-102T00 |
| 6/4/2024 | 6/7/2024 | 16,000 | AI-102T00 |
| 12/8/2023 | 12/8/2023 | 4,000 | AI-900T00 |
| 1/8/2024 | 1/8/2024 | 4,000 | AI-900T00 |
| 2/5/2024 | 2/5/2024 | 4,000 | AI-900T00 |
| 3/4/2024 | 3/4/2024 | 4,000 | AI-900T00 |
| 4/9/2024 | 4/9/2024 | 4,000 | AI-900T00 |
| 5/13/2024 | 5/13/2024 | 4,000 | AI-900T00 |
| 6/10/2024 | 6/10/2024 | 4,000 | AI-900T00 |
| 12/7/2023 | 12/8/2023 | 8,000 | DP-080T00 |
| 1/11/2024 | 1/12/2024 | 8,000 | DP-080T00 |
| 2/5/2024 | 2/6/2024 | 8,000 | DP-080T00 |
| 3/4/2024 | 3/5/2024 | 8,000 | DP-080T00 |
| 4/10/2024 | 4/11/2024 | 8,000 | DP-080T00 |
| 5/13/2024 | 5/14/2024 | 8,000 | DP-080T00 |
| 6/6/2024 | 6/7/2024 | 8,000 | DP-080T00 |
| 12/6/2023 | 12/8/2023 | 12,000 | DP-100T01 |
| 1/10/2024 | 1/12/2024 | 12,000 | DP-100T01 |
| 2/7/2024 | 2/9/2024 | 12,000 | DP-100T01 |
| 3/6/2024 | 3/8/2024 | 12,000 | DP-100T01 |
| 4/3/2024 | 4/5/2024 | 12,000 | DP-100T01 |
| 5/8/2024 | 5/10/2024 | 12,000 | DP-100T01 |
| 6/5/2024 | 6/7/2024 | 12,000 | DP-100T01 |
| 12/18/2023 | 12/21/2023 | 16,000 | DP-300T00 |
| 1/23/2024 | 1/26/2024 | 16,000 | DP-300T00 |
| 2/20/2024 | 2/23/2024 | 16,000 | DP-300T00 |
| 3/19/2024 | 3/22/2024 | 16,000 | DP-300T00 |
| 4/23/2024 | 4/26/2024 | 16,000 | DP-300T00 |
| 5/14/2024 | 5/17/2024 | 16,000 | DP-300T00 |
| 6/18/2024 | 6/21/2024 | 16,000 | DP-300T00 |
| 12/18/2023 | 12/21/2023 | 16,000 | DP-420T00 |
| 1/23/2024 | 1/26/2024 | 16,000 | DP-420T00 |
| 2/20/2024 | 2/23/2024 | 16,000 | DP-420T00 |
| 3/19/2024 | 3/22/2024 | 16,000 | DP-420T00 |
| 4/23/2024 | 4/26/2024 | 16,000 | DP-420T00 |
| 5/14/2024 | 5/17/2024 | 16,000 | DP-420T00 |
| 6/18/2024 | 6/21/2024 | 16,000 | DP-420T00 |
| 12/25/2023 | 12/28/2023 | 16,000 | DP-500T00 |
| 1/23/2024 | 1/26/2024 | 16,000 | DP-500T00 |
| 2/20/2024 | 2/23/2024 | 16,000 | DP-500T00 |
| 3/19/2024 | 3/22/2024 | 16,000 | DP-500T00 |
| 4/23/2024 | 4/26/2024 | 16,000 | DP-500T00 |
| 5/28/2024 | 5/31/2024 | 16,000 | DP-500T00 |
| 6/25/2024 | 6/28/2024 | 16,000 | DP-500T00 |
| 6/12/2023 | 6/16/2023 | 20,000 | MD-100T00 |
| 7/24/2023 | 7/27/2023 | 20,000 | MD-100T00 |
| 8/7/2023 | 8/11/2023 | 20,000 | MD-100T00 |
| 9/11/2023 | 9/15/2023 | 20,000 | MD-100T00 |
| 10/2/2023 | 10/6/2023 | 20,000 | MD-100T00 |
| 11/13/2023 | 11/17/2023 | 20,000 | MD-100T00 |
| 12/18/2023 | 12/22/2023 | 20,000 | MD-100T00 |
| 6/19/2023 | 6/23/2023 | 20,000 | MD-101T00 |
| 7/10/2023 | 7/14/2023 | 20,000 | MD-101T00 |
| 8/21/2023 | 8/25/2023 | 20,000 | MD-101T00 |
| 9/18/2023 | 9/22/2023 | 20,000 | MD-101T00 |
| 10/16/2023 | 10/20/2023 | 20,000 | MD-101T00 |
| 11/20/2023 | 11/24/2023 | 20,000 | MD-101T00 |
| 12/18/2023 | 12/22/2023 | 20,000 | MD-101T00 |
| 12/25/2023 | 12/29/2023 | 20,000 | MD-102T00 |
| 1/22/2024 | 1/26/2024 | 20,000 | MD-102T00 |
| 2/19/2024 | 2/23/2024 | 20,000 | MD-102T00 |
| 3/25/2024 | 3/29/2024 | 20,000 | MD-102T00 |
| 4/22/2024 | 4/26/2024 | 20,000 | MD-102T00 |
| 5/27/2024 | 5/31/2024 | 20,000 | MD-102T00 |
| 6/24/2024 | 6/28/2024 | 20,000 | MD-102T00 |
| 12/25/2023 | 12/29/2023 | 20,000 | MS-100T00 |
| 7/3/2023 | 7/7/2023 | 20,000 | MS-100T00 |
| 8/7/2023 | 8/11/2023 | 20,000 | MS-100T00 |
| 9/4/2023 | 9/8/2023 | 20,000 | MS-100T00 |
| 10/2/2023 | 10/6/2023 | 20,000 | MS-100T00 |
| 11/6/2023 | 11/10/2023 | 20,000 | MS-100T00 |
| 12/18/2023 | 12/22/2023 | 20,000 | MS-100T00 |
| 6/19/2023 | 6/23/2023 | 20,000 | MS-101T00 |
| 7/10/2023 | 7/14/2023 | 20,000 | MS-101T00 |
| 8/21/2023 | 8/25/2023 | 20,000 | MS-101T00 |
| 9/18/2023 | 9/22/2023 | 20,000 | MS-101T00 |
| 10/16/2023 | 10/20/2023 | 20,000 | MS-101T00 |
| 11/20/2023 | 11/24/2023 | 20,000 | MS-101T00 |
| 12/18/2023 | 12/22/2023 | 20,000 | MS-101T00 |
| 12/25/2023 | 12/29/2023 | 20,000 | MS-102T00 |
| 1/22/2024 | 1/26/2024 | 20,000 | MS-102T00 |
| 2/19/2024 | 2/23/2024 | 20,000 | MS-102T00 |
| 3/25/2024 | 3/29/2024 | 20,000 | MS-102T00 |
| 4/22/2024 | 4/26/2024 | 20,000 | MS-102T00 |
| 5/27/2024 | 5/31/2024 | 20,000 | MS-102T00 |
| 6/24/2024 | 6/28/2024 | 20,000 | MS-102T00 |
| 12/11/2023 | 12/15/2023 | 20,000 | MS-203T00 |
| 1/15/2024 | 1/19/2024 | 20,000 | MS-203T00 |
| 2/12/2024 | 2/16/2024 | 20,000 | MS-203T00 |
| 3/11/2024 | 3/15/2024 | 20,000 | MS-203T00 |
| 4/22/2024 | 4/26/2024 | 20,000 | MS-203T00 |
| 5/13/2024 | 5/17/2024 | 20,000 | MS-203T00 |
| 6/10/2024 | 6/14/2024 | 20,000 | MS-203T00 |
| 6/21/2023 | 6/23/2023 | 20,000 | MS-220T00 |
| 7/19/2023 | 7/21/2023 | 20,000 | MS-220T00 |
| 8/23/2023 | 8/25/2023 | 20,000 | MS-220T00 |
| 9/20/2023 | 9/22/2023 | 20,000 | MS-220T00 |
| 10/25/2023 | 10/27/2023 | 20,000 | MS-220T00 |
| 11/22/2023 | 11/24/2023 | 20,000 | MS-220T00 |
| 12/20/2023 | 12/22/2023 | 20,000 | MS-220T00 |
| 12/12/2023 | 12/15/2023 | 16,000 | MS-600T00 |
| 1/9/2024 | 1/12/2024 | 16,000 | MS-600T00 |
| 2/6/2024 | 2/9/2024 | 16,000 | MS-600T00 |
| 3/5/2024 | 3/8/2024 | 16,000 | MS-600T00 |
| 4/23/2024 | 4/26/2024 | 16,000 | MS-600T00 |
| 5/7/2024 | 5/10/2024 | 16,000 | MS-600T00 |
| 6/11/2024 | 6/14/2024 | 16,000 | MS-600T00 |
| 12/11/2023 | 12/14/2023 | 16,000 | MS-700T00 |
| 1/16/2024 | 1/19/2024 | 16,000 | MS-700T00 |
| 2/13/2024 | 2/16/2024 | 16,000 | MS-700T00 |
| 3/12/2024 | 3/15/2024 | 16,000 | MS-700T00 |
| 4/23/2024 | 4/26/2024 | 16,000 | MS-700T00 |
| 5/14/2024 | 5/17/2024 | 16,000 | MS-700T00 |
| 6/4/2024 | 6/7/2024 | 16,000 | MS-700T00 |
| 6/14/2023 | 6/16/2023 | 12,000 | MS-720T00 |
| 7/19/2023 | 7/21/2023 | 12,000 | MS-720T00 |
| 8/2/2023 | 8/4/2023 | 12,000 | MS-720T00 |
| 9/6/2023 | 9/8/2023 | 12,000 | MS-720T00 |
| 10/10/2023 | 10/12/2023 | 12,000 | MS-720T00 |
| 11/1/2023 | 11/3/2023 | 12,000 | MS-720T00 |
| 12/6/2023 | 12/8/2023 | 12,000 | MS-720T00 |
| 12/11/2023 | 12/14/2023 | 16,000 | MS-721T00 |
| 1/16/2024 | 1/19/2024 | 16,000 | MS-721T00 |
| 2/13/2024 | 2/16/2024 | 16,000 | MS-721T00 |
| 3/12/2024 | 3/15/2024 | 16,000 | MS-721T00 |
| 4/9/2024 | 4/12/2024 | 16,000 | MS-721T00 |
| 5/14/2024 | 5/17/2024 | 16,000 | MS-721T00 |
| 6/18/2024 | 6/21/2024 | 16,000 | MS-721T00 |
| 6/26/2023 | 6/28/2023 | 12,000 | MS-740T00 |
| 7/24/2023 | 7/26/2023 | 12,000 | MS-740T00 |
| 8/28/2023 | 8/30/2023 | 12,000 | MS-740T00 |
| 9/25/2023 | 9/27/2023 | 12,000 | MS-740T00 |
| 10/30/2023 | 11/1/2023 | 12,000 | MS-740T00 |
| 11/27/2023 | 11/29/2023 | 12,000 | MS-740T00 |
| 12/25/2023 | 12/27/2023 | 12,000 | MS-740T00 |
| 12/4/2023 | 12/4/2023 | 4,000 | MS-080T00 |
| 1/29/2024 | 1/29/2024 | 4,000 | MS-080T00 |
| 2/12/2024 | 2/12/2024 | 4,000 | MS-080T00 |
| 3/15/2024 | 3/15/2024 | 4,000 | MS-080T00 |
| 4/9/2024 | 4/9/2024 | 4,000 | MS-080T00 |
| 5/20/2024 | 5/20/2024 | 4,000 | MS-080T00 |
| 6/14/2024 | 6/14/2024 | 4,000 | MS-080T00 |
| 12/8/2023 | 12/8/2023 | 4,000 | MS-900T01 |
| 1/29/2024 | 1/29/2024 | 4,000 | MS-900T01 |
| 2/12/2024 | 2/12/2024 | 4,000 | MS-900T01 |
| 3/15/2024 | 3/15/2024 | 4,000 | MS-900T01 |
| 4/9/2024 | 4/9/2024 | 4,000 | MS-900T01 |
| 5/20/2024 | 5/20/2024 | 4,000 | MS-900T01 |
| 6/14/2024 | 6/14/2024 | 4,000 | MS-900T01 |
| 12/11/2023 | 12/15/2023 | 20,000 | 55354A |
| 1/15/2024 | 1/19/2024 | 20,000 | 55354A |
| 2/12/2024 | 2/16/2024 | 20,000 | 55354A |
| 3/18/2024 | 3/22/2024 | 20,000 | 55354A |
| 4/22/2024 | 4/26/2024 | 20,000 | 55354A |
| 5/13/2024 | 5/17/2024 | 20,000 | 55354A |
| 6/10/2024 | 6/14/2024 | 20,000 | 55354A |
| 12/11/2023 | 12/14/2023 | 16,000 | AZ-500T00 |
| 1/16/2024 | 1/19/2024 | 16,000 | AZ-500T00 |
| 2/13/2024 | 2/16/2024 | 16,000 | AZ-500T00 |
| 3/12/2024 | 3/15/2024 | 16,000 | AZ-500T00 |
| 4/23/2024 | 4/26/2024 | 16,000 | AZ-500T00 |
| 5/14/2024 | 5/17/2024 | 16,000 | AZ-500T00 |
| 6/4/2024 | 6/7/2024 | 16,000 | AZ-500T00 |
| 6/12/2023 | 6/15/2023 | 16,000 | MS-500T00 |
| 7/24/2023 | 7/27/2023 | 16,000 | MS-500T00 |
| 8/21/2023 | 8/24/2023 | 16,000 | MS-500T00 |
| 9/18/2023 | 9/21/2023 | 16,000 | MS-500T00 |
| 10/24/2023 | 10/27/2023 | 16,000 | MS-500T00 |
| 11/20/2023 | 11/23/2023 | 16,000 | MS-500T00 |
| 12/18/2023 | 12/21/2023 | 16,000 | MS-500T00 |
| 12/11/2023 | 12/14/2023 | 16,000 | SC-100T00 |
| 1/16/2024 | 1/19/2024 | 16,000 | SC-100T00 |
| 2/13/2024 | 2/16/2024 | 16,000 | SC-100T00 |
| 3/12/2024 | 3/15/2024 | 16,000 | SC-100T00 |
| 4/23/2024 | 4/26/2024 | 16,000 | SC-100T00 |
| 5/14/2024 | 5/17/2024 | 16,000 | SC-100T00 |
| 6/4/2024 | 6/7/2024 | 16,000 | SC-100T00 |
| 12/11/2023 | 12/14/2023 | 16,000 | SC-200T00 |
| 1/16/2024 | 1/19/2024 | 16,000 | SC-200T00 |
| 2/13/2024 | 2/16/2024 | 16,000 | SC-200T00 |
| 3/12/2024 | 3/15/2024 | 16,000 | SC-200T00 |
| 4/23/2024 | 4/26/2024 | 16,000 | SC-200T00 |
| 5/14/2024 | 5/17/2024 | 16,000 | SC-200T00 |
| 6/4/2024 | 6/7/2024 | 16,000 | SC-200T00 |
| 12/18/2023 | 12/21/2023 | 16,000 | SC-300T00 |
| 1/23/2024 | 1/26/2024 | 16,000 | SC-300T00 |
| 2/20/2024 | 2/23/2024 | 16,000 | SC-300T00 |
| 3/19/2024 | 3/22/2024 | 16,000 | SC-300T00 |
| 4/23/2024 | 4/26/2024 | 16,000 | SC-300T00 |
| 5/28/2024 | 5/31/2024 | 16,000 | SC-300T00 |
| 6/18/2024 | 6/21/2024 | 16,000 | SC-300T00 |
| 12/12/2023 | 12/15/2023 | 16,000 | SC-400T00 |
| 1/16/2024 | 1/19/2024 | 16,000 | SC-400T00 |
| 2/13/2024 | 2/16/2024 | 16,000 | SC-400T00 |
| 3/19/2024 | 3/22/2024 | 16,000 | SC-400T00 |
| 4/9/2024 | 4/12/2024 | 16,000 | SC-400T00 |
| 5/14/2024 | 5/17/2024 | 16,000 | SC-400T00 |
| 6/18/2024 | 6/21/2024 | 16,000 | SC-400T00 |
| 12/4/2023 | 12/4/2023 | 4,000 | SC-900T00 |
| 1/8/2024 | 1/8/2024 | 4,000 | SC-900T00 |
| 2/16/2024 | 2/16/2024 | 4,000 | SC-900T00 |
| 3/15/2024 | 3/15/2024 | 4,000 | SC-900T00 |
| 4/5/2024 | 4/5/2024 | 4,000 | SC-900T00 |
| 5/7/2024 | 5/7/2024 | 4,000 | SC-900T00 |
| 6/10/2024 | 6/10/2024 | 4,000 | SC-900T00 |
| 12/11/2023 | 12/14/2023 | 16,000 | PL-100T00 |
| 1/9/2024 | 1/12/2024 | 16,000 | PL-100T00 |
| 2/6/2024 | 2/9/2024 | 16,000 | PL-100T00 |
| 3/5/2024 | 3/8/2024 | 16,000 | PL-100T00 |
| 4/9/2024 | 4/12/2024 | 16,000 | PL-100T00 |
| 5/7/2024 | 5/10/2024 | 16,000 | PL-100T00 |
| 6/4/2024 | 6/7/2024 | 16,000 | PL-100T00 |
| 12/18/2023 | 12/21/2023 | 16,000 | PL-200T00 |
| 1/16/2024 | 1/19/2024 | 16,000 | PL-200T00 |
| 2/20/2024 | 2/23/2024 | 16,000 | PL-200T00 |
| 3/12/2024 | 3/15/2024 | 16,000 | PL-200T00 |
| 4/23/2024 | 4/26/2024 | 16,000 | PL-200T00 |
| 5/14/2024 | 5/17/2024 | 16,000 | PL-200T00 |
| 6/18/2024 | 6/21/2024 | 16,000 | PL-200T00 |
| 1/17/2024 | 1/19/2024 | 12,000 | PL-300T00 |
| 2/12/2024 | 2/14/2024 | 12,000 | PL-300T00 |
| 3/11/2024 | 3/13/2024 | 12,000 | PL-300T00 |
| 4/17/2024 | 4/19/2024 | 12,000 | PL-300T00 |
| 5/15/2024 | 5/17/2024 | 12,000 | PL-300T00 |
| 6/10/2024 | 6/12/2024 | 12,000 | PL-300T00 |
| 12/11/2023 | 12/15/2023 | 20,000 | PL-400T00 |
| 1/15/2024 | 1/19/2024 | 20,000 | PL-400T00 |
| 2/12/2024 | 2/16/2024 | 20,000 | PL-400T00 |
| 3/18/2024 | 3/22/2024 | 20,000 | PL-400T00 |
| 4/22/2024 | 4/26/2024 | 20,000 | PL-400T00 |
| 5/27/2024 | 5/31/2024 | 20,000 | PL-400T00 |
| 6/17/2024 | 6/21/2024 | 20,000 | PL-400T00 |
| 12/11/2023 | 12/14/2023 | 16,000 | PL-500T00 |
| 1/23/2024 | 1/26/2024 | 16,000 | PL-500T00 |
| 2/13/2024 | 2/16/2024 | 16,000 | PL-500T00 |
| 3/19/2024 | 3/22/2024 | 16,000 | PL-500T00 |
| 4/23/2024 | 4/26/2024 | 12,000 | PL-500T00 |
| 5/28/2024 | 5/31/2024 | 12,000 | PL-500T00 |
| 6/18/2024 | 6/21/2024 | 12,000 | PL-500T00 |
| 1/22/2024 | 1/24/2024 | 12,000 | PL-600T00 |
| 2/21/2024 | 2/23/2024 | 12,000 | PL-600T00 |
| 3/11/2024 | 3/13/2024 | 12,000 | PL-600T00 |
| 4/17/2024 | 4/19/2024 | 12,000 | PL-600T00 |
| 5/15/2024 | 5/17/2024 | 12,000 | PL-600T00 |
| 6/17/2024 | 6/19/2024 | 12,000 | PL-600T00 |
| 12/8/2023 | 12/8/2023 | 4,000 | PL-900T00 |
| 1/8/2024 | 1/8/2024 | 4,000 | PL-900T00 |
| 2/12/2024 | 2/12/2024 | 4,000 | PL-900T00 |
| 3/11/2024 | 3/11/2024 | 4,000 | PL-900T00 |
| 4/5/2024 | 4/5/2024 | 4,000 | PL-900T00 |
| 5/10/2024 | 5/10/2024 | 4,000 | PL-900T00 |
| 6/10/2024 | 6/10/2024 | 4,000 | PL-900T00 |
| 12/18/2023 | 12/22/2023 | 12,500 | PWA-201 |
| 1/22/2024 | 1/26/2024 | 12,500 | PWA-201 |
| 2/19/2024 | 2/23/2024 | 12,500 | PWA-201 |
| 3/25/2024 | 3/29/2024 | 12,500 | PWA-201 |
| 4/22/2024 | 4/26/2024 | 12,500 | PWA-201 |
| 5/27/2024 | 5/31/2024 | 12,500 | PWA-201 |
| 6/24/2024 | 6/28/2024 | 12,500 | PWA-201 |
| 12/11/2023 | 12/12/2023 | 5,000 | M365-End-User |
| 1/8/2024 | 1/9/2024 | 5,000 | M365-End-User |
| 2/5/2024 | 2/6/2024 | 5,000 | M365-End-User |
| 3/4/2024 | 3/5/2024 | 5,000 | M365-End-User |
| 4/1/2024 | 4/2/2024 | 5,000 | M365-End-User |
| 5/13/2024 | 5/14/2024 | 5,000 | M365-End-User |
| 6/13/2024 | 6/14/2024 | 5,000 | M365-End-User |
| 6/2/2023 | 6/2/2023 | 2,500 | O365-Admin-ENH |
| 7/7/2023 | 7/7/2023 | 2,500 | O365-Admin-ENH |
| 8/4/2023 | 8/4/2023 | 2,500 | O365-Admin-ENH |
| 9/8/2023 | 9/8/2023 | 2,500 | O365-Admin-ENH |
| 10/6/2023 | 10/6/2023 | 2,500 | O365-Admin-ENH |
| 11/3/2023 | 11/3/2023 | 2,500 | O365-Admin-ENH |
| 12/4/2023 | 12/4/2023 | 2,500 | O365-Admin-ENH |
| 12/15/2023 | 12/15/2023 | 4,000 | 55154B |
| 1/22/2024 | 1/22/2024 | 4,000 | 55154B |
| 2/16/2024 | 2/16/2024 | 4,000 | 55154B |
| 3/15/2024 | 3/15/2024 | 4,000 | 55154B |
| 4/19/2024 | 4/19/2024 | 4,000 | 55154B |
| 5/20/2024 | 5/20/2024 | 4,000 | 55154B |
| 6/13/2024 | 6/13/2024 | 4,000 | 55154B |
| 12/8/2023 | 12/8/2023 | 2,500 | OF-19-NF |
| 1/8/2024 | 1/8/2024 | 2,500 | OF-19-NF |
| 2/5/2024 | 2/5/2024 | 2,500 | OF-19-NF |
| 3/11/2024 | 3/11/2024 | 2,500 | OF-19-NF |
| 4/9/2024 | 4/9/2024 | 2,500 | OF-19-NF |
| 5/10/2024 | 5/10/2024 | 2,500 | OF-19-NF |
| 6/10/2024 | 6/10/2024 | 2,500 | OF-19-NF |
| 12/18/2023 | 12/19/2023 | 5,000 | WD-19-01 |
| 1/18/2024 | 1/19/2024 | 5,000 | WD-19-01 |
| 2/27/2024 | 2/28/2024 | 5,000 | WD-19-01 |
| 3/25/2024 | 3/26/2024 | 5,000 | WD-19-01 |
| 4/1/2024 | 4/2/2024 | 5,000 | WD-19-01 |
| 5/20/2024 | 5/21/2024 | 5,000 | WD-19-01 |
| 6/13/2024 | 6/14/2024 | 5,000 | WD-19-01 |
| 12/20/2023 | 12/21/2023 | 5,000 | WD-19-02 |
| 1/25/2024 | 1/26/2024 | 5,000 | WD-19-02 |
| 2/29/2024 | 3/1/2024 | 5,000 | WD-19-02 |
| 3/27/2024 | 3/28/2024 | 5,000 | WD-19-02 |
| 4/25/2024 | 4/26/2024 | 5,000 | WD-19-02 |
| 5/23/2024 | 5/24/2024 | 5,000 | WD-19-02 |
| 6/20/2024 | 6/21/2024 | 5,000 | WD-19-02 |
| 12/18/2023 | 12/19/2023 | 5,000 | EX-19-01 |
| 1/18/2024 | 1/19/2024 | 5,000 | EX-19-01 |
| 2/27/2024 | 2/28/2024 | 5,000 | EX-19-01 |
| 3/25/2024 | 3/26/2024 | 5,000 | EX-19-01 |
| 4/1/2024 | 4/2/2024 | 5,000 | EX-19-01 |
| 5/20/2024 | 5/21/2024 | 5,000 | EX-19-01 |
| 6/13/2024 | 6/14/2024 | 5,000 | EX-19-01 |
| 12/20/2023 | 12/21/2023 | 5,000 | EX-19-02 |
| 1/25/2024 | 1/26/2024 | 5,000 | EX-19-02 |
| 2/29/2024 | 3/1/2024 | 5,000 | EX-19-02 |
| 3/27/2024 | 3/28/2024 | 5,000 | EX-19-02 |
| 4/25/2024 | 4/26/2024 | 5,000 | EX-19-02 |
| 5/23/2024 | 5/24/2024 | 5,000 | EX-19-02 |
| 6/20/2024 | 6/21/2024 | 5,000 | EX-19-02 |
| 12/22/2023 | 12/22/2023 | 2,500 | EX-19-03 |
| 1/29/2024 | 1/29/2024 | 2,500 | EX-19-03 |
| 2/27/2024 | 2/27/2024 | 2,500 | EX-19-03 |
| 3/29/2024 | 3/29/2024 | 2,500 | EX-19-03 |
| 4/29/2024 | 4/29/2024 | 2,500 | EX-19-03 |
| 5/24/2024 | 5/24/2024 | 2,500 | EX-19-03 |
| 6/24/2024 | 6/24/2024 | 2,500 | EX-19-03 |
| 12/11/2023 | 12/12/2023 | 5,000 | PP-19-01 |
| 1/15/2024 | 1/16/2024 | 5,000 | PP-19-01 |
| 2/27/2024 | 2/28/2024 | 5,000 | PP-19-01 |
| 3/25/2024 | 3/26/2024 | 5,000 | PP-19-01 |
| 4/17/2024 | 4/18/2024 | 5,000 | PP-19-01 |
| 5/13/2024 | 5/14/2024 | 5,000 | PP-19-01 |
| 6/11/2024 | 6/12/2024 | 5,000 | PP-19-01 |
| 12/13/2023 | 12/14/2023 | 5,000 | PP-19-02 |
| 1/18/2024 | 1/19/2024 | 5,000 | PP-19-02 |
| 2/29/2024 | 3/1/2024 | 5,000 | PP-19-02 |
| 3/27/2024 | 3/28/2024 | 5,000 | PP-19-02 |
| 4/25/2024 | 4/26/2024 | 5,000 | PP-19-02 |
| 5/20/2024 | 5/21/2024 | 5,000 | PP-19-02 |
| 6/13/2024 | 6/14/2024 | 5,000 | PP-19-02 |
| 12/6/2023 | 12/8/2023 | 7,500 | PJ-19-US |
| 1/10/2024 | 1/12/2024 | 7,500 | PJ-19-US |
| 2/6/2024 | 2/8/2024 | 7,500 | PJ-19-US |
| 3/6/2024 | 3/8/2024 | 7,500 | PJ-19-US |
| 4/3/2024 | 4/5/2024 | 7,500 | PJ-19-US |
| 5/8/2024 | 5/10/2024 | 7,500 | PJ-19-US |
| 6/5/2024 | 6/7/2024 | 7,500 | PJ-19-US |
| 12/22/2023 | 12/22/2023 | 2,500 | OL-19-01 |
| 1/22/2024 | 1/22/2024 | 2,500 | OL-19-01 |
| 2/23/2024 | 2/23/2024 | 2,500 | OL-19-01 |
| 3/25/2024 | 3/25/2024 | 2,500 | OL-19-01 |
| 4/22/2024 | 4/22/2024 | 2,500 | OL-19-01 |
| 5/24/2024 | 5/24/2024 | 2,500 | OL-19-01 |
| 6/24/2024 | 6/24/2024 | 2,500 | OL-19-01 |
| 1/22/2024 | 1/26/2024 | 20,000 | ASP-MVC5 |
| 2/19/2024 | 2/23/2024 | 20,000 | ASP-MVC5 |
| 3/18/2024 | 3/22/2024 | 20,000 | ASP-MVC5 |
| 4/22/2024 | 4/26/2024 | 20,000 | ASP-MVC5 |
| 5/27/2024 | 5/31/2024 | 20,000 | ASP-MVC5 |
| 6/24/2024 | 6/28/2024 | 20,000 | ASP-MVC5 |
| 1/30/2024 | 1/31/2024 | 8,000 | 55267-A |
| 2/27/2024 | 2/28/2024 | 8,000 | 55267-A |
| 3/27/2024 | 3/28/2024 | 8,000 | 55267-A |
| 4/29/2024 | 4/30/2024 | 8,000 | 55267-A |
| 5/23/2024 | 5/24/2024 | 8,000 | 55267-A |
| 6/27/2024 | 6/28/2024 | 8,000 | 55267-A |
| 1/16/2024 | 1/19/2024 | 16,000 | 55284-A |
| 2/13/2024 | 2/16/2024 | 16,000 | 55284-A |
| 3/12/2024 | 3/15/2024 | 16,000 | 55284-A |
| 4/9/2024 | 4/12/2024 | 16,000 | 55284-A |
| 5/14/2024 | 5/17/2024 | 16,000 | 55284-A |
| 6/4/2024 | 6/7/2024 | 16,000 | 55284-A |
| 1/25/2024 | 1/26/2024 | 8,000 | 55285-A |
| 2/27/2024 | 2/28/2024 | 8,000 | 55285-A |
| 3/25/2024 | 3/26/2024 | 8,000 | 55285-A |
| 4/17/2024 | 4/18/2024 | 8,000 | 55285-A |
| 5/23/2024 | 5/24/2024 | 8,000 | 55285-A |
| 6/13/2024 | 6/14/2024 | 8,000 | 55285-A |
| 12/18/2023 | 12/22/2023 | 20,000 | 55039-B |
| 1/15/2024 | 1/19/2024 | 20,000 | 55039-B |
| 2/12/2024 | 2/16/2024 | 20,000 | 55039-B |
| 3/25/2024 | 3/29/2024 | 20,000 | 55039-B |
| 4/22/2024 | 4/26/2024 | 20,000 | 55039-B |
| 5/27/2024 | 5/31/2024 | 20,000 | 55039-B |
| 6/24/2024 | 6/28/2024 | 20,000 | 55039-B |
| 12/6/2023 | 12/8/2023 | 12,000 | 55199-A |
| 1/10/2024 | 1/12/2024 | 12,000 | 55199-A |
| 2/7/2024 | 2/9/2024 | 12,000 | 55199-A |
| 3/6/2024 | 3/8/2024 | 12,000 | 55199-A |
| 4/3/2024 | 4/5/2024 | 12,000 | 55199-A |
| 5/8/2024 | 5/10/2024 | 12,000 | 55199-A |
| 6/5/2024 | 6/7/2024 | 12,000 | 55199-A |
| 1/11/2024 | 1/12/2024 | 8,000 | 55200-A |
| 2/5/2024 | 2/6/2024 | 8,000 | 55200-A |
| 3/4/2024 | 3/5/2024 | 8,000 | 55200-A |
| 4/1/2024 | 4/2/2024 | 8,000 | 55200-A |
| 5/13/2024 | 5/14/2024 | 8,000 | 55200-A |
| 6/11/2024 | 6/12/2024 | 8,000 | 55200-A |
| 1/16/2024 | 1/19/2024 | 16,000 | 55215-B |
| 2/13/2024 | 2/16/2024 | 16,000 | 55215-B |
| 3/12/2024 | 3/15/2024 | 16,000 | 55215-B |
| 4/9/2024 | 4/12/2024 | 16,000 | 55215-B |
| 5/14/2024 | 5/17/2024 | 16,000 | 55215-B |
| 6/18/2024 | 6/21/2024 | 16,000 | 55215-B |
| 1/23/2024 | 1/26/2024 | 16,000 | 55217-A |
| 2/20/2024 | 2/23/2024 | 16,000 | 55217-A |
| 3/19/2024 | 3/22/2024 | 16,000 | 55217-A |
| 4/23/2024 | 4/26/2024 | 16,000 | 55217-A |
| 5/28/2024 | 5/31/2024 | 16,000 | 55217-A |
| 6/25/2024 | 6/28/2024 | 16,000 | 55217-A |
| 1/22/2024 | 1/26/2024 | 20,000 | 55234-A |
| 2/19/2024 | 2/23/2024 | 20,000 | 55234-A |
| 3/25/2024 | 3/29/2024 | 20,000 | 55234-A |
| 4/22/2024 | 4/26/2024 | 20,000 | 55234-A |
| 5/27/2024 | 5/31/2024 | 20,000 | 55234-A |
| 6/24/2024 | 6/28/2024 | 20,000 | 55234-A |
| 12/6/2023 | 12/8/2023 | 12,000 | 55238-B |
| 1/17/2024 | 1/19/2024 | 12,000 | 55238-B |
| 2/12/2024 | 2/14/2024 | 12,000 | 55238-B |
| 3/11/2024 | 3/13/2024 | 12,000 | 55238-B |
| 4/10/2024 | 4/12/2024 | 12,000 | 55238-B |
| 5/15/2024 | 5/17/2024 | 12,000 | 55238-B |
| 6/17/2024 | 6/19/2024 | 12,000 | 55238-B |
| 1/8/2024 | 1/9/2024 | 8,000 | 55251-A |
| 2/5/2024 | 2/6/2024 | 8,000 | 55251-A |
| 3/4/2024 | 3/5/2024 | 8,000 | 55251-A |
| 4/1/2024 | 4/2/2024 | 8,000 | 55251-A |
| 5/8/2024 | 5/9/2024 | 8,000 | 55251-A |
| 6/6/2024 | 6/7/2024 | 8,000 | 55251-A |
| 12/11/2023 | 12/15/2023 | 12,000 | 10972 |
| 1/8/2024 | 1/12/2024 | 12,000 | 10972 |
| 2/5/2024 | 2/9/2024 | 12,000 | 10972 |
| 3/4/2024 | 3/8/2024 | 12,000 | 10972 |
| 4/1/2024 | 4/5/2024 | 12,000 | 10972 |
| 5/13/2024 | 5/17/2024 | 12,000 | 10972 |
| 6/10/2024 | 6/14/2024 | 12,000 | 10972 |
| 12/18/2023 | 12/21/2023 | 16,000 | 10987 |
| 1/16/2024 | 1/19/2024 | 16,000 | 10987 |
| 2/13/2024 | 2/16/2024 | 16,000 | 10987 |
| 3/19/2024 | 3/22/2024 | 16,000 | 10987 |
| 4/9/2024 | 4/12/2024 | 16,000 | 10987 |
| 5/28/2024 | 5/31/2024 | 16,000 | 10987 |
| 6/18/2024 | 6/21/2024 | 16,000 | 10987 |
| 12/26/2023 | 12/28/2023 | 12,000 | 10997 |
| 1/29/2024 | 1/31/2024 | 12,000 | 10997 |
| 2/27/2024 | 2/29/2024 | 12,000 | 10997 |
| 3/27/2024 | 3/29/2024 | 12,000 | 10997 |
| 4/22/2024 | 4/24/2024 | 12,000 | 10997 |
| 5/27/2024 | 5/29/2024 | 12,000 | 10997 |
| 6/24/2024 | 6/26/2024 | 12,000 | 10997 |
| 12/18/2023 | 12/22/2023 | 20,000 | 20761 |
| 1/22/2024 | 1/26/2024 | 20,000 | 20761 |
| 2/19/2024 | 2/23/2024 | 20,000 | 20761 |
| 3/25/2024 | 3/29/2024 | 20,000 | 20761 |
| 4/22/2024 | 4/26/2024 | 20,000 | 20761 |
| 5/27/2024 | 5/31/2024 | 20,000 | 20761 |
| 6/24/2024 | 6/28/2024 | 20,000 | 20761 |
| 12/11/2023 | 12/15/2023 | 20,000 | 20764 |
| 1/8/2024 | 1/12/2024 | 20,000 | 20764 |
| 2/5/2024 | 2/9/2024 | 20,000 | 20764 |
| 3/11/2024 | 3/15/2024 | 20,000 | 20764 |
| 4/22/2024 | 4/26/2024 | 20,000 | 20764 |
| 5/13/2024 | 5/17/2024 | 20,000 | 20764 |
| 6/10/2024 | 6/14/2024 | 20,000 | 20764 |
| 12/6/2023 | 12/7/2023 | 8,000 | 20778 |
| 1/18/2024 | 1/19/2024 | 8,000 | 20778 |
| 2/27/2024 | 2/28/2024 | 8,000 | 20778 |
| 3/27/2024 | 3/28/2024 | 8,000 | 20778 |
| 4/10/2024 | 4/11/2024 | 8,000 | 20778 |
| 5/20/2024 | 5/21/2024 | 8,000 | 20778 |
| 6/13/2024 | 6/14/2024 | 8,000 | 20778 |
| 12/6/2023 | 12/8/2023 | 12,000 | 20779 |
| 1/10/2024 | 1/12/2024 | 12,000 | 20779 |
| 2/7/2024 | 2/9/2024 | 12,000 | 20779 |
| 3/6/2024 | 3/8/2024 | 12,000 | 20779 |
| 4/3/2024 | 4/5/2024 | 12,000 | 20779 |
| 5/8/2024 | 5/10/2024 | 12,000 | 20779 |
| 6/5/2024 | 6/7/2024 | 12,000 | 20779 |
| 12/11/2023 | 12/15/2023 | 20,000 | WS-011T00 |
| 1/15/2024 | 1/19/2024 | 20,000 | WS-011T00 |
| 2/5/2024 | 2/9/2024 | 20,000 | WS-011T00 |
| 3/11/2024 | 3/15/2024 | 20,000 | WS-011T00 |
| 4/22/2024 | 4/26/2024 | 20,000 | WS-011T00 |
| 5/13/2024 | 5/17/2024 | 20,000 | WS-011T00 |
| 6/10/2024 | 6/14/2024 | 20,000 | WS-011T00 |
| 6/12/2023 | 6/16/2023 | 60,000 | VSICM8 |
| 7/3/2023 | 7/7/2023 | 60,000 | VSICM8 |
| 8/7/2023 | 8/11/2023 | 60,000 | VSICM8 |
| 9/4/2023 | 9/8/2023 | 60,000 | VSICM8 |
| 10/2/2023 | 10/6/2023 | 60,000 | VSICM8 |
| 11/6/2023 | 11/10/2023 | 60,000 | VSICM8 |
| 12/18/2023 | 12/22/2023 | 60,000 | VSICM8 |
| 6/8/2023 | 6/12/2023 | 37,000 | VSWN8 |
| 10/9/2023 | 10/11/2023 | 37,000 | VSWN8 |
| 7/17/2023 | 7/21/2023 | 90,000 | VSFT7 |
| 9/18/2023 | 9/22/2023 | 90,000 | VSFT7 |
| 9/18/2023 | 9/22/2023 | 66,000 | VSOS8 |
| 11/27/2023 | 12/1/2023 | 66,000 | VSOS8 |
| 6/26/2023 | 6/30/2023 | 66,000 | VSTS7 |
| 10/30/2023 | 11/3/2023 | 66,000 | VSTS7 |
| 12/25/2023 | 12/29/2023 | 66,000 | VSTS7 |
| 6/7/2023 | 6/9/2023 | 40,000 | VSD7 |
| 7/24/2023 | 7/26/2023 | 40,000 | VSD7 |
| 10/25/2023 | 10/27/2023 | 40,000 | VSD7 |
| 6/8/2023 | 6/9/2023 | 25,000 | SRMICM82 |
| 9/11/2023 | 9/13/2023 | 40,000 | VSKDM7 |
| 10/30/2023 | 11/1/2023 | 40,000 | VSKDM7 |
| 12/6/2023 | 12/8/2023 | 40,000 | VSKDM7 |
| 6/6/2023 | 6/9/2023 | 49,000 | TKGIEICM110 |
| 6/12/2023 | 6/16/2023 | 60,000 | NSXTICM32 |
| 7/3/2023 | 7/7/2023 | 60,000 | NSXTICM32 |
| 10/30/2023 | 11/3/2023 | 66,000 | NSXTD32 |
| 9/25/2023 | 9/29/2023 | 60,000 | VROICM86 |
| 10/2/2023 | 10/6/2023 | 66,000 | NSXTTO32 |
| 10/16/2023 | 10/20/2023 | 60,000 | HDM8 |
| 11/6/2023 | 11/10/2023 | 60,000 | HDM8 |
| 12/7/2023 | 12/8/2023 | 25,000 | HIA8 |
| 8/25/2023 | 8/25/2023 | 10,800 | AWS-CPE |
| 9/18/2023 | 9/18/2023 | 10,800 | AWS-CPE |
| 10/16/2023 | 10/16/2023 | 10,800 | AWS-CPE |
| 11/8/2023 | 11/8/2023 | 10,800 | AWS-CPE |
| 12/7/2023 | 12/7/2023 | 10,800 | AWS-CPE |
| 8/18/2023 | 8/18/2023 | 10,800 | AWS-TE |
| 9/19/2023 | 9/19/2023 | 10,800 | AWS-TE |
| 10/17/2023 | 10/17/2023 | 10,800 | AWS-TE |
| 11/7/2023 | 11/7/2023 | 10,800 | AWS-TE |
| 12/8/2023 | 12/8/2023 | 10,800 | AWS-TE |
| 8/25/2023 | 8/25/2023 | 5,900 | AWS-EBL |
| 10/16/2023 | 10/16/2023 | 5,900 | AWS-EBL |
| 12/7/2023 | 12/7/2023 | 5,900 | AWS-EBL |
| 9/18/2023 | 9/18/2023 | 5,900 | AWS-EFS |
| 11/6/2023 | 11/6/2023 | 5,900 | AWS-EFS |
| 8/22/2023 | 8/24/2023 | 32,400 | AWS-ARC |
| 9/20/2023 | 9/22/2023 | 32,400 | AWS-ARC |
| 10/18/2023 | 10/20/2023 | 32,400 | AWS-ARC |
| 11/15/2023 | 11/17/2023 | 32,400 | AWS-ARC |
| 12/13/2023 | 12/15/2023 | 32,400 | AWS-ARC |
| | | 10,800 | AWS-WBP |
| | | 32,400 | AWS-ADA |
| | | 10,800 | AWS-AWB |
| | | 54,000 | AWS-ARA |
| 8/29/2023 | 8/31/2023 | 32,400 | AWS-COA |
| 9/25/2023 | 9/27/2023 | 32,400 | AWS-COA |
| 10/25/2023 | 10/27/2023 | 32,400 | AWS-COA |
| 12/18/2023 | 12/20/2023 | 32,400 | AWS-COA |
| | | 21,600 | AWS-FIN |
| | | 32,400 | AWS-CFM |
| | | 32,400 | AWS-DWA |
| | | 10,800 | AWS-BLK |
| | | 10,800 | AWS-BDA |
| | | 10,800 | AWS-BBD |
| | | 10,800 | AWS-BSD |
| | | 21,600 | AWS-AVA |
| | | 32,400 | AWS-PDD |
| 9/13/2023 | 9/15/2023 | 32,400 | AWS-DEV |
| | | 32,400 | AWS-ADE |
| | | 32,400 | AWS-DOP |
| | | 10,800 | AWS-DEL |
| | | 32,400 | AWS-MLE |
| | | 10,800 | AWS-PDS |
| | | 43,200 | AWS-MLP |
| | | 32,400 | AWS-SSD |
| | | 21,600 | AWS-VSE |
| 8/25/2023 | 8/25/2023 | 10,800 | AWS-MES |
| 10/16/2023 | 10/16/2023 | 10,800 | AWS-MES |
| 12/7/2023 | 12/7/2023 | 10,800 | AWS-MES |
| | | 32,400 | AWS-MGA |
| 9/18/2023 | 9/18/2023 | 10,800 | AWS-SES |
| 11/6/2023 | 11/6/2023 | 10,800 | AWS-SES |
| | | 32,400 | AWS-SEN |
| | | 10,800 | AWS-SGS |
| | | 10,800 | AWS-SBP |
| 7/24/2023 | 7/26/2023 | 42,300 | D1101651GC10 |
| 10/9/2023 | 10/11/2023 | 42,300 | D1101651GC10 |
| 6/26/2023 | 6/30/2023 | 56,500 | D107509GC10 |
| 7/3/2023 | 7/7/2023 | 56,500 | D107509GC10 |
| 8/7/2023 | 8/11/2023 | 56,500 | D107509GC10 |
| 9/4/2023 | 9/8/2023 | 56,500 | D107509GC10 |
| 10/2/2023 | 10/6/2023 | 56,500 | D107509GC10 |
| 11/6/2023 | 11/10/2023 | 56,500 | D107509GC10 |
| 12/11/2023 | 12/15/2023 | 56,500 | D107509GC10 |
| 6/19/2023 | 6/23/2023 | 56,500 | D107511GC10 |
| 7/10/2023 | 7/14/2023 | 56,500 | D107511GC10 |
| 8/21/2023 | 8/25/2023 | 56,500 | D107511GC10 |
| 9/11/2023 | 9/15/2023 | 56,500 | D107511GC10 |
| 10/16/2023 | 10/20/2023 | 56,500 | D107511GC10 |
| 11/13/2023 | 11/17/2023 | 56,500 | D107511GC10 |
| 12/18/2023 | 12/22/2023 | 56,500 | D107511GC10 |
| 6/26/2023 | 6/30/2023 | 56,500 | D108103GC20 |
| 7/17/2023 | 7/21/2023 | 56,500 | D108103GC20 |
| 8/7/2023 | 8/11/2023 | 56,500 | D108103GC20 |
| 9/18/2023 | 9/22/2023 | 56,500 | D108103GC20 |
| 10/30/2023 | 11/3/2023 | 56,500 | D108103GC20 |
| 11/20/2023 | 11/24/2023 | 56,500 | D108103GC20 |
| 12/18/2023 | 12/22/2023 | 56,500 | D108103GC20 |
| 8/15/2023 | 8/18/2023 | 49,000 | D108654GC10 |
| 10/9/2023 | 10/12/2023 | 49,000 | D108654GC10 |
| 11/28/2023 | 12/1/2023 | 49,000 | D108654GC10 |
| 6/12/2023 | 6/16/2023 | 56,500 | D78848GC20 |
| 7/3/2023 | 7/7/2023 | 56,500 | D78848GC20 |
| 8/7/2023 | 8/11/2023 | 56,500 | D78848GC20 |
| 9/4/2023 | 9/8/2023 | 56,500 | D78848GC20 |
| 10/2/2023 | 10/6/2023 | 56,500 | D78848GC20 |
| 11/6/2023 | 11/10/2023 | 56,500 | D78848GC20 |
| 12/11/2023 | 12/15/2023 | 56,500 | D78848GC20 |
| 8/22/2023 | 8/25/2023 | 56,400 | D108634GC10 |
| 11/21/2023 | 11/24/2023 | 56,400 | D108634GC10 |
| 7/6/2023 | 7/7/2023 | 36,900 | D108638GC10 |
| 10/11/2023 | 10/12/2023 | 36,900 | D108638GC10 |
| 12/7/2023 | 12/8/2023 | 36,900 | D108638GC10 |
| 6/12/2023 | 6/16/2023 | 70,500 | D108774GC20 |
| 8/7/2023 | 8/11/2023 | 70,500 | D108774GC20 |
| 10/16/2023 | 10/20/2023 | 70,500 | D108774GC20 |
| 12/11/2023 | 12/15/2023 | 70,500 | D108774GC20 |
| 7/24/2023 | 7/27/2023 | 56,400 | D101287GC10 |
| 9/12/2023 | 9/15/2023 | 56,400 | D101287GC10 |
| 11/27/2023 | 11/30/2023 | 56,400 | D101287GC10 |
| 6/6/2023 | 6/9/2023 | 49,000 | D90871GC20 |
| 8/15/2023 | 8/18/2023 | 49,000 | D90871GC20 |
| 9/5/2023 | 9/8/2023 | 49,000 | D90871GC20 |
| 11/7/2023 | 11/10/2023 | 49,000 | D90871GC20 |
| 6/12/2023 | 6/16/2023 | 56,500 | D66376GC51 |
| 7/10/2023 | 7/14/2023 | 56,500 | D66376GC51 |
| 8/7/2023 | 8/11/2023 | 56,500 | D66376GC51 |
| 9/4/2023 | 9/8/2023 | 56,500 | D66376GC51 |
| 10/16/2023 | 10/20/2023 | 56,500 | D66376GC51 |
| 11/13/2023 | 11/17/2023 | 56,500 | D66376GC51 |
| 12/11/2023 | 12/15/2023 | 56,500 | D66376GC51 |
| 6/20/2023 | 6/23/2023 | 49,000 | D109197GC10 |
| 9/19/2023 | 9/22/2023 | 49,000 | D109197GC10 |
| 12/19/2023 | 12/22/2023 | 49,000 | D109197GC10 |
| 6/19/2023 | 6/23/2023 | 56,500 | D66378GC50 |
| 7/10/2023 | 7/14/2023 | 56,500 | D66378GC50 |
| 8/7/2023 | 8/11/2023 | 56,500 | D66378GC50 |
| 9/4/2023 | 9/8/2023 | 56,500 | D66378GC50 |
| 10/16/2023 | 10/20/2023 | 56,500 | D66378GC50 |
| 7/25/2023 | 7/27/2023 | 42,300 | D108305GC30 |
| 7/17/2023 | 7/21/2023 | 56,500 | D80151GC30 |
| 8/7/2023 | 8/11/2023 | 56,500 | D80151GC30 |
| 8/7/2023 | 8/11/2023 | 56,500 | D80155GC30 |
| 7/26/2023 | 7/27/2023 | 36,900 | D83177GC30 |
| 8/17/2023 | 8/18/2023 | 36,900 | D83177GC30 |
| 6/19/2023 | 6/23/2023 | 92,250 | D95507GC20 |
| 7/10/2023 | 7/14/2023 | 92,250 | D95507GC20 |
| 6/19/2023 | 6/23/2023 | 92,250 | D95503GC10 |
| 7/17/2023 | 7/21/2023 | 92,250 | D95503GC10 |
| 6/21/2023 | 6/23/2023 | 55,350 | D1104288GC10 |
| 7/25/2023 | 7/27/2023 | 55,350 | D1104288GC10 |
| 6/26/2023 | 6/30/2023 | 62,000 | 3627 |
| 9/25/2023 | 9/29/2023 | 62,000 | 3627 |
| 12/25/2023 | 12/29/2023 | 62,000 | 3627 |
| 7/17/2023 | 7/21/2023 | 62,000 | 2813 |
| 10/30/2023 | 11/3/2023 | 62,000 | 2813 |
| 7/10/2023 | 7/11/2023 | 25,000 | 2444 |
| 9/4/2023 | 9/5/2023 | 25,000 | 2444 |
| 11/6/2023 | 11/7/2023 | 25,000 | 2444 |
| 6/7/2023 | 6/9/2023 | 39,500 | 2446 |
| 8/2/2023 | 8/4/2023 | 39,500 | 2446 |
| 10/2/2023 | 10/4/2023 | 39,500 | 2446 |
| 12/6/2023 | 12/8/2023 | 39,500 | 2446 |
| 7/17/2023 | 7/21/2023 | 62,000 | 6639 |
| 9/25/2023 | 9/29/2023 | 62,000 | 6639 |
| 11/27/2023 | 12/1/2023 | 62,000 | 6639 |
| 7/17/2023 | 7/20/2023 | 52,000 | DP0119 |
| 10/9/2023 | 10/12/2023 | 52,000 | DP0119 |
| 7/17/2023 | 7/21/2023 | 62,000 | 7956 |
| 9/18/2023 | 9/22/2023 | 62,000 | 7956 |
| 11/20/2023 | 11/24/2023 | 62,000 | 7956 |
| 6/12/2023 | 6/16/2023 | 62,000 | 8256 |
| 8/7/2023 | 8/11/2023 | 62,000 | 8256 |
| 10/16/2023 | 10/20/2023 | 62,000 | 8256 |
| 12/11/2023 | 12/15/2023 | 62,000 | 8256 |
| 6/12/2023 | 6/16/2023 | 62,000 | 8296 |
| 9/4/2023 | 9/8/2023 | 62,000 | 8296 |
| 12/11/2023 | 12/15/2023 | 62,000 | 8296 |
| 6/19/2023 | 6/23/2023 | 62,000 | 8726 |
| 7/17/2023 | 7/21/2023 | 62,000 | 8726 |
| 8/21/2023 | 8/25/2023 | 62,000 | 8726 |
| 9/18/2023 | 9/22/2023 | 62,000 | 8726 |
| 10/16/2023 | 10/20/2023 | 62,000 | 8726 |
| 11/20/2023 | 11/24/2023 | 62,000 | 8726 |
| 12/11/2023 | 12/15/2023 | 62,000 | 8726 |
| 6/26/2023 | 6/30/2023 | 62,000 | 9005 |
| 7/17/2023 | 7/21/2023 | 62,000 | 9005 |
| 8/28/2023 | 9/1/2023 | 62,000 | 9005 |
| 9/25/2023 | 9/29/2023 | 62,000 | 9005 |
| 10/30/2023 | 11/3/2023 | 62,000 | 9005 |
| 11/27/2023 | 12/1/2023 | 62,000 | 9005 |
| 12/18/2023 | 12/22/2023 | 62,000 | 9005 |
| 6/7/2023 | 6/9/2023 | 36,000 | TMAOCP |
| 7/12/2023 | 7/14/2023 | 36,000 | TMAOCP |
| 8/2/2023 | 8/4/2023 | 36,000 | TMAOCP |
| 9/25/2023 | 9/27/2023 | 36,000 | TMAOCP |
| 10/10/2023 | 10/12/2023 | 36,000 | TMAOCP |
| 11/1/2023 | 11/3/2023 | 36,000 | TMAOCP |
| 12/6/2023 | 12/8/2023 | 36,000 | TMAOCP |
| 6/14/2023 | 6/16/2023 | 36,000 | TMDSCP20 |
| 7/19/2023 | 7/21/2023 | 36,000 | TMDSCP20 |
| 8/2/2023 | 8/4/2023 | 36,000 | TMDSCP20 |
| 9/6/2023 | 9/8/2023 | 36,000 | TMDSCP20 |
| 10/10/2023 | 10/12/2023 | 36,000 | TMDSCP20 |
| 11/1/2023 | 11/3/2023 | 36,000 | TMDSCP20 |
| 12/6/2023 | 12/8/2023 | 36,000 | TMDSCP20 |
| 6/12/2023 | 6/14/2023 | 36,000 | TMDDCP |
| 7/24/2023 | 7/26/2023 | 36,000 | TMDDCP |
| 8/21/2023 | 8/23/2023 | 36,000 | TMDDCP |
| 9/18/2023 | 9/20/2023 | 36,000 | TMDDCP |
| 10/24/2023 | 10/26/2023 | 36,000 | TMDDCP |
| 11/20/2023 | 11/22/2023 | 36,000 | TMDDCP |
| 12/18/2023 | 12/20/2023 | 36,000 | TMDDCP |
| 7/24/2023 | 7/26/2023 | 25,000 | CT-ITF+ |
| 12/6/2023 | 12/8/2023 | 25,000 | CT-ITF+ |
| 7/10/2023 | 7/14/2023 | 48,000 | CT01-Network+ |
| 8/2/2023 | 8/4/2023 | 39,000 | CT02-Network+ |
| 12/13/2023 | 12/15/2023 | 39,000 | CT02-Network+ |
| 10/30/2023 | 11/3/2023 | 48,000 | CT01-Security+ |
| 11/6/2023 | 11/10/2023 | 48,000 | CT01-Security+ |
| 6/7/2023 | 6/9/2023 | 39,000 | CT02-Security+ |
| 8/16/2023 | 8/18/2023 | 39,000 | CT02-Security+ |
| 10/9/2023 | 10/11/2023 | 39,000 | CT02-Security+ |
| 12/6/2023 | 12/8/2023 | 39,000 | CT02-Security+ |
| 9/25/2023 | 9/29/2023 | 45,000 | CT-Cloud+ |
| 10/2/2023 | 10/6/2023 | 45,000 | CT-Server+ |
| 11/13/2023 | 11/17/2023 | 48,000 | CT01-CySA+ |
| 8/2/2023 | 8/4/2023 | 39,000 | CT02-CySA+ |
| 11/1/2023 | 11/3/2023 | 39,000 | CT02-CySA+ |
| 7/17/2023 | 7/21/2023 | 48,000 | CT-PenTest+ |
| 12/11/2023 | 12/15/2023 | 48,000 | CT-PenTest+ |
| 10/2/2023 | 10/6/2023 | 54,000 | CT-CASP+ |
| 7/24/2023 | 7/26/2023 | 28,000 | CT-Cloud Essentials+ |
| 11/1/2023 | 11/3/2023 | 28,000 | CT-Cloud Essentials+ |
| 6/7/2023 | 6/9/2023 | 45,000 | CT-Project+ |
| 9/4/2023 | 9/6/2023 | 45,000 | CT-Project+ |
| 6/21/2023 | 6/23/2023 | 22,000 | ITIL-V4 |
| 7/12/2023 | 7/14/2023 | 22,000 | ITIL-V4 |
| 6/21/2023 | 6/23/2023 | 48,500 | ITIL-V4+Exam |
| 7/12/2023 | 7/14/2023 | 48,500 | ITIL-V4+Exam |
| 10/16/2023 | 10/20/2023 | 37,950 | RH124 |
| 11/6/2023 | 11/10/2023 | 37,950 | RH124 |
| 12/18/2023 | 12/22/2023 | 37,950 | RH124 |
| 6/19/2023 | 6/23/2023 | 47,450 | RH134 |
| 8/28/2023 | 9/1/2023 | 47,450 | RH134 |
| 9/25/2023 | 9/29/2023 | 47,450 | RH134 |
| 10/30/2023 | 11/3/2023 | 47,450 | RH134 |
| 11/27/2023 | 12/1/2023 | 47,450 | RH134 |
| 12/25/2023 | 12/29/2023 | 47,450 | RH134 |
| 6/19/2023 | 6/23/2023 | 57,530 | RH135 |
| 8/28/2023 | 9/1/2023 | 57,530 | RH135 |
| 9/25/2023 | 9/29/2023 | 57,530 | RH135 |
| 10/30/2023 | 11/3/2023 | 57,530 | RH135 |
| 11/27/2023 | 12/1/2023 | 57,530 | RH135 |
| 12/25/2023 | 12/29/2023 | 57,530 | RH135 |
| 8/15/2023 | 8/18/2023 | 60,960 | RH294 |
| 9/11/2023 | 9/14/2023 | 60,960 | RH294 |
| 10/24/2023 | 10/27/2023 | 60,960 | RH294 |
| 11/20/2023 | 11/23/2023 | 60,960 | RH294 |
| 12/12/2023 | 12/15/2023 | 60,960 | RH294 |
| 8/15/2023 | 8/18/2023 | 71,040 | RH295 |
| 9/11/2023 | 9/14/2023 | 71,040 | RH295 |
| 10/24/2023 | 10/27/2023 | 71,040 | RH295 |
| 11/20/2023 | 11/23/2023 | 71,040 | RH295 |
| 12/12/2023 | 12/15/2023 | 71,040 | RH295 |
| 11/6/2023 | 11/9/2023 | 60,960 | DO180 |
| 6/28/2023 | 6/30/2023 | 45,720 | DO188 |
| 10/9/2023 | 10/12/2023 | 45,720 | DO280 |
| 12/12/2023 | 12/15/2023 | 45,720 | DO280 |
| - | - | 60,960 | DO288 |
| 6/6/2023 | 6/8/2023 | 9,500 | PYTN102 |
| 6/19/2023 | 6/21/2023 | 7,500 | PYTN103 |
| 6/26/2023 | 6/30/2023 | 19,900 | PYTN104 |
| 7/10/2023 | 7/14/2023 | 35,000 | PMP7 |
| 11/27/2023 | 12/1/2023 | 35,000 | PMP7 |
| 8/18/2023 | 8/18/2023 | 4,000 | AI-050T00 |
| 9/15/2023 | 9/15/2023 | 4,000 | AI-050T00 |
| 10/20/2023 | 10/20/2023 | 4,000 | AI-050T00 |
| 11/17/2023 | 11/17/2023 | 4,000 | AI-050T00 |
| 12/15/2023 | 12/15/2023 | 4,000 | AI-050T00 |
| 8/18/2023 | 8/18/2023 | 4,000 | DP-601T00 |
| 9/15/2023 | 9/15/2023 | 4,000 | DP-601T00 |
| 10/20/2023 | 10/20/2023 | 4,000 | DP-601T00 |
| 11/17/2023 | 11/17/2023 | 4,000 | DP-601T00 |
| 12/15/2023 | 12/15/2023 | 4,000 | DP-601T00 |
| 8/15/2023 | 8/16/2023 | 4,000 | IC-002T00 |
| 9/18/2023 | 9/19/2023 | 4,000 | IC-002T00 |
| 10/19/2023 | 10/20/2023 | 4,000 | IC-002T00 |
| 11/16/2023 | 11/17/2023 | 4,000 | IC-002T00 |
| 12/7/2023 | 12/8/2023 | 4,000 | IC-002T00 |
| 8/21/2023 | 8/24/2023 | 16,000 | DP-203T00 |